May 24, 2022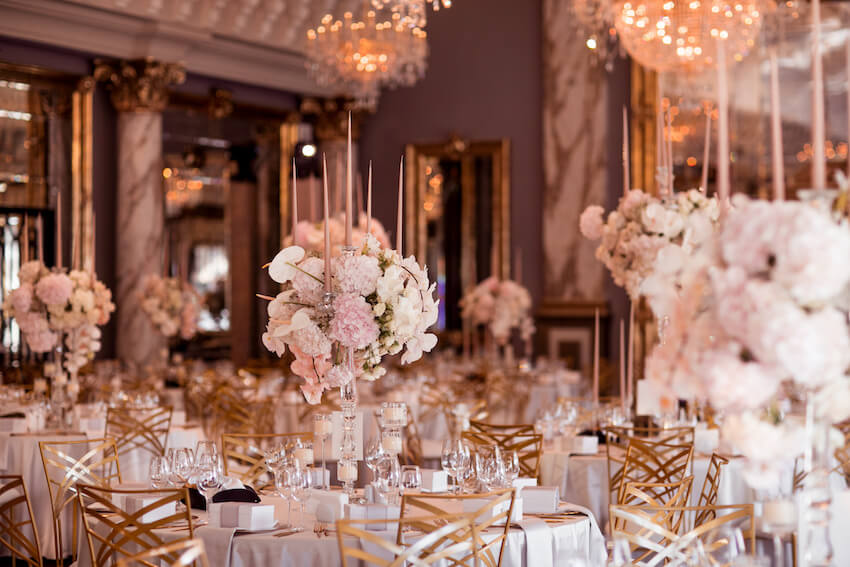 One of the best parts of planning a wedding is designing the decor. You get to bring your dreams to life and honor your love story in a way that's unique to you as a couple. Wedding table decorations — including place settings, accent elements, and centerpieces all make the big day memorable. 
If you can afford it, go all out on over-the-top wedding table decorations to create the perfect finishes for a dreamy day. For budget-minded couples, a gorgeous centerpiece can make a dramatic impact without breaking the bank. Here, you'll find some of our favorite wedding table decorations for all budgets and styles. Plus, you'll find invitation inspiration to match your wedding theme and decor.

31 Stunning Wedding Table Decorations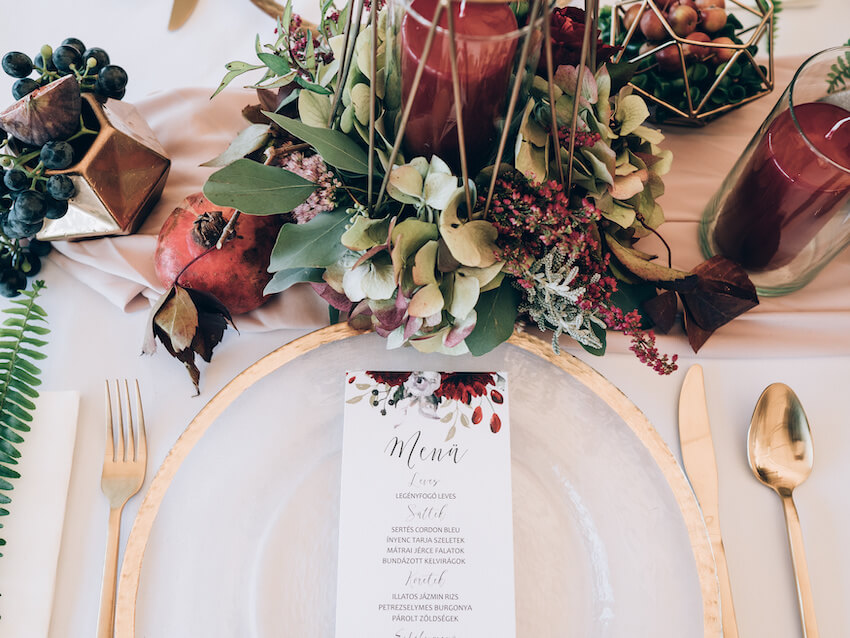 When it comes to wedding table decorations, knowing your style preferences and wedding theme can help guide your decision-making. Think about whether you want to go for simple elegance or something fun and bright. Also consider how your table decor can pair with your wedding theme, color scheme, or venue. However you choose to celebrate, here are 31 stunning wedding table decorations to suit your style.
1. Use Floral Garland
Skip the classic table runner and make a statement with floral garland. Choose flowers that match the wedding colors and arrange the garland straight down the center of the table lengthwise. This wedding table centerpiece adds drama and glamour.
2. Go Rustic with Wooden Lanterns
For a rustic wedding, place wooden lanterns as the centerpiece of your tables. You can put photos in the center of each lantern or light them up in a wash of romance with tea candles. Guests will love savoring your wedding cake in the romantic ambiance.
Invite Inspiration: Dreamy Lanterns Invitation
3. Fuel the Fairytale with Fairy Lights
Your love is a fairytale — and your wedding ceremony should be too — so set the scene for magic and whimsy with fairy lights. These delicate accents look magical inside lanterns and mason jars.
4. Elevate the Look with Tall Florals
Make an impression with tall glass vases filled with spindly florals. Pair the tall pieces with smaller vases and candelabras to add depth to the tablescape and party decorations.
5. Go Wild for Wildflowers
Dress up your wedding reception tables with wildflowers. Choose flowers that are native to your local area or opt for your favorite wildflowers from a vacation spot you cherish.
Invite Inspiration: Wild Wildflowers Invitation
6. Use Mini Trees
If you're having a summer wedding, miniature citrus trees make great wedding reception decorations. They also pair well with summertime wedding favors like mini bottles of limoncello.
7. Pretty in Pink Peonies
Hosting a spring wedding? Fill the wedding table with delicate pink peonies that add romance and whimsy to any celebration.
8. Dramatic Drapery
If your wedding involves a long, family-style table, take it to the next level with dramatic drapery. Choose long linens and drape it down the center of the table. Accent it with greenery, string lights, or tea light holders for some romance.
9. Transport Guests to the Tropics
Skip the flower arrangements and go for full leafy greenery with tropical displays of palm and monstera leaves. These work best in tall vases to make a dramatic impact.
Invite Inspiration: Vibrant Bouquet Invitation
10. Go Minimal and Chic
Instead of filling the table with dozens of bouquets, contemporary couples love minimal design. Choose just two to five flowers or elements of greenery like pampas grass to create stunning yet understated wedding table decorations.
11. Create Pow with Pampas Grass
Pampas grass is everywhere. From wedding decor to home decor, this fun, fluffy grass really makes a statement. Select tall vases, jugs, or pitchers and fill them with pampas grass for an elevated look. Add contrast by incorporating some smaller flame-free votive candles. 
12. Top It Off with Terrariums
For brides and grooms who don't want a ton of floral centerpieces, consider the rugged beauty of terrariums. You can opt for one large terrarium packed with succulents or an understated arrangement of smaller terrariums to fill the center of your wedding tables.
Invite Inspiration: Hanging Terrarium Invitation
13. Add Old World Beauty with Candelabras
Stunning candelabras are a style statement for vintage weddings. Choose oversized candelabras and have them tower over small vases filled with white florals. 
14. Incorporate Simplicity
To skip the elaborate tabletop centerpieces, consider using a simple tablecloth. Add only one accent item — like a rose gold vase with a single white candle and a touch of greenery. To complete the pared-down look, use acrylic or metallic tableware.
15. Set Sail with Nautical Decor
Use nautical elements like anchors, ropes, and lighthouses to create a beachy marina look. Nautical elements pair well with simple greenery like eucalyptus boughs.
Invite Inspiration: Swanky Stripes Invitation
16. Play It Up with Pinecones
Pinecones are great for winter weddings and couples who love the great outdoors. Add pinecones to large, wide vases and pair them with florals or candles. For a winter wedding, add faux snow or glittering snowflakes for extra glitz and glam.
17. Light It Up with Lamps
Another great option for old-world lovers is elegant lamps. Look for vintage-inspired lamps in metallics like gold and silver. White shades are a classic choice or you can choose a hue to match your wedding theme. 
18. Be Bold with Bud Vases
Gone are the days when large bouquets were the only centerpieces to consider. Go for something different with a long line of charming bud vases featuring one bloom each.
19. Go for Subtle Elegance with Baby's Breath
Looking for a simple floral arrangement for your table centerpieces? Drape baby's breath down the center of your table and accent the delicate flowers with tall, white candles. For a rustic touch, consider a burlap wedding table runner; for a dramatic approach, try a velvet or satin runner. 
20. Fall for Fruits and Vegetables
If you're hosting a fall wedding, apples and pumpkins make great additions to wedding table decor. For a casual look, set a few apples out on the table and surround them with cinnamon sticks and fall florals. Greenery like artichokes and eucalyptus bows pair well with fruits. 
Invite Inspiration: Flowing Fall Frame Invitation
21. Use Accent Table Numbers
Make it easy for guests to find their place by making the table numbers part of the decor. You can use Himalayan salt blocks, wooden tree stumps, gold frames, and even antique books to set the scene.
22. Celebrate with Hydrangeas
Hydrangeas are among the most popular wedding flowers — and for good reason. These lush flowers contain dozens of blooms that fill vases with a cheery look. Their pastel hues make them perfect for spring and summer weddings.
23. Play with Patterns
Wedding table decorations aren't just about the centerpieces. Play with patterns on tablecloths and runners to create a memorable look. You can also use placemats to create a gorgeous backdrop for your place settings.
24. Use Bold Branches
In addition to popular wedding flowers like ranunculus and hydrangeas, use rugged elements like branches for a bold look. Another popular combo is manzanita branches and tropical florals like orchids or tropical lilies.
Invite Inspiration: Spring Cherry Blossoms
25. Create Contrast with Color
While some couples prefer a monochromatic look, others will want a touch of contrast. Create a color burst look by pairing bright florals in two or three hues. You could also do black and white for a timeless look.
26. Make It Monochromatic
Choose one color and use various shades of it to create a stunning look. You can use lilac-colored sand to fill glass vases and add in a lavender candle. Pair with a few bouquets of wisteria or bellflowers.
27. Hang Greenery
Instead of building your wedding table decorations from the ground up, consider going from the top down. Hang floral party decorations like vines, ivy, and ferns from the ceiling or a metal frame above the wedding party and guest tables.
Invite Inspiration: Arched Greenery Invitation
28. Go Rustic with Burlap
Burlap table runners and tablecloths are the perfect companions for a rustic wedding. You can add small candle holders wrapped in twine for a finishing touch. 
29. Wonder in White
Host an all-white wedding that will transport guests to a magical evening. Choose white tablecloths and top them with white florals, white tableware, and white napkins.
30. Add Personality with Place Card Holders
Complete your wedding table setting with place card holders that let guests know exactly where to sit. There are plenty of creative place card holders you can make using fruits, mini succulents, seashells, and more.
31. Celebrate with Confetti
Confetti can add a cheerful touch to any wedding tablescape. For glamorous wedding table decorations, use metallic confetti. Diamond-shaped confetti and glass confetti are also great choices for elegant spreads. For a rustic look, think about using wood confetti instead.
Invite Inspiration: Rose Gold Confetti Invitation
Pair Your Decor With Gorgeous Invitations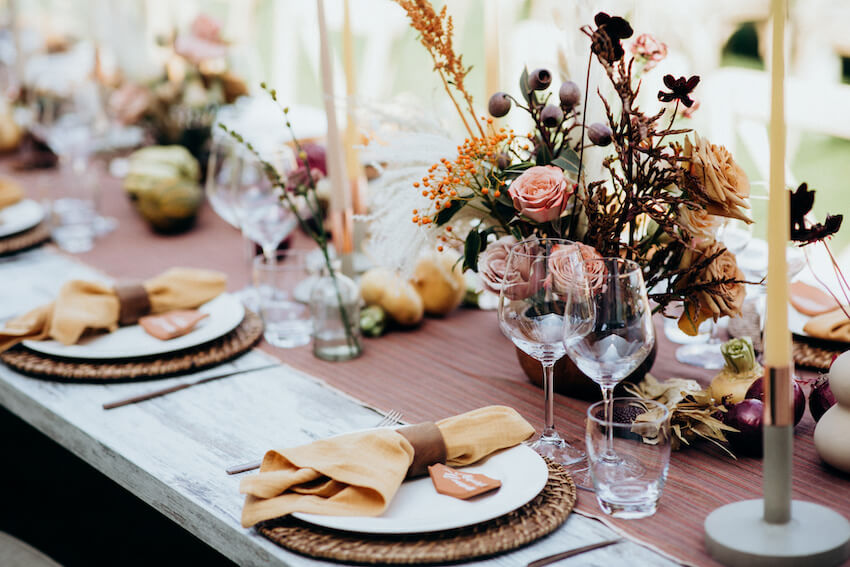 When it comes to wedding table decorations, the options are endless. From boho party decor ideas using burlap and twine to glamorous styles with tropical flowers, you're sure to create the wedding of your dreams.
Fortunately, you can pair your wedding table decorations with stunning wedding invitations from Greenvelope. All of our digital invitations are completely customizable, which means you can change the typography, color scheme, and design to make it truly your own. Even better, our digital invites mean you don't have to run to the post office or deal with keeping track of paper RSVPs. Instead, you can log in to your dashboard and quickly see who's opened the invite and who's responded. 
Whether you're planning a DIY wedding or working with a wedding planner, continue browsing our Stationer's blog to find more ideas and tips for your special day.