May 3, 2021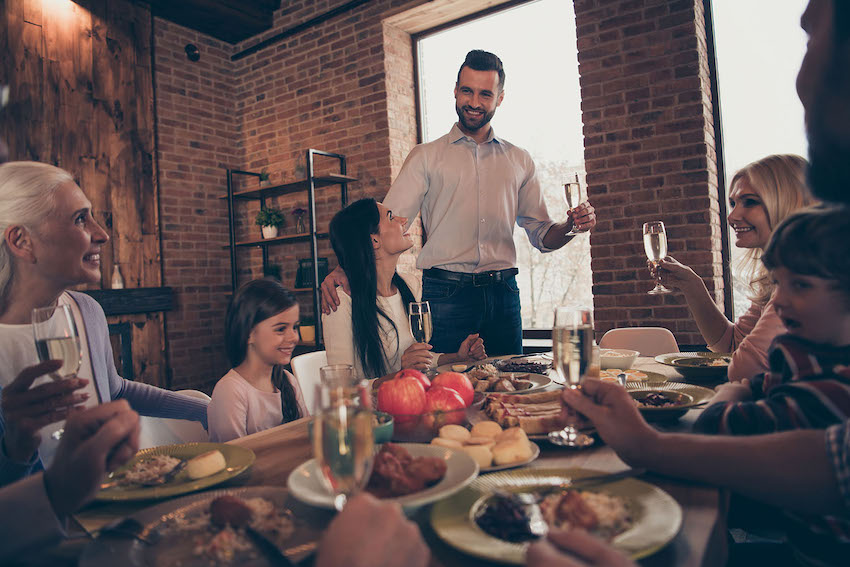 Congratulations! You and your soon-to-be-forever partner are officially engaged. Your friends and family members are sitting on the edge of their seats, ready to toast you both — so it's time to plan an engagement party and revel in the good news.
Engagement parties are a fun way to celebrate your engagement (and kick off wedding planning season, of course). These days, engagement parties come in all forms — from an all-welcome gathering at the local brewery to a surprise soiree at the nicest restaurant in town or an intimate house party with your closest friends. The beauty of this party is it can be as over-the-top or as stylishly simple as you wish.
Still, there are some decisions to be made before you can even think about sending your engagement invitations. Below, we walk you through how to plan your first (of many!) pre-wedding celebrations.

7 Engagement Party Decisions Before You Send Your Invitations 
Before we dive into party planning mode, allow us to start with this: Engagement party etiquette is merely a set of guidelines rather than rules to follow. In other words, while there are some traditions associated with this celebration, it's become just as traditional to leave those old traditions in the past. Translation: Don't stress on what's proper, and simply plan the kind of bash you and your honey want to have.
1. Decide Who Will Host 
Deciding the host is the first item on your engagement party task list. Why? Because the host is the one footing the bill and therefore will influence many decisions to come. 
Traditionally, the bride's parents host the engagement party. However, these days it's just as common to have both parents go halfsies on the party, or split into thirds with the couple contributing. It's also common to have the happy couple host, as this gives them the freedom to answer to themselves — and only themselves — when other decisions need to be made.
2. Set a Date 
Now that hosts have been assigned, when do you want your party to take place? Ideally, you'll plan the party as close to the actual engagement as possible. After all, you have some toasting to do and some new bling to show off.
The one caveat to the sooner-is-better rule is if dear friends and relatives need to book a flight to attend. If feelings will be hurt if you don't give them adequate time to make travel arrangements, it's best to plan the party 1-2 months out — then get those invitations out, stat!
Finally, work your timeline backward, and decide when you'll need RSVPs back from your guest list. If you're planning a casual setting, perhaps guests only need to RSVP a week before the event. However, if you're planning a dinner setting or catered event, the restaurant or caterer may require a final headcount 2-3 weeks in advance. (Note: Feel free to check out our guide on the best RSVP questions to ask your guests so you have every little detail squared away.)
3. Write the Guest List 
With the date set, it's time to determine who will attend. While you can invite whomever you wish, there's one thing to keep in mind: If someone's invited to the engagement party, they should also be a wedding guest.
The invitation list can be as short or as long as you want, but there are a couple of other considerations. One, you'll need a venue to support the number of people attending (so keep rental fees in mind if you plan a large gathering). Two, the people you include will deeply influence the vibe of your event. 
Do you want something quiet and intimate, or an all-out party? Do you want to make it family only, or invite all your friends and neighbors? If you want a destination wedding (which typically runs smaller in size), perhaps you want to have a larger engagement party.
4. Select a Venue 
When you select your wedding venue, your guest list and budget will immediately limit your options. However, when selecting an engagement party venue, there's almost an "anything goes" flair to the festivities.
You can host your engagement party virtually anywhere that 1) holds your guests and 2) means something to you and your partner. Do you want to have a small dinner party with close friends where you had your first date? What about renting out a brewery or winery to toast with friends and family? You can enjoy a potluck picnic at the park, plan a backyard BBQ at your parent's house, sweat together in a group spin class, cook a boozy brunch with your best friends, or rent a boat and enjoy a beer on the water with loved ones.
Lastly, your venue will determine whether any party decorations, playlists, or engagement party games are needed. If you're hosting a dinner party at a restaurant, you may want to scratch any outside music or decor. However, if you're planning a sunny picnic outside, you may want to bring some DIY decorations and a few games or activities.
5. Determine the Menu 
We're using the term "menu" quite loosely here. By menu, we mean any drinks, appetizers, or main dishes the hosts will pay for. Guests will want to know whether there will be food and beverages served, so they can plan meals around your event.
For example, if you're hosting your engagement party at a local winery, perhaps your hosts are willing to pay for the first two glasses per guest. Or if you're preparing a picnic or cookout, perhaps the hosts will prepare the food but request every guest bring their own beverages. Or if you want to plan an engagement cocktail party, perhaps you order group appetizers and set aside one bubbly drink ticket per person.
6. Decide Whether You Want Gifts 
Some couples enjoy receiving engagement gifts while others prefer to hold off on all gifts until the actual nuptials. Whichever route you choose, you'll need to let your guests know on your actual invite.
If you choose to accept gifts, be sure to register before you send out your engagement party invitations. Select low- to mid-budget items, saving grander gifts for the actual wedding. If you choose to forgo gifts, include language on the invitation, such as, "We simply ask for your company this evening — no gifts please." Or you could write, "In lieu of gifts, please donate to the Susan G. Komen Foundation in honor of Frank's grandmother, who couldn't be with us today."
7. Select (and Send!) Your Engagement Party Invitations
 
You're now in the final phases of event planning. With most of the big decisions made, it's time to select your engagement party invitation.
Your personalized invitation should include the following information:
Who:

The names of your hosts and the names of each respective guest (and whether they're welcome to bring a plus one)

When:

The date and time of the party

Where:

The party location or venue

What will be served:

Such as light fare, drink tickets, or a full dinner

Whether gifts are accepted:

If yes, include info on where you are registered
The Countdown to the Big Day is Officially On 
With the engagement party underway, the journey toward your wedding day has officially begun. But before you get too far ahead of yourself, there are plenty of decisions to be made.
Your engagement party can be as traditional or unorthodox as you wish. That said, you need to determine the hosts, guest list, venue, menu, and your gift registry before you send out the invite.
It's best to get your engagement party invitations out as soon as possible — fortunately, we can help you with that. Greenvelope has 70+ gorgeous engagement invitations to dazzle your guests. Plus, since these are digital invites, you simply need to upload your guest email addresses, customize the design, and your invitation lands in their inboxes in minutes — no need to wait for snail mail. Before you know it, everyone will be celebrating with you at your engagement party to kick off your happily ever after.