November 19, 2019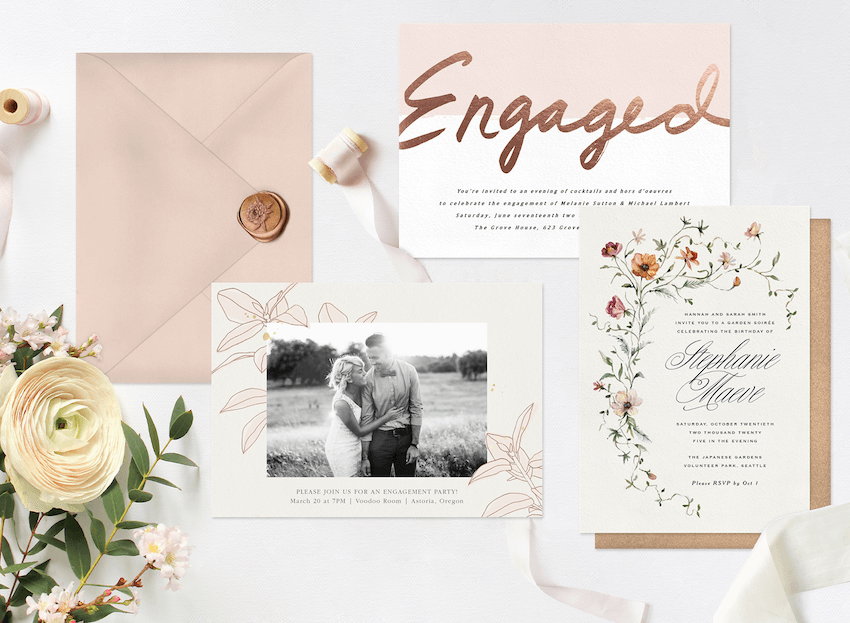 You said yes and finally put a ring on it, congratulations! You and your fiancé have an exciting season of planning and celebrations ahead of you. Soon enough, you'll be attending a bridal shower, bachelorette party, and rehearsal dinner. Kick off this time with a fun engagement soiree. There are festive engagement party invitations for every kind of affair.
Whether you're hosting a backyard barbecue, sophisticated intimate dinner, or all-out bash, these engagement invitations will get friends and family excited to take part in your journey. Cheers!

Engagement Party Invitations for a Betrothment Brunch
In case you needed an excuse to drink Champagne in the afternoon, an engagement brunch is just the ticket. This celebration is perfect for a mid-sized group of 15 guests or fewer at the new spot in town or at your and your fiancé's trusty favorite. Choose a charming engagement party invite to welcome guests to this special, intimate affair. Here are some of our favorites.
1. Waffley Wedded Invitation
Hand-drawn illustrations of buttery waffles, avocado toast, and bottles of bubbly take center stage on this mod invitation. A mix of stylish hand-script and retro fonts lend a throwback aesthetic for couples who never go out of style. Waffley Wedded can also work if you're hosting a family brunch the day after your nuptials.
2. Bubbly Invitation
Sometimes, less is more. This adorable minimal invitation features the delicious texture of champagne or sparkling wine in yellow or pink. Atop the bubbly background, simple contemporary text holds all of your party details. Whether you're hosting at a restaurant or from your own kitchen, just make sure there is plenty of champagne involved.
3. Champagne Grid Invitation
Since we know the bubbly stuff is the star of brunch, why not choose an invitation that focuses on champagne? Sleek rose gold foil lettering pops against a black background. Graphic typography declares, "Pop the champagne," and your party details are interspersed throughout in smaller text. The elegant style can also work as a chic bachelorette party invitation.
Engagement Party Invitations to Say "I Do" With BBQ
If you got engaged in warmer months, a backyard barbecue is the perfect way for laid-back couples to celebrate. To mark the occasion, choose a summery invite decorated with barbecue classics like trendy gingham and summery florals.
4. Rustic Succulents Invitation
A rustic wood background lends shabby-chic flair to this colorful invitation. A watercolor painted floral succulent frame reveals textured cardstock underneath. A mix of playful script and classic text offers both style and room for all of your party specifics. This design can also double as a summertime bridal shower invitation.
5. Trendy Gingham Invitation
Nothing says barbecue picnic like ants and gingham. But for wedding stationery, we'll just take the gingham. Choose from classic red or blue with this understated gingham invite. Stylized text announces the occasion and the names of the happy couple. What better way to share your big news?
6. I Do BBQ Invitation
Perfect for a couples shower or barbecue engagement party, this whimsical invitation has it all. A graphic charcoal grill flanks stylized text that reads, "I do barbecue," with a special diamond on the O. Below, a subtle gingham pattern drives the picnic theme home. Choose from summery peach, mustard, green, or turquoise on a soft gray background.
7. Gingham BBQ Invitation
For meat lovers, this festive invitation turns your backyard into a stylish gastropub. A chalkboard background holds all of your party details in contemporary stylized text, surrounded by a classic gingham border. An adorable pig in a party hat completes the celebratory vibes.
Engagement Party Invitations for an Intimate Dinner
There will be plenty of big bashes before the wedding. If you have a tight-knit group of friends and family, invite the crew for an intimate dinner in honor of your big news. Set the tone with a chic invitation that isn't too over-the-top, just like your affair.
8. Soon to Be Wed Invitation
Elevated letterpress style is as timeless as you on this understated invitation. Muted white and cream has a tone-on-tone aesthetic perfect for an elegant dinner for your near and dear. Minimal black text surrounding stylized script holds all of your dinner party details.
9. Rustic Twinkle Invitation
Glowing lights give the wood grain background just enough sparkle on this rustic invitation. The sparkly aesthetic is perfect for an intimate dinner or evening affair. It can also work as a wedding invitation for barn or vineyard nuptials.
10. Agate Vellum Invitation
This luxe contemporary design recreates the look of a vellum paper invitation. An agate-inspired background features artful layered brush stokes and gold-foil accents that bring each vein to life. A white textured cardstock inlay holds your invitation wording and RSVP details.
11. Sparkling String Lights Invitation
The sparkling string lights on this elegant invitation are reminiscent of cafe lights on your favorite restaurant's outdoor patio. For all of your invitation details, simple white script and contemporary text pops against the dark background.
Engagement Party Invitations for a Big Time Bash
You only get engaged once, so why not go all out? If you're a more-the-merrier type of couple, set the tone with an all-inclusive party invitation. Start with a playful design and customize from there to create a custom engagement party invitation with all of your celebration details.
12. She Said Yes Invitation
She said yes! This invitation says it all with elegant gold foil typography set against a kraft paper texture. Invite everyone on the guest list to a celebratory cocktail party to kick off your many wedding events.
13. He Finally Asked Invitation
It may have felt like the proposal took forever, but your big day will be here before you know it. This hilarious invitation is the perfect way to share the good news with everyone in your circle, and invite them to a fun engagement bash. Hand-written gold foil lettering features a subtle brush stroke effect for a charming aesthetic.
14. Diamond Drop Invitation
Drop the confetti! This ultra-modern invitation just screams party. Clever contemporary type features subtle metallic lettering. Above, graphic diamonds feature gold and rose gold foil mixed with matte black for a glam aesthetic.
15. Mod Celebrate Invitation
This flexible invitation can work for everything from birthday parties to graduation announcements, but we like it best for a free-wheeling engagement party. Gradient rainbow hues set the tone for a fun affair, and contemporary text lends graphic appeal. If rainbow isn't your speed, choose from a sleek black and gold foil or classic gray and black design.
You Put a Ring On It!
An engagement is one of the happiest occasions of your life, just barely coming in second to your actual wedding day. That milestone deserves a celebration of its very own before you embark on a time filled with planning and wedding events. Plan a party that's right for you, from an intimate dinner to a laid-back backyard barbecue to an all-out bash. Whichever you choose, we've got an invitation for that.