May 5, 2021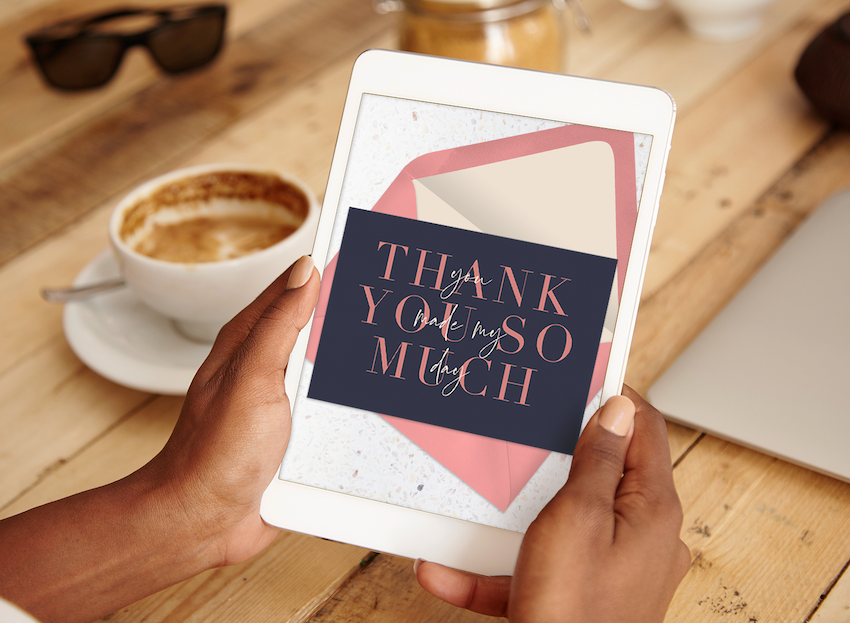 Sometimes all you need to do is say "thank you" to someone you care about via text. Other times it feels right to send a thank you card to family members, friends, colleagues, or guests. To help you find the right words, we've created a simple thank you card template you can use to inspire your message for a variety of occasions. Plus, we're sharing top thank you card designs that you can customize to your heart's content. 

How to Get Your Thank You Card Wording Right
Thank you note wording can be tricky to get right — especially if you're sending a thank you card for business, or to someone you're not especially close to. Here are some of our top tips on how to write a thank you card. 
Share Your Gratitude
Crafting the perfect thank you note message is all about expressing your heartfelt thanks. You want to share how grateful you are for the thoughtfulness of your relatives, friends, or acquaintances. 
Including the words "thank you," "thanks," or something similar is a must in any thank you card — and it's the simplest way to show your gratitude for the recipient's gift, attendance to an event, or presence in your life. 
Be Specific
Always be as specific as you can in your thank you card message. It shows that you've paid attention and care genuinely about what you received, be it a tangible gift or emotional support. In your note, be sure to mention the gift specifically. If you're thanking someone for their attendance at an event instead, remark on a moment at that event between the two of you. 
Make It Personal 
If you're taking the time out to send a thank you note to someone, it makes sense to make it personal. This is a lovely way to connect with your recipient, and for them to feel like you've gone out of your way to choose a card with them in mind. 
A fun way to personalize your thank you card is to use one of our digital cards. At Greenvelope, you can easily personalize any card's wording to feature the recipient's name. Along with customizing the design, put some love into your sign-off too — and match it to how well you know the recipient. 
4 Simple Thank You Card Templates
Ready to put it all together? Here's a collection of sweet yet simple thank you card templates that you can adapt to share your appreciation for a birthday gift or other special occasion. 
1. Birthday Gift Thank You Card Template
While you won't always send a thank you card to every birthday party guest ever, you might want to make the effort if it's a special celebration or if you received a thoughtful gift. Here's a simple way to express your gratitude. 
Dear [Name],
Thank you for coming to my birthday party on [date]! It was so much fun hanging out together, and I'm glad you could make it. 
I wanted to say thank you for giving me the lovely [gift]. It means a lot to me! 
Best wishes,
[Name]
2. Bridal Shower Thank You Card Template
A bridal shower is a lovely moment for the bride-to-be to celebrate with bridesmaids, family members, and close friends. Here's the perfect way to say thank you to the people who made it special. 
To my dearest [Name],
Thank you so much for being at my bridal shower. It wouldn't have been the same without you and your wonderful presence! 
I'm so grateful to have you in my life, and I can't wait to stand alongside you again on my wedding day. Let's make it a moment to remember.
Lots of love,
[Name]Â 
3. Baby Shower Thank You Card Template
It's almost time to welcome a new member to your family, and you've been showered with love and gifts by your nearest and dearest. Here's a thank you note wording example to help you show your appreciation for someone's attendance and gift. 
Dear [Name],
Thank you for being a ray of light at my baby shower — it was amazing to see you! 
I also wanted to tell you how grateful I am for your generous gift of [gift]. It'll be so handy when baby [surname] arrives in [month]. 
All my love,
[Name]
4. Wedding Thank You Card Template
They were with you on your big day, and were kind enough to give you a generous wedding gift. Here's a template to help you find the right words to thank a superstar wedding guest. 
Dear [Name],
We're so glad that you were able to be with us on our special day. I really loved getting to catch up with you and talk about [topic]. 
Thank you so much for the beautiful [gift]. It was incredibly generous and we're forever grateful for your love and support.
With love always,
[Name]Â 
How to Choose the Right Thank You Card
You know what you want to say, but how do you find the perfect card to complement your beautiful words? If you're looking for a high-quality thank you card, here's our advice on how to find the right one. 
Think About Your Recipient
You know your thank you note card recipient best, so think about what they'd love to receive. Are they a fan of bright colors, or do they love florals? Are they into bold typography, or something more classic? Consider their personality to find a card that your recipient will love. 
Consider the Occasion
There's a greeting card and thank you card for every occasion, but it's best to customize it for your specific situation. The design you'd choose to thank someone for hosting an epic Mother's Day dinner is very different than one to express thanks for support during a difficult time. Think about colors, style, wording, and other details that'll help capture the right tone for the moment. 
Don't Forget About Space and Customization
We've talked about how personalized messages are so important, but a customized design is just as important. For example, if you want to write an in-depth message, look for a design with enough room for you to freely write. 
With Greenvelope, you can easily DIY customize all our designs until you have a thank you card that's perfect for your recipient. You can easily customize the lettering, wording, and colors until it feels right. 
5 Thank You Card Template Designs
Here's a selection of some of our favorite thank you cards that are sure to let the recipient know just how much you appreciate their thoughtfulness. 
1. Vintage Stickers Thank You Card
We adore the gorgeous retro colors on this vintage-inspired thank you card. It's perfect for all occasions — even those moments where you want to thank someone just for being there. Whether they cheered you on during a job interview or helped you put together an itinerary for an upcoming vacation, this lively design says it all.
2. Blooming With Gratitude Thank You Card
This floral truck design is super cute, and a lovely way to say thank you to someone special. With its sweet watercolor design, it works for both those happy and sad moments in life when you want to show how grateful you are for someone's emotional support. 
3. Thanks a Bunch Card
This really fun banana-themed thank you card is ideal for those lighter moments in life, or when you want to thank someone you're really close to with a touch of humor. Whether it was helping you pack for a move or running an errand while you were injured or busy with work, this card is sure to put a smile on the recipient's face. 
4. Give Thanks Card
The gorgeous fall colors in this give thanks card make it perfect for celebrating Thanksgiving, but it's also a lovely idea for a wedding thank you card or bridal shower card. 
5. Kind Words Thank You Card
We love the simplicity of this timeless thank you card design. The soft typography and colors make it appropriate for a variety of occasions, but it's an especially gorgeous card for a "thank you for coming to our wedding" (or anniversary celebration).
Thank You Card Templates and Designs You'll Love
Show how much you appreciate your loved ones with a heartfelt thank you card. Think about the occasion, and use one of our thank you card templates to inspire your message. Then, choose the perfect ecard from our collection of dedicated thank you card designs. Finally, send the thank you card and deliver a smile to the lucky recipient.