January 7, 2020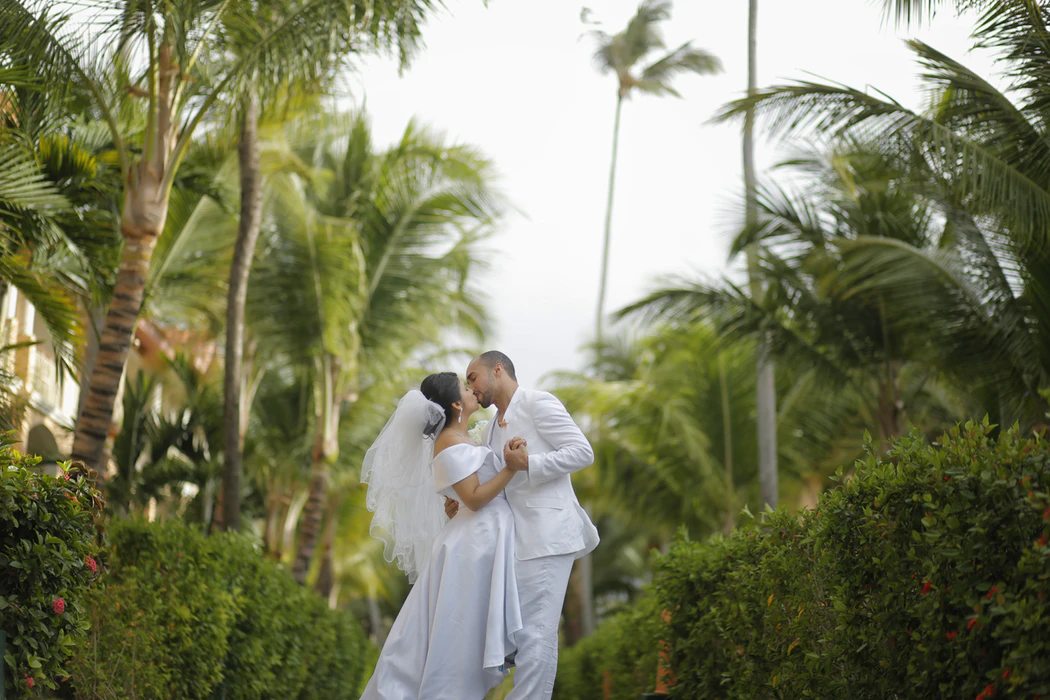 With so many talented stationery designers out there, you'll have a lot to choose from when it comes to your destination wedding invitations. From beach ceremonies to city weddings in New York or Las Vegas, there's something for every couple.
You don't need to go all-out with the theming, though, if you don't want to 'ÄĒ there are plenty of simple, understated designs that hint at your dream wedding destination without giving it all away.

Our Favorite Destination Wedding Invitations
Here are 22 of our favorite destination wedding invitation designs. With every design, you can customize the key details like the wedding date and invitation wording. Many of these online invitations also allow you to customize the colors to match your wedding.
You can complete your wedding suite with matching save the dates and thank you cards. And there's no need to worry about wedding RSVP cards as guests can easily confirm their acceptance online.
1. Blue Ridge Mountains Invitation
Planning a rustic wedding in the mountains? This mountain-themed invitation features imagery from a real vintage postcard, with plenty of homey charm that'll give your guests a hint of what your wedding will be like.
2. HaleakalńĀ Invitation
This beautiful design is inspired by the tranquility of HaleakalńĀ National Park in Hawaii, making it perfect for anyone planning a destination wedding in Maui. The HaleakalńĀ invitation¬†features a subtle nod to Polynesian patterns with a simple wave that reminds people they're heading to a Hawaiian island.
With every purchase made from our National Park Collection, $5 is donated to the National Park Foundation.
3. Modern Beach Botanicals Invitation
The rose gold foil accents on these modern beach wedding invitations make them ideal for a luxury destination wedding. Whether you're getting married on the beach or in an island hotel, this design will wow your wedding guests before they step off the plane.
4. Enthralled Invitation
Make a striking first impression with these gorgeous, modern wedding invitations. The Enthralled design features a hand-painted ink background in moody, atmospheric colors that are reminiscent of the sea. They certainly make an impact and will have your loved ones excited to see how the day unfolds.
5. North Cascades Invitation
Inspired by a beautiful, dusky sunset, the North Cascades wedding invitation has a really romantic air about it. With the soft pink tones, watercolor effects, and rustic edges, it's a lovely introduction to your heartfelt wedding day.
6. Birds of Paradise Invitation
Get your guests talking with these bold invitations featuring iconic birds of paradise flowers. The bright blues and golds are perfect for a tropical paradise wedding, and you can even opt for a background that looks like golden sand.
7. The Rockies Invitation
Welcome your friends and family to your destination wedding in the Rockies with this beautiful, snow-filled design. With soft colors and faded textures, this design is inspired by a vintage postcard, and it's full of atmosphere.
8. Yellowstone Invitation
These Yellowstone invitations are a beautiful celebration of the much-loved National Park and perfect for a wedding in the area. Featuring authentic maps of the park, the design has a classic yet modern look thanks to strong typography and gold foil accents.
9. Bold Botanical Invitation
Be inspired by a striking, modern look with these beautiful Bold Botanical wedding invitations. The design features a mix of light florals and dark text, which makes for a classic look. It's a design that works just as well for a garden wedding in Europe as it does for a stylish ceremony in Asia.
10. First Class Invitation
Get your guests excited about your upcoming wedding with these playful first class airline ticket invitations. These boarding-pass-inspired invitations are themed to the max and are sure to make people smile as they open their emails.
11. Desert Beauty Invitation
Showcase the desert in all its beauty with these unique desert-themed wedding invitations. Hosting a destination wedding out in the desert is exciting, so why not give guests a taste of what they'll see with this hand-illustrated design.
12. Cascading Paisley Invitation
This Cascading Paisley design is perfect for a destination wedding in India. Inspired by a paisley patterned mandala, it's full of detail and provides a striking first look at how beautiful your wedding ceremony will be.
13. Shimmering Snowfall Invitation
If you'Äôre planning a winter wedding at a romantic, snowy getaway, these shimmering snowfall invitations¬†are an ideal way to introduce your guests to what's to come. They're perfect to give a nod to your destination without featuring photography or illustration.
14. Golden Hour Invitation
There's something so beautiful about the golden hour, so it's no surprise that it's the backdrop to this hand-illustrated design. A desert scene with mountains at sunset makes this a perfect design for anyone planning an afternoon or evening ceremony where guests will find themselves in a very similar spot.
15. Pressed Palms Invitation
Sending digital wedding invitations doesn't mean you have to let go of popular design choices like embossing and gold foil. This Pressed Palms design has an embossed layer of greenery (except in white) to lend a stylish and sophisticated look to your luxury destination wedding.
16. Crater Lake Invitation
Like the pressed palms design above, this Crater Lake invitation¬†features a beautiful, 3-D¬†effect 'ÄĒ this time in letterpress style. There's a lot of nature in this gorgeous invitation design, including trees, mountains, and a starry night sky. Whether your ceremony takes place in the National Park or in another forest location, these romantic invitations will be a hit.
17. Brooklyn Bridge Invitation
Here's a design that's perfect for any Brooklyn-based weddings. Ramp up the excitement ahead of your special day in the city with this themed design, featuring a hand-drawn illustration of the landmark Brooklyn Bridge.
18. Snow-Capped Trees Invitation
If your ceremony takes place in a snowy, winter wonderland, these gorgeous invitations with snow-capped trees should make your shortlist. With so many beautiful woodland and forest locations across the world, this design is perfect for destination weddings both near and far.
19. Mediterranean Tiles Invitation
These destination wedding invites inspired by Mediterranean tiles definitely stand out. Give your loved ones a taste of Europe before they even land and make a bold first impression with this fun, geometric design.
20. Postmark Invitation
Send your guests a digital invitation they'll remember with this sweet, modern take on a posted letter. The centerpiece of the design is a monogram stamp, similar to a postmark you'd see on an envelope. It's the perfect way to remind guests they're joining you at a far-away destination.
21. Palm Tree Sketch Invitation
Start the conversations about your beachfront wedding with these fun Palm Tree Sketch wedding invitations. With an artistic, hand-drawn touch these tropical wedding invitations are great for casual beach weddings and modern seaside ceremonies.
22. Spanish Vineyard Invitation
There's something very romantic about a wedding in a vineyard. These Spanish vineyard inspired invitations and matching wedding stationery will make your guests smile, imagining themselves joining you among the vines as you say your vows.
Manage Your Destination Wedding with Ease
Planning a destination wedding is exciting, but there's a lot to organize too. That's why we've seen so many couples opt for our digital wedding invitations as a way to share the joy with friends and family and stay organized.
You don't need to worry about postage and your guests will find it easy to RSVP. Plus, you can include a direct link to your wedding website where loved ones can stay up to date with what's going on ahead of the big day.
To get started, find your perfect design from our top picks above or browse our destination wedding invitations section to see all our designs.