April 28, 2021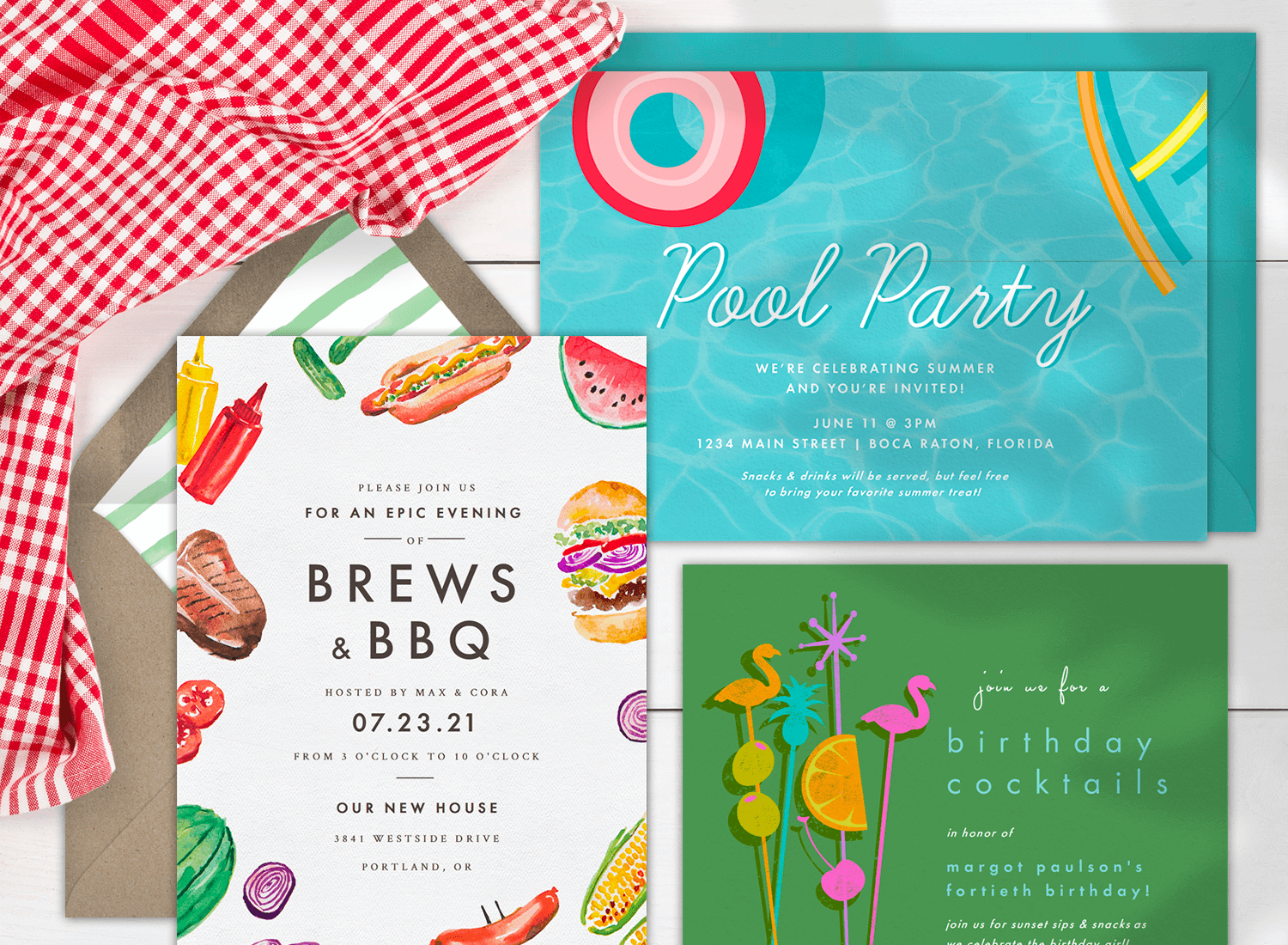 It's summer! That means it's prime time for hosting a spectacular get-together for your friends and family members. To celebrate the season of warmer, longer days, we're sharing top tips for designing your summertime party invitations, including a variety of fun themes and wording ideas. 

How to Create the Perfect Summertime Party Invitations
While you could settle for the first summertime party invitation you see, we know you're looking for something special. Here's how to create a showstopping summer party invitation that'll have your guests ready to RSVP ASAP!
Find a Design to Match Your Party Theme
All the best summer parties have a theme. Whether you go all-out with a tropical paradise backdrop or keep it simple with a rainbow theme for a summertime birthday party, there's always a style to suit your party idea.
We love the idea of matching your party invitation to the theme of your get-together. This helps give your guests an idea of what to expect in terms of atmosphere, so they can have fun picking out the perfect outfit, gift, or accessories to bring along. 
Some of the most popular DIY themes for summer parties revolve around bright colors and imagery — think palm trees, flamingos, watermelon, greenery, and brightly colored drinks for a fiesta or Hawaiian luau. If you're planning a beach or pool party, look for an invite that features a pool, waves, or a sandy shore. For a more sophisticated cocktail party, opt for a design that features a moody sunset or has gold accents. (We have plenty of options, so stick with us.)
Customize Your Summer Party Invitation Design
Once you've found a design you love, it's all about the customization. The beauty of digital invitations is that you have the freedom to personalize your invitation wording. Not only that, but with Greenvelope designs, you also have a variety of color options. 
Take the design you've found and play around with the different colorways to see which you prefer best. If there isn't one you love, you can always request our design experts to customize it with your own colors. 
After you've chosen your colors, you can move on to making changes to the wording. Swap out where it says "pool party" for "beach party," or add the guest of honor's name to the front of their birthday party invitation. 
Add Some Fun Wording 
Summer is all about getting outdoors and having fun with the people you love. Let those sunny sentiments shine with the wording on your summertime party invitations. 
Instead of saying "We invite you to our summer cookout," try something like "Sun's out! Time to get the grill out!" instead. Or you could include some imagery from your party theme — like "We can't wait for you to sip a mojito under our palm canopy!"
If you're not sure what to say, here are some playful summertime party invitation wording ideas for a few popular occasions. 
BBQ or Picnic
Dogs or burgers? We've got both! 

It's not summer without the famous [Family Name] BBQ

[Name] is ready to get their grill on to celebrate the 4th of July!

Let's dig out our best picnic baskets for a summer get-together in the park

We'll provide the popsicles and ice cream — just bring your favorite picnic blanket! 

Won't you join us for a teddy bear picnic to celebrate [Name]'s birthday?
Pool or Beach Party
Dust off your bikini, it's time for a pool party! 

Step into a magical oasis and say aloha! 

Join us for our annual pool party — don't forget your towel and swimsuit! 

We're heading to [beach] for an epic castle building session — want in? 

It's time to get cozy on the beachfront with a glass of something cold

Join us as we hit the beach to celebrate [Name] birthday!
Summer Cocktail Party
Let's watch the glorious sunset together from our backyard

Pick out your favorite summer look — it's time for our unmissable cocktail party!

Margarita or martini? We've got you covered! 

We're back with our annual cocktail party — this time with a make-your-own drinks station! 

Let's toast to an amazing year with a glass of our signature drink

Book a rest day for the day after — we're about to have fun! 
If you don't have a specific theme, you can always stick with a few words about how you're so glad it's summer, happy that the sun is shining, or that you can't wait to catch up on everyone's fun plans for the next few months. 
12 Summertime Party Invites by Theme
Ready to dive in and find the best summertime party invitation for your family reunion, bridal shower, baby shower, or birthday party? Here's a collection of our most loved designs — organized by theme, so you can easily find what you need. 
Summer BBQ or Picnic Invitations
Hosting an epic BBQ or a casual picnic for loved ones? Here are some of our favorite designs for an outdoor entertaining summer bash. 
1. Bold BBQ Invitation
We love the simple, modern design on this Bold BBQ invitation. It balances that quintessential BBQ grill with a classic plaid pattern in a variety of fun color options. 
2. Grill and Chill Invitation
We love this fun Grill and Chill invitation — it works great for a summertime birthday party or a casual BBQ party with friends and family members. Stick with a traditional red or blue gingham, or customize with your own colors. 
3. Grillin' and Chillin' Invitation
This Grillin' and Chillin' invitation design puts a whimsical watercolor spin on your invitation. It's a departure from the usually bold BBQ invite style, and ideal if you're hosting a relaxed or chic get-together. 
Beach or Pool Party Invitations
Summertime calls for those laid-back, relaxing beach parties and super fun summer pool parties. Time to make a splash with one of these creative pool party invitation designs. 
4. Polka Dot Inner Tube Invitation
This Polka Dot Inner Tube invitation is super cute and oh-so fun! We love the bright colors and fun innertube design. Use it to invite friends and family members over for a weekend swim party.
5. Pool Floaties Invitation
Kick off the chill vibes of your celebration with this Pool Floaties invitation. The rippled swimming pool backdrop and brightly colored floaties suggest your guests are in for a relaxing time. 
6. Boho Beach Party Invitation
Step away from bright hues and into the soft pastel tones of this gorgeous Boho Beach Party invitation. This watercolor design is a lovely way to invite people to join you at the beach. 
Summer Birthday Party Invitations
Lucky enough to have a summer birthday, or hosting for someone that does? We love these bright and beautiful birthday invitations for a warm summer's day. 
7. Party on Point Invitation
There's something so summery about this vibrant Party on Point invitation. The bright colors and cactus would be perfect for a summertime fiesta replete with a taco bar and margarita station. 
8. Outdoors Adventure Invitation
If you're inviting your summer partygoers to a camping adventure or a camp-themed celebration, this Outdoors Adventure invitation is a winner. Its sweet watercolor illustrations and cozy colors are perfect for this time of year. 
9. Retro VW Bus Invitation
We love the vintage, classic feel of this Retro VW Bus invitation. It's great for a surf party or beach party, but also a fantastic option if you're hosting a birthday party for someone who loves all things retro. 
Cocktail Party Invitations
What better way to celebrate summer than with delicious cocktails? Here are our top picks for cocktail party invitations. 
10. Stir It Up Invitation
Stir up some excitement for your fabulous summer cocktail party with this charming Stir It Up invitation. Choose from six different colors or customize it with your own. Whether you're having a casual backyard party with sips and snacks or a more elaborate affair with a professional mixologist, this fun design is sure to spark plenty of RSVPs.
11. Fancy Cocktail Invitation
Looking for something a little more refined? With your choice of several background colors and a glitter-lined envelope, this Fancy Cocktail invitation is ideal when you're hosting a sophisticated summer soirée for your party guests. 
12. Wild Paradise Invitation
We love the bright, bold colors on this Wild Paradise invitation. The hand-drawn bird of paradise and palm leaves are perfect for a tropical-themed evening of drinks, dancing, and outdoor party games. 
Find the Best Summertime Party Invitations 
Summer is the time to get outside with loved ones and celebrate the warmth and feel-good atmosphere of the season. No matter what type of theme you're planning for your party, you're sure to find an invitation that matches. Best of all, when you send email invitations, you save time, money, and paper waste. Customize your colors, add some fun wording, and you have a recipe for an impressive invite that'll make your guests smile long before the party starts.