July 11, 2022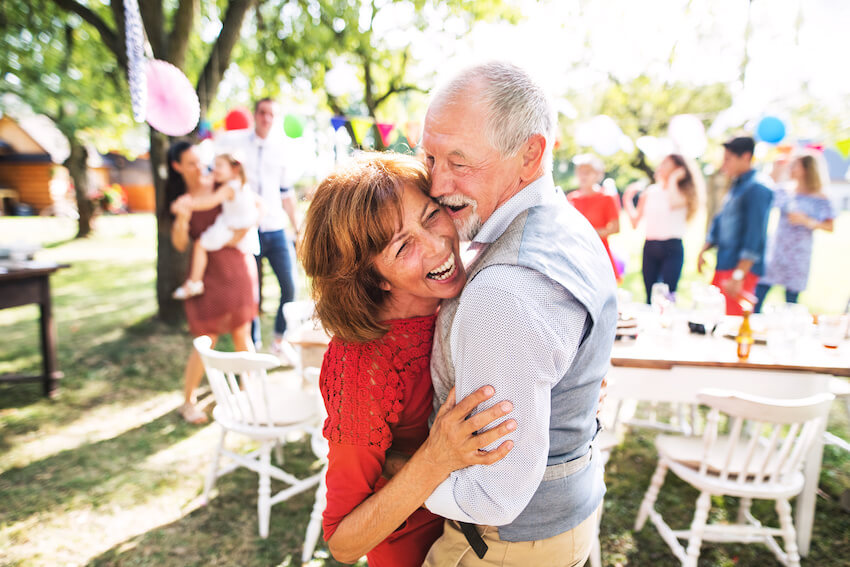 You once said your vows to the one you love. Now it's time to think about doing it all over again and celebrating your lasting love with a wedding vow renewal ceremony (also called a recommitment ceremony). Maybe it's only been a few years or perhaps it's your 20th milestone anniversary — no matter how long, we have all the wedding vow renewal ideas you'll need. 
Planning a vow renewal can feel similar to planning a wedding — after all, there are many of the same elements in both. Consider these 14 ideas on venues, themes, what to wear, and how to make your event feel even more special. 

14 Special Wedding Vow Renewal Ideas
You'll have plenty of options to consider as you begin creating your vow renewal checklist. Explore these wedding vow renewal ideas and find some fresh inspiration for your upcoming celebration. 
1. Choose a Special Date
Even if you don't host your vow renewal celebration on your actual wedding day anniversary, it's important to choose a date that's special to the two of you. Perhaps it's the anniversary of the first time you met or your first date. Maybe it's a milestone date for another reason — like a big birthday, when you moved into your new home together, or had an amazing vacation. 
2. Return to Your Original Wedding Venue
If possible, it could be fun to host your vow renewal ceremony at your original wedding venue. While you won't need a ceremony space with room for the officiant, wedding party, and numerous guests, being at the same venue can bring back some of those treasured memories. 
For instance, if you originally got married at a hotel or resort, consider renting a smaller space at the venue or enjoying a private dining experience in the hotel's restaurant before renewing your vows in the garden. 
3. Create a Photo Wall
There are so many wonderful memories you've shared together — whether it's your 10-year anniversary or your 50th wedding anniversary. Display some of these moments for everyone to enjoy with a photo display wall. Print out your favorite photos from your wedding day, vacations, celebrations, and other special moments as a married couple. Ask loved ones to contribute their most loved snaps as well so you can build a heart-warming display for your big event. 
4. Host a Backyard Celebration
For a truly personal touch, consider having your recommitment celebration in your backyard. This is especially practical if your original wedding day was an elopement, destination wedding, or small wedding. Serve food, play outdoor party games, and dance away to your favorite songs. Gather your loved ones and best friends at home for a BBQ, picnic, or afternoon tea to celebrate your enduring love story. 
5. Write New Vows
While your renewal of vows could certainly feature your original vows, use this opportunity to transform your marriage vows into something that feels better suited to the life the two of you live now. You could follow a wedding ceremony script and add your own touches that reflect your love story, express joy for your time together, and convey how you'll continue caring for each other into the future. 
6. Have a Wedding Vow Renewal Cake
Cake is a must-have at any party and your recommitment celebration is no exception. This is one of those wedding vow renewal ideas that's not only fun but also nostalgic. Recreate your original wedding cake to share with your guests, or go in a new direction with a cake that matches your party's theme.
7. Book Your Favorite Restaurant
Renewing your wedding vows doesn't mean you have to splurge on an expensive party or recreation of your big day. A lovely way to celebrate is to invite family members and close friends for dinner at your favorite restaurant. Reserve your favorite table or a private dining room, or book the entire space as a private dining experience. 
8. Wear What Feels Best
Many couples opt for traditional wedding attire for their wedding ceremony — be it a traditional wedding dress or tuxedo. For your vow renewal, go more relaxed and wear whatever you're most comfortable in. That might be a beach dress and sandals, or a colorful shirt and shorts. That doesn't rule out a wedding dress entirely, though — this could be the moment to restyle it into something more wearable and debut it at your vow renewal ceremony. 
9. Get Your Rings Engraved
As part of a wedding ceremony you exchange rings, but having a vow renewal doesn't mean you need to buy new rings. Use this as an opportunity to personalize your wedding rings by having them engraved. Add the date of your vow renewal or a sweet message that reflects how much you love each other. 
10. Customize Your Own Vow Renewal Invitations
One of our favorite wedding vow renewal ideas is to create your own wedding invites. Instead of buying something off the shelf, you can easily customize digital invitations and send them out to your guest list. 
Whether you're celebrating two or 20 years of marriage, Greenvelope offers a beautiful selection of vow renewal invitations. Each one can be customized, so you can adapt the colors, layout, and wording to feel unique to your celebration. With so many options, you can create something truly special without spending a fortune on bespoke stationery. 
11. Choose a Memorable Location
Choosing a memorable location for your recommitment ceremony doesn't mean it has to be expensive or fancy — your favorite spot at a local beach or outside the museum you love are great options. However, if you're willing to go a bit bigger and like the idea of a destination vow renewal celebration, places like Hawaii and Mexico offer stunning locations. 
12. Hire a Photographer or Videographer
Much like your original wedding day, your vow renewal day is a moment you'll want to cherish for years to come. One of our top wedding vow renewal ideas is to hire a photographer or videographer to capture every moment of your special day. If you loved your wedding photos, check if your original photographer is available. If you have a talented family member or friend, ask if they'll capture the big day on video for you. 
13. Get Creative with a Themed Vow Renewal
Wedding vow renewal ceremonies are often styled in a traditional way or with rustic wedding elements. While these are gorgeous looks, don't be afraid to think outside the box — feel free to unleash your creativity with a themed event. 
For example, celebrate your recommitment with a "Halloween in July" theme and encourage guests to arrive in costumes. Or ask everyone to wear rainbow colors for your rainbow-theme wedding vow renewal. The beauty is that there are no wrong answers and you get to decide how quirky or classic you want your event to be.
14. Invite Your Guests to Get Involved
Your loved ones played a big role in your wedding day — whether they were part of your wedding party or attended as a guest. Recreate that joy and buzz by asking people to be involved with your vow renewal too. 
Ask your wedding party to once again stand beside you as you say your recommitment vows, or invite guests to share their favorite memories in a vow renewal guest book. Instead of gifts, encourage your guests to donate to a charity that's special to you. 
Plan Your Dream Wedding Vow Renewal Celebration
Like your wedding day, your vow renewal is a chance to celebrate everlasting love, the commitment you've made to each other, and the happiness you experience together. Use our vow renewal ceremony ideas to help you plan a memorable event filled with excitement and joy. 
With plans underway for your big event, explore our wedding vow renewal invitations to find your ideal match. Maybe it's a delicate floral design or something striking and modern — whatever your style, you can customize it until it complements your celebration perfectly.