July 13, 2022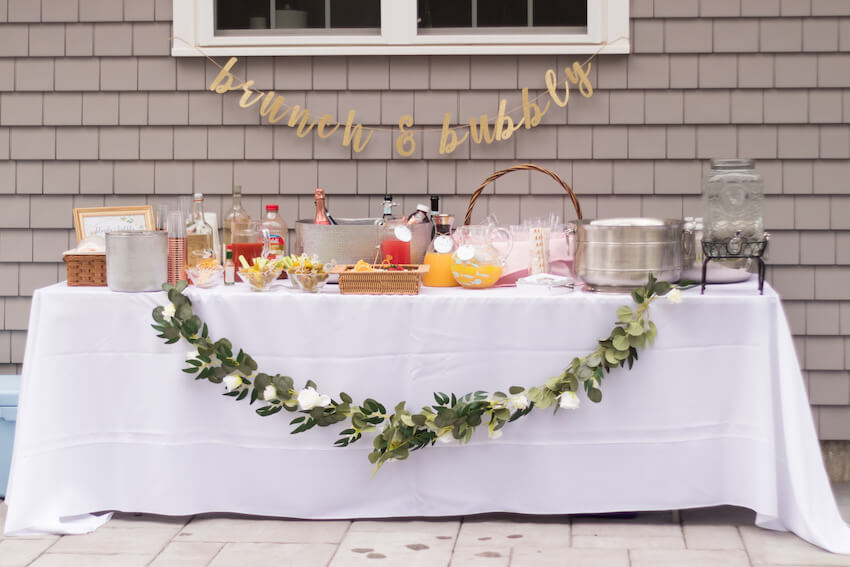 Wedding showers aren't just for your grandma and your great aunt anymore. This sometimes-stuffy affair has gotten a modern makeover — starting with its name. Formerly known as the bridal shower, wedding showers are a more inclusive interpretation.
Just by changing one word, you've opened the door for a co-ed guest list. You can make it a couple's shower and invite your entire "I do" crew, or you can keep your guest list limited to the bridal party while hosting a more casual event.
Unlike the pastel and doily bridal shower themes of days gone by, modern wedding showers allow you to incorporate more spunky, funky, and fun themes — like a BBQ, pool party, or brewery bash. (The days of teetotaling showers have also gone by the wayside, so you're free to sip mimosas all morning if you want to.)
We'll cover some of our favorite new wedding shower trends and walk you through the planning process, from coming up with your theme to sending out invites and planning activities. Here's your complete guide to throwing a modern wedding shower.

Modern Wedding Shower Trends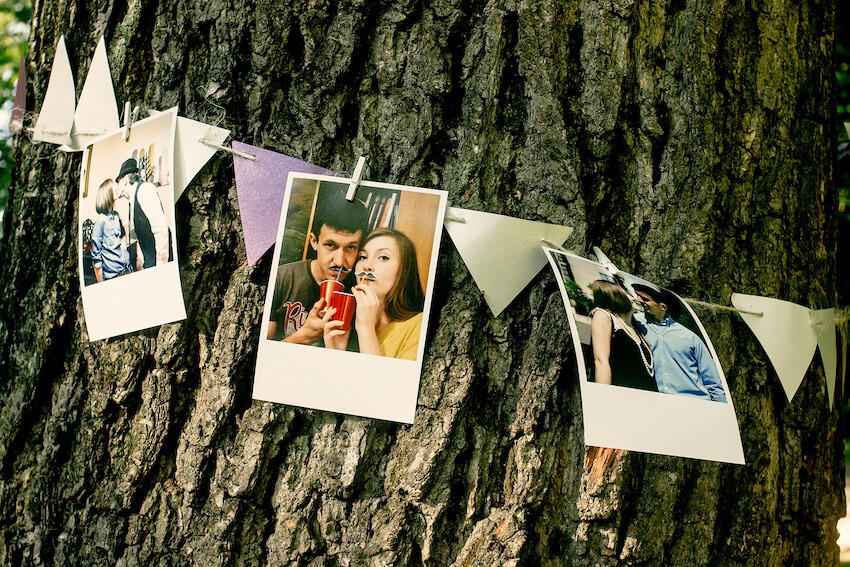 The biggest trend in wedding showers is making them co-ed. Incorporating libations and adding a more exciting menu than the traditional tea sandwiches and soft drinks has also transformed the once-formal shower into a full-blown party. Here's what's behind these new trends.
Reasons to Throw a Modern Shower
Modern couples turn to the wedding shower for two reasons: Either they want to limit their pre-wedding events to one bash for all their nearest and dearest, or they both want to enjoy as many events as they can. (After all, you only get married once!)
For couples who want to limit the number of pre-wedding events, a wedding shower can serve as a laid-back replacement for an engagement party, bachelor party, or bachelorette party. The guest list is open to all your close friends and family — from your hard-partying college buddies to your baby cousins.
For couples who want more reasons to celebrate leading up to their wedding day, a shower is an ideal reason to get together with more distant family members. So, if your engagement party was a friends-only fĂŞte, this event can include all your aunts, uncles, and cousins.
What Makes a Shower Different From Other Pre-Wedding Events
In either case, a wedding shower is typically a more casual daytime celebration rather than an evening affair. Of course, it's your shower, so you make the rules.
Much like a baby shower, wedding showers include gifts. These gifts are in addition to your wedding gifts, so this event is a good way for young couples to get set up to start their lives together. Make sure to include a link to your shower registry — which should be separate from your wedding registry — on your wedding shower invitations.
Forgoing gifts is also a rising trend. If you're a more established couple and you don't want your guests to bring you presents, simply put "no gifts, please" or "your presence is the only present we need" on your invites.
Wedding Shower Themes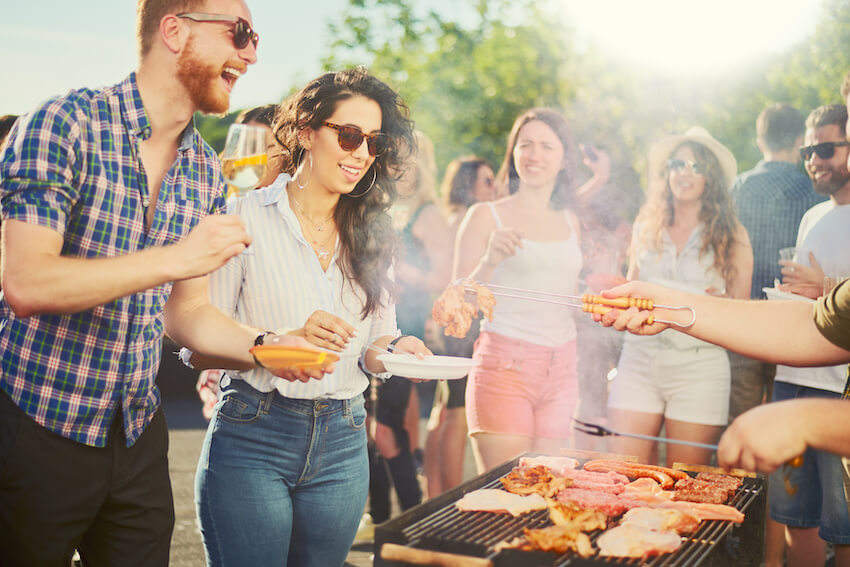 If you pick the right theme, your shower will practically plan itself. Start by brainstorming your and your partner's favorite activities, then choose a theme that reflects your personalities. From there, you can find matching invitations, decorations, and favors. Here are a few of our favorite themes for a modern couple's shower — you can also choose from classic bridal shower themes.
Backyard barbecue:

Invite all your

bridesmaids

, groomsmen,

close friends

, and

family members

to join you in your backyard for a little grilling and chilling.

Bottomless brunch:

Raise a glass to the happy couple with a morning full of bottomless

mimosas

and beautiful gifts.

Lingerie party:

Forget the

big day

— we're thinking about the big night.

Lingerie

is a classic

bridal shower gift

, so turn it into your theme by encouraging nothing but

lingerie

gifts.

Brewery bash:

Most towns have a beloved local brewery, so head over to enjoy a local brew before you say "I do."

Tea party:

What could be better than a

tea party

with your

wedding party

? You can host a classic

tea party

or get creative with

tea-themed cocktails

and

Earl Grey cupcakes

.

Beach day:

If there's a beach or a beautiful park nearby, host a

beach party

. Throw together some tropical beverages and get together for a little limbo or beach volleyball.

Hippie love-in:

If hippies and weddings have one thing in common, it's that they're all about love. Throw a hippie-themed shower, complete with flower crowns and bongos.

Garden party:

A fabulous

garden party

doesn't take much work. Decorate with a little bit of

greenery

,

DIY

some floral

centerpieces

, and get ready to mingle with everyone from your

maid of honor

to your future mother-in-law.

Ice cream social:

Ideal for an all-ages event, an

ice cream social

doesn't need much more than an ice cream and toppings bar to get the party started.

Taco party:

Celebrate your spicy relationship with a fun and spicy

taco party

. The menu at this

fiesta

is sure to be a crowd-pleaser.
Wedding Shower Invites
Choose wedding shower invitations that match the theme of your event. While it's traditional for your save the date and rehearsal dinner invitations to match your wedding invitations, the same does not apply to your shower invites. Feel free to get as colorful and creative as you want.
To start your search, we've included some of our favorite wedding shower invitations below. While many of these designs are engagement party or bridal shower invitations, they're all digital, so you can easily update the text to say "Wedding Shower" or "Couple's Shower" instead.
These online invitations will get delivered directly to your guests' inboxes in a matter of minutes. Plus, they allow you to collect all your RSVPs online, so there's no keeping track of paper or postage.
I Do BBQ Invitation
This casual couple's shower invitation is perfect for a backyard barbecue and has space for you to link to your registry in the details section of your digital invites. There's even a matching thank you card.
Brunch Blooms Invitation
Turn this beautiful watercolor design into a shower invite by changing the wording to read "Wedding Shower Brunch." It's the ideal design for anyone who's about to be waffle-y wedded.
Moon Child Invitation
This boho rose gold invitation is ideal for a nighttime garden party or a star gazing party. Use it to invite your guests to a love-in in honor of your great love.
Afternoon Tea Invitation
This watercolor tea party invitation is perfect for a high-class affair. Invite guests to eat mini desserts and drink tea with their pinkies in the air.
Taco Bout A Party Invitation
Host your taco-themed couple's shower with this festive party invite. At your fiesta, be sure to have a piñata and some DIY papel picado banners to amp up the festivities.
Wedding Shower Activities
Your invites will get guests to the party, but once there, you'll need something to do with them. Some classic bridal shower games — like making toilet paper dresses — are even more fun when you get the guys involved. But for something a little more off-beat, try these ideas that your guests won't expect.
Couple's trivia:

Find out who knows the couple best by asking

questions about the bride

, the groom, and their relationship. Give a prize or a fun

party favor

to the winner.

Tarot card readings:

During wedding season, everyone is thinking about the future. Find out what it has in store by hiring a tarot card reader to entertain your guests.

Song quiz:

Have your guests split into teams. Then, play 10-20 second clips from classic love songs. Whichever team correctly guesses the title of the songs wins a prize.
Shower Your Guests With Fun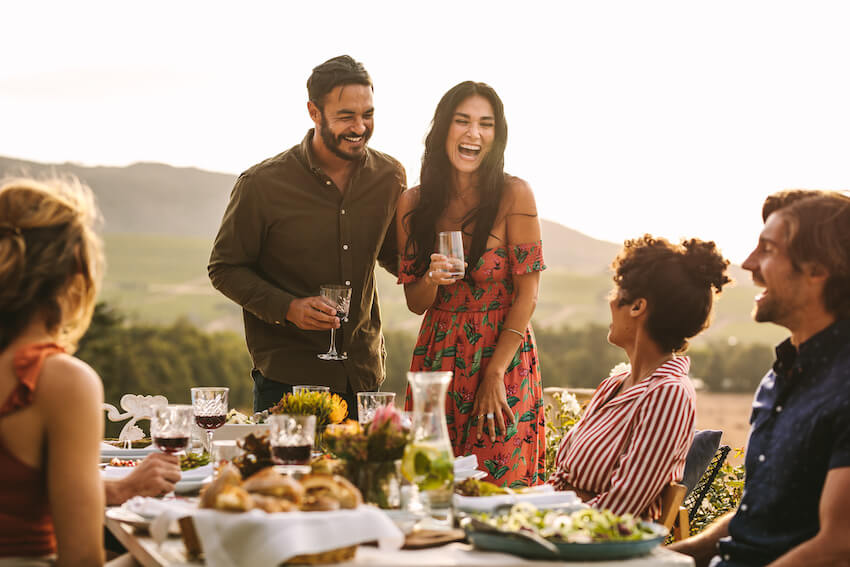 Classic bridal showers are sweet, but modern wedding showers are so much fun! They allow you to include your close friends and family of either gender, so get your entire "I do" crew together for a pre-wedding party.
When you start your shower planning, feel free to throw the rulebook out the window. Your shower can be anything you and your partner want it to be — from a casual barbecue to a hippie love-in.
Pick your theme, send out your invites, and plan your activities. This event isn't about Team Bride or Team Groom — it's about you. Both of you. May it be the first of many exciting plans you make together!