March 25, 2021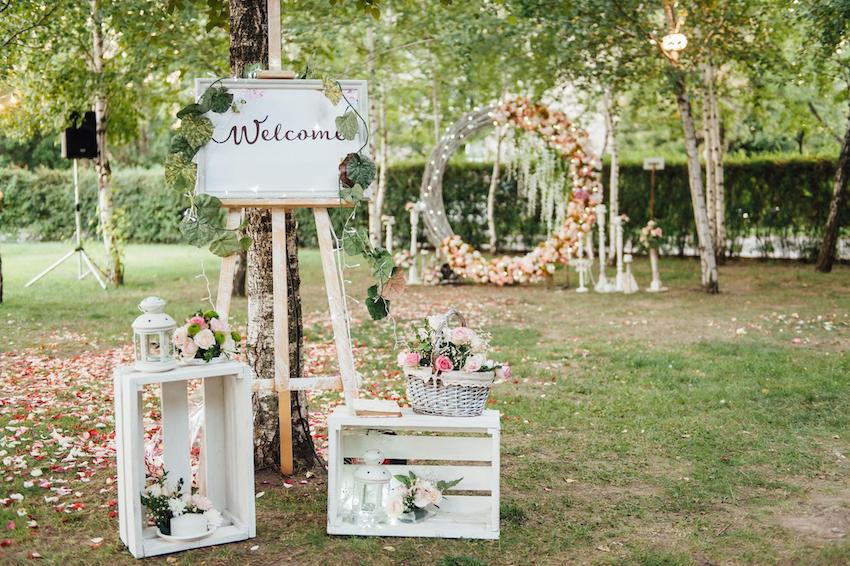 Backyard wedding receptions are some of the most fun celebrations around. You get to spend time with your closest friends and family members in a space that couldn't feel more like home. 
But how do you plan the perfect backyard reception? In this guide, we'll give you our best ideas and advice on planning a backyard wedding reception that you and your guests will love. 

Why Have a Backyard Wedding Reception?
So many couples are opting for a home wedding or backyard wedding reception these days. Often it's due to the unusual circumstances we've found ourselves in with the pandemic, but even in ordinary times, there are lots of good reasons to throw a backyard reception. 
Affordable
Backyard wedding receptions have the potential to be really affordable and go easy on your wedding budget. You can skip the costs of a wedding planner and traditional venue, or keep them low by using a wedding venue for just your ceremony. 
This means you get to create a fun wedding with a smaller budget, or use your funds to make the most important details feel more special — spend more on your wedding dress, or hire your favorite band to play as guests hit your homemade dance floor. 
Easy to Personalize
With no rules on what you can and can't do (within reason), your backyard wedding reception is easier to personalize than a grand affair at a more traditional venue. 
You can go all out with DIY party decor and wild color palettes, or transform your backyard into an entirely different destination — like a magical forest or a winter wonderland. Whatever you want goes, as long as you follow local rules like noise ordinances. 
Feels More Cozy and Intimate
Traditional wedding venues can often feel sparse or too big — even if your guest list isn't on the small side. With a backyard wedding reception, there's a coziness that other places can't match. 
Whether you gather all your friends and family, or invite just your closest family members, backyard wedding receptions feel like intimate celebrations. The space feels familiar, which helps you and your wedding guests feel relaxed and right at home. 
Planning Tips for an Amazing Backyard Wedding Reception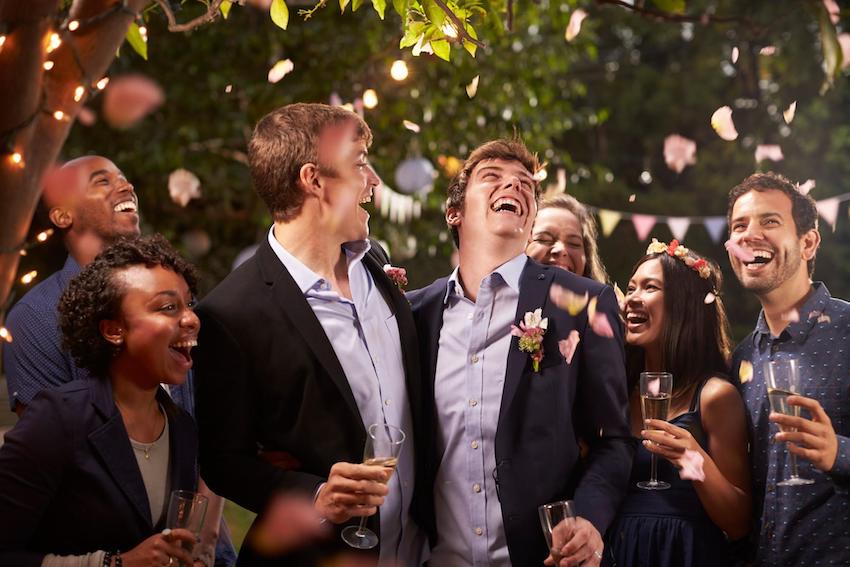 Not sure where to get started with planning your dream backyard wedding? We've brought together our best tips to help you figure things out. 
DIY or Hire a Wedding Planner?
With a wedding in your own backyard, you don't need to invest in a wedding planner. It might still be a great option though. If you hand over planning to someone who's experienced, you can focus on enjoying the moment. If not, a backyard wedding gives you plenty of space to shine with your own creativity. 
Decide On Your Drinks and Catering
An outdoor wedding at home gives you plenty of freedom with your drinks and catering options. You could cook up a BBQ and serve fresh lemonade, hire caterers for a luxe sit-down meal, or hire food trucks to stop by and feed your guests. There's tons of space here to embrace your favorite cuisines, snacks, desserts, and drinks. 
Handpick Your Wedding Vendors
With no contracts to tie you in, you're completely free to choose your own wedding vendors and suppliers. Book that florist you've always dreamed about working with, or hire a wedding supplies company to transform your backyard into a tropical oasis. 
Dress for the Occasion
Saying goodbye to a traditional venue doesn't mean you have to say no to a gorgeous wedding dress. If you're hosting your ceremony elsewhere, the break between then and your reception gives you the chance to change into something more comfortable and relaxed for your backyard get-together. But since your backyard will look better than ever, you can keep your gown on to match your surroundings. 
Add Fun Party Games
A backyard wedding reception is the perfect place to host yard games and outdoor activities. Set up a giant Jenga for your wedding guests to enjoy, along with great party games like cornhole, ring toss, and limbo. 
Plan for All Weather
While we all hope for amazing weather on our wedding day, sometimes the clouds have other ideas. Prepare for bad weather and make your event as adaptable as possible by hiring a tent for the reception. Make sure you choose one with enough space for all your guests and activities. 
Consider Clean Up
At a traditional wedding venue, there's a team on hand to help with cleanup so you don't have to. At home it's different, and someone in your wedding party will usually pick things up. If you don't want to task family members or friends with this, consider hiring a team of people to handle the setup and clear things away for you. 
Beautiful Backyard Wedding Reception Decor Ideas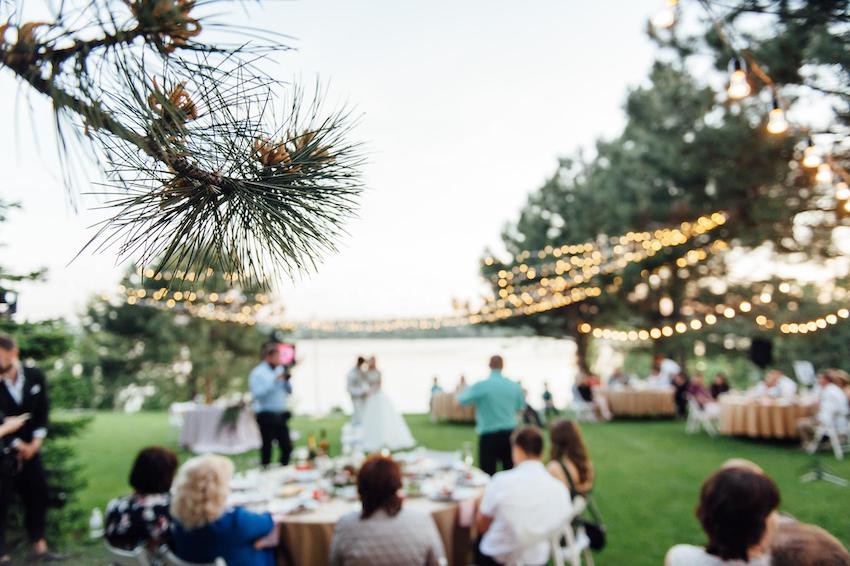 With the planning side sorted, you can move onto some of the most fun aspects of planning your wedding — the theming and decor. Here are some backyard wedding reception decor ideas to inspire you to create an amazing celebration. 
Choose an Overall Theme
Having a theme for your backyard wedding reception will help you come up with a fun, cohesive look that creates an immersive experience for guests. 
Here are some of our favorite outdoor wedding themes:Â 
Rustic 

Boho 

Luxe 

Vintage 

Pastels

Rainbow

Roaring '20s

Relaxed Picnic

Tropical Paradise

Winter Wonderland
You could always mix and match these ideas to create something really unique. Instead of a traditional, barn-inspired rustic look, why not upgrade it to a luxe version with the addition of hints of gold and elegant touches? 
Set the Mood With Lighting
So much of a space's atmosphere comes from the lighting within. Transform your backyard into a magical place with the help of some carefully chosen lighting fixtures. 
For a boho, relaxed effect, add string lighting to trees and fences around your yard. Stick to a traditional warm bulb, or go all out with brightly colored rainbow bulbs instead. For a more sophisticated outdoor soirée, hang chandeliers from a structure above a long banquet table. 
Bring in Decorative Accents
Once you've chosen a theme and created an atmosphere, all you need are some decorative accents to give your look the finishing touches. There are a lot of options for backyard wedding decor — here are some of our favorite ideas: 
Floral centerpieces

Brightly colored glassware

Mason jars filled with greenery

Plaid or rainbow bunting

Pastel-colored balloon arch
You can find most of these decorations through a rental company, or you can have a go at creating your own DIY versions — like this DIY plaid bunting.
Special Considerations for Your Pandemic Backyard Wedding Reception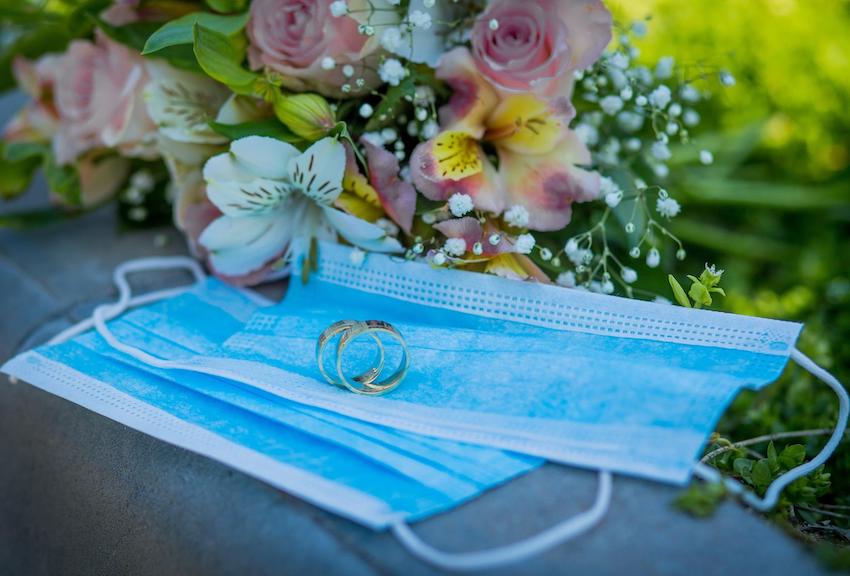 Planning and hosting a wedding reception requires some extra considerations in these challenging times. Here's your mini-guide to planning your backyard wedding reception with the coronavirus in mind. 
Follow Social Distancing Guidelines
Because the coronavirus pandemic is still with us, you might want to consider asking guests to keep their distance wherever possible. Even as some states relax restrictions, some of your wedding guests may feel more comfortable if they can have some space. 
Build social distancing into your plans, and give people plenty of room so they can stay the recommended six feet away from others should they wish to. 
Observe Safety Guidelines
Alongside social distancing, there are lots of great ways you can help your wedding guests stay safe and feel more comfortable at your celebration. Set up plenty of handwashing and hand sanitizing stations so guests can refresh, and limit opportunities for contact — by serving up individual plates of food rather than a buffet, for example. 
Plan for Last-Minute Changes
Wedding planning through a pandemic can be challenging, and last-minute changes mean your wedding plans might need to change too. Stay resilient and look for ways to plan around potential problems. Keep your guest list limited, and stay in touch with your guests regularly to keep them updated on any changes. 
Our Favorite Backyard Wedding Reception Invitations
We love the idea of using a themed wedding invitation for your backyard wedding reception. All these online invitations are easy to customize, so you can make them work for you — whether you're hosting the ceremony and reception at home or at different locations, or you're sending out a reception-only invite. 
Bright and Bold Florals Wedding Invitation
Set the stage for a beautiful backyard wedding reception with this bold floral invite. We love the bold color choices, and the rainbow text is a fun addition. 
Bold Plaid Wedding Invitation
Planning a relaxed picnic for your backyard get-together? This bold plaid invitation is a sweet, modern way to introduce the idea to your guests. 
Hydrangeas Wedding Invitation
Invite your wedding guests to a sophisticated, moody backyard wedding reception with this gorgeous hydrangeas invitation. The dark colors and beautiful script create a sense of mystery and wonder. 
Botanical Ampersand Wedding Invitation
For a modern twist on floral, this botanical ampersand invitation is the perfect match. The bold type lets your guests focus on the details while the design gives them a hint of the backyard celebration you have planned. 
Bright Bougainvillea Wedding Invitation
If you want to send a wedding invitation that feels a little different, this quirky illustrated design is ideal. The gorgeous details and vintage signs are the perfect backdrop to spread the word about your outdoor event. 
Host a Magical Backyard Wedding Reception
Backyard wedding receptions are the perfect blend of cozy, relaxed, and wonderful. You can party carefree with your nearest and dearest in the comforts of your or your family's backyard. 
Use our planning guide to help you dream up your perfect backyard reception and make it a reality. Plan your decor, catering, and vendors around your ideal theme and atmosphere, then get people excited about the event with an outdoor-themed wedding invitation.