January 2, 2019
Although some wedding traditions stay generally consistent, wedding trends have definitely changed over the years. A wedding that happens today could look drastically different from a wedding held a year from now. The wedding industry is booming, but it wasn't always like that. Take a trip down memory lane and find out what wedding trend was most popular when you got married.
1960: Daisies and Metallic
The flower of the decade was the daisy. Because of this, you'll find that many brides during this time carried bouquets of daisies as they walked down the aisle or wore them as embellishments on their gowns. Additionally, many weddings during the Space Age incorporated metallic accessories into their ensemble.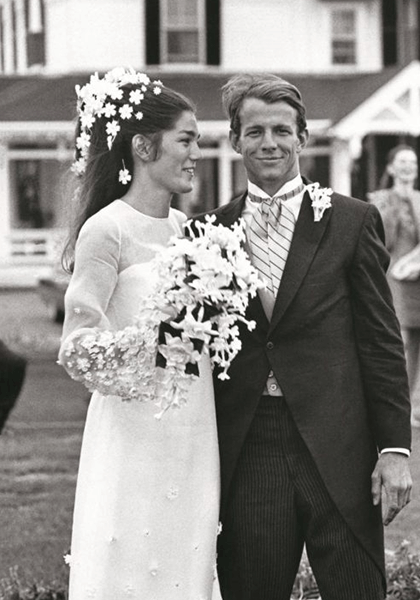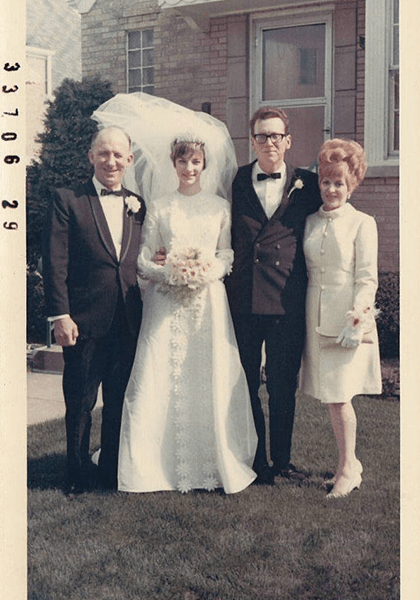 1965: At-Home Reception
The wedding industry hadn't taken off yet, so after-parties being held at home was a traditional '60's wedding fad. Full dinners were often served as well as a non-alcoholic sherbet as a refreshment. These couples saved money on venue costs and most likely had a smaller guest list.
1970: Flower Crowns
The 1970's began the infamous flower crown trend. Many brides wore headpieces made out of flowers or other greenery. Some brides wore this in addition to a veil, but others just wore the flower crown by itself.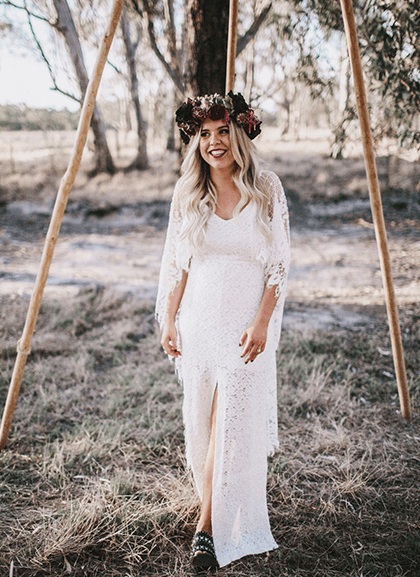 1975: Outdoor Wedding Ceremonies
The free spirit vibe of the 1970's influenced the increase of large, outdoor wedding venues that we commonly see held today. Most outdoor weddings prior to the '70's were held in backyards as a small, intimate ceremony.
1980: Dramatic Elements
Bridal gowns in the 1980's are a trend to remember. The sleeves were puffier, the hemlines were frillier, and lace was a necessity. The extravagant style of '80's gowns makes them easier to recognize than dresses from other decades.  This was a time where over-the-top was definitely on trend.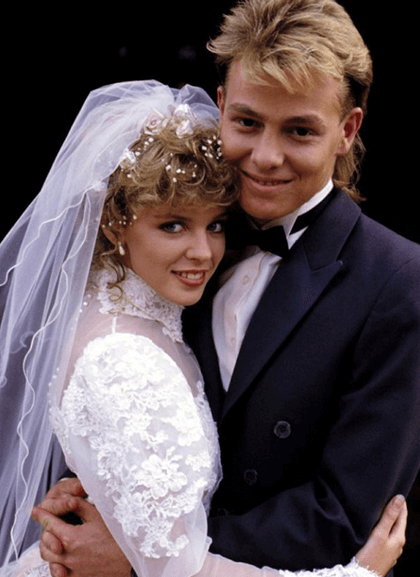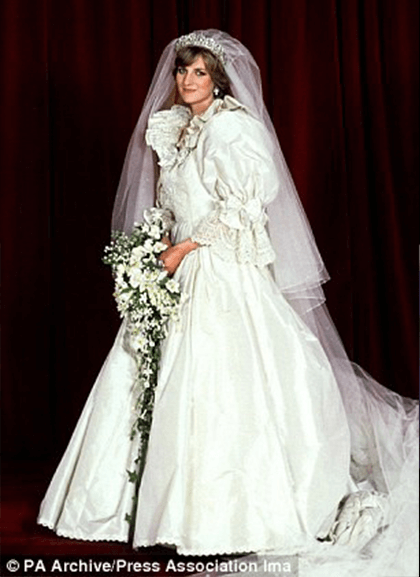 1983: Capturing the Moment
In May of 1983, the first Betamovie camcorder was released by Sony. This allowed brides and grooms to capture videos of their wedding that they could later look back on. From this moment on, wedding videographers became a budding career.
1990: Matchy-Matchy
In the 90's more and more wedding parties got into the "matchy-matchy" trend. Bridal party dresses were perfectly cloned, along with their hairstyles and makeup. This has since been updated to bridesmaids dressed in "mitch-matched" gowns with varying color and style of dresses.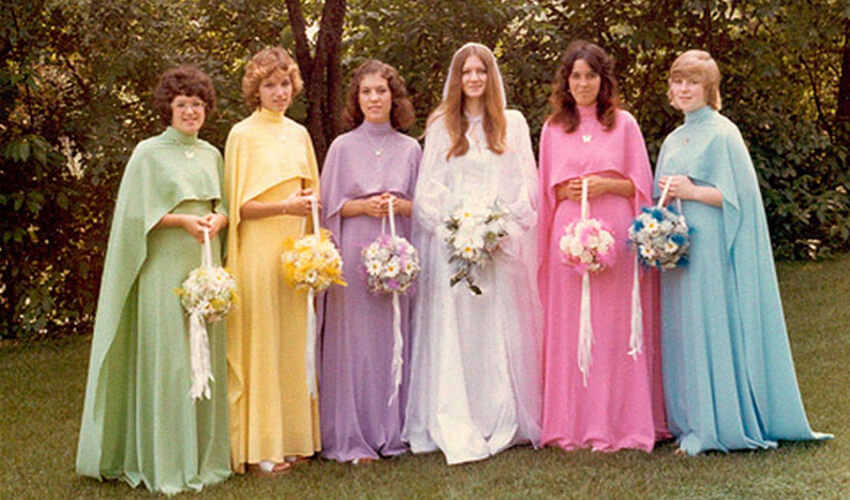 1997: Wedding Industry Boom
The 1990's were filled with wedding-centric movies. Movies like My Best Friend's Wedding, Four Weddings and a Funeral, Father of the Bride, and Picture Perfect all affected how weddings look today. As a result, the wedding industry skyrocketed.
2000: Cupcake Wedding Tower
Carrie Bradshaw's Magnolia Bakery visit in the hit show, Sex and the City, sparked the cupcake trend in the early 2000's. It became common to go to a wedding and see a cupcake tower instead of a traditional wedding cake. This extinguished the tradition of cutting the cake together as a couple, but made serving your guests so much easier.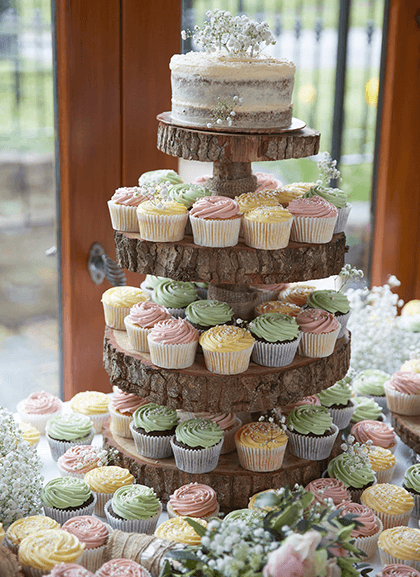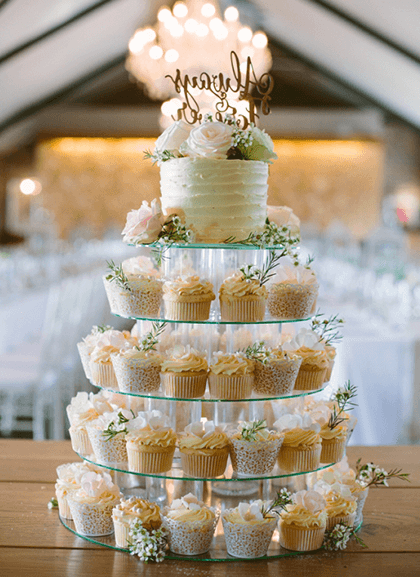 2010: The Birth of Wedding Boards
Pinterest was launched in March of 2010 and so the start of wedding boards was also created. This launch entirely changed the wedding planning process for brides. They now had a place where they could collect their ideas and inspirations, and share their own for others. Today, Pinterest users save roughly 900 million wedding-related pins each year.
2016: Grooms Get Stylish
Grooms became more stylish in 2016, with personalized cuff links, stylish suits, embroidered monograms, and more. A black tuxedo was no longer the first thought for a groom.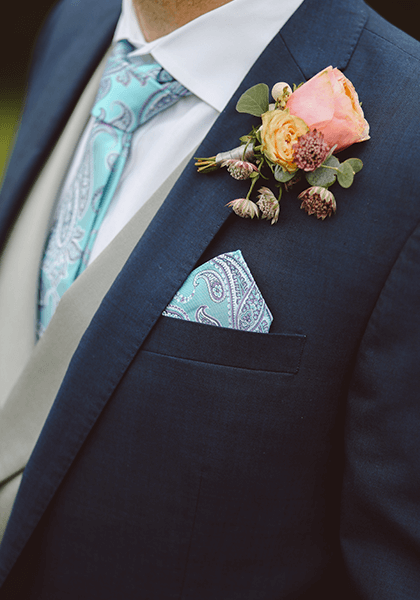 2018: Nontraditional Wedding Registry
It's become increasingly popular for brides and grooms to stray away from traditional wedding registries. According to The Knot, 76% of millennials cohabit before marriage and they also tend to get married later. Cash registries are great for the couple who already has everything or charity registries for the couple who wants to pay their celebration forward.