May 20, 2021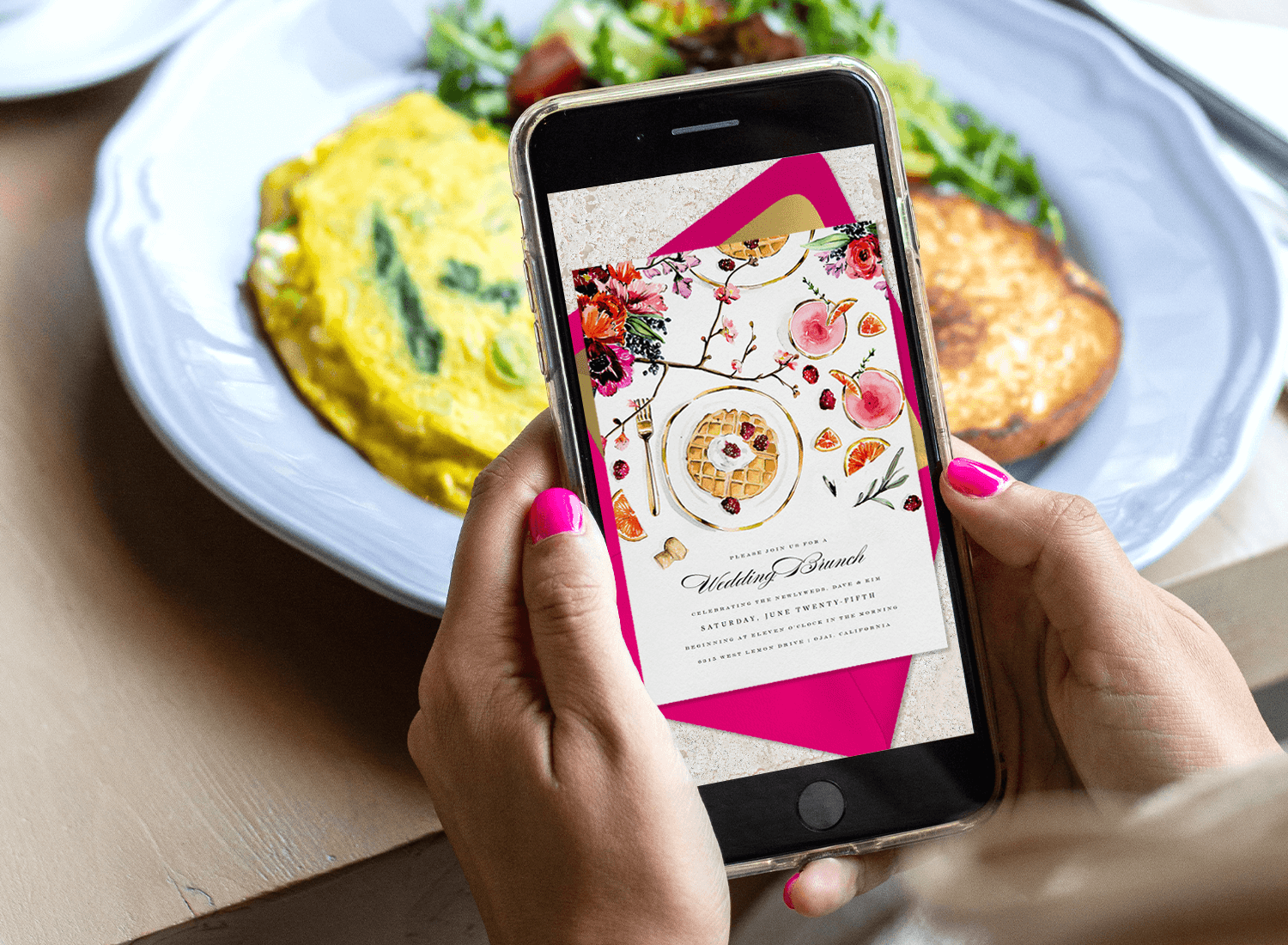 There's something magical about a brunch wedding. Even though there's an early start, you have more of the day to enjoy with your loved ones before the evening draws in. There's that gorgeous early light that helps you create jaw-dropping photos, plus the practical benefits of being more affordable and giving you more casual decor and dining options.
To help you make the most of your big day, here's our mini-guide on how to plan and style a beautiful brunch wedding. We'll take you through why they're a lovely option for a relaxed, cozy get-together — plus share our favorite brunch wedding ideas. 

How to Plan Your Perfect Brunch Wedding
Ready to get wedding planning? Here's our best advice on how to plan your dream brunch wedding day — whether you're going for a sophisticated soirée or a relaxed garden party. 
Find Your Dream Wedding Venue
With a morning or early afternoon wedding, you can open up your wedding venue plans and look for somewhere a little different. Gardens, outdoor cafes, and scenic spots are all perfect for a brunch wedding. 
If you have your heart set on a more traditional space, you may be able to score a discount on the venue — especially if they can book it out again in the evening for another event. 
For a really sweet idea, why not consider a backyard wedding? You could transform your home and yard (or a family member's home) into your dream outdoor wedding ceremony and reception venue. 
Plan the Details
With your wedding venue chosen, you can get started on planning all the finer details — including a theme and decor. 
Brunch weddings give you a lot of creative freedom, especially if you want to host a more laid-back celebration. Swap chandeliers and extravagant centerpieces for a cozy and bright festive theme and fruity cocktails on the lawn. 
Don't forget about styling your wedding dress or suit too. Go all out casual with something light, floaty, and beach-ready, or head in the other direction and make a daring statement in a totally not-daywear glitzy gown. 
Set Your Menu
One of the best things about a brunch wedding is the food. You don't need to opt for a formal, three-course sit-down meal. Instead, you can enjoy a more casual and carefree dining experience. 
Weddings that take place early in the day are perfect for yummy brunch food. Think waffles, crepes, bagels, french toast, croissants, omelets, and eggs. Serve this up buffet style or as a simple and sweet two-course meal. 
Invite Your Wedding Guests
With the key details sorted, you can start thinking about sending wedding invitations. Finalize your guest list, choose your invite designs, and spread the word. 
We love the idea of choosing an online invitation that matches your wedding day theme and colors. With our invites, you can easily personalize the design and wording to transform a template into something really special. 
Be Super Organized
With brunch weddings taking place so early in the day, your whole schedule needs to move up. This means you need to be extra organized to make everything happen smoothly. 
Make sure your vendors know you'll need them at an early time of day, and prepare as much as you can the evening before. Have your team with you bright and early, espressos in hand, ready to help you conquer the day with confidence. 
Our Favorite Brunch Wedding Ideas
Planning and styling a brunch reception and morning ceremony is so much fun. You can shake off traditions and really make the day your own. Here are some of our top brunch wedding ideas to inspire you. 
Garden Celebrations
Brunch wedding receptions really lend themselves to a beautiful outdoor setting. Hosting your reception in a greenhouse, on the venue lawns, or in a scenic forest are all gorgeous ways to mark the moment. 
Relaxed Boho Vibes
Transform your venue into the ultimate laid-back party space with a rustic boho vibe. Add in plenty of string lighting, natural fabrics, cozy outdoor seating, and acoustic music, and you have the perfect chill space to enjoy with friends. 
Alternative Wedding Cake
With a more relaxed atmosphere at a morning wedding, you don't need to stick with a traditional wedding cake. Feel free to swap your multi-tier wedding cake for a smaller version, or a cheesecake instead. For something really different, forego the cake completely in favor of donuts. 
Fresh Fruit Juices and Cocktails
A brunch wedding means there's no requirement to host an open bar all night, which helps you save money and gives you some freedom with your drinks. Give your cocktail hour a fun twist by serving up fruity cocktails, mimosas, bellinis, and bloody marys to your guests. 
Live Local Band
With no evening wedding reception, a DJ and dance floor might not be a high priority for you. Instead, add some atmosphere to your reception with some live music from a talented local band, musician, or singer. Get your party guests involved with an open mic segment so you can sing along together. 
Afternoon of Activities
The all-night dance party might be out, but there's no reason to exclude party games and activities from your brunch wedding. With an early start, there's more time to enjoy grander activities with your group. Why not plan an afternoon of relaxing by a lake together, or set up plenty of lawn games to play.
7 Brunch Wedding Invitations We Love
Ready to start looking for the perfect invites for your brunch wedding? Here's a handful of our favorite wedding invitations for a relaxed and intimate celebration. 
1. Lemon Orchard Wedding Invitation
This gorgeous lemon orchard wedding invitation is perfect for a brunch ceremony and reception. The soft, light colors are ideal for a garden party or a backyard wedding with your closest friends and family. 
2. Modern Arch Wedding Invitation
We love the combination of bold shapes and textured backgrounds on this modern arch wedding invitation. It's perfect for a contemporary brunch wedding in a stylish local wedding venue. 
3. Bold Florals Wedding Invitation
This striking bold florals wedding invitation is a sweet way to invite loved ones along to your bright, mimosa-filled brunch wedding. It gives off a fun, lively vibe. 
4. Brunch Blooms Wedding Invitation
This stunning brunch blooms invitation is the perfect way to get people excited about your daytime wedding. While this is a birthday invitation, it can be easily styled and customized into a wonderful wedding invitation. 
5. Alpine Lake Wedding Invitation
With a stylish nod to Glacier National Park, this alpine lake wedding invitation sets the scene for a beautiful, outdoorsy brunch wedding. This could be ideal if you're hosting an afternoon of beautiful walks or outdoor pursuits after the big celebration. 
6. Brunch & Bubbly Wedding Invitation
If you're looking for a design that's modern and bright, this brunch & bubbly invitation could be the perfect option. This example is styled as a birthday party invite, but you can customize all the text and colors to make this a standout wedding invitation. 
7. Elegant Overlay Wedding Invitation
Put you and your special person front and center with this elegant overlay wedding invitation. There's space for a full-sized image of the two of you with elegant text that helps you share all the essential details about the big day. 
Host a Brunch Wedding Your Guests Will Love
Hosting a brunch wedding is a lovely idea. Not only do your wedding photos benefit from the daytime light, but you have more time together for fun in the afternoon — and into the evening if you wish. We hope this guide has inspired you to plan the brunch wedding of your dreams, and to arrange all the details that go along with it.