May 23, 2022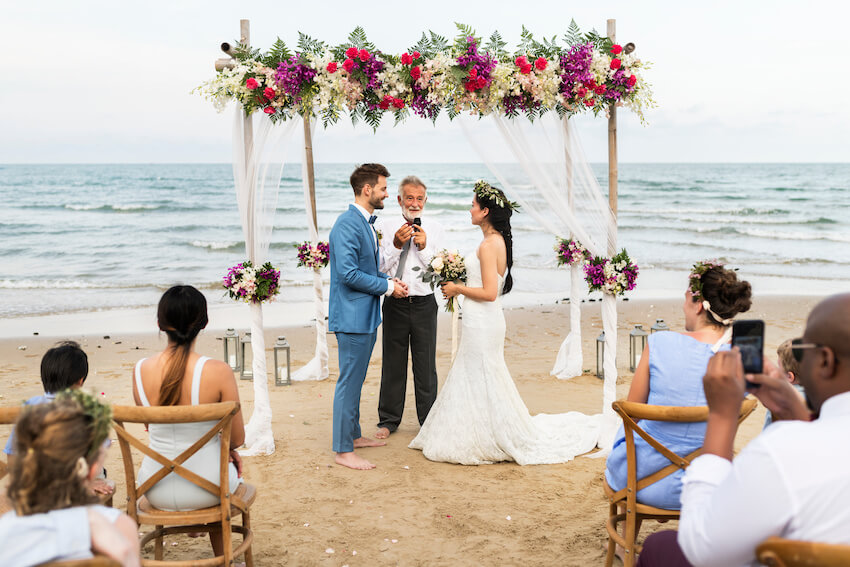 What better backdrop for your wedding photos than a gorgeous, sparkling ocean? Beach weddings are loved by many for their stunning scenery, relaxed atmosphere, and memory-making potential. 
If you're thinking of planning a beach wedding, we have all the details you need. Explore these beach wedding ideas and tips to help you plan an unforgettable celebration by the ocean. 

What to Consider When Planning Your Dream Beach Wedding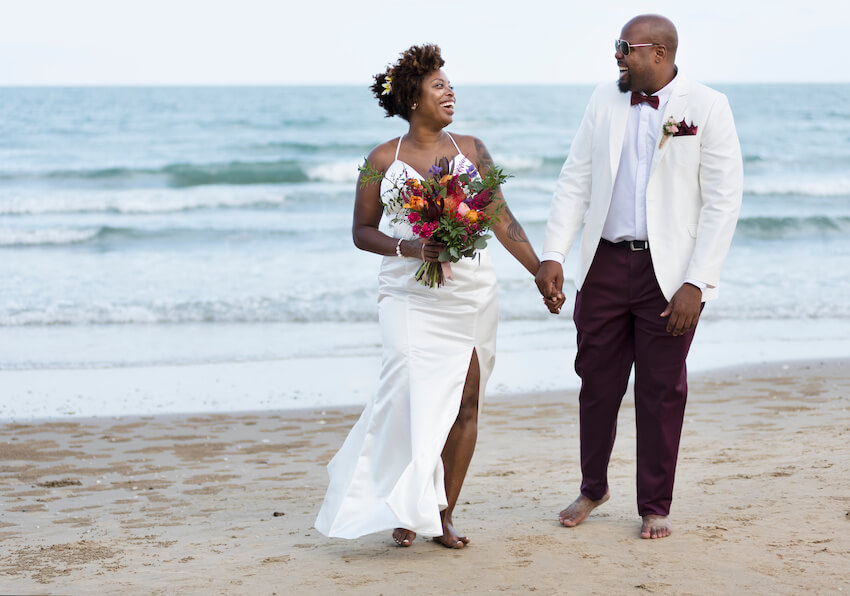 We love a beach wedding! The dramatic scenery, sounds of nature, and joyful atmosphere make it a wonderful place to exchange your vows. That beauty comes with a drawback, though — the wedding planning process for a beach wedding requires a few more considerations. Here are the practical things to think about when planning a wedding by the sea. 
Find the Perfect Beach
The first step in planning a beach wedding is to find the ideal beach wedding venue or location. Maybe you're looking at a Florida beach wedding followed by a visit to your favorite theme park. Perhaps San Diego is in the cards, with a ceremony at the stunning Mission Beach. You could also explore white sand beaches in gorgeous destinations like the Seychelles, Jamaica, or Mexico. 
Once you've found an area you love, consider which beach wedding venue works best for you. A cozy, family-owned restaurant overlooking the beach might fit a smaller budget, or you could spare no expense at a luxury beachfront hotel. 
If you love the idea of a destination beach wedding but can't afford to bring your loved ones with you on the getaway, consider an elopement there instead. It's a perfect balance between the location you love and keeping your celebration small and intimate. When you return, host a big party for all your loved ones. 
Pick Your Wedding Date Wisely
Even the most beautiful beach can look terrible during bad weather, so plan carefully. Get to know the likely weather patterns for the time of year you want to host your wedding and be mindful of this. The last thing you want to deal with on your big day is a thunderstorm or cold front. 
Keep things simple by looking for a relatively calm time of year — avoid hurricane season, even if it means bargain prices to tropical destinations. If you decide to roll the dice and hope the weather holds out, be sure to have a backup plan ready, so you can move your guests somewhere sheltered if the weather turns bad. 
Choose the Right Time of Day
A beach can look totally different during the day compared to at night, so think about this when you plan your ceremony timings. Consider whether you want a dreamy sunset beach wedding or a morning ceremony. 
Mornings can be quieter and are often less hot than other times of the day, but you'll want to make sure it's not too chilly for your guests. Keep them out of the sun during the middle of the day by putting up an open-sided tent or renting parasols for a small party. Evening ceremonies can be magical; after a beautiful sunset over the waves, you can light up the night with some cozy torches or bright fireworks. 
Consult the Professionals
Planning a beach wedding isn't always easy — especially if it's a destination wedding and you can't make regular trips out to view the location or meet your vendors. In cases like these, consider investing in a wedding planner to help make your dream a reality.
A wedding pro can help you find the perfect private beach, scout out a reception venue, secure necessary permits, and put together a beach wedding package that means you don't have to think about all the options. If you can budget for this, it's a great way to ease some of the planning pressures and focus on the details that will make the event truly your own. 
Fun Beach Wedding Themes
A wedding is already a special event, but adding a theme can be a great way to make it feel fun and festive. Here's a handful of our favorite theme ideas for a beach wedding celebration. 
All Things Nautical
Take your inspiration from the history of the sea and host a ceremony and reception focused on all things nautical. Decorate with anchors, rustic rope, and a ship's wheel. You can bring this theme through to your color scheme, incorporating navy, teal, and other nautical hues. Don't forget the little touches that bring your theme to life — these rope-wrapped candles are easy to make for your centerpieces or buffet table. Use anchors instead of seashells for an even more nautical look. 
Whimsical Wonderland
A beach wedding always feels magical — play on this with a whimsical or fantasy-themed event. Ask your wedding party to wear soft pastel colors, light the beach with string lighting, and dine on the beach under a carefully constructed canopy of blossoming flowers. 
Hollywood by the Sea
Who said a beach wedding can't be luxe? Bring the red carpet to the sand with an aisle lined with red flowers, a photo walkway, and a wedding dress or suit fit for a movie premiere. After the ceremony, host your wedding reception at a luxurious beach house or hotel ballroom for a sophisticated end to the day. 
Stunning Beach Wedding Decor Ideas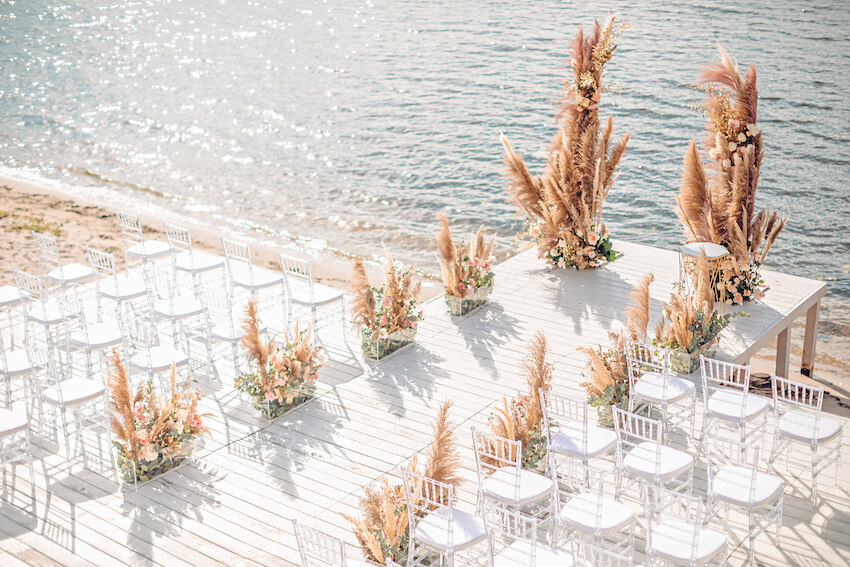 The beauty of a beach wedding makes your decor easy. The view of the calm sea or towering cliffs nearby doesn't require much extra help. If you want to stand out with some additional decorative touches, here are some wedding decor ideas that will surely make a splash at your beach ceremony.
Flowery Aisle
A beautiful way to decorate your beach wedding ceremony is with bouquets and displays of fresh flowers. Ask your florist to create displays that you can place along the aisle to draw your guests' attention to where you'll exchange your vows in front of the officiant. 
Wooden Wedding Arch
There aren't many decor elements you can add to a beach setting, but a wedding arch is one of the best and most striking. Opt for a wooden arch that ties into the theme of your big day — whether that's rustic boho or contemporary luxe. You can add more flowers here, string lights for an evening ceremony, or leave it simple and put the focus on the ocean beyond. 
Natural Lighting
With no source of power close by, candles or solar-powered torches are your best source of lighting for an evening ceremony. Luckily, they make great decor additions to the celebration. Look for lanterns, torches, and battery-powered string lighting that suit your theme and add a romantic, cozy air to the ceremony. You can line the aisle with lights or create your own sky full of stars with a string-light canopy. 
Tasty Catering Ideas for a Beach Wedding
Your wedding day is the ideal excuse to indulge in a wonderfully prepared meal. Instead of a traditional sit-down meal with multiple courses and table service, look for a wedding vendor that can supply you with one of these creative catering ideas. 
Relaxed BBQ
A BBQ is always a great idea for a beach wedding — especially if it's a laid-back celebration. Gather your loved ones on the beach to enjoy a freshly-cooked spread of burgers, hot dogs, grilled meats, and tasty vegetarian dishes, too. 
Luxury Picnic
For a fun twist on a casual picnic, ask your catering vendors to put together luxury picnic packs or grazing boards for your guests. Seat your guests together on the sand where they can talk, eat, and enjoy some ice-cold drinks. Add some cozy touches to make everyone comfortable, like these DIY beach towel pillows, which you can match to your color scheme. 
Food Truck
If there's easy access to the road at your wedding location, a food truck could be the perfect way to cater for your party. There are so many delicious food truck options — from authentic East Asian cuisine to traditional seafood favorites. Scope out the local food truck scene and find the perfect menu for your special day.
Our Favorite Beach Wedding Invitations
It's time for one of our most-loved parts of the wedding planning process — the invitations! With your oceanfront ceremony almost perfectly planned, it's time to start thinking about sending save the dates and wedding invitations to your guests. 
With Greenvelope, our digital invitations and save the date cards are a great way to share the details of your beach wedding day. Choose a design, customize your invitations with the layout, wording, and colors you love, then send them out to your guests in a few clicks. 
You can find matching designs across our wedding stationery range, so you can enjoy the same beach-inspired look from your save the dates through to your thank you notes. Plus, our digital experience makes it easy for you to get responses from your guests. Send surveys, ask for menu choices, and collect RSVPs the easy way.
Here are a few of our favorite beach wedding invitations to get you started. 
By the Seaside Wedding Invitation
This stunning By the Seaside invitation is perfect for any ocean-themed celebration. The soft sea colors work beautifully with the delicate font to create a beach wedding invitation that's both striking and welcoming. 
Tidal Wave Wedding Invitation
If you're looking for something beachy but not too on-the-nose, this Tidal Wave invitation is ideal. The dynamic, artfully drawn wave gives an impression of movement and looks like the ocean dressed up. Whether you opt for the black and gold shown here, the gorgeous teal, or your own color scheme, this invitation is perfect for a sophisticated, luxurious beach wedding. 
Palm Tree Wedding Invitation
The modern colors on this Palm Tree invitation really make it pop — it's ideal for any destination where you'll find lots of those unmistakable palms lining the shore or boardwalk. This invitation's modern design makes it superb for contemporary gatherings by the beach. 
Create the Ultimate Beach Wedding
Start planning your big day with these beach wedding ideas. Think about when to host your wedding, how to make the most of the gorgeous natural light, and which decor elements are must-haves for your beach ceremony. Use these tips to help you find the perfect location, come up with a creative theme, and make your wedding dreams come true.
When it's time to invite your guests, browse our collection of beach wedding invitations. Each design can be customized to suit your style so that you can match your invites to the look and feel of your beach ceremony and reception.