April 10, 2023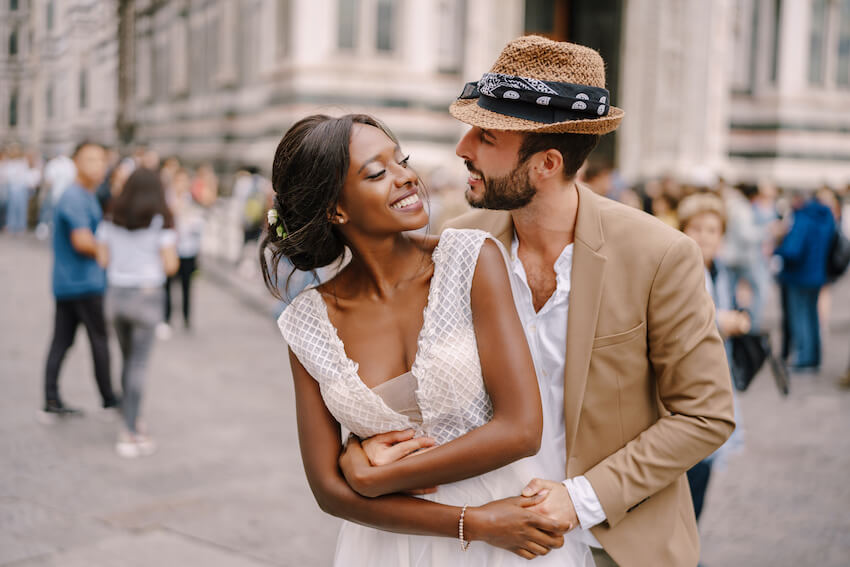 If a traditional wedding isn't for you but you still want to celebrate with loved ones, an elopement party is a perfect solution. It gives you the space to keep the big day private while allowing you to plan a party with your nearest and dearest. Here, we'll show you how to plan an elopement party in five easy steps. Plus, you'll discover gorgeous invitation designs and advice on what to say.

What's an Elopement Party?
Also called a post-elopement party, an elopement party is all about celebrating your recent "I do's" with close family and friends. It's a great way to get the feel of a wedding reception without having to plan an entire wedding. Plus, it allows you to keep the focus on you and your partner on the big day and gives you the option of still being able to share some of that joy with loved ones later on.
An elopement party is ideal for couples who don't want a big fuss on their special day. It also works well for couples who are planning a destination elopement abroad or at a venue that guests can't easily access — like a mountaintop or during a scuba dive.
Elopement parties can have fully catered meals or be mellow backyard gatherings — it truly depends on what the newlyweds want. Regardless of the actual scope of the event, most elopement parties are more low-key than traditional wedding receptions and thus require a lot less planning and etiquette adherence.
Planning an Elopement Party: 5 Easy Steps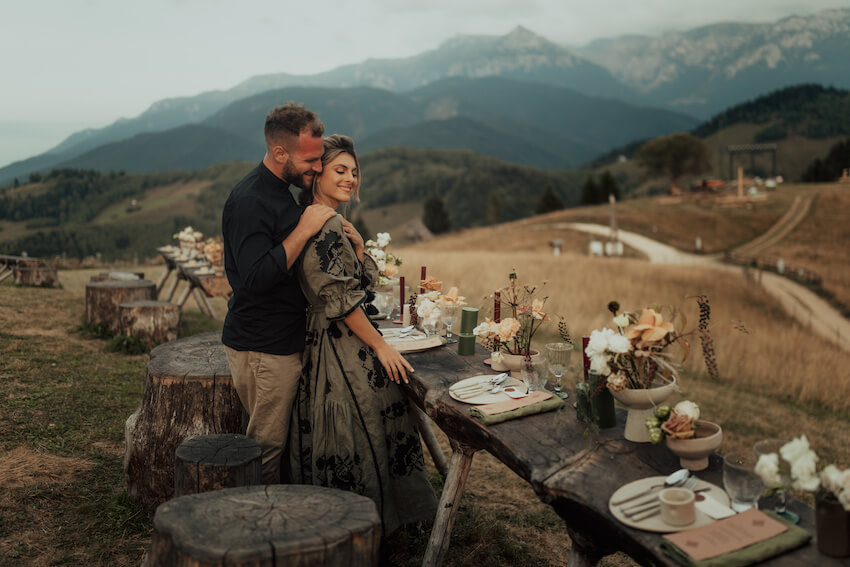 While planning an elopement party is simpler than putting together an entire wedding, there are still some considerations to keep in mind. Here are some tips for choosing the perfect place, deciding on entertainment, and ensuring guests know what to expect.
1. Choose a Reception Location
First, you'll need to decide where and when you want the party. You can choose to keep things laid-back and have guests over for cocktails, a potluck, or a BBQ in your backyard. You can also opt for something more substantial with a plated dinner at your favorite restaurant or a fancy brunch at a tea house.
Another popular reception idea is renting an Airbnb in a destination location, such as a mountain cabin, a tree house, or a beach house. The best part about this idea is that you can offer housing for the attendees if your guest list is small. Plus, it makes it easy to turn the celebration into a weekend getaway instead of a single event.
2. Decide What Food You Want to Serve
Since this isn't a traditional wedding day, you can keep things a little more informal. It's nice to offer refreshments, but you certainly don't have to set up a full, multi-course meal. Keep it casual with a food truck, buffet, or simple appetizers. 
Hiring a food truck is particularly popular since you don't have to deal with food prep, clean-up, or serving. Guests can just order what they like and the food truck operators handle the rest.
3. Arrange Entertainment
Many couples like the idea of dancing and reception activities but don't want to deal with the huge task of coordinating a full wedding. With an elopement party, you can incorporate fun activities like a dance floor and party games without the stress of a full wedding day schedule. 
Plan to share your first dance as newlyweds in front of friends and family at your post-elopement reception. You can rent out a dance floor or just invite guests to sway to your playlist with their feet in the grass and their heads in the stars.
You can also hire a local band or set time aside to share your vows or a sweet speech reminiscing about the big day. An elopement party is also a good time to celebrate any cultural wedding traditions like releasing doves or participating in a tea ceremony.
Consider sharing elopement photos as a slideshow with your guests. This way, they can get a glimpse of your actual elopement day, even if they couldn't be a part of it. You can also hire an elopement photographer to attend the post-elopement celebration to snap photos with your loved ones.
4. Select Your Elopement Party Attire
Your post-elopement party is an excellent chance to wear your wedding dress again — or don a new outfit entirely! You can opt to wear a simple white dress or show off your wedding style with something more colorful. Since this is a post-ceremony celebration, you can keep it as formal or casual as you'd like. Go for traditional wedding attire if you want to incorporate a hint of classic formality or choose a casual ensemble or an unorthodox design.
5. Consider Family Members' Feelings
Keep in mind, some family members may be surprised or upset that you didn't choose the traditional wedding route. If you're concerned, let close family members know beforehand with an elopement announcement. While these are often sent after the nuptials, you can certainly send them ahead of time. Your loved ones may appreciate the heads up and it gives you a chance to lay out your reasoning before they have a chance to feel left out. 
Gently remind friends and family that it's your love story and you want to celebrate in a way that makes you happiest. With an invite to a post-elopement party, they still feel included and get to have memories of your special union.
What to Say in an Elopement Invitation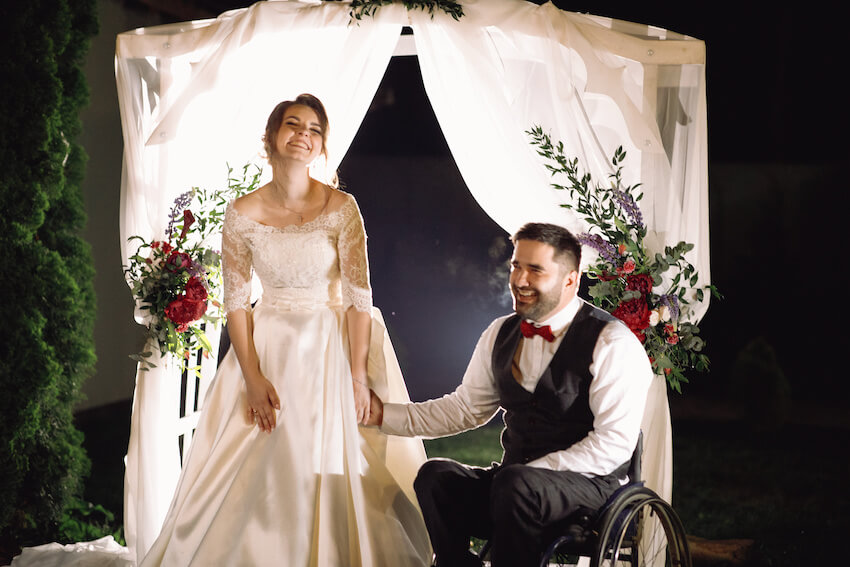 Now that you have your dream elopement party in mind, it's time to send out invites to those you want to celebrate with in person. Choose from Greenvelope's stunning collection of "already married" invitations or elopement party invitations.
Here are some wording ideas for your elopement party invite:
We tied the knot! Come celebrate with us!

We couldn't wait to say "

I do

" but we'd love to celebrate with you! Please join us at our elopement party.

Love made us do it! We got hitched and we can't wait to celebrate with you at our

backyard BBQ

.

Maria Barrios and Karen Thomas were married in a private ceremony in July. Please join their

post-elopement celebration

, on the third Saturday in September.
In your invitation, be sure to include all the party details — date, time, and location — and clarify if it's a formal event or if a casual dress code is acceptable. It's also a good idea to tell guests if gifts are expected or if they can skip them since this isn't a traditional wedding reception.
Elopement Invitations: 4 Designs You'll Love
Ready to announce your elopement and invite loved ones to celebrate your big news? Here are some of our favorite elopement reception invitations.
1. Letterpress Knot Announcement
Invite guests to a post-wedding celebration with this cheery invite. Choose from five color options and customize the details so your friends and fam know where to be and when.
2. Couldn't Wait Announcement
Skip the wedding ceremony and announce your elopement with this gorgeous photo invite. You can include photos from your special day and the supported backside has plenty of room for sharing details about post-elopement reception.
3. Did the Damn Thing Announcement
Let your friends and family in on the happy news with a little humor. Use this cheerful photo design to invite guests to your actual wedding day or to a post-elopement reception. 
4. Love Can't Wait Announcement
Skip the big wedding and invite guests to your elopement after-party with this modern invite. It puts the focus on the happy couple with a large photo slot and features a delicate gold foil border for a hint of glam.
Plan the Perfect Elopement Party, Starting With Invites
With these elopement party ideas and tips, you're sure to plan a dream after-wedding celebration. Plus, you'll have more control over planning the party you want. For digital invites, turn to Greenvelope where you'll find gorgeous designs ranging from casual and laid-back to chic and elegant. 
For more party planning tips, check out our Stationers blog where you'll find everything from tips on announcing your elopement to elopement ideas so you can say "I do" your way.