April 13, 2023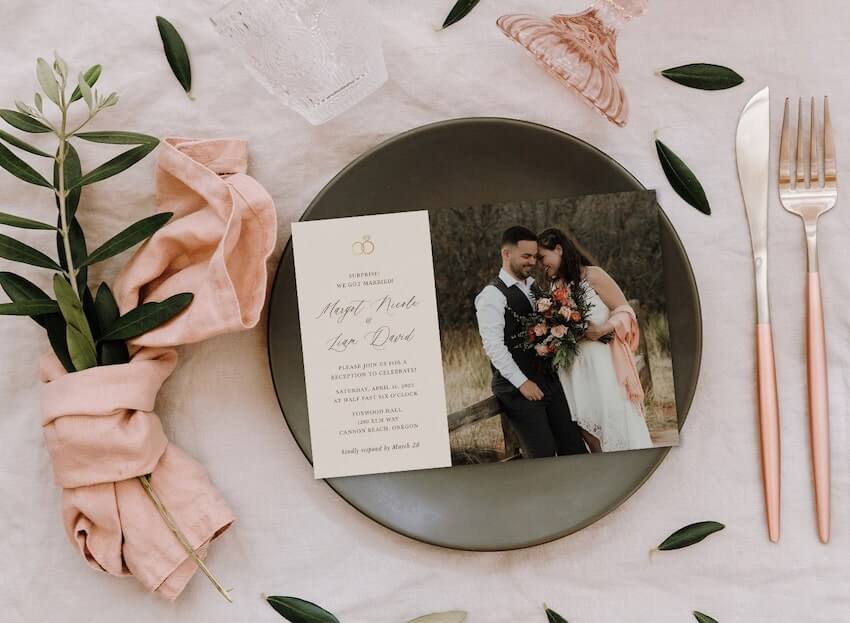 Whether you're in the midst of planning a romantic elopement or have already said "I do" at an intimate micro wedding ceremony, you can still celebrate with everyone you care about with a fabulous elopement reception — and that means you'll need gorgeous elopement reception invitations.
To make the process that much easier, we're sharing our top tips on designing elopement reception invitations that speak to your style, be it casual and fun or formal and sophisticated. We'll also share some of our favorite invitation designs that you can customize in minutes.

What to Include in Your Elopement Reception Invitations
While an elopement is generally more spontaneous and less time-consuming than a traditional wedding, you still can't escape every element of wedding planning — especially if you're hosting an after party. To begin, you'll want to share an elopement announcement. Some couples send these announcements ahead of time while others prefer to keep it a secret until after the fact. Whatever you decide, let your loved ones know that a celebration is coming. This way, they'll feel like they're part of this special moment and will be able to celebrate alongside you.
Your Elopement Story
Naturally, your elopement party invitations should share the news of your elopement. Some of your loved ones might already know, but for others, this post-wedding announcement could be the first they're hearing about it.
Maybe you hosted a destination wedding at your favorite vacation spot or an intimate wedding with just the two of you at the National Park where you had your first date. Wherever you had your "I do" moment, this is a chance to update your family and friends on your elopement story.
Make a marriage announcement in style with invitation wording like:
We couldn't wait,

we eloped

!

Excited to share that we were married in a small

wedding ceremony

on [

wedding date

].

Surprise!

Just married

!

Our

elopement wedding

in [Location] was just the two of us. Now, we can't wait to celebrate with you!
Elaborate as much on your elopement wedding as you wish. Keep things short and sweet before moving onto the after-party details, or dedicate an entire section with details about the big day. You could always include a short line about your wedding and add a link to your wedding website for more details and some of your wedding photos.
Reception Party Date and Time
Once you've shared your big news, it's time to focus on the elopement party details. First, cover the basics by letting your guests know when the big celebration is happening so they can save the date in their schedule.
Include whether it's in the morning or evening if the timing isn't obvious, and include a time zone if you're hosting a virtual party to avoid any potential confusion. It's a good idea to send your party invitations at least four weeks in advance so your guests have enough time to make arrangements.
Reception Party Venue
With an elopement reception you don't need to book a traditional wedding venue that could take months (if not years) to book. Instead, there's plenty of choice about where you can host. For instance, it might be at a friend's backyard (or perhaps your own), a local park or beach, or your favorite restaurant. Wherever it is, be sure to share the post-wedding party venue name and address, along with any parking details if necessary.
Theme or Dress Code
Not every elopement reception party has a theme or strict dress code, but it's crucial to mention it on the invitation. For example, if you're hosting a themed "happily ever after party" or Las Vegas-inspired shindig, share this with your guests so they know what to expect. Whether it's a formal or laid-back post-wedding celebration, mention the dress code or theme on your elopement reception invitations so your guests aren't left guessing.
Wedding Gifts
Many couples who elope and host a reception only don't expect wedding gifts, but that doesn't mean your guests won't want to send or bring one. In anticipation of this, you could mention any gift registries you've signed up for. Or you could ask that in lieu of gifts, you'd simply appreciate their presence or a donation to a chosen charity.
How to RSVP
Lastly, let your guests know how and when to RSVP. If your party date is fast approaching, give your guests a short deadline. Ask your guests to RSVP in the way that's most convenient for you — whether that's phone, text, or email.
Hosting an elopement after party shouldn't come with an admin headache for you and your newly betrothed. Simplify the process by using Greenvelope for your online invitations and you can easily track RSVPs. Guests can RSVP yes or no in a few clicks, and you can see and manage your guest list in one place.
7 Stunning Elopement Reception Invitations to Share with Loved Ones
When it's time to share the news, our collection of elopement party invitations are a great place to start. You'll notice that some of these invitation templates are styled as general party invites or wedding party invitations, but it's easy to turn them into your perfect post-wedding reception invites with just a few clicks of a mouse.
You could even take one of our elopement announcement cards and add a line about where to join you for the after party. Simply change the wording and you have your own unique party invitations ready to go. Here are some of our favorites to get you started.
1. Free-Spirited Watercolors Invitation
We love the bold colors on this playful watercolor invitation. Available in four different color options, it could become your dream elopement reception invitation in just a few clicks.
2. Swirled Ink Strokes Announcement
Celebrate your love and announce your elopement with this elegant photo card. There's space to use one of your wedding ceremony photos as the backdrop, and enough room to share your big news along with details about your after party too.
3. Pop Clink Fizz Invitation
Ask your friends and family members to join you for cocktails with this whimsical and colorful invite. Choose from one of five color palettes and invite your guests to an amazing after party. There's plenty of space on the back to share your whole elopement story in detail.
4. Double Laurels Invitation
This striking photo invite puts the happy couple front and center and frames it all with a glittery metallic envelope liner. Include your key details on the front or a note about your surprise elopement, then use the reverse to share more information.
5. Abstract Color Pop Invitation
Celebrate in style with this abstract color pop invite. This design is eye-catching and ideal if you love art or contemporary style. Keep things minimalist with the text, and let your party details take center stage.
6. Burger Essentials Invitation
Ask your loved ones to toast your newly married life with this fun burger themed party invite. The watercolor design gives you a fresh twist on a BBQ party invite, and beyond the bold front there's a reverse side with space for all the juicy details.
7. Tuscan Laurels Invitation
Embrace all things boho with this Tuscan laurels invite. This design beautifully blends greenery with elegant fonts for an invite that feels sophisticated — perfect for a decadent wedding after party.
Celebrate Your Love with Elopement Reception Invitations
Your post-elopement party deserves an invite that's just as exciting as the event itself. Use this guide to help you plan what to say and find the perfect invite to match.
Dive into our collection of elopement party invitations to discover a design that feels like a beautiful match for your style and party plans. Make it your own by changing the layout, colors, and wording, and you'll have a bespoke-feel design in moments. And if you happen to be planning an upcoming elopement ceremony, take a look at our ideas on how to create the perfect elopement invitations to surprise your loved ones.