March 22, 2017
National parks are filled with some of nature's most spectacular and inspiring locales. With both cultural symbolism and breathtaking scenic beauty, it's no wonder that they're becoming increasingly desirable wedding venues.
To help you pull your own national park wedding, we've outlined some details for you to keep in mind as you begin the wedding planning process.
Permits
You'll need to apply for a permit to host your wedding in a national park. Most parks have individual websites that will direct you to a permit specialist. The cost associated with the application and permit fee will vary in price depending on the park. Generally, you can expect to pay anywhere from $50-$400. The permit specialist will be able to guide you through the application process and provide an outline of rules and regulations specifically related to wedding planning. The official website of the National Park Service is a good place to start when deciding on a venue. There are so many beautiful options!
Guest Parking
There is a fee for entering a national park, so you'll want to think about transportation logistics for each of your guests ahead of time. You may want to coordinate a shuttle and communicate a specific time and place for your guests to meet. This means you'd pay for just one pass (in addition to shuttle costs). If a shuttle isn't in your budget, make sure you remind your guests of the fee ahead of time in your wedding communications.
Ceremony Placement
Keep in mind that like any other venue, national parks have busy seasons where tourists will visit in large numbers. This will impact the placement for your wedding as most parks won't be able to accommodate the most popular tourist areas. You'll want to work with your national park representative to find a secluded spot where you won't be interrupted by tourists. We recommend contacting the public affairs office at the National Park Service for their recommended list of placement suggestions. In addition, if your national park has an on-site restaurant or lodge, those could also be great options for your ceremony and reception.
Décor and Rental Restrictions
It's essential that you leave the park just as beautiful as it was when you first arrived. For this reason, you'll find that there are quite a few rules and restrictions that will limit your décor and rental options. You'll need to get creative when it comes to planning your decorations because even something as simple as a tent isn't likely to be approved. In fact, you'll want to think twice about any rentals or decorations that require you to dig or stake the ground. Instead, see if you can find decorations that could be secured with cinder blocks or bricks that you could cover with fabric or flowers. Most importantly, you'll just want to ensure you have a clear picture of what is and isn't allowed at your specific park before you finalize any rentals.
Catering
Depending on the specific location, national parks have restrictions on when and where food is allowed (and for good reason!) Wildlife and various critters will require you to be cautious about how you store food and dispose of waste. We recommend coordinating with an on-site restaurant or lodge. Keep in mind that if you select a park that doesn't have a lodge or restaurant, you may be limited to the picnic areas.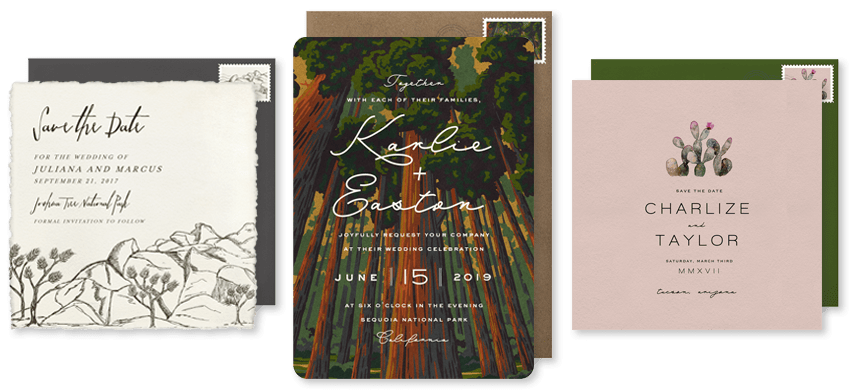 Our most important tip? Remember that weddings are about love, happiness, and families coming together. In fact, we can't imagine a more beautiful way to celebrate one of life's most special moments. To help you celebrate, our new National Park collection is filled with exclusive designs that were directly inspired by iconic American landscapes. Each of the 13 invitation suites includes a matching save the date, invitation, and thank you card. You can browse the full collection here. Happy planning!