May 28, 2020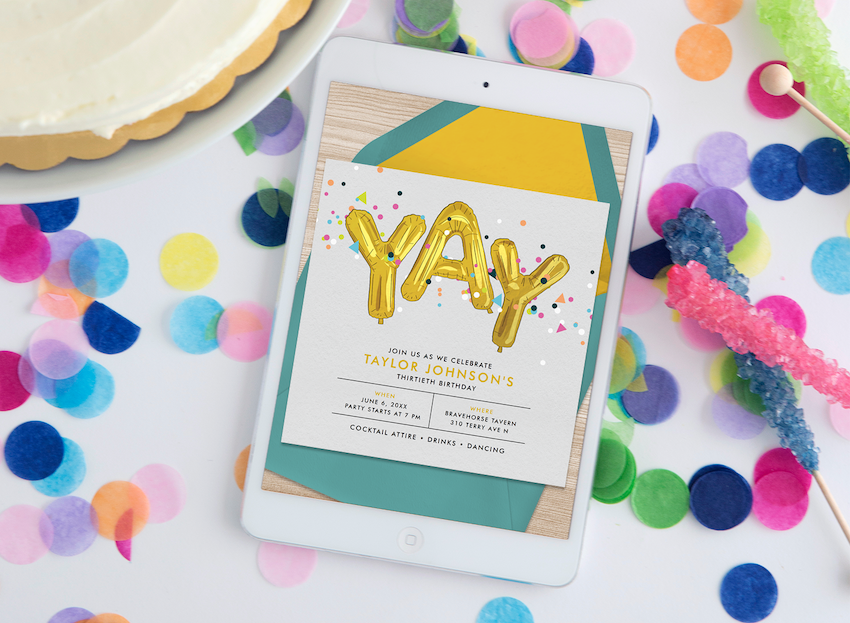 There's nothing like a fun party theme to put you in the mood to celebrate. Whether you're planning a big birthday bash with dozens of your favorite people or you're keeping it a little more contained with just a handful of your nearest and dearest, planning a birthday party is exciting (and sometimes challenging).
To help you figure out a plan of action, we came up with these nine ideas for a sensational celebration no matter the size, style, or budget. Read on for some fun birthday party ideas that promise an unforgettable way to commemorate another trip around the sun.

9 Ideas for Your Next Birthday Party
While you could certainly just have a cake with candles and call it a day, we say no way! You're worth more effort than that. To that end, check out these birthday party ideas along with matching invitation options you can customize with your own colors, message, and font. You can also view our full selection of adult birthday invitations for even more party planning inspiration.
1. Superhero Party
Pow! Boom! Bam! If you thought superheroes were just for kids' birthday parties, think again. It's easy enough to find superhero party decorations whether your favorite is Superman, Batman, Spider-Man, Wonder Woman, Captain Marvel, or any number of heroes and sheroes.
For a truly unique twist, forget the fictional characters and make it a themed party based on real-life superheroes. (RBG comes to mind. Imagine the fun you'll have with neckwear alone!) Be fearless, sport a cape, and encourage your guests to dress up, too. It'll be like Halloween and your birthday all rolled into one.
Invitation Idea: Go with the Superhero Party invitation for a classic design that'll let guests know they're in for one epic birthday party.
2. Unicorn Disco Party
We love a good mash-up and we're guessing you and your friends do too. So imagine everyone's delight when you invite them to a unicorn disco party. (Cue the disco ball and sparkly horns.)
Putting a new twist on the typical unicorn birthday party idea, this theme is all about being as fantastical as you can. Encourage guests to don their most magical or hilarious unicorn-inspired, disco-era ensemble (think gads of polyester, glitter, sequins, and rainbow-colored everything) and don't forget to have a dance-off.
Whether the birthday girl or birthday boy is turning 18, 21, or 51, this is one party that's sure to create some magical memories.
Invitation Inspiration: With its vibrant watercolor design, the Magical Unicorn invitation will certainly set the mood.
3. Spa Birthday Party
Treat yo'self! It's the best day of the year. Take your cues from the Parks and Rec catchphrase and don't hold back on your special day. While a day at the spa is always nice, you can also create your own DIY spa-inspired soirée at home.
Light some candles, play soothing music, and be sure to have plenty of snacks and cucumber-and-citrus-infused H'āāO. Stock up on sheet masks and set up a mani station where guests can paint each other's nails.
If you can swing it, book a space at your favorite nail salon and host your party there. Chances are it'll be much more affordable than a day spa but still give you that pampering experience.
Invitation Inspiration: Set the tone with the gorgeous Havana Overlay design that will instantly transport your guests to a soothing paradise.
4. Party Animal Birthday Party
Take a literal approach to the "party animal" moniker with a wildlife birthday party theme. For the ultimate experience, find out if your local zoo, animal rescue, or wildlife learning center can accommodate your party. The facility's docents typically can do a show-and-tell and allow guests to see animals up close and maybe even interact with them.
If that's not an option, you can certainly find fun decorations and party favors at your local party supply store to create your own animal-themed party at home. If you're a real animal lover, ask guests to make a donation to your favorite animal charity in lieu of gifts.
Invitation Inspiration: The fun and playful Party Animal birthday invitation is simply perfect for any animal-themed birthday party for guys and girls.
5. Throwback to Childhood Birthday Party
The thing about getting older is it gives you the chance to reminisce and reflect. And a throwback-to-childhood birthday idea is just the ticket to celebrate all the years it took to get you to this moment.
Think back to one of your favorite birthday parties¬†as a kid. Was it at your favorite pizza place, ice cream parlor, or neighborhood arcade? If possible, book your party at a similar venue with a grown-up twist 'ÄĒ a birthday bash¬†at an arcade bar, perhaps? This type of birthday party¬†lets you recreate those fun memories and make new ones all at once.
Invitation Inspiration: The bold Game On invitation is a fun nod to the days of old-school video games long before Fortnite became an obsession.
6. Fitness Birthday Party
As the guest of honor, getting birthday presents on your special day is always a treat. But planning your party around a fitness activity is a great way to focus on the greatest gift of all: your health! Whether it's a spin class, Zumba, cardio ballet, trampoline, or aerial yoga, you and your crew will be working up a sweat and firing off so many endorphins you can't help but have a good time.
And speaking of a good time, once the workout is done, consider heading out for a casual bite. Or if possible, set up a table at the fitness studio with some tasty post-workout treats and snacks. Just don't forget the birthday cake (or cupcakes). Hey, you earned it.
Invitation Inspiration: You can easily customize this Fancy Pants invitation by changing the phrasing to "workout pants" for your special cardio celebration.
7. Brazilian Carnival Party
Can't make it to Rio? Then bring Rio to you. A Brazilian Carnival theme party is just the ticket to celebrate a milestone birthday. This larger-than-life celebration is your chance to create an explosion of color with streamers, balloons, multicolored feathers, and elaborate masks. Just be sure to keep the samba music going and have plenty of caipirinhas and churrasco (Brazilian barbecue) to go around.
Invitation Inspiration: The Big One invitation makes a statement with vibrantly colored swirls and confetti that are perfect for a Brazilian Carnival birthday idea. 
8. Luau Birthday Party
Break out the flower crowns, leis, and tiki torches because it's a luau! While a big backyard is an ideal spot for a luau birthday party (even better if there's a pool), you can create your own tropical paradise indoors.
Have a lei-making station, serve tropical cocktails, and play games like limbo. Another idea: have a scavenger hunt for items like coconuts, pineapples, seashells, tiki masks, or Moana-themed toys. (There's a kid in all of us, after all.)
Invitation Inspiration: The Luau Crown photo invitation is the perfect design to keep the guest of honor front and center.
9. Not-So-Typical Dinner Party
If you don't feel like fussing over a million different birthday party ideas, you can't go wrong with a classic dinner party. Whether it's having a meal with loved ones at your favorite restaurant or gathering together at home, feel free to make it as simple or elaborate as you want.
To cut costs and create a more collaborative experience, make it a potluck and ask guests to bring one of their favorite family dishes. Doing so is not only a great way to try different cuisines, it also makes for excellent dinner conversation as you hear the stories behind the food.
Invitation Inspiration: The stylish and versatile Contemporary Chic invitation goes perfectly with any birthday party theme or with no particular theme at all.
Celebrate Your Special Day with These Birthday Party Ideas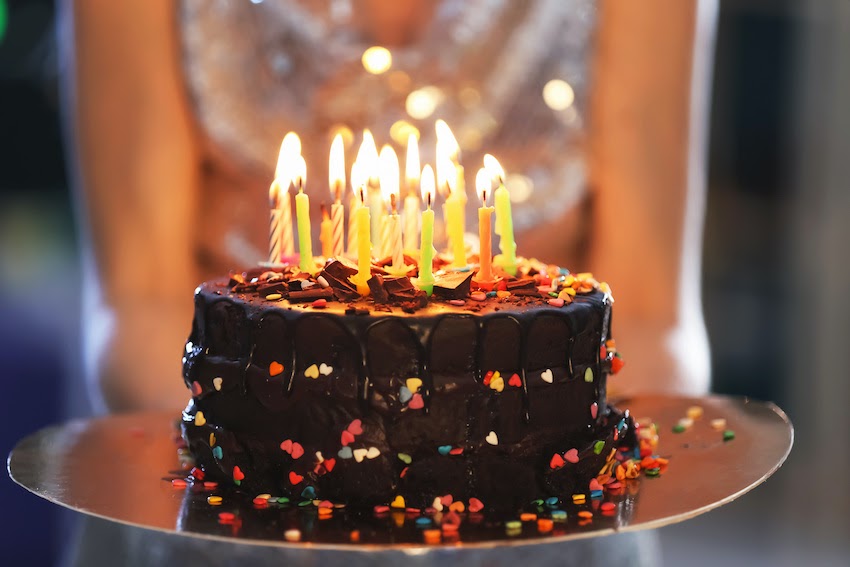 We hope these birthday party ideas¬†inspired you to take your birthday to the next level. It only comes around once a year, so treat yourself and spend time with those who matter most to you. And remember 'ÄĒ using online invitations¬†is the easiest way to plan your celebration. If you need some virtual party ideas, we got you covered. Have fun, and of course, happy birthday!