April 4, 2022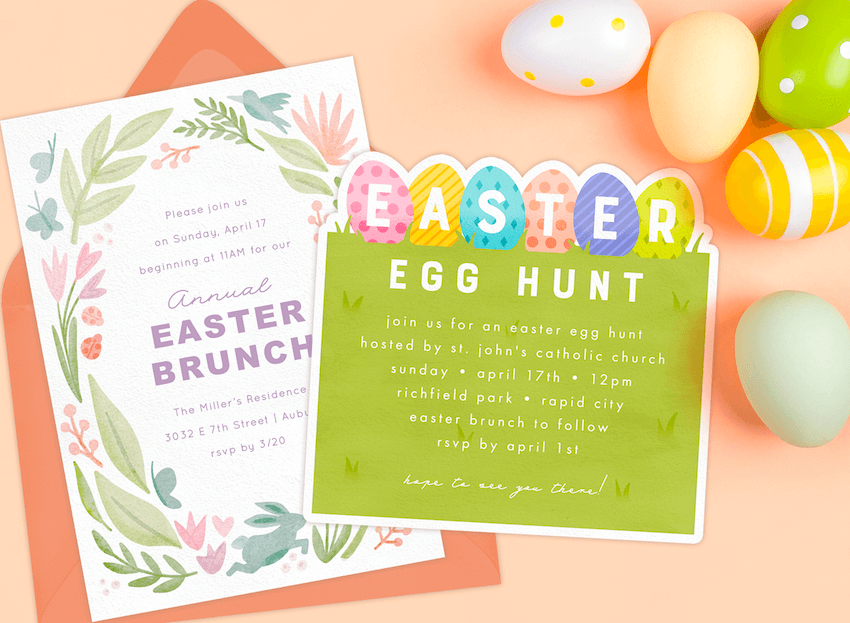 With the arrival of spring comes colorful and festive Easter celebrations. It's a season filled with hope, renewal, and awakening. From trees sprouting new leaves and daffodils blooming in warmer temperatures to a renewed sense of happiness, joy, and religious insight, it's one of the best times of the year.
Whether you want to throw a fancy Easter brunch, a laughter-filled Easter egg hunt, or a reverent gathering after Easter mass, there are many ways to celebrate the holiday. At the top of your to-do list will be selecting Easter invitations. Here, we've gathered some of our favorite Easter invites for inspiration. Plus, you'll find fun and creative Easter invitation wording ideas to make the event even more memorable.

Easter Invitations: 12 Designs to Suit Your Celebration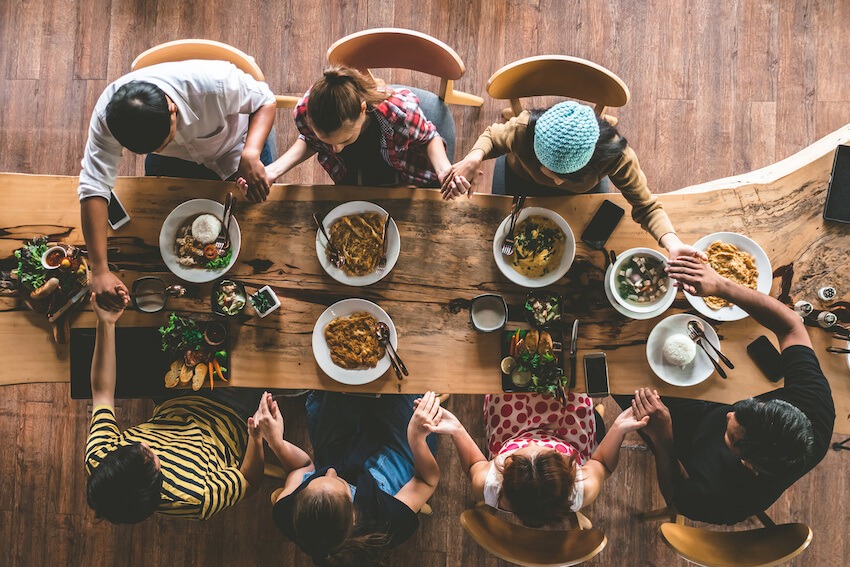 Whether you celebrate for religious reasons or simply enjoy honoring the new season, Easter is a special time to gather with loved ones. And with everything starting to bloom, you can plan for an indoor or outdoor gathering. For your next springtime event, you'll need stunning Easter invitations. Take a look at these 12 designs to invite guests to eat, drink, and be "hoppy" this holiday.
1. Holy Florals Invitation
This Easter party invitation is perfect for religious celebrations. It features a gold foil cross adorned with a gorgeous bough of florals and greenery. It's available in several pastel hues and you can customize the typography to suit the formality of your event.
2. Hand-Painted Hydrangeas Invitation
Remind your guests to stop and smell the flowers with this gorgeous floral Easter invitation. The watercolor flowers create a textured effect and the invite comes in your choice of three different shades. The sweet, versatile design makes it perfect for other springtime events including bridal showers, christenings, and an Easter baby shower.
3. Sweet Bunny Invitation
This Easter bunny invitation is perfect for getting the kids and their parents together for a fun Easter egg hunt. The invite features a hand-drawn bunny and delicate bulb flowers for a touch of whimsy. It's perfect for egg hunts, Easter brunch, and springtime garden parties.
4. Classic Grace Photo Invitation
This religious Easter invitation card works both as an invite and a greeting card. Use the photo card to send Happy Easter wishes to friends and family or invite loved ones to an Easter christening or first communion. The gold foil accents add a sophisticated touch and you can customize the Easter invitation template by changing the typography and color scheme.
5. Vintage Balloon Invitation
This vintage-inspired Easter invitation is all about whimsy and magic. Front and center is a gorgeous hot air balloon, floating high along the clouds. In the basket, a cheery Easter bunny waves hello, and vibrant florals complete the springtime look. Use it as an Easter brunch invitation, for a vintage cocktail party, or a springtime birthday invitation.
6. Spring Bunnies Invitation
Invite guests to come and have a hopping good time with this vibrant Easter egg hunt invitation. The invite features two bunnies and several brightly-colored tulips for a charming, cheerful vibe. Change up the color scheme to suit your party preferences.
7. Simple Cross Invitation
This religious invite is formal and sophisticated, featuring a gold foil cross and elegant border. It's perfect for an Easter brunch or even a potluck following church services.
8. Painted Egg Invitation
Tell guests to grab their Easter baskets and don their bunny ears for a colorful Easter egg hunt with this fun egg-shaped invite. Your invited guests will love the painted Easter egg and you can choose from several color palettes. It's perfect for egg hunts as well as egg painting parties.
9. Spring Bunny Invitation
This magical invite features a watercolor Easter bunny frolicking amongst spring blooms. It's a lovely option for Easter brunch as well as a springtime birthday party. It could also work as a wedding invitation.
10. Floral Cross Invitation
This religious Easter invite features a floral-filled cross and gold border that would also work well for religious events including baptisms and first communions. Change up the wording to create an Easter card that shares your warm wishes with loved ones.
11. Floral Duo Invitation
This simple invite featuring two large watercolor florals and leafy accents is perfect for any Easter celebration. You can also use it as a housewarming invitation or to send your gratitude as a thank you note card.
12. Tulip Field Invitation
Make someone smile with this vibrant floral invitation featuring bright, watercolor tulips. Choose from springtime hues like orange, purple, and pink to match the color scheme of your Easter event. The simple and elegant design makes it an ideal choice for birthday parties, brunches, bridal showers, and springtime housewarming parties as well.
Wording Ideas for Your Easter Invitations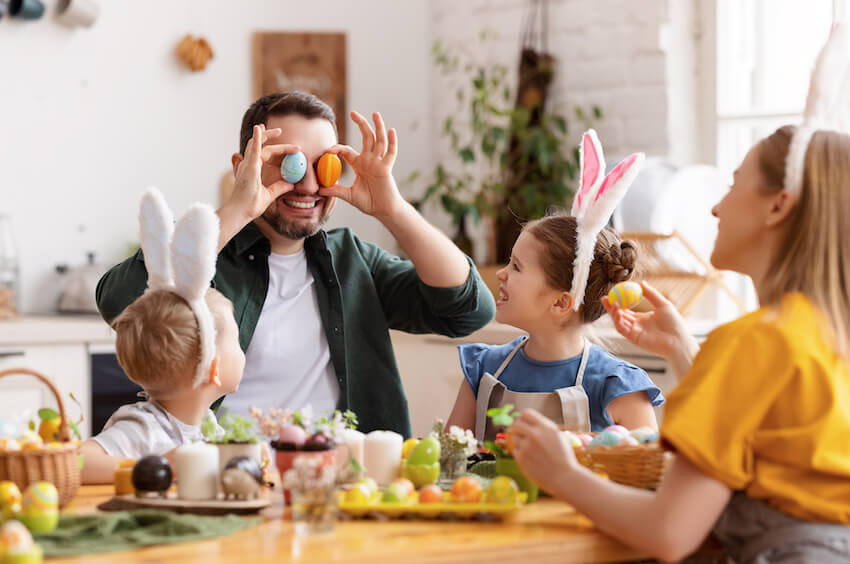 When crafting your Easter invitations, it's important to include all the vital event information. This includes the date, time, and location where guests should plan to attend. You'll also want to add an RSVP deadline so you know exactly who is coming and what food, drinks, and party supplies you need to prepare.
Invitation wording is also a way to make your event more memorable. Using puns and fun phrasing can help set the tone for a laid-back brunch while formal language lets guests know that it's a formal event. Not sure what to say in your Easter invitations? From religious Easter greetings to punny sayings, here are a few Easter invitation wording ideas to get you started:
Hop to it! Please join us for a special Easter Sunday backyard celebration with a special visit from the Easter Bunny

Let's have an eggs-cellent feast! Hoppity hop over to our place for an Easter Sunday brunch from 1 p.m. to 3 p.m.

Anne and John Cagle invite you to celebrate Easter Sunday with a special midday brunch. It's sure to be an egg-ceptionally good time!

It's a BYOB (Bring Your Own Blanket) Easter Picnic! Join us at Heritage Park for a celebration filled with tasty treats, an Easter egg hunt, and other fun family activities

Join us in celebrating renewal, rebirth, and Easter blessings with a special mass at the local church, followed by an Easter brunch reception in the public gardens

He is risen. Join us for Easter dinner as we celebrate hope, love, and the joy of Easter
Remember to choose wording that reflects the formality or casual nature of your event. Whatever type of gathering you're hosting, your Easter invitations are a great place to set the tone and let guests know what to expect.
Celebrate Easter With Your Favorite People
From the blooming flowers and warmer weather to the deeper meaning of the holiday, Easter is a wonderful time of year. It's the perfect moment to let loved ones know just how special they are to you. And what better way to connect with your favorite people than with an Easter party? 
Whether you're hosting a formal Easter brunch or a casual potluck picnic, Greenvelope has plenty of Easter cards you can customize for your event. Plus, our Stationer's blog offers a wealth of information when it comes to party planning. You'll find everything from etiquette tips to party themes and decor ideas to make the day memorable.