March 31, 2022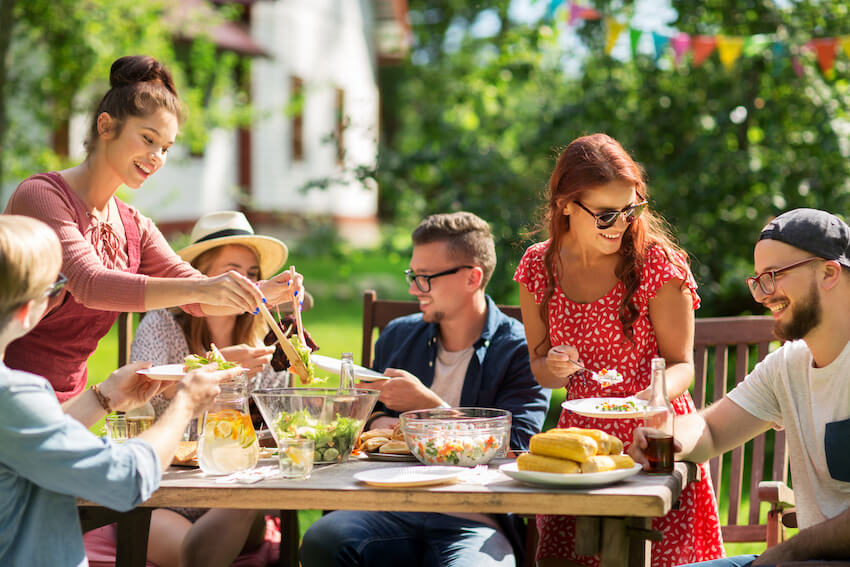 Earth Day began in 1970 as a way to highlight the need to drive change and support the environmental movement. That message feels even more relevant now, which is why so many of us want to celebrate Earth Day, raise awareness, and make a difference. To that end, we're sharing some of our favorite activity ideas and party planning tips so you know how to celebrate Earth Day in a way that's more sustainable and fun this year. 

How to Celebrate Earth Day: 3 Event Options 
There's no rule that says you have to celebrate Earth Day a certain way. Some people may want to host the whole family for a party focused on sustainability, while others might prefer to contribute to a community event in honor of the day. 
If you want to mark the moment but aren't sure how to do it, here are three great ways you can celebrate Earth Day.
1. Plan an Outdoor Family Party
Host a get-together with family and friends at home, or head to a local park to celebrate Earth Day with an eco-friendly picnic. Being outside gives you the chance to go for a walk, enjoy some locally grown food on the grill, and appreciate your natural surroundings. To show the Earth a bit more TLC, you can even do a mini clean-up around the park and throw away any litter to leave the space better than you found it. 
2. Host a Community Event
Want to know how to celebrate Earth Day and enjoy a greater sense of community? Join the planning committee for a local Earth Day event. Host an event where folks can try out some great environmentally-friendly activities — like composting and plant swaps. A community event is a great avenue to educate and inspire people to become more aware of their impact on the planet, and how they can help make it a better place.
3. Plan a Virtual Earth Day Party
If it's not possible to host an in-person event, why not take your celebrations online? Plan a virtual event to celebrate Earth Day, motivate others, and try out some activities across the distance. For example, you can share a favorite plant-based recipe so everyone can enjoy a virtual meal together followed by a game of print-it-yourself Earth Day bingo.
5 Fun Earth Day Celebration Activities
There are countless ways to celebrate Earth Day. You can walk or bike instead of driving that day. You can turn off the water while brushing your teeth. Small, simple changes can make a big difference. But if you want to host a more organized event, here's how to celebrate Earth Day with some fun, engaging activities. 
1. Make Your Own Bird Feeder
One of the best Earth Day activities is making your own bird feeder. You not only get to provide sustenance for birds, but you also get to use your creative skills. 
Building a bird feeder is an excellent activity for kids and a great way to spark their interest in nurturing the natural environment. If you're not sure where to start, take a look at these DIY bird feeders that you can create with recycled materials. 
2. Host a Relaxed Cycling Experience
Cycling down a scenic route is a wonderful way to spend an afternoon. Introduce your guests to this by hosting a cycling experience where the goal is to take in the sights and enjoy the beauty of nature around you.
If you're hosting a community event, you could also have an area where people can learn to ride or explore the idea of commuting by bike throughout the year. 
3. Plant Trees
A practical way to support the sustainability of the planet is to plant more trees. This can be as simple as planting a small tree during your backyard party or working together as a community to get permission to plant several at a local open space or park. 
If you love the idea of planting trees but it's not practical at your celebration, let people know where they can join a planned community tree planting event instead.
4. Host a Clothing Swap
Sustainability isn't just about plants and the great outdoors — what we wear can also have a significant impact on the world around us. Some reports show that fashion uses more energy than the aviation and shipping industries combined. With that in mind, encourage your event guests to think more openly about shopping second-hand by hosting a clothing swap.
Ask people to bring gently-worn clothes that they don't use anymore. Then, guests can exchange items with others to find "new" additions for their closets. Have a recycling bin handy for any additional donations that you can take to a local thrift store.
5. Make an Earth Day Pledge
For a less physically demanding way to celebrate Earth Day, encourage people to make an Earth Day pledge. To do this, they can pledge to adopt more eco-friendly habits or do something that supports environmental protection and sustainability.
Some great ideas for this include composting, taking part in a beach clean-up, swapping plastic bags for reusable bags, and being more energy efficient at home. For more ideas, take a look at the official Earth Day pledges. 
7 Earth Day Party Planning Tips
Whether this is your first Earth Day celebration or you're an experienced party planner, here are some tips on how to celebrate Earth Day even more sustainably this year. 
1. Be Inspired by the Theme of the Year
Every year there's a new theme for Earth Day that focuses our attention on a specific environmental issue. In the past, climate change has been a key focus. For 2022, the theme is "Invest in our planet." Use this to help inspire your decor, activities, menu, and other elements of your get-together. 
2. Reuse Items You Already Own
We know shopping for party supplies is exciting, but this is one event to reuse what you already have if possible. Look around your home, ask friends and family members to donate items, or see if anyone in your community can provide supplies. 
3. Opt for Sustainable Party Decor and Tableware
If you do have to shop for new supplies, pick up goods that are sustainable, reusable, and eco-friendly where possible. Once you're done with your Earth Day party, you can reuse these items for birthday parties or summer events. The more reusable supplies you buy, the less that ends up in landfills. 
4. Choose Digital Invitations
A major way you can make your Earth Day celebration more environmentally friendly is to switch to online invitations. 
With Greenvelope, it's easy to create and send beautiful invitations by email and SMS message. You can choose a template, customize the layout, fonts, and colors, and add your own event details. You end up with an invite that feels special and personalized, with a fun animated opening moment for your guests too.
By offering such an in-depth and customizable service, we hope that more people switch to sending digital invitations so we can support the environment and save more trees. 
5. Buy Supplies From Your Local Farmer's Market
If you're serving food and drinks, head to your local farmer's market for ingredients and treats instead of the grocery store. This is a wonderful way to support your local farmers and give your guests a true taste of what your local area has to offer. 
6. Choose an Accessible Venue
To help reduce the carbon emission impact of your event, choose a venue that people can easily reach with public transportation. Provide details on the best routes so that it's easy for your guests. If that's not an option, encourage people to carpool or provide transport yourself to reduce the carbon footprint of your event guests. 
7. Provide Thoughtful Party Favors
If you want to send your event guests home with a party favor, choose something that matches the theme of your celebration. A reusable water bottle is always a great option, or you could hand out packets of seeds so people can create their own wildflower garden or grow a plant. 
Plan an Impressive Event for Earth Day This Year
Earth Day is a wonderful opportunity to celebrate the world around us and find new, better, and more sustainable ways to invest in it and our future. Use these tips and ideas on how to celebrate Earth Day to help you plan an amazing event. 
When you're ready to invite guests to your celebration, choose Greenvelope for your Earth Day invitations. You can customize whatever template you choose and turn it into your own unique invitation. Once your design is ready, send it to your guests via email or SMS for a stylish, paper-free way to spread the good news.