January 16, 2019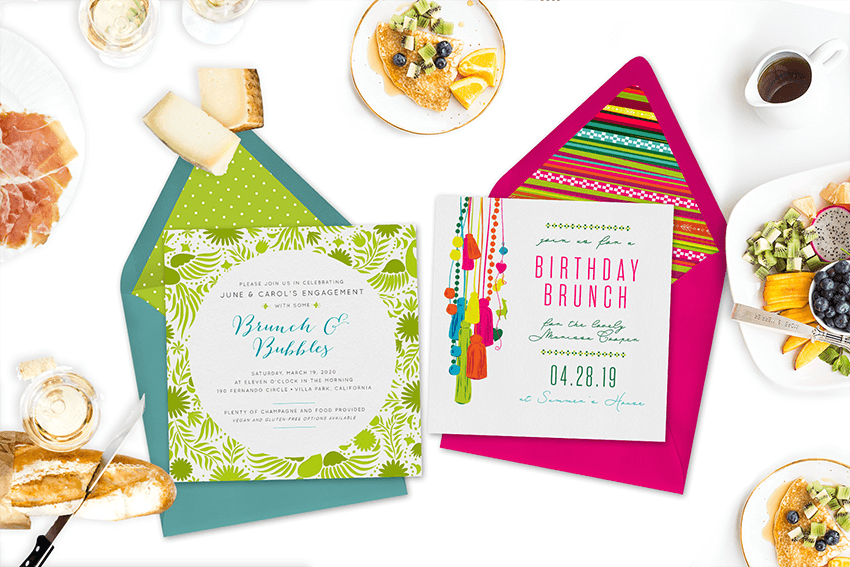 There's just something about brunch that feels fancy. Maybe it's the dainty champagne flutes or floral centerpieces, but there is definitely something about brunch that makes us feel like we're living our best lives. Whether it's in celebration of a special occasion or a gathering "just because," hosting brunch is a breeze with a little organization and proactive planning. Keep scrolling for tips on how to pull off the perfect brunch party.
Pick a Date
The sooner you decide on a date, the sooner you can start planning some of the more fun details. (Hello, mimosa cart.)
Build a Guest List
Do yourself a favor and make an organized spreadsheet early on that includes the first name, last name, and email address for each of your guests. This will come in handy when you're ready to send out invitations. Digital invitation services (like Greenvelope) allow you to upload your list directly—saving you both effort and a whole lot of time!
Send Digital Invitations
There's nothing your guests will love more than receiving an invitation to brunch. Keep in mind, your invite will be the first communication guests receive about your party, so make sure you select a design that sets the tone for what's to come. Greenvelope has a variety of brunch-inspired invites you can browse here.
Plan a Menu
When it comes to planning a brunch menu, the possibilities are endless. Sometimes when it's 11 a.m. on a Sunday you want classic French toast, while other mornings you're craving a melty grilled cheese. The best part about brunch is that it doesn't make you choose one or the other. In fact, the key to pulling off a solid brunch menu is serving a variety of options.
Keep in mind, you can make your menu as simple or complex as you want. Some party hosts opt for catering to ensure they have enough time to socialize with their guests. Other hosts want to make each dish from scratch. Regardless of your preference, just make sure you have a variety of sweet and savory recipes to serve.
We also love the idea of make-ahead recipes that you can prepare in advance and simply pop in the oven the morning of your party. The Kitchn is a great resource with 17 delicious make-ahead brunch recipes.
Beverages and Cocktails
Perhaps the best advice we can give: don't limit your beverages to just coffee and orange juice. Whether it's a sparkling cocktail, a bloody mary station, or mimosas by the pitcher, you can make your brunch party special with a fun cocktail (or two!)
Decorations
From floral arrangements and festive streamers to elegant place settings and colorful centerpieces, think about incorporating decorations that will blend cohesively and compliment your overall theme or color palette.
Music
Good parties often have good music in common. And there are multiple ways to incorporate it into your party. Whether it's smooth jazz or top-40 hits, we love the idea of connecting a simple playlist from your phone for a little background music.
Clean up Crew
Do yourself a favor and assemble a crew of friends who can help break down and clean up after your party. You'll be glad you asked for a little help!