November 29, 2022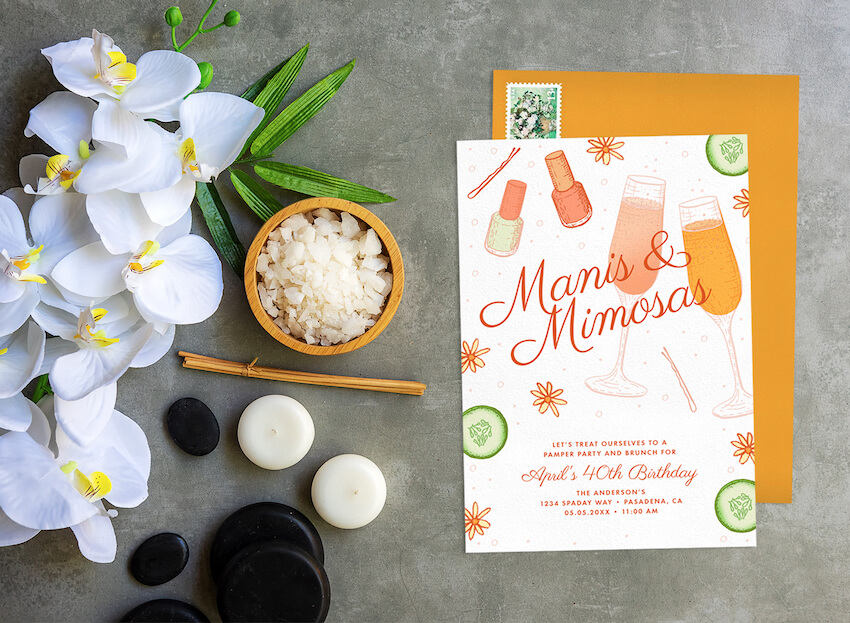 For a celebration that makes you say "Aaahhhhh," you need a spa day. Spa days are an ideal way to celebrate lots of life's big moments — from bachelorette parties to bachelor parties and baby showers to bridal showers. And a spa birthday party is one of our favorite ways to celebrate another trip around the sun.
At a spa birthday party, the guest of honor can let go of any stress from the past year and take on their next year of life feeling refreshed and ready. Yes, a spa day is one of the most relaxing ways to spend your day, but planning a spa birthday party for a big (or small) group can be a little less relaxing.
We'll help you get through it by sharing tips that make the planning process almost as relaxing as the pampering process. Here's how to plan a spa birthday party from start to finish (or perhaps from start to Finnish sauna).

3 Tips for Planning a Spa Birthday Party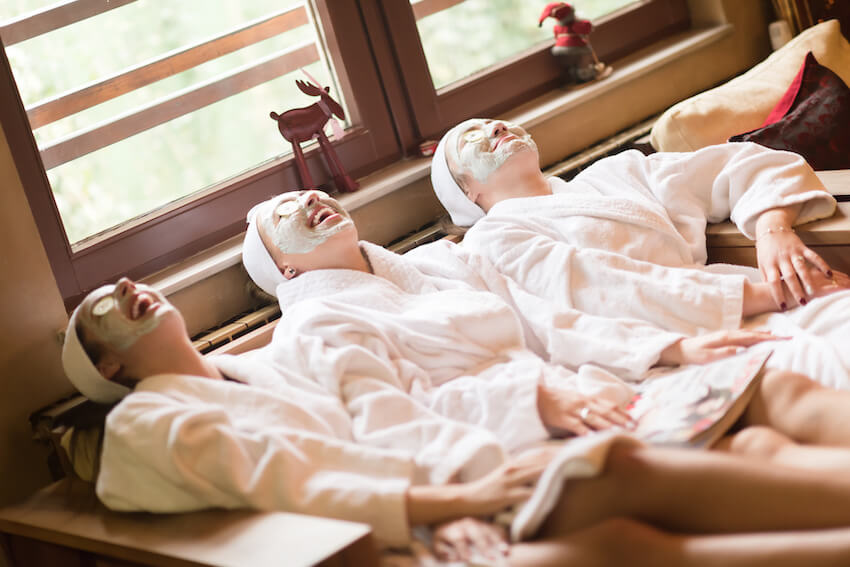 There are almost as many ways to host a spa birthday party as there are treatments on a spa menu. You can round up your crew and head to a resort-style spa for the ultimate pamper party, you can hire a cosmetologist to come to your home, or you can do a home spa day complete with DIY treatments. Each of these paths requires different prep, so we've broken it all down for you.
1. Decide on the Venue
There are three basic paths you can take toward pampering: visit a spa, bring the spa to you, or make your own spa. Here are the pros and cons of each options.
Visit a spa:

Going to a resort-style spa is one of the most relaxing options, but it can also be expensive and it's often time-limited (you have to leave at the end of your appointment window). If you choose this route, you'll need to call multiple spas in your area to find out which treatments they offer, compare prices, and ask how

many

guests they can accommodate at once.

Bring the spa to you:

If you want something between the

pampering

of a resort-style spa and the flexibility of an at-home party, you can hire one or more cosmetologists to come to your house and provide

facials

or

mani

–

pedis

. This also allows you to combine your

spa theme

with other relaxing at-home

theme parties

, like a

pajama party

,

slumber party

, or

pool party

.

Make your own spa:

This is the least expensive option, and it can be a lot of fun. But since you'll be making your own treatments, it also requires the most prep work and cleanup. A

DIY

spa day

is a great addition to a ladies' night (with plenty of Prosecco), and a

kids' spa

is a fun theme for a

little girl's birthday party

(with plenty of Shirley Temples).
2. Choose Your Treatment Menu
Once you've decided on what kind of spa day you want to host, it's time to choose the treatment options.
Resort-style spa: You may be able to get half- or full-day passes that give you access to part of the facilities, like the sauna, pool, or hot tub. Then, you can add on any treatments you'd like, which means you can give your guests the option to add one or more treatments of their choice or to stick with the basic day pass.
Be sure to get prices for each of the treatments so you can share them with your guests. If everyone is doing something different, you'll need to take note of everyone's selections before you book.
If you really want everyone to get the same treatment together, you can choose the package yourself. For example, maybe you want to do the half-day pass, plus facials for everyone. In that case, just let all your invited guests know that's the plan for the day and share how much it will cost so they can make an educated decision before they RSVP.
Home spa: Most cosmetologists who make house calls provide some combination of manicures, pedicures, or facials. Decide which services you want to offer at your party, and if you're going to ask guests to split the cost, let them know how much you expect it to be per person.
DIY spa: If you're going to DIY your home spa party, you'll need to mix up some at-home treatments in advance. For a kids party, you can also make mixing the treatments one of the party activities. First, they'll get crafty making their own kids spa treatments. Then they'll get to apply the treatments to each other's faces and hair for an interactive girls spa day or sleepover party activity. You can find DIY face mask and hair mask recipes to get your home spa off the ground.
3. Book in Advance
For everything except the DIY home spa option, you'll want to book as far in advance as possible. While it's sometimes possible to get spa appointments for up to four people on short notice, if you have more guests than that you'll likely be out of luck.
Collect your RSVPs at least a month in advance. If you're booking at a spa location, ask if they offer party packages. You might be able to get discounts if you bring a big group. And if you're booking with a cosmetologist who makes house calls, ask how many people they can handle in the time frame, and book multiple cosmetologists if needed.
3 Spa Birthday Party Invitations
Now that you've decided on your party details, you're ready to send out the invites. Opt for digital invitations for stress-free party planning.
With a digital invitation, you can add your party details and even include a link to the spa's treatment menu. Then, send it off to your guest's email or cell phone, and collect RSVPs online. You can also add a survey question where guests can select the treatment options they want, which will make it easier for you to book.
Here are a few of our favorite digital invites for a spa birthday party.
1. Painted Hibiscus Invitation
This relaxing watercolor invite puts us in a vacation state-of-mind. It's the perfect introduction to your soothing birthday soiree.
2. Manis & Mimosas Invitation
This playful invite highlights two of the best things about spa days — manis and mimosas! Send it out to get your party people ready for some serious pampering.
3. Palm Leaves Invitation
The tropical design on this spa birthday party invitation has us envisioning an ocean breeze rustling through white spa linens. It will have all of your guests ready to relax.
5 Spa Birthday Party Decorations
If you're hosting a home spa party, you can make it feel more like the real deal with a few relaxing decorations. Try adding ambiance with these pieces of spa-inspired decor.
Palm fronds:

You can find fake palm fronds at the craft store or make a few of your own with a

 printable template

.

River rocks:

Scatter river rocks around a few candles and you have the perfect

centerpiece

for your party table.

Floating candles:

You can float candles in a vase full of water or across the surface of your swimming pool to create a soothing water feature.

Orchid flowers:

The ultimate spa flower, orchids look good laid across tables, incorporated into your

centerpieces

, or used as a

topper

for your

birthday cake

or

cupcakes

. (Bonus: they're edible flowers!)

White towels:

Both practical and pretty, placing rolled-up white towels on tabletops allows guests to grab one whenever they need it.
11 Spa Birthday Party Menu Ideas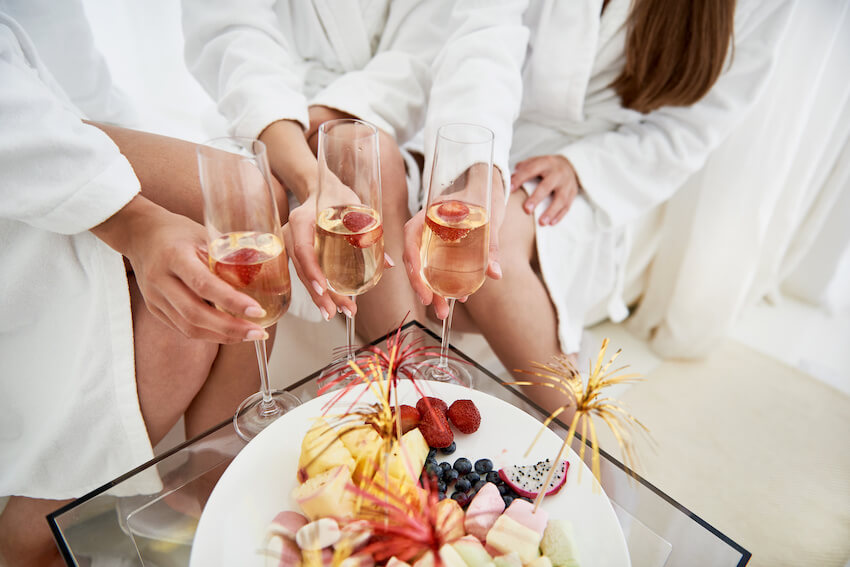 Typical spa fare is light, healthy, and flavorful, but that doesn't mean you have to skip the birthday cake. Save that indulgence for the end of your party, and start the day with these light bites:
7 Spa Birthday Party Favors
Since spas are all about luxury, send your guests home with an indulgent spa party favor. Some day spas will give you a little gift bag to take home — often full of mini lotions and other products — but you can also make your own goodie bags. Consider adding these items for a little luxury to-go.
Headbands

Nail polish

Moisturizer

Face masks

Flip flops

Candles

Body scrub
Get Blissed Out for Your Birthday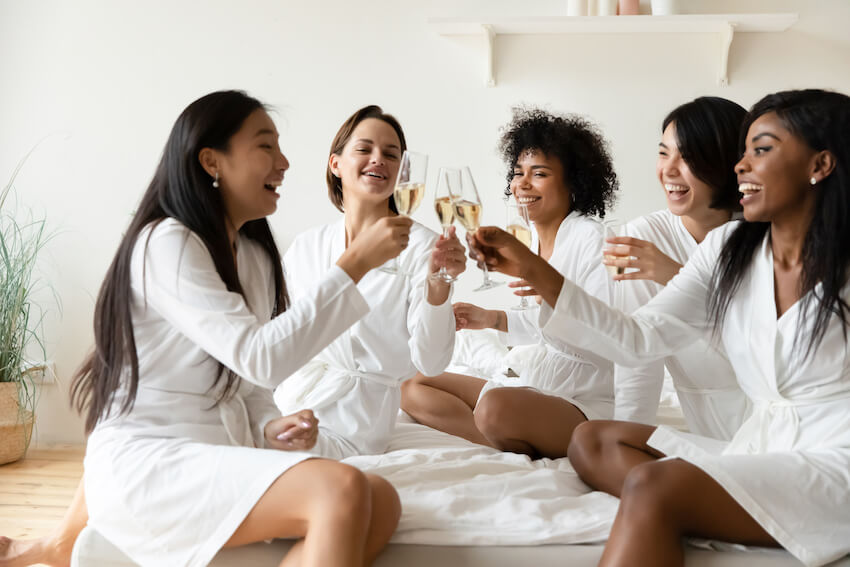 A spa birthday party should be all about relaxation — from the minute you start planning until you float out of your final spa treatment. So remember to have fun with it.
If collecting everyone's day spa reservations sounds like a hassle, try a soothing home spa instead. If you have no interest in mixing up your own hair and face masks, then opt for a professional day spa or hire a cosmetologist to come to your place.
Embrace the spa party ideas that sound good to you and leave the rest behind. After all, spa days — and birthdays — are all about letting go of stress and focusing on fun. We hope you have a blissfully happy birthday.
To find more inspiration for your b-day bash, check out these creative birthday party ideas.