March 17, 2020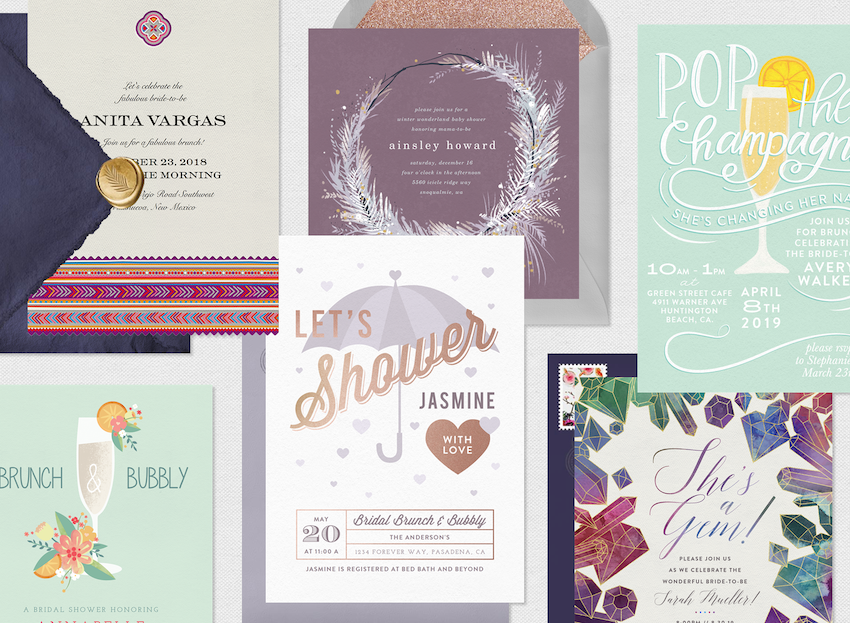 For both new hosts and seasoned party planners, planning a bridal shower presents a wonderful opportunity to celebrate someone you care about as they embark on a beautiful new journey. Planning this might feel overwhelming, but don't panic — we've got you covered.
The key to a memorable bridal shower is making it heartfelt, special, and unique to the bride's personality. You don't need to go all out with a huge party and impressive games — sometimes, the simplest bridal shower ideas work best.
In this guide, we'll cover some of our favorite themed bridal shower ideas, plus activities and favors to help you bring your bash to life.

Our Favorite Bridal Shower Ideas
From traditional bridal shower ideas like afternoon tea to more modern affairs like a movie night, we hope our list inspires you with ideas for hosting a shower. Once you've chosen a theme, you can find a perfect bridal shower invitation to match.
Champagne Brunch
Celebrate the bride-to-be in style at a delicious champagne brunch. Whether you go for a decadent affair or keep it simple, this daytime event is a fun way to bring people together.
A laid back, buffet-style champagne brunch is one of our favorite bridal shower ideas. Offer up plenty of choices like pastries, cupcakes, eggs, pancakes, and fruit, and encourage people to serve themselves. Make sure there's plenty of bubbly on the tables or set up a mimosa station so guests can mix their own drinks.
Activity Idea: DIY Floral Arrangements
What better way to end your brunch than with a DIY activity? Buy stems of your bride-to-be's favorite flowers, and get greenery and lots of ribbons and twine. Ask everyone to create a floral bouquet, centerpiece, or even a flower crown they can take home later.
This creative activity can get everyone talking while giving a nod to the bride-to-be's favorite flowers or wedding color palette. You could even add a seasonal twist — if it's a winter wedding, try making wreaths instead.
Afternoon Tea
If champagne isn't your thing, a tea party may be more up your alley. Afternoon tea is a refined and traditional bridal shower idea that can easily include people of all ages and tastes — even if they're not usually tea lovers.
While many hosts opt to book the party at a cafe that specializes in delicious afternoon teas, you could also host one at home. Prepare sandwiches, finger foods, cakes, and other delights, and serve them on a table with cute china. You can match the tablescape style to your bride-to-be's tastes too — vintage china's a classic, but modern pieces work just as well.
Activity Idea: Personalized Biscuits
Surprise your guest of honor with personalized biscuits that celebrate her big day and make delicious bridal shower favors. You could DIY these with a simple biscuit recipe and icing of your choice, or enlist the services of your favorite local baker. Other popular options include fondant biscuits with stamped messages or edible photos of the happy couple (you can also include pictures with the couple and bridal shower guests).
Movie Night In
Sometimes, there's nothing better than gathering your best friends together for a movie night. Play host to the ultimate movie-night-sleepover combo with this modern bridal shower idea.
Ask the bridal party to pack their favorite pajamas and join you at home for an evening in with a cozy vibe. Queue up your guest of honor's favorite film, or pick a movie out of a hat. You could even create a themed movie night around a timeless classic or much-loved rom-com. Just make sure you're well-stocked with face masks, chocolate, and delicious cocktails before the night begins.
Activity Idea: Popcorn and Candy Bar
To make your movie night feel extra special, why not create a DIY popcorn and candy bar? Recreate the magic of the cinema screen at home with freshly popped corn and a selection of toppings alongside a candy-stocked table. You'll have plenty of snacks to keep you going all night while you relax and laugh (or cry) together over the movie.
Backyard Picnic
Bring a little nostalgia to your bridal shower planning and host the ultimate backyard picnic. It's the perfect way to bring friends and family members together to enjoy delicious food and refreshing drinks while toasting the bride-to-be.
These backyard picnics are one of our favorite simple bridal shower ideas. All you need is a space big enough for your guests, a few picnic blankets, and a tempting array of treats. Add a touch of color or embellishment with bridal shower decorations tailored to the wedding color scheme. While this idea is perfect for spring or summer, you could adapt it to the colder months by moving it into a barn or decorating a hall like the great outdoors.
Activity Idea: Lawn Games
Add some fun to the party with lawn games. Whether you opt for a traditional game like corn hole or a DIY bespoke four-in-a-row, it's an opportunity to get everyone involved. To get the competitive guests going, you can also set up a lawn game competition with teams and prizes.
Pamper Day
There's nothing more relaxing than a spa day. Gift some quality relaxation time to your bride-to-be and bridesmaids with a calming pamper day to celebrate the upcoming wedding.
Treat yourself and your guests to a day (or weekend) of indulgent activities designed to help everyone feel serene. Customize the day to suit your guest of honor's tastes, whether that's a dip in the spa pool or a relaxing massage followed by a manicure. You could even combine this with a wellness day of activities like yoga, meditation, or a gentle hike.
Activity Idea: Beauty Masterclass
After you've enjoyed a few hours in the spa, why not learn how to bring that relaxation magic home? Book a beauty masterclass at a hotel or spa, and try your hand at something new. There's so much to choose from — makeup classes, DIY face masks, perfume-making, and more. Go one step further and think about organizing a further session or weekend spa date as a bridal shower gift.
Luxurious Dinner Date
If your guest of honor is a foodie or has a taste for luxury, this is one themed shower idea that'll go down perfectly. Treat your bride-to-be and the rest of your shower guests to an evening of fine dining in great company.
Book a nice restaurant or recreate a fancy dining experience at home with the help of friends or even a hired chef. Build a menu inspired by the bride-to-be's favorite meals, drinks, and desserts. Don't forget to include a toast loaded with plenty of memories and well wishes.
Activity Idea: Cocktail Making
What pairs perfectly with good food? Good drinks, of course. Bring in the talents of a trained mixologist to teach the guests how to make a delicious cocktail or two. This fun activity allows you to get creative and explore different taste combinations while trying something more unusual than your standard bridal shower games.
Why Not Make It a Co-Ed Shower?
While tradition and etiquette usually ask a bridal shower to focus on the bride-to-be, there's no reason why you can't include their partner.
Co-ed showers are a growing trend we hope is here to stay. There's something special about celebrating the happy couple as guests recount fond memories and look forward to their wedding day and beyond.
All our bridal shower ideas work equally as well for co-ed showers, so if you choose, you can bring everyone together to host a memorable wedding shower for the guests of honor.
Plan Your Ideal Bridal Shower
We hope this guide helps you discover some new party ideas you can use for your upcoming event. Adapt these ideas by tweaking the location or mixing and matching activities to create a unique bridal or wedding shower.
Once you've found the perfect bridal shower theme, you can jump to creating and sending your bridal shower invitations. As you share the details with close friends and family of your guest of honor, the real excitement begins.