March 26, 2023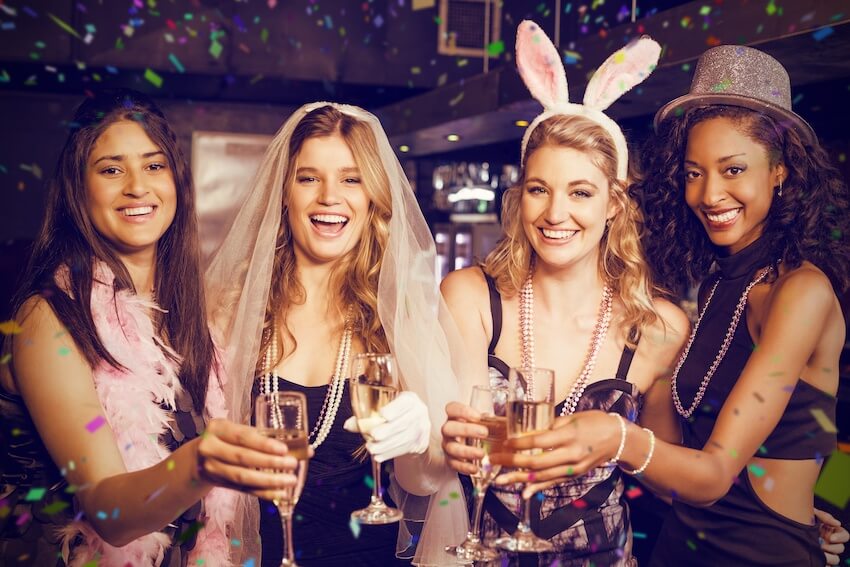 If you love being the life of the party, Las Vegas is the perfect place to whoop it up before you say "I do." Famous as a party destination, Sin City has everything you need to pull off a memorable bachelorette party. From non-stop nightlife to fine dining and nature excursions, there's no shortage of things to do. Here, you'll find Las Vegas bachelorette party ideas, plus invitations to get guests excited for the big trip!

Las Vegas Bachelorette Party Ideas
Vegas bachelorette weekends don't have to be just about nightlife. There are also exquisite restaurants, world-class spas, and nearby natural attractions that make this city a great option for celebrating the bride-to-be. Whether you're looking for late-night entertainment in SIn City or want some off-the-beaten-path ideas, here are our favorite things to do during a Vegas bachelorette party.
1. Stay on the Strip
One of the first thing to do when planning a Vegas bachelorette party is to figure out where you're staying. If you want to be in the heart of the action, stay on the Las Vegas Strip. Here, you'll find world-famous hotel options from the Bellagio and Italian-themed Venetian to Mandalay Bay, Caesar's Palace, and the Wynn. 
Another excellent option is the Cosmopolitan Hotel, which offers rooms with balconies overlooking the Bellagio fountains. Plus, you can start the evening with a drink at the Chandelier Bar, three stunning lounges with different vibes, all under one of the largest chandeliers you'll ever see.
2. Lounge at Pool Parties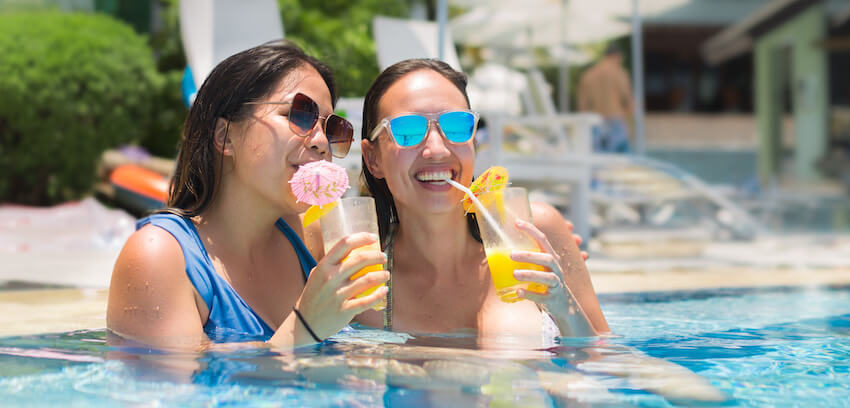 Celebrate the bach in style by lounging and sharing toasts at one of the many pool parties in town. The Encore Beach Club at the Wynn is one of the most popular. Save money by just paying for entrance and drinks at a pool party or go big and rent a cabana with VIP bottle service for a full day of sipping and swimming.
3. Indulge in Brunch
After a long night of partying, nothing helps you recover quicker than an indulgent brunch. For bistro fare with flair, try Bouchon at the Venetian, and for Italian favorites, make a rezzie at Giada at the Cromwell. Look for bottomless brunch options to keep the party going or save some cash for gambling by picking booze-free feasts.
4. See a Male Revue
Celebrate the bride-to-be's last days of singledom with a visit to a male revue. Las Vegas has dozens of options including famous shows like Thunder from Down Under at the Excalibur Hotel, Chippendales, and Magic Mike Live.
5. Go Dancing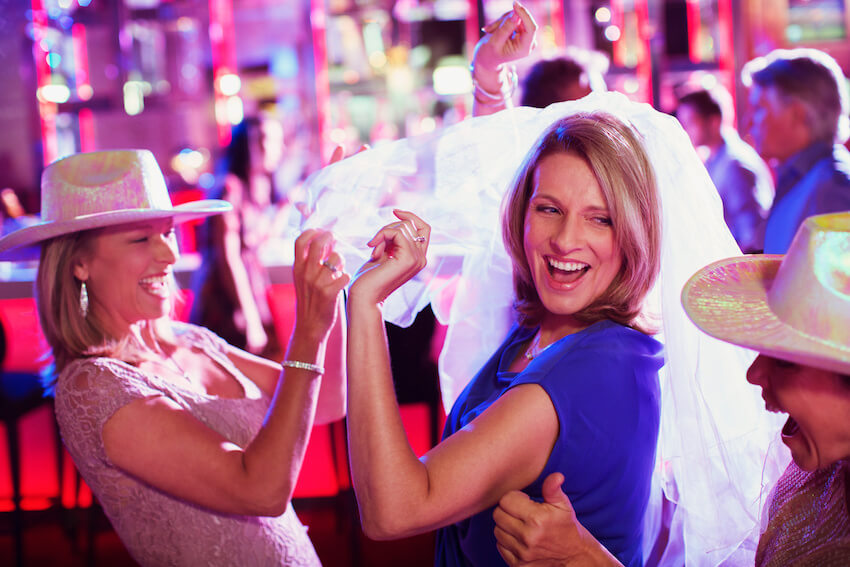 There's no shortage of nightclubs in Sin City — and that's one of the reasons Vegas bachelorette parties are so popular. Head over to the day club/nightclub combo Marquee in the swanky Cosmopolitan, the famous OMNIA nightclub in Caesar's Palace, or catch DJs at Hakkasan. Drai's Beachclub & Nightclub is another favorite from Thursday through Sunday if you want to catch a headlining act. 
6. Dine at Famous Joints
A Las Vegas bachelorette party doesn't have to be all about debauchery. Set some time aside to wow your taste buds at one of the world-class fine dining spots in town. For an over-the-top seafood dining experience, head to Catch at the Aria or indulge in a three-star Michelin experience at French restaurant Joël Bouchon. The Foundation Room rooftop bar offers sultry vibes for pre-dinner drinks and the Eiffel Tower restaurant at the iconic Paris hotel is a great choice for fantastic views.
7. Catch a Show
Vegas is home to shows of all kinds, from male revues and circus troupes to Las Vegas residencies featuring famous artists like Adele, Miranda Lambert, and Maroon 5. For classic Vegas entertainment, don't miss The Beatles Love show featuring Cirque du Soleil performers contorting and dancing to an incredible Fab Four soundtrack. For more over-the-top glamour, you can't go wrong with RuPaul's Drag Race LIVE! inside the Flamingo Las Vegas.
8. Take Pole Dancing Classes
Pole dancing isn't just a risque dance routine — it's also an incredible workout. Get fit and have some fun with your friends by taking pole dancing classes from Stripper 101 during your bachelorette party. You'll learn some moves for your spouse-to-be and have some silly giggles with your besties.
9. Go Retro on Fremont Street
Off the Strip is where you'll find the old downtown Las Vegas known as Fremont Street. Before the big hotels moved in, this was the happening spot in town. Today, it's a great place to go for bar hopping and more affordable entertainment options. The Fremont Street Experience is where you'll find classic casinos with much more affordable starting bets — plus, it's the only place where you can glide across the air via the Zip-Zilla Zipline.
10. Unwind at the Spa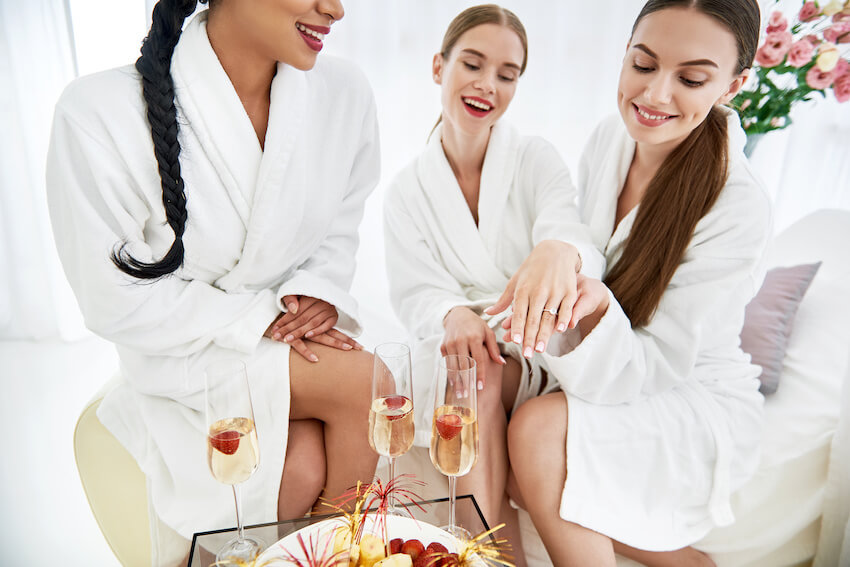 A Vegas bachelorette party might be focused on partying before the big day, but it can also involve some options to unwind and relax. Reset after a busy night out with a visit to the spa. Treat the bride-to-be and attendees to massages, facials, and spa packages to refresh before flying home.
11. Watch a Magic Show
Vegas is home to the famous Penn and Teller show in addition to other magicians like David Copperfield and Criss Angel. Add a little magic to your Vegas bachelorette party when the bride-to-be gets asked on stage to participate in a daring magic act.
12. Rent a Party Bus
If a limo isn't your speed, why not cruise around Sin City in a party bus? You can purchase a party package that includes party bus transportation plus entry fees to the main attractions. Call ahead and work with the agent to plan a custom route and get a quote for all the activities you want to hit.
13. Hike Red Rock Canyon
If you want your Vegas bachelorette party to be about more than partying, consider a getaway to Red Rock Canyon. Located just 25 miles from the Strip, you can drink in views of red sandstone cliffs that tower hundreds of feet above the canyon. There are several hikes in the area, so make sure to start early when it's cooler and pack plenty of water.
14. Take a Helicopter Ride
Go big and celebrate the bride-to-be with an experience she'll never forget by taking a helicopter ride over the city. There are also helicopter rides out to Red Rock Canyon and Death Valley if you want to get a glimpse of nature without being in it. 
15. Enjoy a Day Trip to the Grand Canyon
If your Vegas bachelorette trip has some spare time, consider making the two-and-a-half-hour drive to the Grand Canyon. Since it's a bit of a trek, it's best to do this if your celebration is four days or more. Head to the West Rim and soak in stunning vistas of the deep canyon and get a hike or two in if time permits.
16. Take in the Views From the Linq High Roller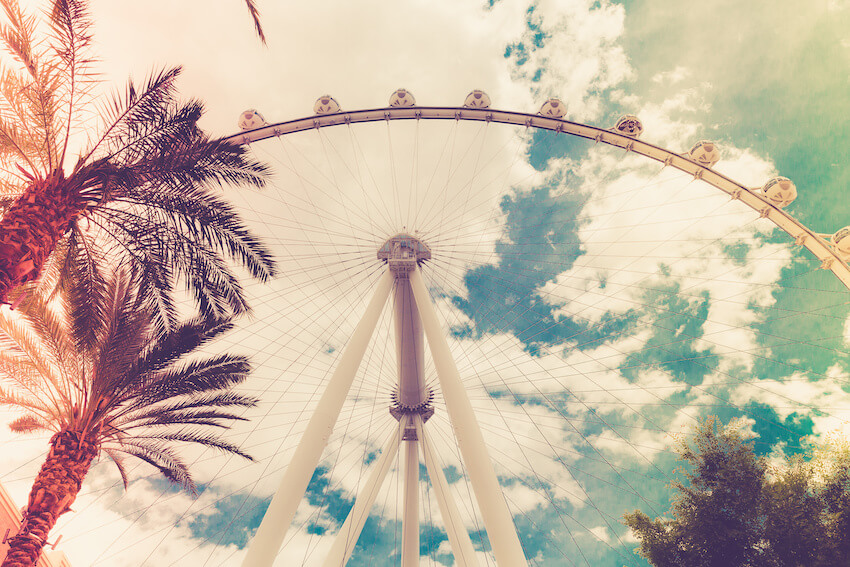 Take the group for a spin on the Linq High Roller, the highest-observation Ferris wheel in the world. The ride takes 30 minutes and offers unparalleled views from 550 feet above the Strip and all of Vegas's attractions.
17. Take Pictures in Front of the Las Vegas Sign
With a bachelorette party trip in Vegas, you're sure to make memories that last a lifetime. Be sure to head over to the iconic Las Vegas Sign to snap some sensational selfies you'll all cherish forever.
Bachelorette Party Invitations Fit for Vegas
Before you head to Las Vegas for your bach bash, it's time to pick out digital invitations to invite your friends. Here are some of our favorite Vegas-inspired bachelorette party invites. From glam and over-the-top to silly and fun, there's a vibe for all brides-to-be.
1. Wild Party Invitation
This vibrant invite comes in six different colorways and provides the perfect way to get everyone excited about a wild weekend in Vegas. Featuring holographic typography and textured confetti card stock, it has a retro vibe that's right at home for a Sin City celebration.
2. The Palms Invitation
Use this palm leaf invitation to get guests ready for a weekend at The Palms in Las Vegas. It's summery and light-hearted making it ideal for birthday parties as well as bachelorette celebrations. 
3. Fabulous Las Vegas Invitation
Announce your bachelorette party trip in style with this Vegas invitation. Featuring the famous sign on the Strip, guests will know they need to pack their bags for a wild weekend of fun.
Plan the Perfect Bachelorette Party Starting With Invitations
With these bachelorette party activities, you're sure to plan the perfect Vegas bachelorette party. From the top Vegas hotels to activities including pool parties and nature outings, you'll have no shortage of options when it comes to celebrating.
With Greenvelope, it's easy to invite the whole crew to your bachelorette party. Whether you prefer playful designs or more sophisticated styles, you can customize any invitation template to make it truly your own. After all, your invites should be as unique as you and your bridal crew!