April 30, 2023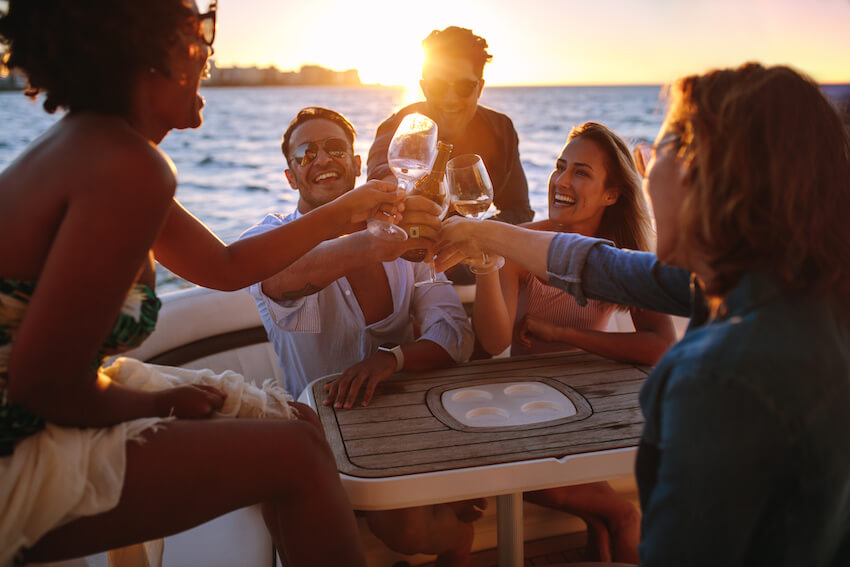 Nothing says summer quite like a boat party. Whether you're an adventure-loving group or prefer to take things easy, heading to open waters for a few hours presents an ideal opportunity to escape everyday life and enjoy the moment.
If you're planning a boat party, we want to help you host in style with some of our best boat party hosting tips. Plus, find inspiration on how to wow your guests with themed invites, fun activities, and a dazzling party space.

How to Host an Unforgettable Boat Party This Summer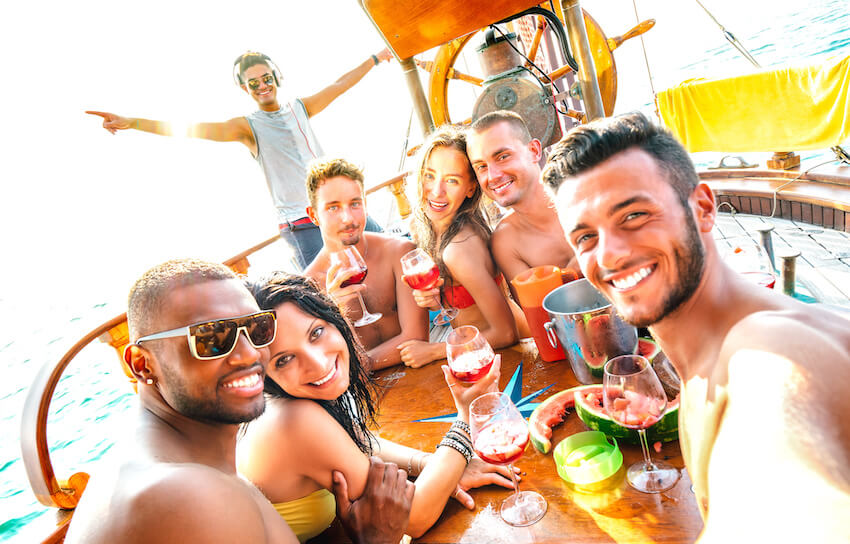 Ready to make a splash? Here's how to plan your boat party like a pro, leaving your guests to wonder just how you managed everything so smoothly.
1. Figure Out Your Budget
When we think of boat parties, luxurious, no-expenses-spared celebrations spring to mind. While some boat parties certainly fit that bill, they can also be casual, relaxed, and budget-friendly. To help you plan your dream boat party, first decide on your budget.
Nail down big ticket expenses like boat rental and entertainment, and how much you're willing to spend per person on food, drinks, and party favors. This will help you decide whether to splash out on a DJ or hook up your Spotify playlist, or to have an open bar or bring and serve bottled drinks instead.
2. Create Your Guest List
Once you set your budget, you can start working on a key part of any event — the guest list. While there are party boats that can hold hundreds of guests, this can get expensive, so you may wish to keep your guest list short and sweet.
Think about the occasion and who you're planning to invite. For a birthday party, bachelorette party, or another celebration, ask the guest of honor for their desired invitees. If you're hosting a summer soiree, invite your closest friends and family members.
3. Choose a Fun Theme
Heading out onboard a boat or yacht is exciting enough, but you can take it a step further by introducing a theme. This is a fun way to honor a birthday guest of honor's interests, or to shake things up from your annual summer party.
Embrace all things under the sea with a nautical-themed party, or add plenty of color and vibrant foods for a tropical-themed get-together. Host a luxe Hollywood-style yacht party, or take it back in time with a retro-themed disco boat bash. The choice is yours, and the party theme ideas are endless.
4. Send Themed Boat Party Invites
Get your guests excited ahead of the big day with boat party invites that let them know exactly what kind of party to expect. Planning hours of non-stop partying while taking in views of the Miami skyline? Or maybe you're thinking of a laid-back hangout with just a few of your favorite folks across the Hudson River in New York? Or perhaps you want a stop-and-swim sail along the shores of your local lake? 
Whatever you decide, Greenvelope's collection of party invitations includes plenty of designs that are perfect for your boat party — including this modern sailing themed invite. We also have designs to match your creative party theme — whether that's tropical, boho, retro, contemporary, luxury, or something else entirely.
Each of our designs can be customized to suit your celebration. Change the layout, fonts, and colors to personalize your design, then add your party details and message to share the exciting news with your guests.
5. Find the Perfect Boat
You can't have a boat party without a boat! Speak to your local marina, get in touch with local boat rental companies, and search online for the best boat rentals and yacht charters to see what options you have.
For a large party, look into chartering a yacht and working with the crew to hand over as many of the operations as possible. If it's a lively celebration, hire a party boat for a "booze cruise" where the focus is on celebrating and letting your hair down. For a smaller group, a luxury pontoon boat ride is a great option — especially if you're going to be jumping in and enjoying the water.
6. Design Your Space
Not all boat parties are on large vessels, but for those that are, it's important to get clear on how much space you have so that it works for your needs. There's nothing worse than getting onboard and discovering there's not enough space for your dancefloor and buffet table!
If you're aboard a large boat or yacht, work with the crew to figure out the best way to make your party plans happen. Decide on a layout that flows well so your guests can move around the boat to enjoy different activities and zones.
7. Plan a Few Games and Activities
Sometimes boat parties are all about relaxing, listening to the sounds of nature, and catching up with old friends. Other times, they're filled with exciting things to do. Wherever your party falls, you'll want to have some activities planned as options for your guests — even if that's simply to enjoy an incredible sunset together or head out onto the lake as part of your annual summer retreat.
Lively boat parties can benefit from a live DJ with a list of hit tunes that match your occasion and party theme. Talk with your DJ about what to include on the list — whether that's hip hop, disco classics, or current pop hits. If your group likes to get active, plan some water sports activities like jet skis or snorkeling as part of your boat party itinerary.
8. Serve Up a Delicious Menu
While you're planning your activities, give some thought to the food you'll serve to your guests. Dream up a menu that matches your theme, budget, and style, and leaves your guests feeling happy and satisfied.
For a retro gathering, you can't go wrong with hot dogs and burgers. For a more sophisticated experience, serve fresh seafood and salads. If your boat party doesn't last long or is mid-afternoon, you can get away with serving a selection of fresh snacks, charcuterie boards, and grazing platters.
9. Be Safety Conscious
Safety should be a priority at any gathering, but it's especially important when you're out on the water. Make sure you and your guests know what to expect and how to deal with any unexpected challenges.
If you're a new boater and chartering a boat by yourself, check in with the rental company for details on how to handle emergencies and how to prepare your guests. If you're fortunate enough to have a crew, seek their advice and relay any pre-event essentials to your guests.
10. Consider Party Favors
At many events it's common to give guests a token of appreciation. With a boat or yacht party you're limited by space so you might not have any extra places to store party gifts.
With this in mind, keep your party favors small. Consider handing out practical party gifts like flip-flops, towels, oversized sunglasses, or personalized drinking cups. You could even skip the party favors completely and choose to send a thank you card or make a charity donation instead.
11. Send a Thank You Note
Once the festivities have come to a close, it's time to start thinking about sending a thank you card. This isn't a must-have, but it's a thoughtful way to express gratitude to your guests — especially if they joined you to celebrate a special moment.
Our collection of digital thank you cards has something for every occasion. We love this multilingual thanks card as it's great for any theme or celebration, including your beautifully planned boat party.
Enjoy Smooth Sailing with the Best Boat Party Ever
Your guests will be overjoyed to receive an invite to your boat party, no matter what type of celebration you're hosting. Use these ideas and planning tips to impress them with a themed invite, exciting itinerary, and unmissable sights.
When you're ready to share the news about your event, use one of our boat party invites to do it in style. Find a design that works for your occasion, then personalize it to suit your event perfectly. We hope you have smooth sailing from start to finish!