August 17, 2022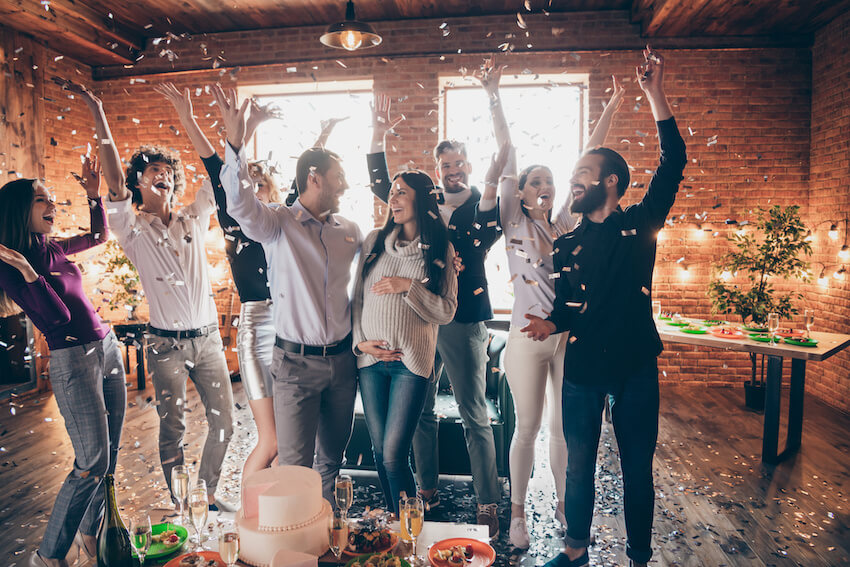 A new bundle of joy is always cause for celebration, but knowing when to have a baby shower isn't always so clear. Whether you're planning your own shower or organizing the event for a loved one, the ideal time depends on a few considerations. Some parents-to-be want to celebrate early on so they can focus on other things as the due date gets near. Other parents prefer to wait until closer to the due date while others prefer to host a party after the baby is born.
Fortunately, this guide highlights the important things to keep in mind when determining your baby shower timeline along with helpful tips on planning the big event. Plus, you'll find stunning baby shower invitations to share the news about the upcoming celebration.

When to Have a Baby Shower: Choosing the Right Time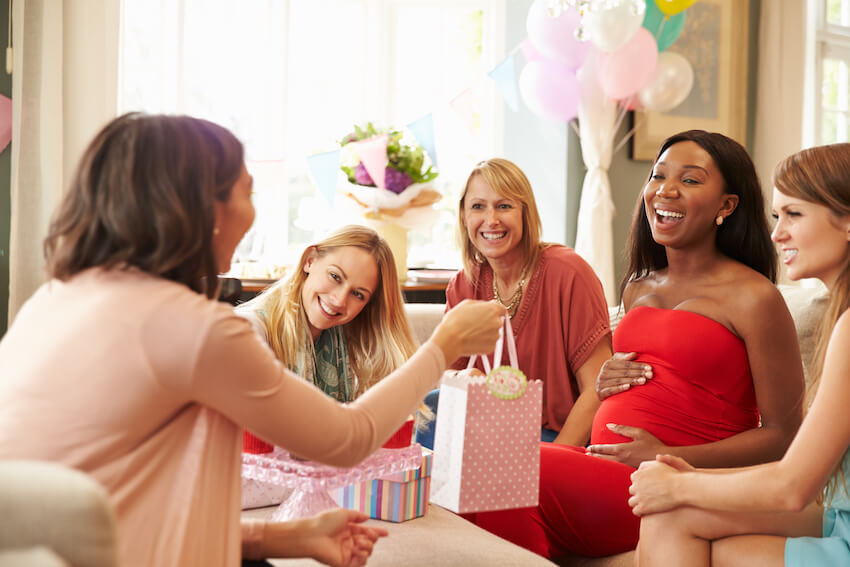 Ultimately, deciding on when to have a baby shower will be specific to what you need, the requirements of the guest list, and what the parent(s) prefer. As a fast rule, baby showers are often held at the end of the second trimester or early to midway through the third trimester — usually four to six weeks before the due date.
Expectant parents who are having multiples may prefer to have the baby shower on the earlier side. That's because these types of pregnancies often involve bed rest as the due date gets closer. Plus, having an earlier baby shower leaves time in case the little ones decide to show up sooner than expected. (Check out our list of twin baby shower ideas if a little duo is on the way.)
Many new parents also appreciate an earlier shower so they have enough time to unpack baby shower gifts and send out baby shower thank you notes without feeling rushed or overwhelmed right before the new baby arrives.
You'll also want to be mindful if the baby's arrival coincides with the holidays or other events. It's good baby shower etiquette to check which dates work for key guests — including close family members and close friends. In some cultures, it's considered bad luck to receive baby gifts before the baby is born. In these situations, it's best to plan the baby shower after the little one has been born.
Different Types of Baby Showers: Selecting a Style That Suits Your Situation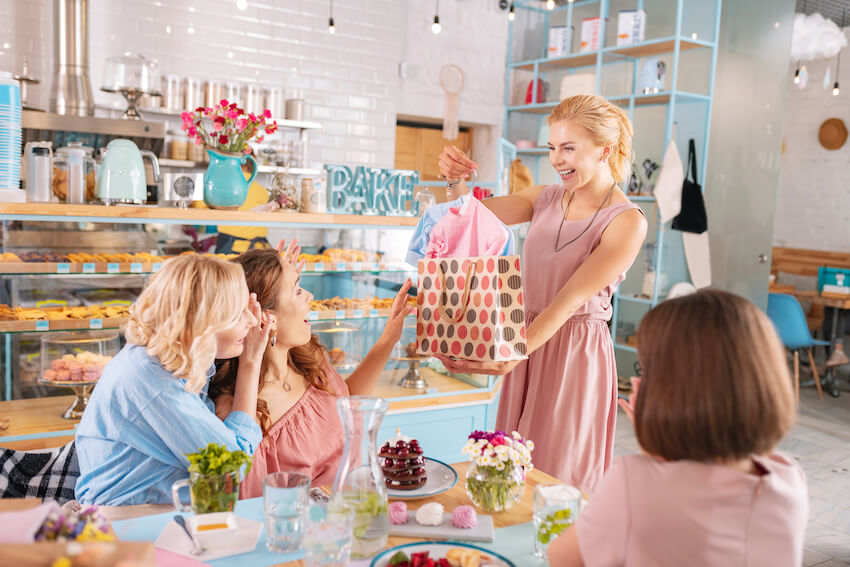 Figuring out when to have a baby shower can also depend on the type of event you're hosting. Virtual baby showers allow extra time since people don't need to make travel plans but they also require some considerations that in-person events don't entail. Some baby showers focus on the mother while others honor the couple. 
Here's a quick breakdown of the different types of baby showers you can plan:
Traditional

: Held for the mother-to-be and generally hosted by a close friend or extended family member.

Couple's shower

: A celebration honoring both parents that usually involves inviting co-ed guests.

Gender reveal

: Typically hosted by the parents-to-be, this celebration includes a special moment where the gender of the baby is revealed. (Sometimes these events are held before the actual baby shower.)

Sip and see

: A casual celebration where loved ones are invited to meet the new baby for the first time.

Baby sprinkle

: A

baby sprinkle

is a toned-down party often held by parents who are having a second baby or third baby and don't want (or need) the big shower.

Adoption shower

: A celebration honoring the adoption of a child. Can be held before or after the baby arrives and depends on the comfort level of the new parents.

Virtual baby shower

: Held online using tools like FaceTime, Zoom, and social media apps.

Virtual baby showers

typically require less planning, so they're ideal for last-minute showers or people who want a shower close to the due date.
Deciding when to have a baby shower also means considering the time of day for the event. Early afternoons are popular but virtual parties might be better later in the day when people are home from work — particularly if the party is on a weekday.
Baby Shower Invitations: 11 Designs to Celebrate the Little Bundle of Joy
Once you know when to have a baby shower, it's time to send out invitations to everyone on your guest list. At Greenvelope, you'll find hundreds of baby shower invites. From gender-neutral designs and pink and blue invites to styles that pair perfectly with popular baby shower themes, there's something for everyone. Here are some of our favorite baby shower invitations to share your joy.
1. Sprinkle of Gold Invitation
This sweet invite features gold foil confetti raining down on the details of your event. There's plenty of room to include the baby registry info and any baby shower theme information. Use it for a baby sprinkle or change up the color scheme for a gender-neutral baby shower.
2. Agave Invitation
Inspired by Mexican folk art, this invitation design is colorful and vibrant. It's perfect for festive and joyous celebrations like baby showers and birthday parties.
3. Party Brewing Invitation
This bubbly invitation is perfect for a sip and see and other baby shower events. It features gold glitter that looks like a bubbling, cold glass of beer. You'll find plenty of space to include the important details of the event including the date, time, and location as well as gift registry details.
4. Watercolor Clouds Invitation
This watercolor-inspired invite has puffy, watercolor clouds drifting in the background. It's full of whimsy and magic, perfect for a baby shower. Choose between a glittering rainbow or dandelion to adorn the top of the invitation design.
5. Cairns Invitation
With its modern and abstract stone designs, this contemporary invite is the ideal choice for a chic baby shower. Choose from six different colorways to suit your baby shower theme.
6. Soft Leaves Invitation
This photo invite puts the mother-to-be or parents-to-be front and center. The glitter-accented envelope adds a touch of glamor and the simple design pairs well with various baby shower ideas and themes.
7. Winter Greenhouse Invitation
This wintry invite is perfect for a seasonal baby shower celebration. A lush greenhouse takes center stage while gently falling snow creates the backdrop for a little magic. 
8. Twin Onesies Invitation
Double the trouble — and double the fun! This adorable card design is well-suited for parents having twins. You can easily customize the color scheme and typography to match the theme of your twin baby shower.
9. Bee Our Guest Invitation
Invite guests to a day of fun baby shower games and celebrate the mama-to-bee with this buzzing invite. This design will set the tone for your bee-themed baby shower and the black and yellow polka dots are ideal for a gender-neutral celebration.
10. Shower By Mail
Hosting a virtual baby shower? Choose this beautifully illustrated invite to get guests excited about the event even if you can't meet up in person. (You'll also love these virtual shower games to ensure a fun time.)
11. Iridescent Balloon Invitation
Sophisticated and oh-so cheerful, this shimmering invitation features a balloon filled with glitter and vibrant colors. It would work perfectly for a variety of baby shower themes, including an under-the-sea or rainbow-themed celebration.
Host a Beautiful Baby Shower for the New Arrival
Deciding when to have a baby shower is just one step in the party planning process. Whether you're hosting for a loved one or doing it for yourself, check out our baby shower planning checklist to make sure you don't miss a thing. Whatever you decide, it's sure to be a wonderful way to celebrate the new arrival.