January 27, 2021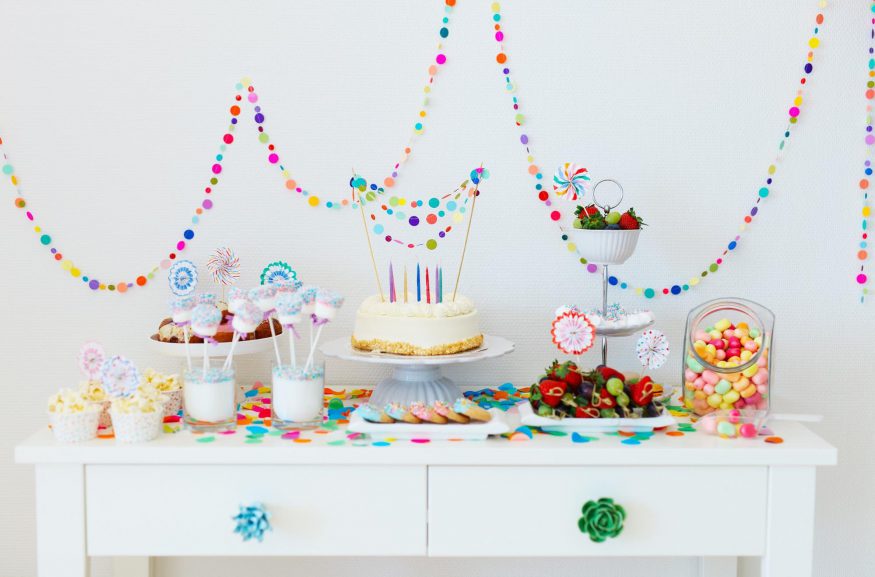 There's nothing more exciting than expecting a bundle of joy. To help you plan the most memorable celebration to welcome the new baby, we've created this list of the best baby shower themes, including decor tips and matching themed digital invitations. From woodland adventures to space exploration, there's something here for everyone. Even better, these ideas make fantastic gender-neutral baby shower ideas — perfect for baby boys and baby girls.

1. Afternoon Tea Party Baby Shower
Treat the guest of honor and your party guests to a wonderful afternoon tea to celebrate this exciting new journey. You can go luxe and create a decadent afternoon tea to rival one held in a five-star hotel with fancy food, scones, and fine china. Or you could step outside and host a garden tea party filled with fruit, teas, and whimsical decorations. The key is to serve up plenty of refreshing drinks, adorable mini sandwiches, and bite-sized sweet treats.
Matching invitation: Dainty Teapot
2. Safari Baby Shower
Take your guests on an exciting adventure inspired by a safari. This is one of those really fun baby shower themes where you can go wild. 
Set the scene at your party venue with plenty of natural tones, textures, and decor. Bring the outside in with faux plants and trees, or create your own artwork inspired by the setting sun. It wouldn't be a safari themed baby shower without the animals — create fun scenes with toy animals, or opt for almost life-sized versions to add a playful touch to your decor.
Matching Invitation: Safari Mama
3. Fairytale Ballet Baby Shower
Honor the parents-to-be with a modern take on a classic with a fairytale ballet themed baby shower. Decorate the space with gorgeous pastel shades of pink and blue, with ballet shoe emblems taking center stage in banners, tableware, and on balloons. Continue the theme with your food by featuring a table display arranged like a ballet show and a delicious cake topped with a baby ballerina. 
Matching Invitation: Once Upon a Time
4. Rainbow Baby Shower
Who doesn't love a rainbow? This is one of our favorite baby shower themes because it's so bright, fun, and full of energy — the perfect match for the soon-to-arrive bundle of joy. 
Rainbows are everywhere at the moment, which makes it easy to pick up affordable baby shower decor and party supplies. Create a balloon arch in rainbow colors, use food coloring to create rainbow cupcakes and donuts, and add a touch of rainbow goodness to everything from your party games to your party favor bags. A fun idea is to create a collection of children's books for the new baby in all the colors of the rainbow.
Matching Invitation: Baby Rainbow
5. Woodland Baby Shower
Escape into the woods for a magical woodland themed celebration. If you love whimsical baby shower themes, a woodland baby shower is perfect for you. 
Take the celebration outdoors in your backyard, or look for a venue with beautiful grounds you can use. If you can't get outside, recreate the experience inside with plenty of greenery, magical centerpieces, and string lighting. Add plenty of delightful woodland characters ranging from real animal motifs to make-believe fairies and gnomes. You'll have lots of fun creating a lovely atmosphere for the guest of honor. 
Matching Invitation: Woodland Charm
6. Bee Baby Shower
Shower the lovely parents-to-be with this adorable baby shower theme inspired by bees. Create a super bright and cheery environment by adding lots of yellow, complemented by hints colorful flowers. Look for balloons, tableware, and cake toppers that feature bees or meadow-inspired scenes. Have fun putting together banners and decorations for this event — you'll "bee" surprised how many bee puns you can fit in!
Matching Invitation: Mommy-to-Bee
7. Candy Baby Shower
Host a super sweet celebration in honor of the parents-to-be with a candy inspired baby shower. This is one of those baby shower themes you can really go to town with. Deck out your party venue in the most outrageous brights inspired by rainbow colored candy, or opt for pastel shades. Whatever color scheme you choose, make sure there's an amazing candy bar and baby shower desserts for your guests to enjoy. 
Matching Invitation: Sprinkle Confetti
8. Floral Baby Shower
Surround the mom-to-be and her lovely guests with plenty of gorgeous blooms at a floral inspired baby shower. 
Florals are timeless and work perfectly as a baby shower theme. Create a stunning flower wall with real or faux flowers, which can double as the perfect backdrop for photos. Create your own DIY fresh flower banner as a sweet welcome sign or photo prop, and look for floral tableware to complete the look. 
Matching Invitation: Watercolor Floral
9. Mermaid Baby Shower
Take your party guests on a magical adventure beneath the waves with a mermaid themed baby shower. We love baby shower themes that let you get creative, and this is one of them. Transform your place into an underwater paradise by hanging blue and teal fabric from the walls. Get playful with your decor and add larger-than-life fish and undersea creatures, plus a few mermaids themselves. Mix together soft pastels and rich, gem tones across your party decor, food, and theming to bring the look together. 
Matching Invitation: Iridescent Balloon
10. Rustic Baby Shower
Celebrate the great times to come in a relaxed style with a rustic boho brunch baby shower.
Style out your home or take the party outside and enjoy a casual meal over a long banquet table. Add plenty of rustic touches like fresh greenery, natural linen, and warm lighting. Bring in some giant floor cushions for comfort, create a feel-good playlist, and sip iced tea together as you play baby shower party games. 
Matching Invitation: Delicate Greenery
11. Space Baby Shower
Impress your guest of honor and her closest loved ones with a baby shower that's simply out of this world. Transport your guests to a faraway place with this super fun themed party idea. DIY your own solar system and hang planets and stars from the ceiling. Plunge your party into near-darkness and use glow-in-the-dark stars and fun LED lighting to create the ideal atmosphere for this "twinkle twinkle little star" celebration. Round off the party theme with an astronaut cake topper, and a handful of space-themed party games. 
Matching Invitation: Celestial Sparkle
12. Nautical Baby Shower
Adventure across the seas with a nautical inspired baby shower. Nautical parties often top the lists of the best baby shower themes and we can see why. We love the rich blues, whites, and reds that you see throughout the decor and styling. Feature key icons like anchors, ship's wheels, and flags on banners, balloons, and cake toppers. For an extra playful touch, add in some adorable baby crabs or starfish in bright colors. 
Matching Invitation: Golden Anchor
13. Baby Animals Baby Shower
Make your guests say "aww" with a baby shower inspired by the cutest thing of all — baby animals. Keep the field wide open and include your favorite baby animals from across the world, or focus on your guest of honor's favorite group — like sea creatures, woodland animals, or farm animals. Fill your party location with decorative baby animals and teddy bears of all sizes, and don't forget to look for an adorable cake topper too. You can also play some fun baby shower games involving baby animals to continue the theme. 
Matching Invitation: Animal Friends
14. Minimalist Baby Shower
Shower the parents-to-be in a more laid-back celebration with a minimalist baby shower. Instead of filling the venue with a mix of colors, textures, shapes, and decor, keep things simple. Pick a handful of complementary colors or stick to black and white or a natural color palette, and put the focus on your activities, food, and atmosphere instead of the decor. We love the simplicity of this type of baby shower — it's perfect for small gatherings. 
Matching Invitation: Edgy Splatter
15. Travel Inspired Baby Shower
Introduce the little one to the world before they've even made their big entrance with a travel inspired baby shower. This is the perfect baby shower theme if the mom-to-be loves to travel. Theme your celebration around different places, cultures, and foods from across the world, or focus on a destination that's special to the expectant mother. Decorate your space with globes, maps, and personal mementos from your guest of honor's own family travels. 
Matching Invitation: Welcome to the World
Wow Your Guests With These Gorgeous Baby Shower Themes
We love how many wonderful baby shower themes there are. Stick to something sweet, simple, and minimal or go all-out with wild colors and creative motifs. Use this list to fire up your creativity and inspire you to find the perfect baby shower ideas for your event. Once you've found the right theme, select your baby shower invitations that you can customize to suit your celebration.