August 15, 2022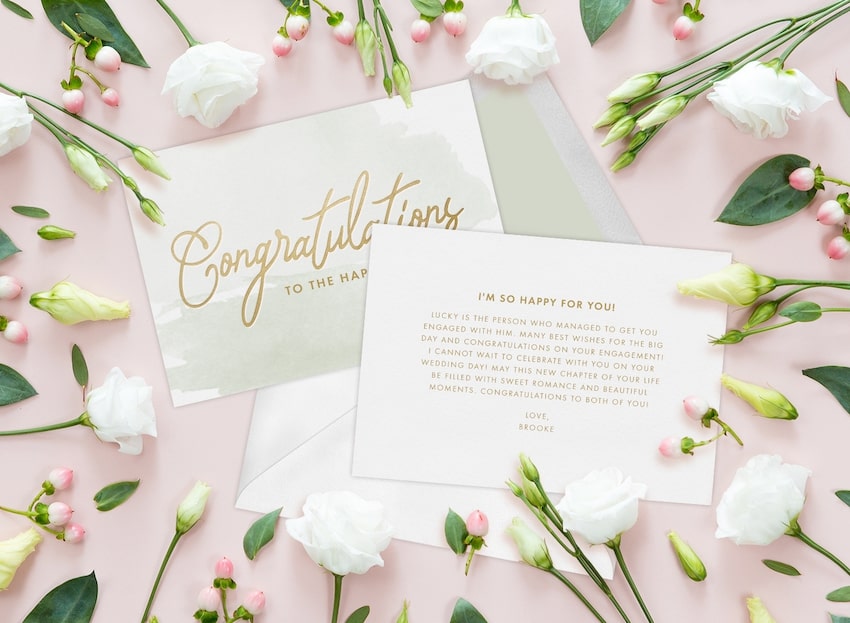 Whether it's for your lifelong BFF or a delightful coworker, attending a bridal shower is a special moment to celebrate the bride before the wedding day. But what should you include in a bridal shower card message? Follow this guide to learn how to craft a thoughtful bridal shower card — you'll find wording ideas (everything from funny to sweet) as well as bridal shower card designs you can send in an instant.

Basic Structure of a Bridal Shower Card Message
You know you want to send your love and well wishes, but how should you structure a bridal shower card message? Here's what to include for the beautiful bride-to-be. 
Warm Greeting
Open your bridal shower card message with a warm, friendly greeting. Address the recipient by name, or their nickname if that's how you know them best. This doesn't have to be complicated, and can be as simple as "Hi [Name]."
Tailor your opening line to your relationship to the bride-to-be. For a close friend or family member, a "Hi!" or "Hey!" works well. If you're writing to a coworker, "Dear" might feel more appropriate. It all depends on how the two of you normally talk. 
Message of Congratulations
Next, move things along with a congratulations message. This is where you'll share your excitement for what's to come and express your joy about attending the bridal shower.
A short message like "Congratulations on being one step closer to your wedding day!" is a great option, or you could opt for something like "Sending you happy wishes ahead of your bridal shower."
Personal or Inspiring Note
What really sets a beautifully written bridal shower card message apart from others is that it feels personal. Be sure to include a personal message to the recipient, or to share an inspiring quote about love that speaks to the moment. Reflect on a happy time the two of you shared or express how privileged you feel to share in this momentous occasion.
Friendly Sign-Off
When it's time to bring your message to a close, do it with a warm sign-off. Mirror the formality of your opening line so your message flows nicely. For instance, if the card is for a close loved one, try something like "I love you!" or "With lots of love, [Name]." For a note to a coworker or acquaintance, "Best wishes" or "Warm wishes" work wonderfully. 
How to Write a Heartfelt Bridal Shower Card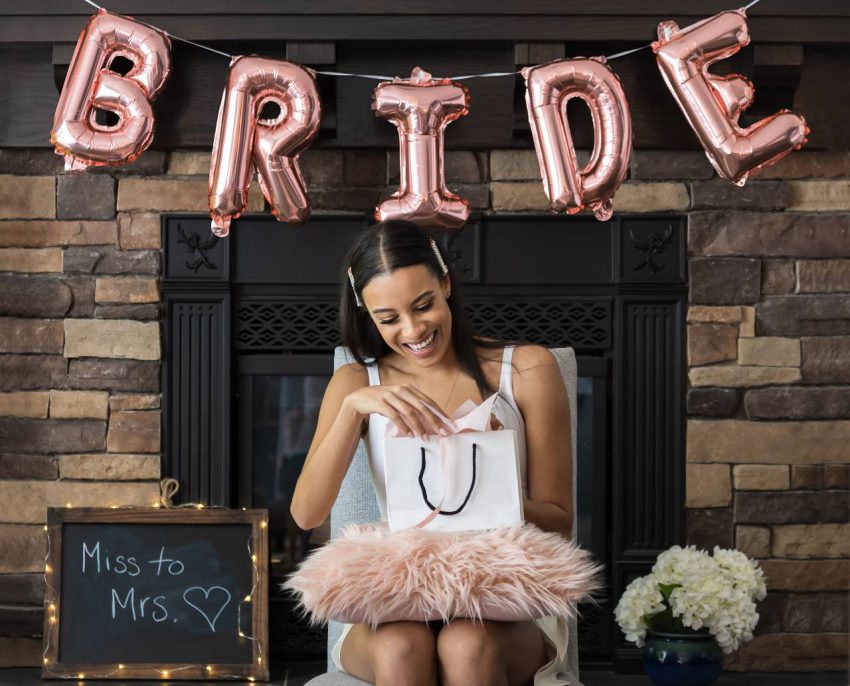 Once you have the basic structure of your bridal shower card message, it's time to fill it out. Use these tips to help you put together a simple, funny, or sweet message to show how much you care.
Keep It Simple
Your bridal shower card message doesn't have to be complicated. It can be as short and sweet as "I'm so excited to celebrate alongside you!" or "Can't wait until your bridal shower on [date], it's going to be amazing."
Don't feel like you have to write a lengthy, heartfelt note to express how you feel. Write what feels right — whether that's a handful of words, a few lines, or a longer paragraph. 
Embrace a Relaxed Style
Unlike a wedding shower, which is for the happy couple, a bridal shower centers specifically on the bride-to-be. It's also typically a relaxed, informal event where the guest of honor is surrounded by close friends and loved ones. This means you don't need to be overly formal with your card's message. 
Be guided by your emotions and the kind of language the two of you share on a regular basis as you write your card. Add in a funny anecdote or share a phrase the bride-of-honor is always saying. This will feel more personal than trying to write a more formal greeting card note. 
Express Your Excitement
More than anything, a bridal shower card gives you an opportunity to express joy and excitement about the upcoming wedding day. Lean on this when you're not sure what to write, and it'll help you come up with a beautiful message that'll make them smile. 
You could mention how you're so excited to see their wedding dress on the big day, or to watch them walk down the aisle. You could reflect on how you've noticed how happy they are ever since meeting their fiance.
Make Them Smile with These Bridal Shower Card Messages
Can't find the right words for what you want to say? Take a shortcut to the perfect bridal shower card message with these handy ideas. 
Simple Bridal Shower Card Messages
Keep your message short and sweet with these messages. While they're only a line long, they pack plenty of emotion and excitement into a few words. 
Congrats

, [Name]! Can't wait to celebrate alongside you at your

bridal shower

.

Happy Bridal Shower

Day, [Name]! Here's to you!

Excited for your bridal shower, [Name]! Can't wait to celebrate. 

Congratulations, [Name]! You deserve all the happiness in the world.

Sending you lots of warm

bridal shower wishes!

 
Funny Bridal Shower Card Messages
If you want something humorous to make the guest of honor smile, take inspiration from these funny bridal shower card messages. 
Your bridal shower is one of the final events before

married life

takes over. There's still time to change your mind! 

Time to shower you with gifts, [Name]! 

As if the

wedding day

wasn't enough, you want another celebration in your honor too?! #SoTypical

We're not sure how you found [Him/Her/Them], but we're glad you finally found someone who wants to spend forever with you.

Happy bridal shower

! 

There's a

new life

on the horizon for you — fingers crossed it's better than the current one! 
Sweet Bridal Shower Wishes
Send heartfelt wishes with one of these sweet, thoughtful messages. 
Congratulations, [Name]. I'm so happy to see you've found your

soulmate

in [Name]. May you have a very

happy marriage

together! 

You've always been my

best friend

, and I'm excited that [Name] is now part of our circle too! Sending you love ahead of your bridal shower.

You and [Name] are the

perfect couple

and the epitome of

true love

. Wishing you a

lifetime of happiness

! 

Excited for you as you start this

new chapter

, [Name]! You're so blessed to have found the perfect partner for the

rest of your life

. 

You and [Name] are a

perfect match

. Congratulations! So excited to celebrate with you! 
Bridal Shower Card Messages for a Family Member
Welcoming someone new to the family, or want to send happy wishes to a family member who's getting married soon? Here are some lovely bridal shower card messages for a family member.
We're delighted to welcome you as a

beautiful daughter-in-law

soon, [Name]. Here's to you! 

There's a

special day

coming up, but first let's celebrate you!

Happy bridal shower

to my wonderful [relation].

I'm so happy to see you and [Name] together. May you have

years of happiness

and a

lifetime of love

, my dear [relation]. 

Getting to know you through [Name] has been amazing. Let's party hard before you become an official family member, [Name]! 
Our Favorite Bridal Shower Cards
Once you've settled on the right words, it's time to put your bridal shower card message in a greeting card that suits the mood. Here are some of our favorite congratulations cards that are ideal for a bridal shower. 
Round of Applause Card
We love the simplicity of this round of applause card, which works perfectly for a bridal shower. The shiny rainbow effect version is glamorous yet fun, or you can choose from other colorways to match the event. 
Scripted Congratulations Card
This scripted congratulations card is perfect if you love the romantic look and feel of the watercolor effect. While this sample is written to the couple, you can personalize the cover text to address just the bride if you wish.
Happily Ever After Wishes Card
If you prefer the look of a portrait card, this happily ever after wishes card is one of our favorites. The bright, bold ombré effect on the front catches the eye, and there's plenty of space within for a sweet message to the bride-to-be.
Greenvelope's online cards can be customized to create a gorgeous, bespoke card for someone you care about. Change the layout and wording, choose your font and color options, and create a beautiful backdrop for your thoughtful message. And since the card is digital, you can send it in a matter of minutes with no paper waste. 
Write a Sweet Message for the Bride-to-Be
Whether you've known the bride-to-be forever or they're a new friend, writing a bridal shower card message is a fun way to spread the love. Use this guide to structure it properly and feel free to borrow some wording ideas for your own pre-wedding wishes.
With creative ideas flowing, you're sure to find a Greenvelope bridal shower card that suits your connection to the guest of honor. You can even personalize bridal shower invitations into a custom card with your own message that the bride-to-be will love.