March 17, 2022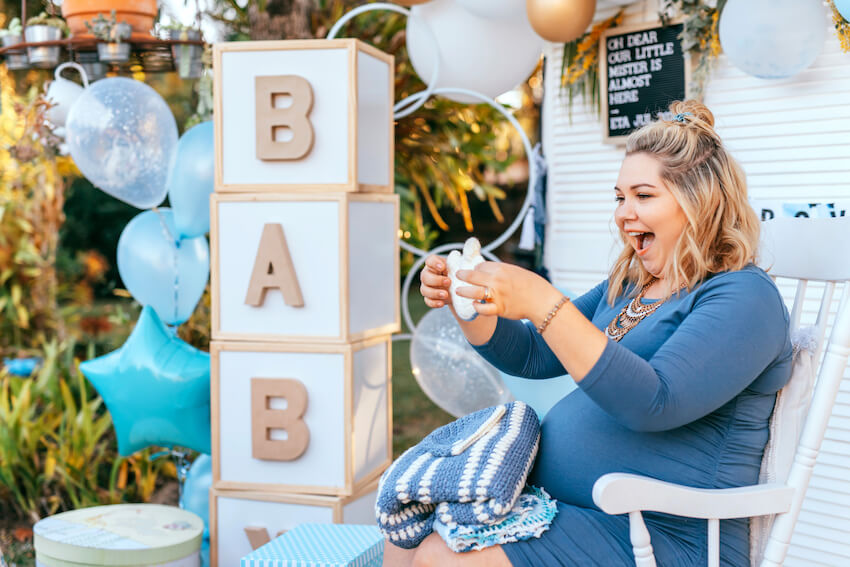 Baby shower planning can be such a rewarding role to take on. You get to play a special part in the celebration of a loved one's journey into parenthood. That doesn't mean that the job is easy, though.
Knowing what you need to do as the baby shower host and getting organized can be challenging. Here's the ultimate baby shower checklist so you can feel confident that you have everything under control. 

Two Months Before the Baby Shower
It's time to kick off your baby shower planning checklist. Here's what to tackle two months before the big day. 
Confirm Who's Hosting
The guest of honor has asked you to host, but now's the perfect time to add a co-host if you want one. Discuss any options with the parent(s)-to-be, and come up with a plan detailing who's hosting and who you can call on for extra support with preparations. 
Set a Budget
Come up with a budget for the baby shower so you don't overspend. You can host a baby shower on a budget for less than $200, or splash out on an extravagant event that costs thousands. You'll also need to decide who's paying — you might pay as a gift to the new parent(s), or it might be covered by a family member of the parent(s). 
Decide on a Date and Time
Baby showers are typically held four to six weeks before the baby's due date, so work with the guest of honor to find a date in that time span that suits them. Once you have a date in mind, decide what time of day your party's taking place. A brunch is always a good choice, or you could opt for an afternoon tea instead. 
Choose a Venue
Like most things, your venue will be influenced by your budget. Host at home for an affordable and cozy shower, or book a top restaurant or hotel suite for something more luxurious. Make a shortlist, tour some venues, and confirm the date now to secure it.
Set a Theme
You don't need a fun baby shower theme, but it sure is a great way to add vibrancy to the event. Think about what's trending now, or consider your guest of honor's favorite TV shows, colors, music, and hobbies.
Place Orders with Vendors
Like with all events, if you want to work with external vendors you need to lock them in as soon as possible. Get in touch with a photographer, baker, entertainer, caterer, florist, or anyone else who can help make your baby shower special. 
Prepare the Guest List
Now's the perfect time to get your guest list ready. Work with the guest of honor to brainstorm a list that features everyone they'd love to see — including family members, best friends, and co-workers. The number of guests you invite might be limited by your space or activities, but always prioritize inviting your guest of honor's VIPs.
Send Baby Shower Invitations
With your guest list ready, it's time to think about invites. Make sure they contain all the event details, including how to RSVP and where they can find the baby registry information.
Browse our baby shower invitations to find a design you love, customize it, and send it to your guests by email or SMS. It's the ideal way to invite your guests without spending forever handwriting and mailing invites. 
One Month Before the Baby Shower
There's only a month to go before the event, which means it's time to start working on the details. Here's what to take care of at this stage of your baby shower checklist. 
Get Your Party Decor Ready
Whether you've chosen a theme or not, now is the time to gather, DIY, or buy your baby shower decorations. Keep it simple with some adorable balloons and banners, or invest in fancy centerpieces, place cards, and tableware for a sophisticated get-together. 
Decide on Your Menu
Planning the menu is one of our favorite parts of this baby shower checklist. Get creative with cupcakes, mocktails, and treats that match your party theme, or hire an event catering company to come up with the perfect food and refreshments list. 
Plan Baby Shower Games and Activities
Baby showers are a wonderful opportunity to play games like baby predictions, bingo, baby animals, and more. Put together a wishlist of baby shower ideas that your guests can try together — including games, activities, and things to watch and listen to. 
Buy Baby Shower Favors
You don't have to invest in party favors, but they're a lovely way to express thanks to your guests. We love the idea of matching your party favors to your baby shower theme. For a bee-themed baby shower, try a mini jar of honey. For a nautical baby shower, an adorable rubber duck is ideal.
Buy a Gift for the Guest of Honor
Your guests aren't the only ones leaving with a gift. It's time to pick out the perfect baby shower gift for the new baby on the way. Take a look through the baby items on the gift registry for ideas, or buy something thoughtful as a treat for the parent(s) instead. 
The Week Before the Event
With only a week to go, it's all about finalizing those last-minute details and checking that everything is running smoothly. Here's what to think about at this stage of your baby shower checklist. 
Check Your RSVPs
Last-minute RSVPs are impossible to avoid, but encourage your guests to reply early. If you've sent your online invitations with Greenvelope, you can view and manage your guest RSVPs from your dashboard. This makes it easy to give final numbers to your venue and caterers or take note of anyone who hasn't replied yet.
Reconfirm with Your Vendors
Now is the perfect time to check in with vendors and verify that everything is on schedule. Reconfirm your requirements with anyone you hired, and make sure there are no last-minute issues. If there are, there's still time to take care of them.
Finalize Your Schedule
You're going to be pretty busy on the day of the baby shower, so have a plan for how everything's going to go. Create a rough timeline for your guests that you can share on arrival, so they know what's happening. Make a more detailed schedule for you and any helpers you have to stay on track. 
On the Day of the Baby Shower
The day of the baby shower arrives and your main job is to play host, make your guests feel welcome, and enjoy the celebration. There are still a handful of to-dos on your baby shower checklist though — here they are.
Decorate the Party Space
Prepare your party venue so it provides the perfect backdrop for your dreamy baby shower celebration. Set up party decor, set the tables, arrange centerpieces, and hang bunting. If you have a lot to do or not enough time in the morning, do this the day before instead. 
Pick Up the Baby Shower Cake
Unless the cake is being delivered straight to you or the venue, add this to your day-of to-do list. It's an easy one to miss, especially if you placed an order a long time ago. Take special care to help it arrive at the destination smoothly, and decorate the table around it to create a beautiful centerpiece.
Prepare Food and Drink
Set up an area for refreshments and food, and keep your candy and desserts station stocked up. If you've brought in caterers, this is one less thing on your baby shower checklist. 
Make Sure Everyone's Comfortable
The role of host is a unique one. Not only did you have fun planning the ultimate baby shower, but you also get to make guests feel welcome and comfortable. Let people know where they can find things, offer drinks, chat with the guests, and make the moment feel special for the guest(s) of honor.
After the Baby Shower
It's almost time to say goodbye to your baby shower checklist. But before you do, make sure to take care of a handful of final things. Here's your to-do list after the baby shower ends. 
Clean Up
A party doesn't clean up after itself, which means this task falls on your baby shower checklist. Rally around some friends to help out so that it doesn't take too long, then head out for drinks or dinner afterward to toast an amazing event. 
Assist the Guest of Honor with Gifts
Unless you're hosting at the guest(s) of honor's house, they'll need to get all of their incredible baby shower gifts home with them. Offer to help out with packing up, transporting, and unloading their gifts so it's one less thing for them to worry about. 
Adorable Baby Shower Invitations
A memorable baby shower deserves invites that are just as impressive. Here are some of our most loved baby shower invitations to inspire your own design. 
Undersea Whimsy Baby Shower Invitation
We adore this undersea whimsy invitation. It's so much fun, with sweet underwater creatures and a rainbow color palette. This invite is perfect for a lively, magical, and unique baby shower. 
Garden Celebration Baby Shower Invitation
This garden celebration invite is dreamy and ideal for any floral-themed or outdoor baby shower. Pleasant colors, delicate illustrations, and script font make this a great choice for a relaxed or formal baby shower celebration. 
Little Cuties Baby Shower Invitation
If you're looking for something totally adorable, this little cuties invitation has to make your shortlist. The bright, cheerful oranges and flowers make this a wonderful pick for a summer baby shower. 
Host the Perfect Baby Shower with This Baby Shower Checklist
Planning a baby shower can be a lot of work, but with this baby shower checklist, it'll feel like a breeze. Make note of exactly what needs to be done — and when to do it. This ensures you have a practical plan to follow as you dream up, organize, and host the ultimate baby shower for someone special.