March 10, 2022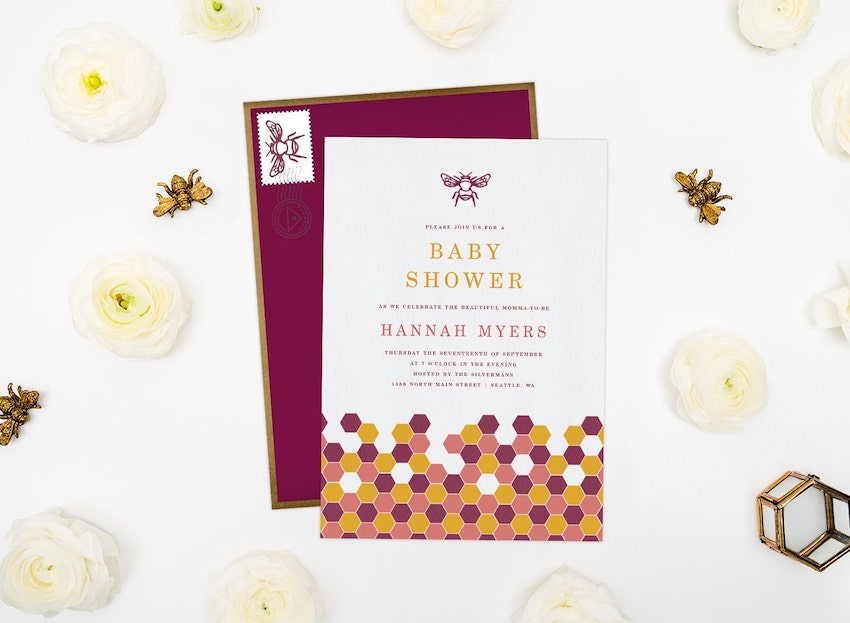 There are plenty of reasons for all the buzz around a bee-themed baby shower. This adorable, gender-neutral baby shower theme can be styled in a classic or contemporary way — giving you so much choice over all the different event elements. 
With a beehive full of inspiration and options, it's easy to plan a beautiful bee-themed baby shower for the parents- or parent-to-be. Try these sweet ideas for decor, food, games, and party favors for the ultimate bumblebee or honey bee baby shower. 

Creative Bumblebee-Themed Baby Shower Decor Ideas
What really brings a bee-themed baby shower together is all the wonderful party decor and styling you can choose from. Here are some of our favorite decor ideas so you know exactly what to add to your list when you go shopping for party supplies. 
Giant Balloon Arch or Wall
Create the ultimate attraction on arrival or a fun backdrop for some baby shower party photos with a giant balloon arch or wall. Get cute bee balloons made, or use a mix of yellows and blacks to stage a fun pattern. To take it a step further, arrange the balloons in a hexagon or hive-inspired shape. 
Honeycomb Decor
If you don't want to go too overboard with mini bumblebee decorations everywhere, honeycomb baby shower-inspired decor is a great idea. Look for a tablecloth with a hexagon pattern, or create your own honeycomb-themed banner or backdrop. It's a lovely way to honor the theme, and include some gorgeous yellow tones while letting your bee decor elsewhere stand out. 
Floral Textiles
While it's often overlooked at bee-themed baby showers, adding floral patterns to your event can really help it come to life. Seek out beautiful floral napkins, tableware, tablecloths, and confetti to decorate your tables with. Bees love sunflowers, lavender, and wildflowers — so look for these in your designs. When you're done hosting the baby shower, these decor and styling pieces can be reworked for a future birthday party too. 
Fun Party Games to Play at a Bee-Themed Baby Shower
Baby showers and party games go together perfectly — and with a bee theme, there's lots you can do. Take a look at these bee baby shower games to uncover some fun ideas for activities for your event.
Bee-Themed Baby Shower Bingo
Bingo is a classic game for most celebrations, but it's especially great at a baby shower. It's simple, sweet, and anyone can join in with it. For a themed baby shower, look for a bingo game that matches your style. DIY your own bingo cards, or look for a cute bee baby shower bingo printable that you can download and use instead. 
Cupcake Decorating Contest
Turn up the heat and see which of your guests has the most talent with a cupcake decorating contest. Buy or bake a collection of cupcakes and lay them out in front of your guests, along with plenty of colored icing or frosting, and lots of adorable sprinkles and cupcake toppers. Challenge your guests to make a beehive, bumblebee, or to simply have fun with their design — then vote on the best.
Flower Relay Race
If you're hosting a bee-themed baby shower and it's warm enough outside, invite your party guests into the backyard for a themed relay race. Buy or make some oversized flower decorations, and see which of your teams of guests can get theirs to the finish line first. 
Tasty Bumblebee-Themed Baby Shower Party Food and Drinks
We love the idea of creating a menu that reflects your party theme. For a bee-themed baby shower, get inspired by the bold colors, the flavor of honey, and reminders of the warm summer months. 
Fresh Fruit Juices and Mocktails
With a bee-themed event, introduce plenty of fresh fruit juices and mixed drinks in a variety of colors. Many of us have a favorite cocktail, but for a baby shower, it's best to opt for mocktails so the "mommy to bee" can join in with the festivities too. Swap out your classic cocktails for alcohol-free versions, and sip while you chat, laugh, and shower the guest of honor with well wishes. 
Summer-Inspired BBQ Classics
BBQ and picnic classics are always a winner when it comes to party food for such a fun, outdoorsy theme. Take a look at these delicious BBQ recipes for inspiration on what to cook, prepare, or ask your caterers to provide for your epic bee-themed baby shower.
Bee-Themed Treats
We love a delicious main or side, but sometimes the best party foods are the desserts and treats. Serve up bee-themed cupcakes, brownies drizzled in honey, or your favorite candies in shades of yellow. It's the perfect way to introduce sweet treats to your party and continue that adorable theme. 
Buzz-Worthy Party Favor Ideas
The best baby shower favors are those that are thoughtful, personal, and fun. Think about the things your guest of honor loves and combine them with the party theme to create wonderful shower gifts for your guests.
Wildflower Seeds
One of the most thoughtful bee-themed baby shower gifts you can hand out is wildflower seeds. Pick up some seeds from your local nursery, pack them up in eco-friendly packaging, and hand them out to guests as they leave. It's a gift that'll be sure to make lots of little bees happy in the future. 
Jar of Local Honey
A classic baby shower gift for a bumblebee party is a small jar of honey. Buy a giant jar from your local producer and dispense it into adorable little honey jars with handmade labels, or simply hand your guests a jar of delicious homemade or locally made honey before they go. 
Bee-Themed Mug
Remind your party guests of what an amazing time they had with you every time they have a cup of coffee by giving them the gift of a bee-themed mug. Look for an exciting design that features a beehive, adorable bumblebees, or even some simple yellow and black stripes. 
Adorable Bee-Themed Baby Shower Invitations to Help You Share the News
With a beautiful bee baby shower theme event planned, you'll need some invites to match. At Greenvelope, we have lots of stunning online invitations that work perfectly for a bee-themed bash.
Each of these bee baby shower invitations can be personalized with your own wording, plus you can change the colors. This means you can create that bespoke feel without blowing your baby shower budget on invitations. 
Honeycomb Baby Shower Invitation
Invite your guests to join you for a wonderful bee-themed event with this honeycomb baby shower invitation. The gorgeous deep tones are a lovely way to honor the theme, without sticking to the classic yellow and black.
Honey B Baby Shower Invitation
This honey B baby shower invitation is beautiful. With an adorably illustrated beehive and tiny bees, this is a sweet invite design for any bee-themed baby shower bash. 
Bee Our Guest Baby Shower Invitation
Embrace the theme in all its glory with this bee our guest baby shower invitation. It's full of bold color that's unmistakably bee-themed, with delicate edges and fonts that give the invite an elegant, timeless feel. 
Host the Best Bee-Themed Baby Shower Ever
A buzzing bumblebee theme is one of our favorite baby shower ideas. These adorable creatures have become synonymous with baby showers, as they're super cute and give you lots of great party decor, theming, and games ideas to work with.
Take inspiration from our bee-themed baby shower ideas, then start customizing your dream online invitation to match. Choose your colors, design your invite, and send out an invitation to the most fun bee-themed baby shower ever.