December 7, 2020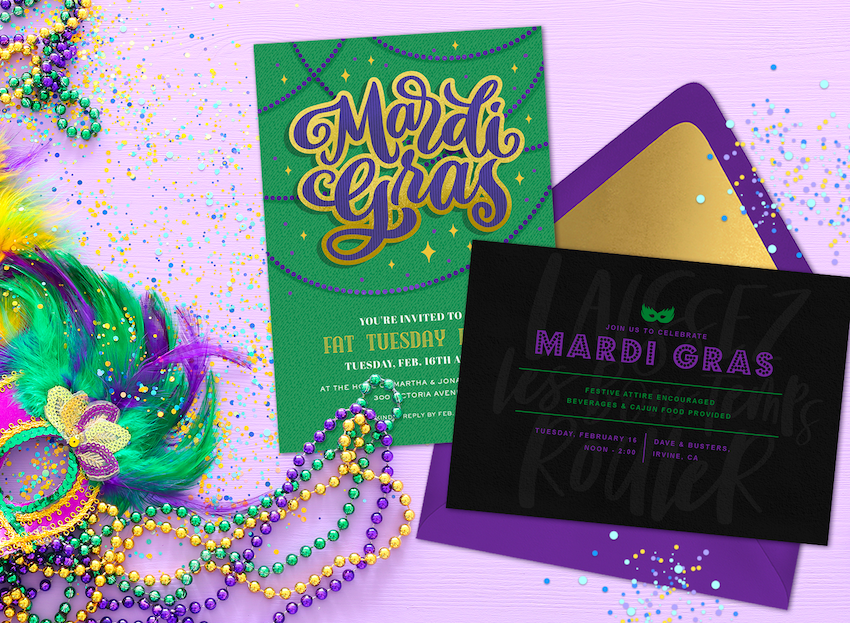 Fat Tuesday is just around the corner and that means it's time to celebrate with friends and family. Mardi Gras is a time for lavish celebrations in New Orleans and cities around the world. The carnival-like festivities mark the beginning of the Lent season leading up to Easter. To create your own colorful celebration, you can't go wrong with these fun Mardi Gras party ideas. 

Mardi Gras Party Ideas for Decor
Get everyone in the party mood with some fabulous Mardi Gras theme party decor. From wall decorations to cutouts, we've got you covered. 
Mardi Gras Banner
Welcome your guests to party central with a fun, brightly colored Mardi Gras banner. Use the traditional purple, green, and yellow color scheme combined with your favorite Mardi Gras decals like feather masks, jesters, and fleur de lis. Hang your banner at the entrance to your party, or create a stunning wall backdrop with it instead. 
Gold Foil Balloons
We love gold foil balloons for most occasions — especially a fun Mardi Gras party! Head to your local party supply store or online to order gold foil balloons. These will create a stunning photo backdrop for your event. Spell out "Mardi Gras", "dance", "Laissez les bon temps rouler!" (that's French for "let the good times roll"), or whatever takes your fancy. Style the space around your balloon display and invite people to snap a few photos in front of it.
Mardi Gras Beads
What's more Mardi Gras than strings of beads? Buy a collection of strings of beads in traditional Mardi Gras colors, or switch things up and go for a rainbow effect. Hand them out to party guests as they arrive, or use them to decorate your space. 
Fleur de Lis Confetti
Bring a touch of color and fun to your table displays with some fleur de lis confetti. This classic design can help you bring your Mardi Gras celebration to life. Sprinkle confetti across your dessert table and table displays, and have some handy for guests to celebrate with…if you don't mind the mess!
Balloon Arch
Looking for a colorful way to welcome friends and family members to your Mardi Gras bash? Surprise them with a larger-than-life balloon arch. Have one made for you in Mardi Gras colors, or DIY your own balloon arch in your favorite shades. 
Foil Curtains
Jazz up your Mardi Gras party with color and movement by using the party classic — the foil curtain. Hang these around your walls to create a shimmering backdrop that catches the light. Opt for greens, purples, and yellows, or keep things classic with gold. Add a disco ball, and you'll have a dazzling space for everyone to party in. 
Jester Cutouts
Add some whimsy to your Mardi Gras party with some playful jester cutouts. Accessorize your celebrations with a handful of life-sized cutouts, perfect for photo ops. Keep the theme going with some mini versions across your table displays, or weave in some jester faces to your decor through banners, bunting, or balloons. 
Bourbon Street Table Display 
Bring the heart of New Orleans to your party venue and create your own mini Bourbon Street table display. DIY mini buildings like bars and clubs to create a street scene or print out photos to use as a backdrop for your buffet table.
Creating a Mardi Gras centerpiece is a fun way to capture the spirit and history of the celebration on a smaller scale. Reference the clubs and nightlife that make this the city's party street, and decorate with neon fairy lights for an impressive sight. 
Mardi Gras Food and Drink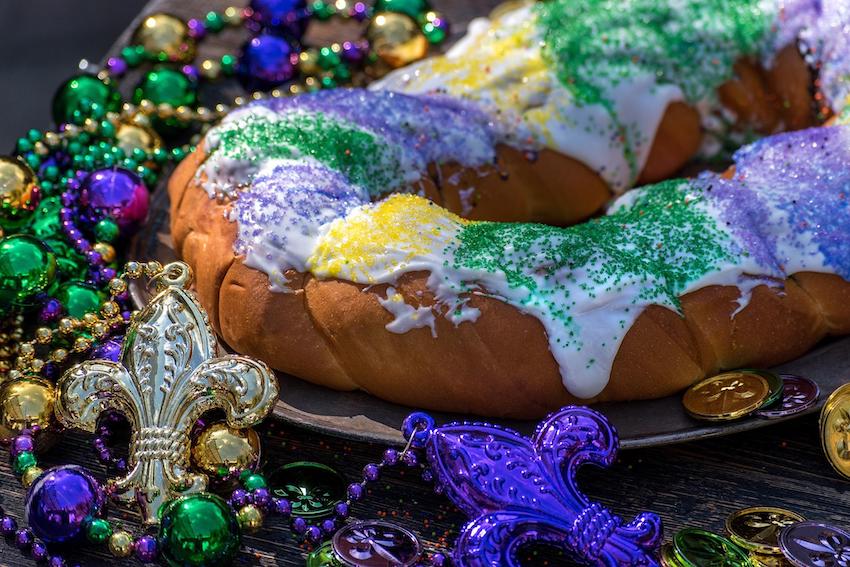 No Mardi Gras celebration is complete without some delicious drinks and Cajun food. To help you put on a feast your guests will love, here are some of our favorite Mardi Gras recipes and drinks.
Jambalaya
Delight your guests with this gorgeous New Orleans classic, the jambalaya. This hearty dish combines rice, sausage, chicken, and seasoning to create a delicious mix of flavors. 
Gumbo
Treat your guests to a real treat with a bowl of warming seafood gumbo featuring crawfish. This New Orleans hit takes time, and the roux can be tricky to master. But it's well worth it for the end result. 
Cajun Rice
Add to your Mardi Gras party buffet with a side of Cajun rice. This delicious classic dish mixes spiced rice with ground meat and chicken livers. 
Macaroni and Cheese
Who doesn't love a good bowl of mac and cheese? This recipe from John Legend is a Southern comfort food classic. (It's also perfect for picky eaters!)
Mardi Gras King Cake
Put a smile on your guests' faces with the most well-known of all Mardi Gras desserts — the king cake. Just make sure to let everyone know to be extra careful as they bite into it. Half the fun is seeing who finds the plastic baby in the cake so you know who'll be your next Mardi Gras host. 
Mask Cookies
Put a themed twist on the classic sugar cookie with these sweet mask cookies. With brightly colored icing and tiny details, they're a fun way to celebrate the occasion. 
Beignets
Treat your guests to one of the tastiest New Orleans desserts — the beignet. These comforting, French donuts are covered in powdered sugar and hard to resist. 
Themed Cocktails
Themed parties are the perfect excuse to get creative with the drinks you serve. Mix things with Mardi Gras-ritas, or stick with the classic Louisiana hurricane. 
Mardi Gras Party Games and Activities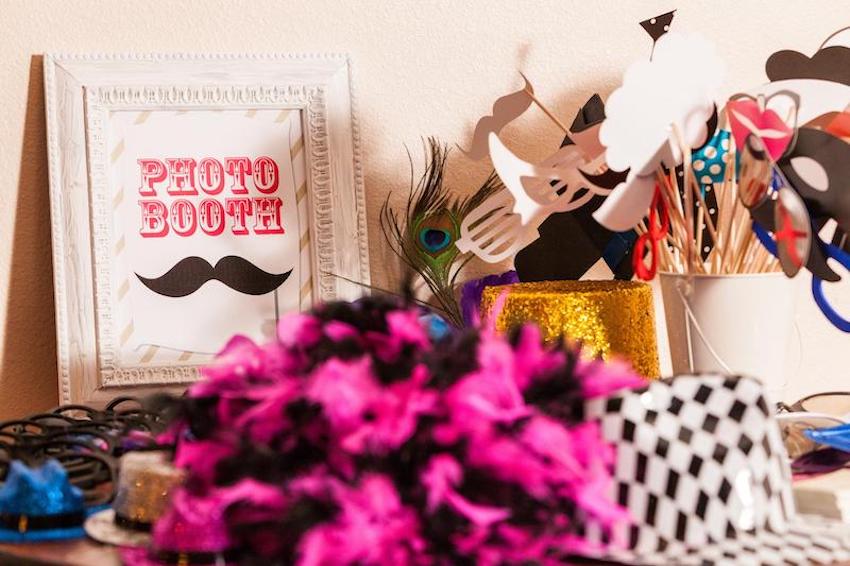 Your guests are here to party, so give them plenty of fun ways to smile and laugh. Here are some of our favorite games and activities for Mardi Gras get-togethers. 
Photo Booth
Is it even a party if you don't have a photo booth? This is a winning Mardi Gras party idea as you soak up the lively, playful atmosphere. Set up your own DIY photo booth area or bring in the professionals. Make sure you have plenty of Mardi Gras photo booth props handy — think carnival masks, string beads, and jester hats. 
DIY Masquerade Mask Station
Masquerade masks are one of the most iconic Mardi Gras decorations. Challenge your guests to create their own at your DIY mask station. Lay out plain masks, fabric, paint, sequins, feathers, and glue for your guests to get creative with. Award a prize at the end of the evening for the most fabulous Mardi Gras mask. 
Mardi Gras Bingo
Gather everyone around to play a few games of Mardi Gras bingo. This is a great game to play if you have a mix of ages at your party, as it's fun for kids too. You can buy ready-made Mardi Gras bingo cards or create your own using this free bingo creator. 
Mardi Gras Trivia
Who knows the most about this fun-filled holiday? Challenge your guests to see who's the best at Mardi Gras history and traditions. Create your own quiz, split your guests into teams, then hand out prizes for the winners. For example, you can ask questions like "In which states is Mardi Gras a state holiday?" You can find inspiration for your game with these Mardi Gras fun facts.
Kids' Craft Corner
Encourage the younger guests to get creative with a dedicated crafting corner. Lay out plenty of coloring pens, glitter, and crafty bits for kids to have fun. Complete your craft area with some of these adorable Mardi Gras coloring pages. 
Mardi Gras Party Invitations
Excited to start planning your Mardi Gras party? Start the fun early with themed invitations. Here's a handful of our best Mardi Gras invitations to inspire you. 
Offset Mardi Gras Invitation
We love the vintage feel from this offset inspired Mardi Gras invitation design. This colorful digital invitation is a great way to invite friends and family to your themed celebration. 
Mardi Gras Mask Invitation
Wow your guests with this glitzy Mardi Gras party invitation. The rich colors, alluring mask, and sparkling gold accents make this perfect for a stylish costume party. 
Masquerade Ball Invitation
Hosting a masquerade party to celebrate the holiday? This gorgeous Mardi Gras party invitation is the ideal way to set the tone for your sophisticated event. 
Plan Your Mardi Gras Party in Style
Mardi Gras is such a fun occasion to celebrate with the ones you love. There's singing, dancing, plenty of color, and lots of food and drinks. Use our Mardi Gras party ideas to keep your guests smiling from ear to ear and let the good times roll!