November 19, 2020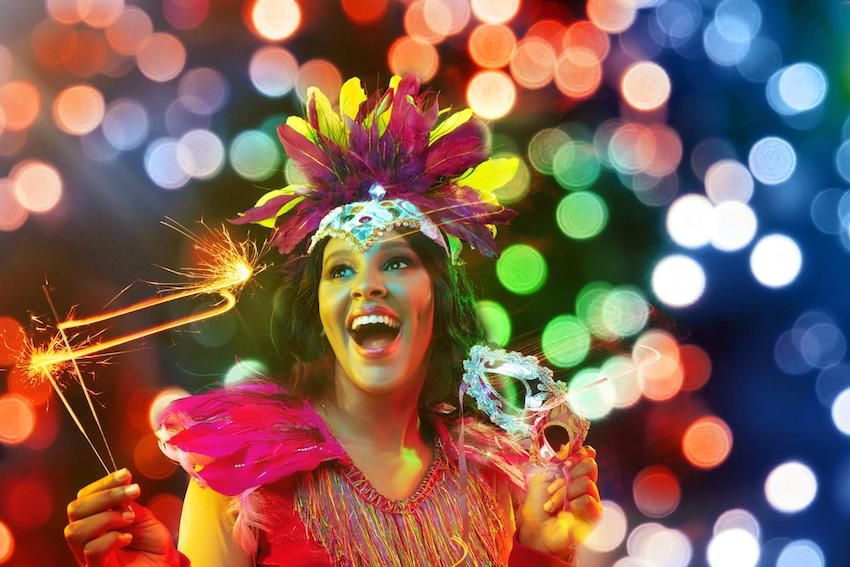 Mardi Gras evokes visions of laughter, joyous celebrations, and colorful events replete with Cajun food, jazz, and exuberant dancing. So it's no surprise that this party theme is among the most popular for birthday parties and pre-wedding celebrations. To celebrate your special occasion, use this guide for fun ideas on Mardi Gras decorations that range from low-key to over-the-top. You'll also find festive invitation inspiration so you can invite guests to your bash in style.

Get Jazzy With These Mardi Gras Decorations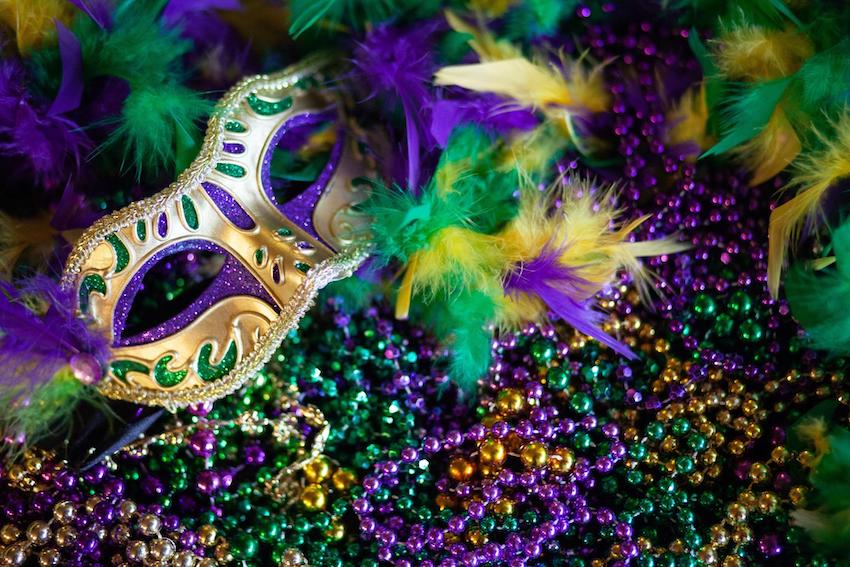 Also known as Fat Tuesday and Carnival, Mardi Gras occurs every year the day before Ash Wednesday. It's sort of the last hurrah before the 40 days of Lent begin that culminates on Easter. The event dates back thousands of years to pagan rites and is celebrated today in cities around the world, most notably New Orleans, Rio de Janeiro, and Venice. It's also a wildly popular party theme thanks to its fun, festive, and lively decor. 
Mardi Gras theme parties are perfect for everything from birthday celebrations and bachelorette parties to graduations. Here are some affordable DIY ideas as well as more extravagant decor options to fit your budget and style.
Play Up Purple, Green, and Gold
Mardi Gras claims purple, green, and gold as the event's main colors. Purple is used to symbolize justice, green reflects faith, and gold represents power. There's no better way to set the stage for your Mardi Gras event than to add these hues throughout your decor.
Start with affordable elements such as streamers, tinsel, latex balloons, and feathers. You can adorn doorways with streamers and balloon arches and sprinkle confetti and sequins on Mardi Gras tables and dessert spreads. Buy a complete balloon arch from your local party supplies store to save time or pick up a DIY Mardi Gras balloon arch decorating kit or make one by hand to save even more money.
Door curtains are another fun way to decorate for your Mardi Gras party. They won't break the bank and they can also double as a backdrop for photos with your guests. Paper lanterns in purple, green, and gold are another easy way to infuse Mardi gras spirit without breaking the bank.
Go for Beads Galore
As the saying goes: "beads and bling, it's a Mardi Gras thing!" No Mardi Gras decorations are complete without a handful — or heaps! — of colorful beads. You can greet guests at the door with beaded necklaces and drape the beads over furniture, chandeliers, and decorative centerpieces. Mardi Gras beads and feather masks make excellent photo booth props that guests can have fun with while enjoying the raucous nature of the day.
Add Flair With Centerpieces
For eye-catching focal points, try Mardi Gras centerpieces that you can easily make with a variety of beads, feather boas, and masks.
Spread out colorful masks along the center of the table and mix with confetti and beads. A table runner or alternative table cover can help set the stage for rich and lively decor. For something fancier, you can set out a full dinner spread with purple goblets draped with beads and metallic plates adorned with disco balls in purple, green, and gold. Feather masks, Mardi Gras crowns, and tiaras are all great choices for your table spread when it comes to Fat Tuesday decor.
This holiday is all about celebrating and enjoying the pleasures in life. Don't be afraid to go bold with your decor. For drinkware, use large tumblers in Mardi Gras colors rather than delicate champagne flutes. Make sure you have tableware for your dishes, which may include hearty soups and seafood arrangements.
Boost Allure With Masks 
Masquerade masks are an essential element of Mardi Gras decorations. You can hang them on the walls and lay them out on tables as decorative elements or hand them out as party favors. From elaborate masks with beads, feathers, glitter, and hand-painted designs to simple printable Mardi Gras jester masks, you can create DIY masks that suit your style and your budget.
Transport Guests With Signage
Mardi Gras signs are a great way to announce your event and make it so guests feel like they're in the heart of New Orleans celebrating the lively holiday. Hang a Mardi Gras banner over your entryway or in the backyard for an at-home event. 
Whether you're hosting a mini-parade or setting a backdrop, use Mardi Gras flags, colorful bunting, or yard signs to show your spirit. You can also find street signs with names from the French Quarter. Bourbon Street cutouts featuring jazz musicians are another easy way to infuse cultural elements into your celebration.
Reflect Pageantry With Fleur De Lis
Like beads, the fleur de lis is an important symbol of Mardi Gras. The floral element is linked to French royalty and represents concepts of light, life, and perfection. Usually displayed in the colors of the holiday, it's a signature Mardi Gras motif. 
Use the fleur de lis as wall decorations or incorporate them into your centerpieces. If you feel like getting crafty, try making one using clay, wood, or even wine corks. Then, sprinkle the design with gold, purple, and green glitter. Hang the fleur de lis on your door or suspend several from the ceiling to set the scene.
Stunning Invites for Your Mardi Gras Theme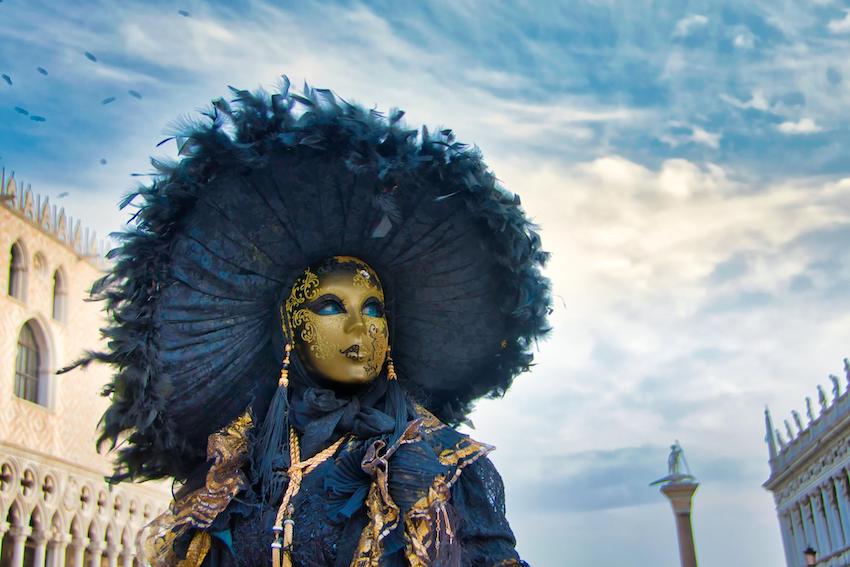 Invitations are so much more than a card with the date and time of an event. They set the tone for your celebration and show guests what to expect at your party (and why they'd be crazy to miss it). 
For the easiest and most affordable way to announce your festivities, opt for digital invitations to match your Mardi Gras decorations. You can completely customize existing designs, and choose from a large selection of fonts and colors to create the perfect Mardi Gras invitations. Here are a handful of options for inviting guests to your can't-miss Mardi Gras bash.
1. Mardi Gras Mask Invitation
This masquerade invitation features gold foil confetti, fluffy feathers, and a glamorous Mardi Gras mask for an upscale feel. Shimmery and formal in metallic gold and silver, it comes in green and purple backgrounds that serve as a perfect complement to Mardi Gras decorations and party themes.
2. Gold Masquerade Invitation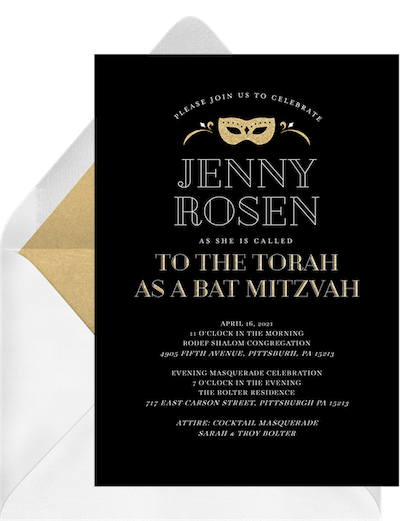 This masquerade-themed invite is perfect for Bat Mitzvahs, communions, and other religious ceremonies. The gold foil elements elevate the card, making it a great choice for both laidback and formal Mardi Gras-themed parties.
3. Beaded Mardi Gras Invitation
This fun invite features decorative elements famous Mardi Gras beads that make it perfect for a casual Mardi Gras feast or a Carnival-inspired bachelorette or birthday party. Switch up the color scheme to purple, green, and gold to reflect the palette of your Mardi Gras decorations.
4. Masquerade Ball Invitation
This simple yet stunning invite is perfect for both business and personal events featuring a Mardi Gras theme. The color of the mask and decorative elements can be customized, though gold, green, and purple are always an excellent choice. You can also customize the font to reflect the atmosphere of your event, whether it's formal or funky.
5. Cajun Crawfish Invitation
One of the best parts of Mardi Gras is digging into Southern delights, including crawfish boils and jambalaya. This crawfish invite is the perfect accompaniment to a Mardi Gras-themed soiree that will be serving up plenty of Cajun culinary delights. (Jambalaya, gumbo, po-boys, and crawfish boils, we're looking at you!) Customize it by changing up the background color and font to suit your theme.
6. Offset Mardi Gras Invitations
It's time for the most colorful party of the year! With this Mardi Gras invite, your friends will be digging through their closets for their best masks and counting down the days until the fun starts. 
7. Good Times Roll Invitation
This vibrant invite blends classic Mardi Gras colors with a fun font, creating a bold and energetic invite. The background draws on the holiday's French roots with text that translates to "let the good times roll."
Be the Host or Hostess With the Mostest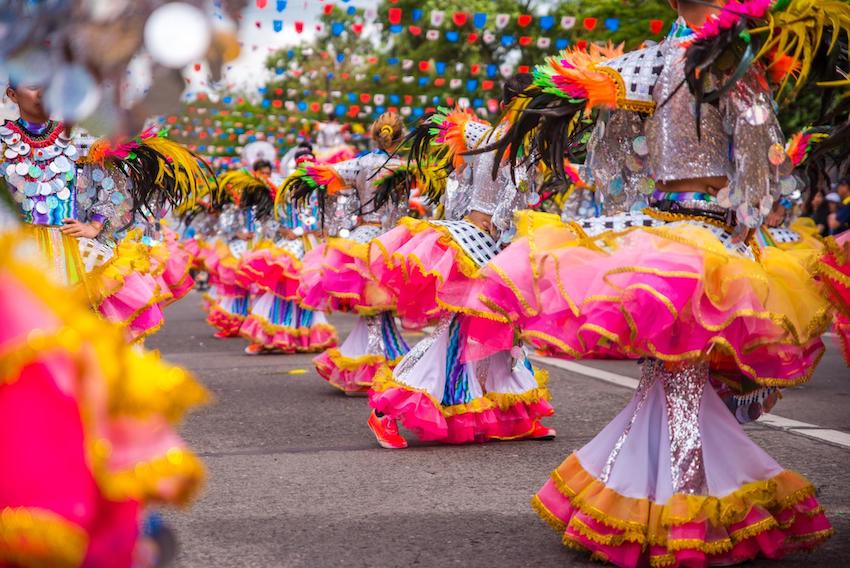 Hosting an epic New Orleans-themed party is more than just having beautiful and fun Mardi Gras decorations. Get jazzy with fun costumes and attire. Use your festive online Mardi Gras invitations to seamlessly keep track of RSVPs, update guests on the dress code, and any other must-know party essentials. And don't forget the Cajun classics and Southern sweets (think beignets, Mardi Gras king cake, and boozy cupcakes).
Want more? Find the latest and greatest party ideas and tips to keep your party planning game strong all year long. Let the good times roll!