July 7, 2020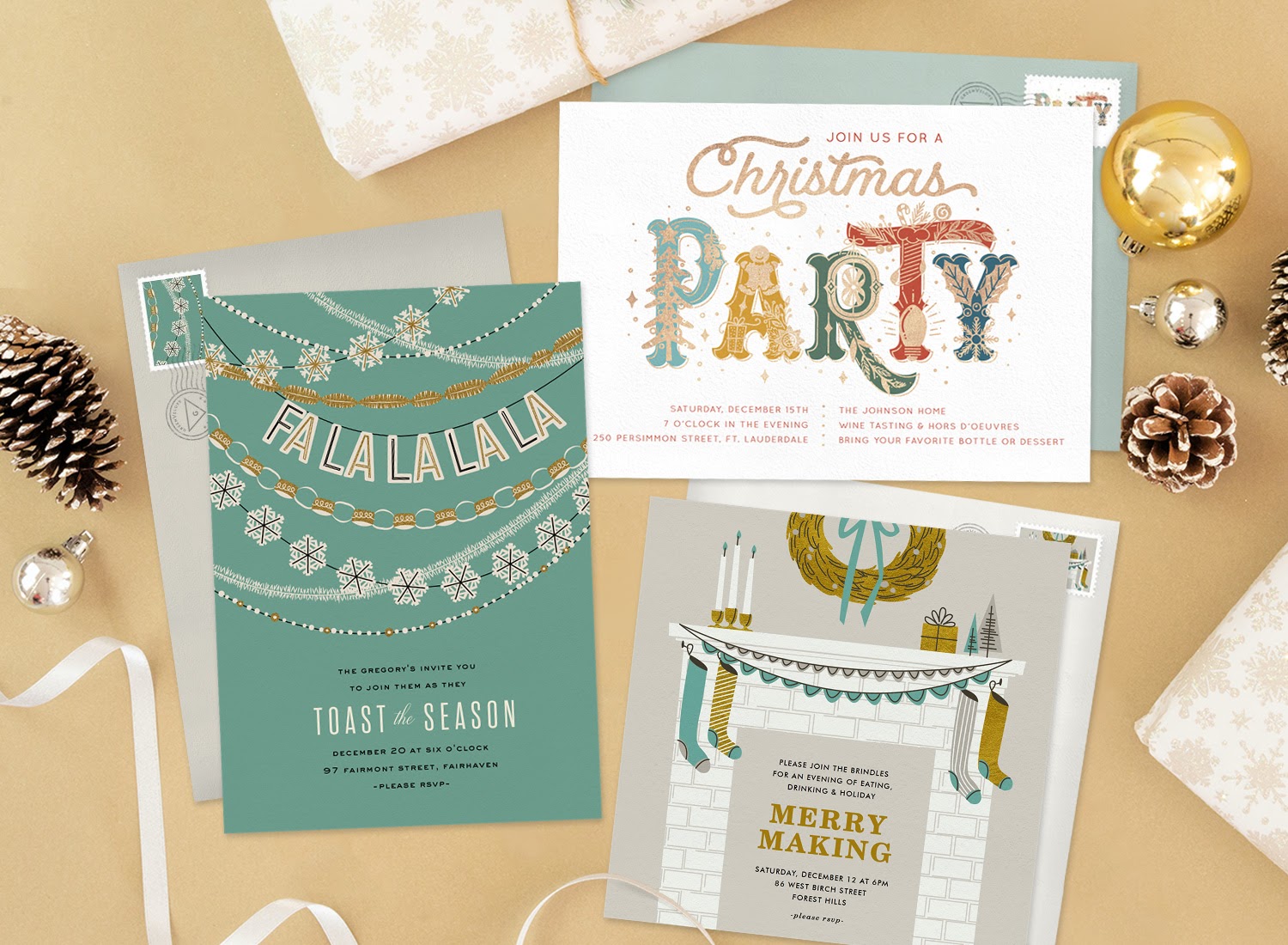 When the holiday season arrives, it can get more than a little hectic. There's setting up decorations (you can never have enough poinsettias!), buying gifts, and sending your holiday cards. Plus, you're planning a holiday party, and you need to create an invitation that'll grab people's attention.
Fortunately, pulling off the perfect holiday party invitation¬†doesn't have to be hard 'ÄĒ especially if you choose digital invitations. Paperless invites save you time and money. There's no need to pay for postage or worry about delivery delays, plus you can customize them anytime, anywhere.
To help you spread some holiday cheer and create an email invitation that's sure to stand out, we've curated this list featuring some of the best designs and invitation wording ideas.

Holiday Party Invitation Ideas
Get the party started with these fabulous holiday party invitation designs that range from sophisticated to playful. Keep in mind that you can change any part of these paperless invitations, including the main title, colors, and message.
Geometric Snowflake Invitation
Set a stylish tone for your winter soiree with this contemporary holiday invitation design. Invited guests will love opening the glitter-lined envelope and the symmetrical foil snowflake is the perfect seasonal motif for your cocktail party, gift exchange, or holiday brunch.
Wording idea: Let it snow! Join us for a winter wonderland celebration with cocktails, mocktails, hors d'oeuvres, and live music.
Cookie Exchange Invitation
Whether you're hosting a cookie exchange¬†party at home or in the office, set the mood for holiday cheer¬†with this fun cookie exchange¬†invitation. The cheerful pastel colors are¬†warm and welcoming, and the coordinating striped envelope liner comes in different hues depending on your main color choice 'ÄĒ yellow, lavender, or pink.
Wording idea: Sugar, Spice, and Everything Nice! Join us for a sweet shindig at our annual cookie swap. Bring two dozen of your favorite cookies, and we'll supply the drinks!
Confetti Sparkle Invitation
Is there any better way to ring in the season than with confetti and sparkles? (Nope, didn't think so.) This sparkly holiday party invitation features your choice of a red, black, or blue background with festive confetti in complementary patterns. The versatile design works for any type of holiday celebration.
Wording idea: Good Friends, Good Cheer, It's That Time of Year! Please join us for our annual holiday soiree. Wear your sparkly best!
Mischief & Mistletoe Invitation
When you really want to make the season bright, you can't go wrong with neon. This frolicsome Mischief and Mistletoe invitation practically jumps off the screen with its glowing hues and whimsical lettering. Although it would work for any type of holiday party, this design is perfect for a holiday karaoke bash.
Wording idea: Jingle and Mingle! Please join us for a night of merry-making with holiday karaoke, cocktails, and canapes.
Christmas Party Invitation Ideas
Whether you're religious or not, here are just a few Christmas party invitations you'll love customizing for your special celebration. You can also skim our full selection of Christmas cards that range from modern and sleek styles to traditional designs and photo card options.
Festive Santa Hat Invitation
We can't get enough of this gorgeous design that pops with pizazz. Featuring a chic take on Santa's hat, this Christmas party invitation comes in a variety of elegant colorways, including robin's egg blue, burgundy, and emerald. The glittery envelope liner adds to the luxe factor and will certainly impress your invitees.
Wording idea: We ho-ho-hope you can make it to our Christmas party! (You can add more event details on the back of the card such as: Be sure to bring your Santa hat, reindeer antlers, or elf ears for our Christmas selfie!)
Epiphany Christmas Invitation
This exquisite Christmas invitation sets the scene with a sparkly night-sky backdrop as the silhouette of three magi follow the Star of Bethlehem. A shimmery, beautifully textured silver envelope ties it all together.
Wording idea: Merry Christmas.¬†Peace on earth, goodwill toward all. Join us for Christmas¬†dinner as we celebrate the reason for the season. (Consider adding a biblical verse on the backside of the card, like: 'ÄúFor unto you is born this day in the city of David a Savior, which is Christ the Lord." – Luke 2:11)
Festive Ugly Sweater Invitation
Customize this ugly sweater Christmas party invitation with your own hilarious message that'll get your guests in the mood for a good time. Choose from this classic red and green design or a fun blue and red layout, both of which feature a coordinating plaid envelope liner.
Wording idea: 'Tis the Season to Get Ugly! Don your ugliest Christmas sweater for a pretty fabulous time! (On the back of the card, you can provide more details: Remember, the uglier the better! We'll be giving a special prize for the funkiest sweater of all.)
Party Icons Invitation
Iconic symbols of Christmastime are gorgeously detailed on this Christmas party invitation. From a gold-foil Christmas tree and gingerbread man to vintage ornaments, candy canes, and mistletoe, this elegant design is a lovely way to invite friends and family to a Christmas tree decorating party, holiday dinner, or church Christmas pageant.
Wording idea: You're invited to a Christmas pageant. Please bring an unwrapped toy worth $20 to be donated to our local Toys for Tots.
Hanukkah Invitations
Oh, Hanukkah. This festival of lights is a wonderful time to gather with loved ones. It's also a great time to showcase your personality and let guests know what kind of party you have in mind. For more ideas, peruse these Hanukkah cards and invitations.
Gilded Hanukkah Invitation
Both classic and current, this eye-catching Gilded Hanukkah invitation sets a thoughtful tone with its gold geometric shapes and ombre watercolor background. Choose from gauzy hues of dusty blue or white and grey.
Wording idea: Join us as we kindle the first candle for Hanukkah. Let's celebrate the season together. Dinner and drinks will be served.
Latkes, Lights, and Dreidels Invitation
Latkes, lights, and dreidels! This festive Hanukkah invitation spells it all out for a fun family fête. The fanciful font, bright canvas of traditional colors, and contrasting patterns exude a playfulness that will excite your invited guests. Even better, this invitation comes with a matching thank you note, so you can follow up after the celebration.
Wording idea: Lights, Dreidels, Action! Let's celebrate Hanukkah with plenty of fun and lotsa latkes. Please bring your favorite bottle of booze.
Gilded Menorah Invitation
This Gilded Menorah invitation¬†is a beautiful take on the Hanukkah¬†candelabra. Look closely, and you'll see that each¬†candlestick is a word set in cursive writing 'ÄĒ peace, happiness, laughter, home, friendship, spirit, lights, holiday, family. Delicate metallic gold stars and a glittery¬†envelope liner add to the detail. Choose from several color options including black, blue, or white.
Wording idea: Hanukkah is here! We welcome you to gather around the menorah and celebrate the season of miracles.
Festive and Geometric Invitation
For a fun Hanukkah get-together, consider this cheery, retro-inspired invitation featuring a stack of fun geometric shapes with glittery gold details. You can also add extra party information or a special note on the back of the card.
Wording idea: Hurrah for a Hanukkah! Let's light up the night with great food, great friends, and plenty of gelt.
Spread Some Cheer With Your Holiday Party Invitation
With the holidays at hand, it's time to start prepping your party plans. Whether you're hosting a Christmas, Hanukkah, or general holiday party, picking your holiday party invitation is one of the most important steps to take.
A good invitation will inform and excite your guests, and doing it online will make the process that much easier. When you choose online invitations, you can track RSVPs, send guests updates, and much more.
So, break out your event planning checklist and get ready for a festive season filled with fun, family, and friends. If you're also looking for ideas for ringing in the New Year, don't miss these fantastic New Year's Eve party invitations.