September 7, 2022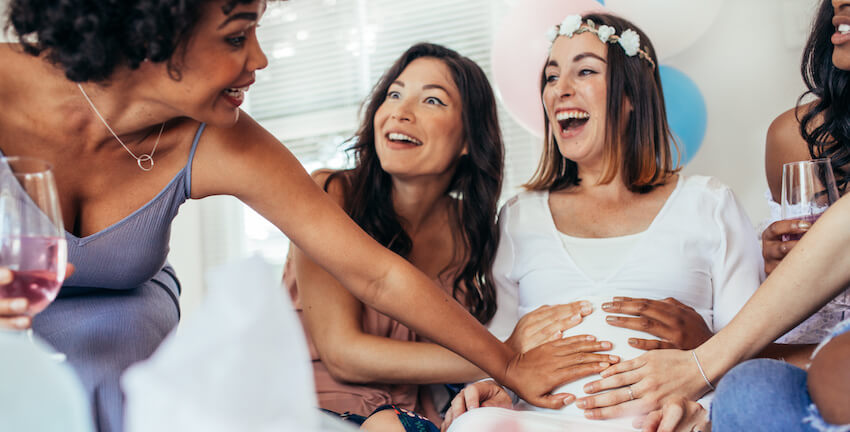 You're about to welcome a little baby in a big way! There will be guests, invites, party decorations, food, and fun. And you will be planning it all. (Gulp!)
Not to worry, though. We've put together a step-by-step guide that will make the party planning process stress-free. 
Follow these 10 steps to make sure your baby shower goes off without a single hiccup. (Except maybe for those cute, little, in-utero baby hiccups.) This is how to plan a baby shower.

Step-By-Step: How to Plan a Baby Shower
It doesn't matter if you're hosting an ice cream social shower, a safari-themed party at the zoo, or a "welcome baby" BBQ — if you follow these 10 steps, you will know how to plan a baby shower party like a pro.
Step 1: Put Together the Guest List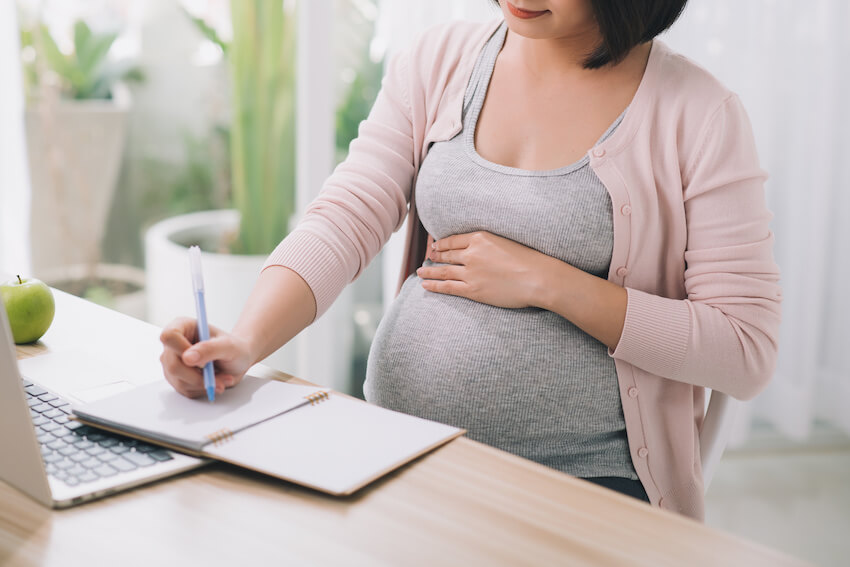 If you're planning your own baby shower, making up the guest list will be easy. Simply make a list of your favorite people and collect their email addresses so you can send invites. The only person you need to consult is yourself and potentially your partner if you're planning a co-ed baby shower.
On the other hand, if you're a close friend or family member of the expecting parent(s), you'll need to make sure your guest list includes all of the guest of honor's nearest and dearest. The easiest way to do this is to consult the father or mother-to-be.
When you make the expectant mom or dad your partner in party planning, you can ensure the shower lives up to their expectations. At the same time, you'll still take most of the planning off their plate (which they will definitely appreciate when they still have doctor's appointments to attend and a nursery to decorate).
But if you have your heart set on throwing a surprise party, you've got some snooping to do. The hardest part of planning a surprise party is making sure your guest list is complete. If you're mainly involved in one part of the expectant mother or father's lives (e.g., you're a member of their bowling team, or you're one of their closest friends from college), there are two options to complete your guest list.
Option one: Keep the list small and only include your one group. The new parents' other friend groups can always throw a separate celebration.
Option two: Team up. If you're a best friend from college, you can co-host with a family member or another friend, like the soon-to-be grandma or the new parent's work bestie. Plan the guest list together to include as many loved ones as possible.
Step 2: Pick a Theme
A theme makes party planning so much easier. And a little baby on the way opens the door to all kinds of adorable baby shower themes — from baby animals to storybook fairytales — that you wouldn't use at an adult birthday party. There are also plenty of gender neutral baby shower themes.
But your baby shower theme doesn't need to be overly complicated. You can focus your theme on a color scheme (ideal if the nursery colors have already been picked out), or simply build your theme around the type of party you want to throw, like a co-ed barbecue or a not-so-boozy brunch.
One you've chosen a theme, it'll make it easier to pick out a matching invite, choose your decorations, plan activities, and basically check everything else off your baby shower checklist.
Step 3: Put Together a Registry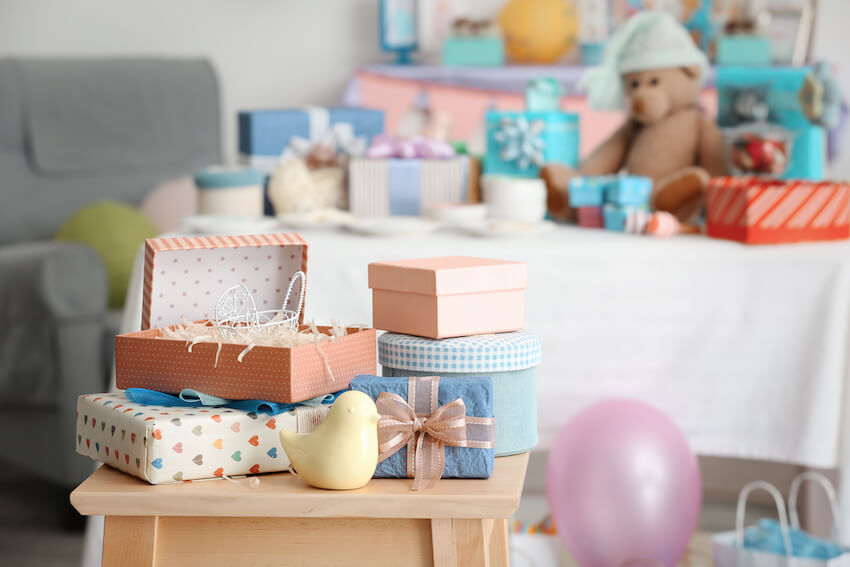 For baby showers, it's still traditional to include registry information on your invitation, which means you'll need to put together a baby registry at one or more stores before you send out invites. This makes it easier for guests to pick out baby shower gifts, and for the parents-to-be to get exactly what they need and want.
If you're throwing a surprise baby shower, you can casually ask the expecting parents if they have a registry because you want to send a gift. Some parents put these together to send to loved ones near and far, even if they haven't planned a shower yet.
For surprise showers where there isn't a gift registry, you can simply add a gifting theme to guide guests in the right direction. Make it a diaper shower and ask guests to bring diapers of various sizes. New parents often don't realize how many diapers they'll need to get through the first year, so this is an always-useful gift. For parents who love to read, you can do a stock-the-library theme and ask guests to bring a children's book.
A little direction will ensure that the parents receive gifts they need and don't end up with hundreds of newborn onesies that their little one will grow out of in a couple months.
Step 4: Choose a Date, Time, and Place
The last step before you send your invites is to nail down the nitty gritty details. Choose a date that's 2-3 months ahead of the due date. You want to allow plenty of time so that the parents can set up any gifts they absolutely need on hand before the birth. Two to three months also gives you enough time to avoid having to cancel the party or change it to a sip and see if the baby arrives early.
Although they're often daytime events, baby showers can take place at any time of day, so find out what works best for the guest of honor. Pregnant women often experience fatigue, so check in with the parents to see what their schedule looks like post-pregnancy.
Then, choose a place with enough room for the number of guests you're inviting. Often showers take place at the parents-to-be's house, a friend or family member's house, or a park. But you can also host it at a restaurant or another event venue.
Once you've nailed down these details, you're ready to send out your baby shower invitations.
Step 5: Send Out Invites
One of the best ways to make your baby shower planning easier is to send out online invitations or evites. With online baby shower invitations, you can customize the wording and design, then send them to your guests' inboxes in a matter of minutes. You don't have to buy stamps, waste paper, pay for postage, or cross your fingers that the snail mail will get delivered before the baby does.
Plus, evites allow you to add the link to your baby shower gift registry directly on the invitations, which makes it easier for guests to click the link and start shopping. Plus, you can collect RSVPs automatically and track them online so you'll be on top of the exact number of guests to expect, which will help you plan your menu.
There are adorable baby shower invitations for girls, for boys, and for a variety of themes. The hardest part will be picking your favorite.
Step 6: Pick Out Decorations
You've picked your theme, you've chosen a venue, and you've sent out invites. Now it's time for the fun part — decorating! If you have a theme, you can head to a party store and pick out baby shower decorations to match. Banners, balloons, streamers, tablecloths, confetti, and floral arrangements can all add to the festive feel of your party.
There are also plenty of cute baby shower ideas for functional decorations, like a DIY diaper bouquet centerpiece or stuffed animal decorations that can later become part of the nursery.
Whenever you're planning decorations, it's also a good time to think about party favors. Baby shower favors are still traditional at many celebrations, though they're certainly not required.
If you want to add favors to your shower, small treats like cookies, cupcakes, or chocolates make a great gift. With the emergence of co-ed showers, mini bottles of champagne and other drinks have become popular party favors as well so guests can toast to the new baby. And there are plenty of more creative baby shower favors, from bar soap to egg timers to picture frames.
Step 7: Plan Activities
Baby shower games can be big fun or can get a big groan from your guests. But as showers have become less traditional, it's opened the door for drinking games, guessing games, and more.
At a non-traditional baby shower, you can have all the non-pregnant people at your party chug beer from baby bottles and see who can empty the bottle the fastest. Or you can ask every guest to send in a picture of themselves as a baby then guess who is who. You can also add baby-themed trivia to your day and find out who knows the most about tiny humans.
Of course, games aren't the only option for activities. Opening gifts is a traditional baby shower activity, but with co-ed showers it has become less traditional to open gifts at the party. Many parents now choose to open the gifts after the party. As an alternative, try incorporating activities like decorating cookies or painting canvases (the best DIY art can get hung in the nursery).
Step 8: Choose the Menu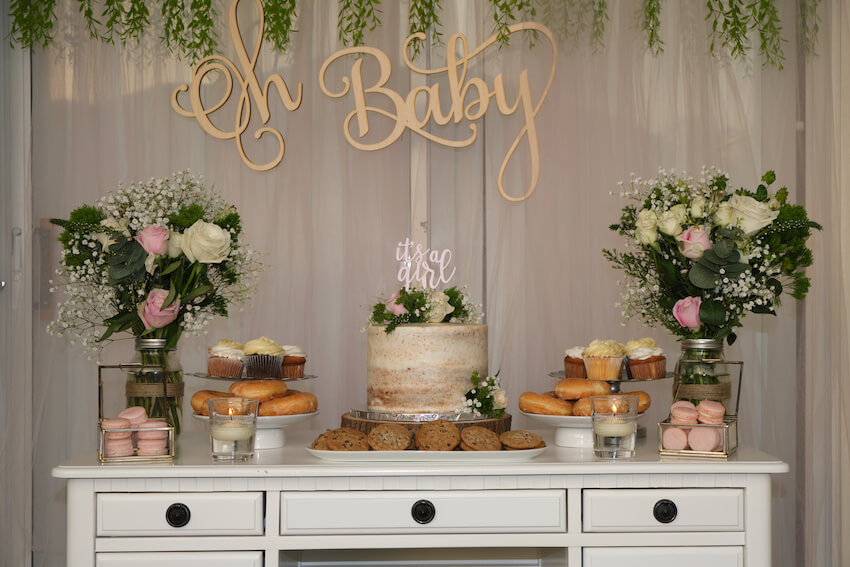 Your baby shower menu can range from finger food to a full meal. If you're hosting your baby shower at meal time, you should plan on serving a more filling menu. Brunches and barbecues are popular baby shower meals that are easy to plan.
You could also focus your menu around appetizers or desserts, or you could create a menu themed around the expecting mom's biggest cravings. (We're seeing an ice cream sundae bar and a very big baby shower cake in your future!)
You'll also need to plan your refreshments. Decide if this is going to be a traditional, alcohol-free shower or a non-traditional, alcohol-welcome shower. If you're hosting a traditional shower, tea, coffee, or lemonade are welcome refreshments. If you're hosting a non-traditional shower, mix up a few mocktails so the mom-to-be won't feel left out.
Step 9: Play Host(ess)
It's finally time for the big day! Welcome guests as they arrive and be on hand to direct them to the drinks, food, and activities. If you're hosting organized activities where everyone will participate at the same time, warm up your vocal chords because you'll need to announce what everyone is supposed to be doing and when.
If everyone needs to leave the party at a certain time, you'll also need to announce the end of the festivities. After the party is over, stick around to make sure clean up is taken care of and the party mess won't add any additional stress to the expecting parents' plates.
Step 10: Send Thank You Notes
If your baby shower guests brought presents, it's traditional to send thank you cards to let them know how much you appreciate their generosity. Baby shower etiquette dictates that thank yous get sent out within one week of receiving the gift.
Again, digital baby shower thank you cards can make this process easier. You can use the same guest list you created when you sent out your initial round of invites, and you can quickly add a short, personalized note to each card. Send it to guests' inboxes and your baby shower party to-do list is officially to-done.
Oh, Baby!
Planning a baby shower is a fun way to welcome a little one and to celebrate the big transition that's about to happen in the new parents' lives. All you need is a little bit of organization and a lot of love, and you can plan the perfect baby shower for yourself or your favorite parent-to-be.
Follow this step-by-step guide on how to plan a baby shower and you'll have all the details planned out long before the baby's due date. Put together your guest list and registry, choose the time and place, send out invites, and then start picking out decorations, activities, and food.
You've got this. Now get out there and start showering the new parents with love.