September 12, 2022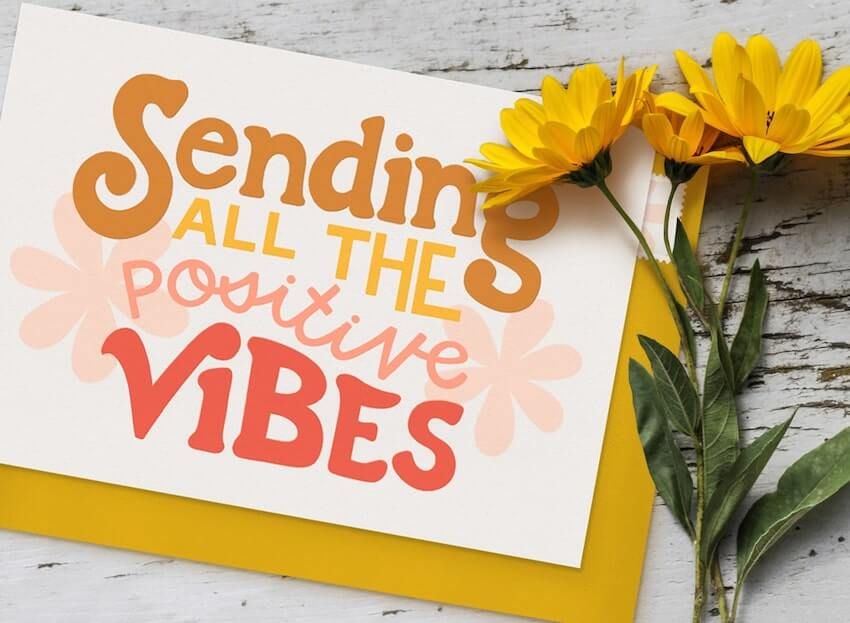 We all need a little encouragement sometimes. Whether a loved one is going through a tough time or is about to cross the finish line on a difficult life goal (like landing their first job or finishing a personal project), the right words can help get them through it.
When someone is struggling with circumstances beyond their control or struggling to reach a personal goal, it can feel like they're in it alone. An encouragement card can be the perfect "thinking of you" to let someone know they're never alone and that you're always in their corner — no matter what.
With the right encouragement card, you can find the words you've been looking for to express your love, concern, and appreciation for that special person in your life. Here are 10 encouragement greeting cards that will help you show your support.

10 Encouragement Cards to Send Right Now
These 10 inspiring designs will make your loved one feel seen. They're all online greeting cards, so you can personalize them and send them out right away. They'll get delivered to that special person's inbox immediately, which makes these cards the perfect choice for someone who needs encouragement ASAP.
You can even have the card set to play your friend or family member's favorite song when they open it, or you can attach a gift card for their favorite place. A gift card for food delivery, dry cleaning, or home cleaning can be especially helpful when someone is struggling to get through their day-to-day tasks.
Choose the card your loved one will like the most. Then, customize it to include a little something extra to help them get through their day or conquer their next challenge.
1. Sending Positive Vibes Card
The message on this inspirational card works just as well for someone who's been feeling down as it does for someone who's up for an exciting opportunity. When your best friend is going through a difficult breakup, you can send this card to say, "You don't need that negative energy in your life." And when your favorite coworker is up for a big promotion, you can send it to say, "Good luck!"
2. Daydreams Card
We love cards that tell it like it is, and the "One day at a time" message on this sympathy card is the realest thing you can tell someone when they're going through a difficult time. Overly positive words of encouragement can feel unrelatable when someone is in the middle of hardship.
When getting through the present moment is difficult, it's hard to imagine how much better things might be a year from now. But just getting through today — getting dressed, making breakfast, walking the dog — that's an attainable goal. And you can help your loved one get through this difficult time one day at a time.
3. Hi There Card
This simple and sweet thinking of you card has a prewritten message of encouragement, but all the text is customizable, so think of it as the digital equivalent of a blank card. You can adapt the prewritten message to fit your friend or family member's situation, or you can write an entirely new message. Add an inspirational quote, say "I'm proud of you" or "I believe in you," or make a list of all the reasons your person is perfect just the way they are.
4. Things Are Bananas Card
This card says exactly what you're thinking — with a little humor thrown in. The happy, hand-drawn bananas will brighten that special someone's day, and the backside has room for you to add a personalized message. This lighthearted greeting card is the perfect thing to send to someone who's been so busy it's causing stress or to someone who's gotten back-to-back bad news. It will let them know that while life gets crazy sometimes, you're always here to cheer them up.
5. Moon Phases Card
Life has good phases and bad. And like the moon, sometimes life feels so full while other times it leaves you fumbling in the dark. If your favorite stargazer is going through a dark time, send this beautiful lunar-inspired design to let them know "It's just a phase." You can add your own personalized message on the back to let them know to keep looking up. There's nothing like the vast night sky to make our problems feel a little smaller.
6. Hanging Plant Card
For a plant lover who needs a little pick-me-up, this "hang in there" design is equally appropriate as a get-well card, a sympathy card, or an encouragement card. Send it to a loved one who's battling an illness, struggling to find a new job, or experiencing a personal setback. The simple message shows that you know they're struggling but you also know they can get through it. There's room on the back to add a personal message of love and support.
7. Don't Worry Be Happy Card
This bright, floral design is ideal for anyone who's had a lot on their mind. Use it to encourage that special person in your life to take a little time for themselves. In your personalized message on the back, you can remind your loved one to reconnect with their favorite hobby or indulge in a little alone time. Sometimes the best way to deal with stressors is to leave them behind so we can come back refreshed and ready to take on the day.
8. Garden Kaleidoscope Card
This encouragement note card is so full of love. Its message — "I can't wait to hug you when this is over" — will make your friend or family member feel how deeply you care for them. One of the most touching things about this card is that it doesn't try to solve or minimize your loved one's problem. It simply lets them know that you're here and you'll still be here when it's over.
9. Peaceful Poppies Card
Send this peaceful card as a gentle reminder that whatever your loved one is going through, they don't have to go through it alone. So many of us shut down, internalize our problems, or withdraw from the world around us when times get tough.
Sometimes a little alone time can help restore us but other times we shut down right at the moment when we should be reaching out. We love that this card doesn't push your loved one in one direction or the other — it simply acknowledges your support so that your person will feel a little better about reaching out if they need you.
10. Thankful for You Card
There's nothing better to bolster someone's self-esteem than a laundry list of all the things you love about them. This beautiful friendship card can help your loved one see themselves the same way you see them — as one of the most amazing people in the whole world.
The message lets them know you're grateful to have them in your life and the backside leaves room to tell them why. Plus, because it's a photo card, you can add a picture from one of your happiest memories. It will remind your friend of better times and encourage them to keep being the wonderful person they are.
A Little Encouragement Goes a Long Way
Sending an encouragement card may be one of the simplest things you can do. By taking five minutes out of your day, you can share a message of love and support that changes someone else's day for the better.
When your friend or family member is having a hard time, a digital greeting card can get delivered to their inbox instantly. You can even add a photo, song, or gift card to bring out a smile during a difficult time.
We hope we've encouraged you to find the right message to lift up your loved one and send it when they need it most. They're lucky to have you by their side.