April 16, 2020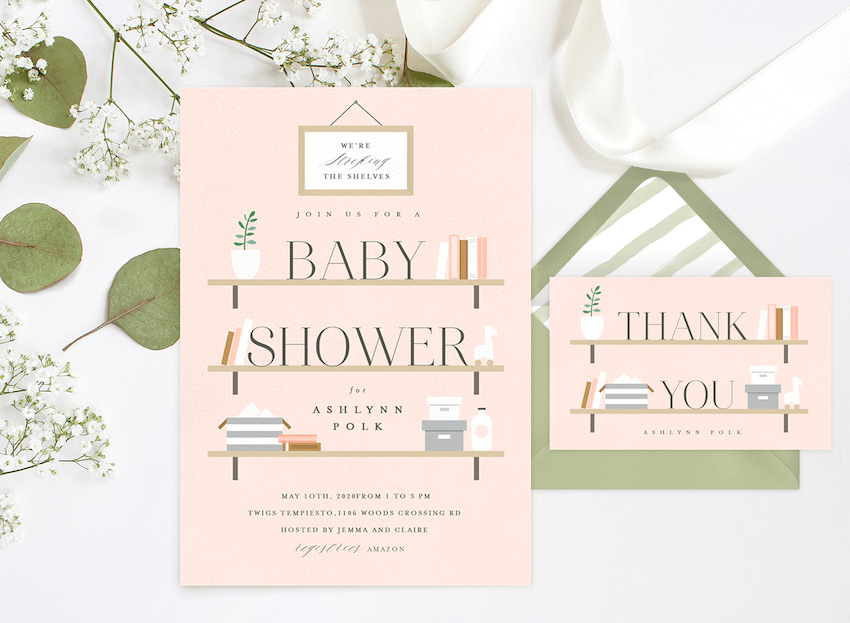 They say it takes a village to raise a child, and you're about to need all the support you can get. After gathering your number one supporters and mini fan club together for your baby shower, you're more grateful for friends and family than ever before (as if that were even possible).
Your friends and family members didn't just shower you with gifts 'ÄĒ they showered you with wisdom, tried and true baby tips, and gushing support. For these things and so many others, you want to express how thankful you really are.
Below, we're sharing 10 of our favorite baby shower thank you cards you can send to family and friends. Plus, we're sharing a few sample messages to help you express your gratitude.

Sample Baby Shower Thank You Note Wording
As you start thinking about thank you cards, you probably have two questions brewing: When should you send a thank you and what should you write?
Like any thank you note, you should send it out as soon as you're able. However, don't fret too much on timing 'ÄĒ your friends and family know you're a parent-to-be, with quite a few things to cross off your baby to-do list.
When you find an afternoon to write thank you notes to all your baby shower guests, try to acknowledge three items in each message: their gift, why you appreciate it or how you'll use it, and why you cherish your shared relationship.
Here are a few sample messages you could write in your thank you cards:
Gabby, thank you so much for the adorable onesies! You must have known that I want to raise a mini fashionista. There are so many cute baby pics coming your way that you'll have to unsubscribe. Thank you for all your love and support!
Rachel, the cloth diapers you gave me were so generous. I've wanted to cloth diaper my baby ever since I found out about the impact they make on the environment. You always give the most thoughtful gifts 'ÄĒ it's just one small reason I love our friendship.
Tom and Phil, the carseat you purchased for little Eric was such a wonderful gift. I have peace of mind knowing that it will already be strapped into the car when we rush off to the hospital. Friends like you prove we have a wonderful support system behind us. Thank you!
10 Baby Shower Thank You Cards to Express Your Gratitude
Here are 10 of our favorite designs for baby shower thank you notes to send to friends and family. Most thank yous come complete with a matching invitation, making a cohesive shower experience.
1. Stock the Shelves Thank You Cards
Let's face facts: There is nothing more adorable than a closet full of onesies decorated with various baby farm animals. To thank your friends and family members for the generous gifts (and for ensuring your little one is a tiny fashion icon) send out these adorable thank you notes. With five color palettes to choose from, these thank you cards are as colorful as your newborn's closet.
2. Raining Hearts Thank You Cards
With your new arrival¬†fast approaching, your nerves are getting the best of you. But at your baby shower, the presence of friends and family members made it clear: They've got you covered. To thank them for their generous gifts¬†as much as their words of wisdom, send out this boy baby shower¬†thank you¬†'ÄĒ illustrated with a baby blue umbrella.
3. Woodland Storytime Thank You Cards
At your baby shower, your friends made it clear: Soon enough, Netflix and Hulu will be replaced with "The Three Little Bears" and "Everyone Poops" (which, of course, were two of the gifts you received). To thank your friends and family for their gift cards, blankets, books, and other thoughtful presents, send out these adorable storytime-themed thank you notes.
4. Animal Parade Thank You Cards
We didn't know how obsessed we were with elephant baby showers until we saw the adorable stationery sets that go along with them. This animal-themed thank you note is as cute as it gets, and makes a wonderful thank you to send to friends and family. Thank them for their generosity and thoughtfulness, and tell them how you plan to use their gifts.
5. Classic Letter Blocks Thank You Cards
If you're looking for a more classic thank you to send to your loved ones, this design could be the ticket. With three gorgeous color palettes, a polka dot-lined envelope, and playful fonts, it's an adorable card your friends will love. Customize the card wording to thank each friend for his or her baby gift, and for sharing this special day with you.
6. Let's Avo-Cuddle Thank You Cards
Here are three things most people adore: babies, puppies, and avocados. This fun, fiesta-inspired design would be a wonderful thank you note for a gender reveal, christening, or sip n' see. Serve salsa, guac, and margaritas (virgin for the mama!), then send out these thank you cards to all who attend.
7. Sweet Baby Deer Thank You Cards
This sweet, illustrated thank you note is a charming way to conclude a shower for a baby girl or boy. With three, predesigned color palettes, cute drawings, and plenty of space to write a message, it makes for an enchanting thank you card. Plus, it comes with a matching baby shower invitation to ensure all your friends and family are present on your special day.
8. Confetti Balloon Thank You Cards
Let the confetti rain because you just got showered with gifts for your new baby boy or girl. This modern thank you note features chic polka dots and gold foil accents. Select from plum, blue, pink, or gender neutral green, or customize the background to suit your tastes. Your guests will be charmed by the design of this note card, as much as the message itself.
9. Sweet Roses Thank You Cards
If you had an outdoor or garden baby shower, this floral greeting card is a fitting way to thank your guests. Designed with a botanical border, this lovely stationery goes well with your outdoor baby shower theme. Choose from gender neutral color palettes, and customize the text to show appreciation for each one of your guests.
10. Watercolor Baby Shower Thank You Cards
This adorable baby shower thank you note features a soft, watercolor background. With a light blush color palette and simple typography, there's plenty of space to write messages to your family and friends. Write a note expressing gratitude toward each of your loved ones, and the wondrous gifts they brought for your bundle of joy.
Send a Thank You Note to Your Village of Supporters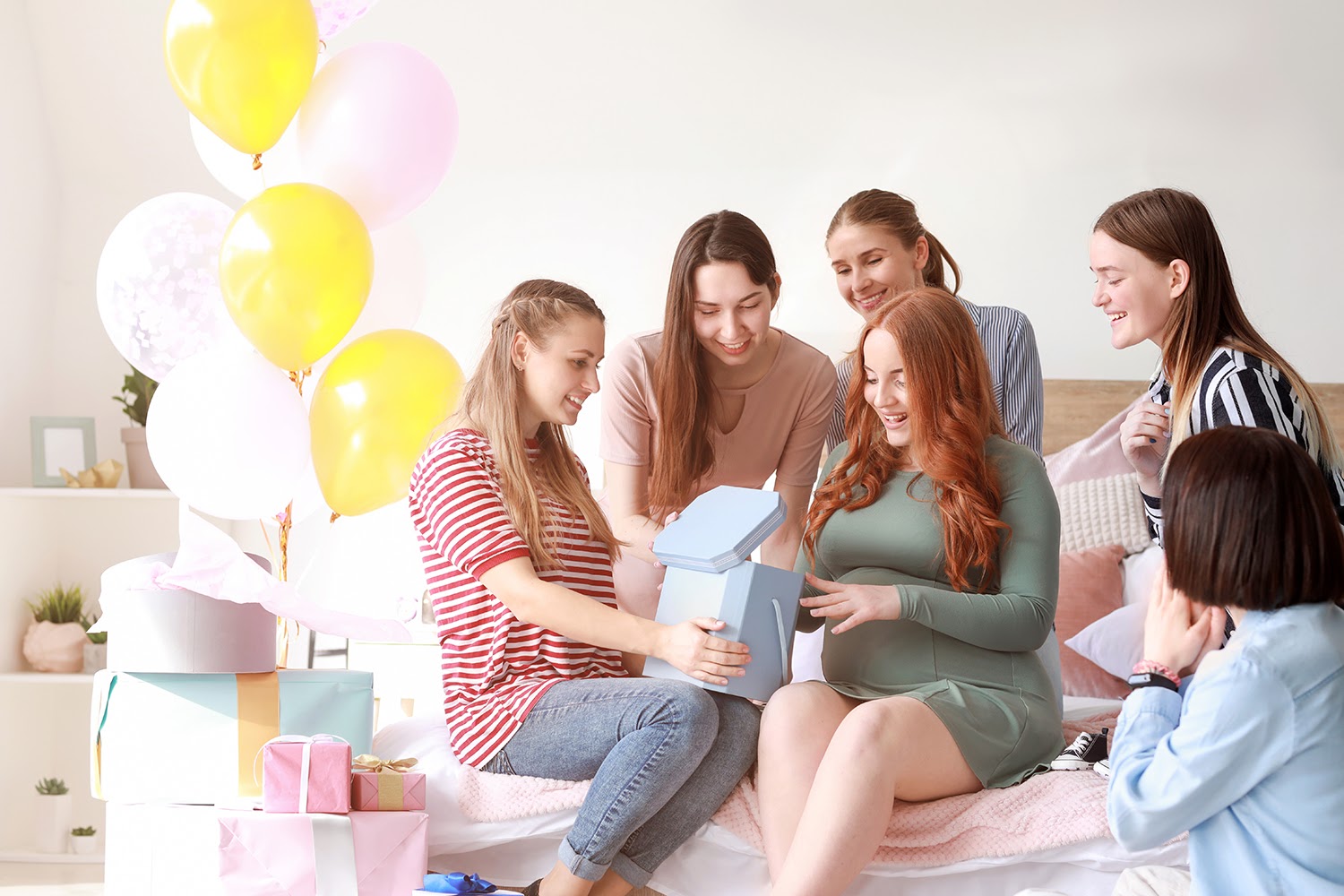 From the moment you come home with your new baby, your life will change forever. Knowing you have wonderful family, friends, and neighbors to help you navigate those changes makes the future that much more manageable.
After your baby shower, express your gratitude to these amazing human beings by sending out a thank you note. With Greenvelope, many of our digital invitations come complete with a matching thank you card, making this process that much easier. Simply customize the text with your gracious message, type in the recipient's name, and we'll send them off to each corresponding inbox.
As a soon-to-be parent, you have enough on your mind. Allow us to make sending thank you notes even easier, so you can get back to painting that nursery.