March 12, 2023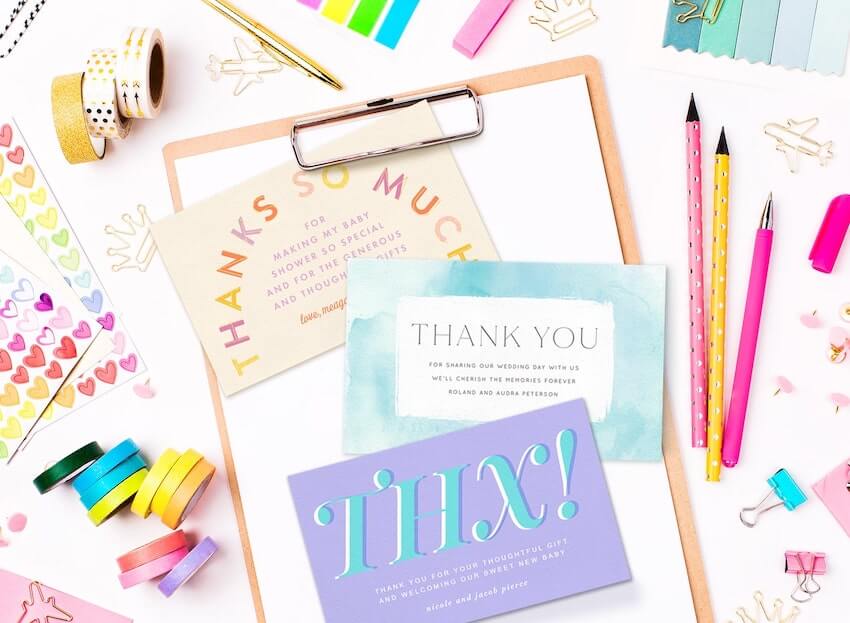 Sending party invites is fun, but sending thank you cards to loved ones after they've given their time and support is even more rewarding. Make the recipient feel special with custom thank you cards that help you create a beautiful, personalized moment.
Here, we're sharing tips on how to create and personalize your own thank you cards, then offering a little inspiration for what to say — along with some all-important thank you card design ideas.

5 Tips for Creating Custom Thank You Cards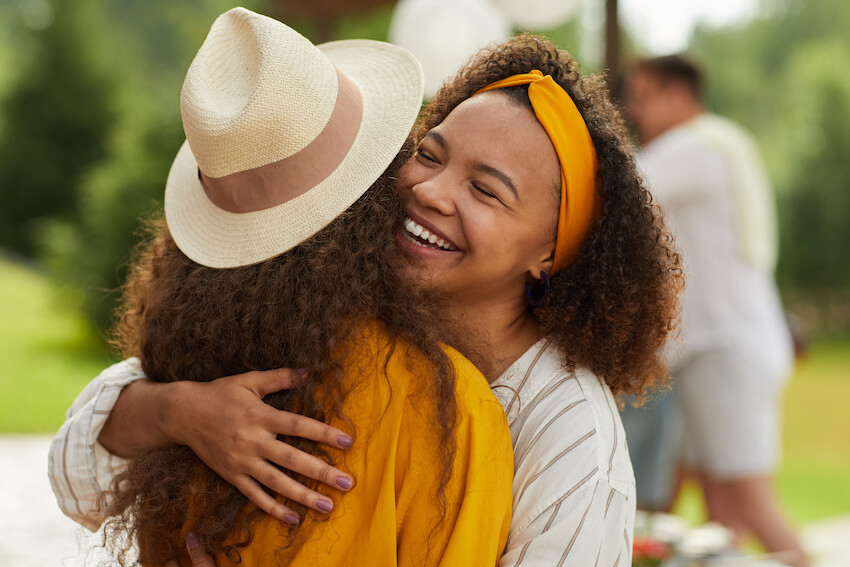 Share your gratitude and express how thankful you are for someone's support, help with an event, or time shared at your celebration with a custom thank you card. Here's how to approach the process from start to finish in five easy steps.
1. Tailor It to the Occasion and Your Recipient
Crafting your thank you card begins with who you're thanking and why. Maybe you're sending baby shower thank you cards, birthday party thank you cards, or bridal shower thank you cards. Perhaps you want to thank someone for a gift, for helping you through a tough time, or for helping you prepare for a milestone event, like a bat mitzvah or 50th birthday party.
Matching your thank you cards to the season or event is a fun way to keep with the theme. A card with snowflakes is perfect for winter, while wedding thank you cards that match your wedding invitations is a lovely way to maintain a cohesive style.
Take inspiration from what your recipient enjoys, too. Think about whether they'd love a floral card filled with heartwarming thank yous, or if they'd love something more minimalist with an uplifting quote about surviving hard times together.
2. Choose Your Favorite Thank You Card Design
With some ideas in mind, it's time for one of our favorite parts — looking through all the stunning thank you card designs to find your perfect match. Spend time browsing greeting card designs, making a shortlist, and picking out your favorite. While you could certainly choose a physical card, it's much easier (and more eco-friendly) when you opt for a digital design — no paper waste and no time waiting for the mail to arrive.
Take a look through our collection of online thank you cards to see what catches your eye. There are designs for every theme and taste — including watercolor, confetti, modern, floral, and photo cards. We also have designs with a matte cardstock look and fun embossed effect, like this Big Time thank you card. Some of our card formats have a backside too, with plenty of space for personalized messages. If you don't see a design you love, you can always upload your own design to create a truly custom card.
3. Personalize Your Custom Thank You Cards
Once you've chosen your design, it's time to make it personal. Customize your thank you card template in a number of ways to create that bespoke feel — without investing in an expensive custom design.
With Greenvelope, you can customize your thank you note card in many different ways. Change the layout, adjust the fonts, and choose your favorite color combinations. Where you have the option, upload a photo that matches your reason for sending — like a snap of your new baby, you and your newly married partner, or your graduation ceremony.
4. Write a Heartfelt Thank You Message
Add a personal touch by writing your own thank you note — something that expresses your gratitude more than any generic thank you note could. Let your loved one know how grateful you are for their support with a personal message of thanks.
If you're not sure what to say, a great place to start is with a simple thank you message. Try "Thank you so much for [reason]" or "I'm so grateful for [reason]." We're sharing lots of ideas with you in the section below.
5. Send Your Custom Thank You Cards
You've found the ideal design, customized it, and written a beautiful message of thanks. Now there's only one thing left — to send your custom thank you cards to their recipients.
With Greenvelope, it's easy to get those beautiful thank you cards out to your loved ones. Complete your card design, then add your recipients' details. You can send to their cell phone number, email address, or both. Add their details, then click send or schedule to have the card delivered to their inbox with perfect timing.
What to Say Inside Your Custom Thank You Cards
Even with a stunning custom thank you card, what matters most are the words inside. If you're not sure where to start with your thank you card message, here are some of our favorite ideas to prompt and inspire you.
Thank You for Attending an Event
It's tradition to send a thank you card to guests after they've attended an event like a wedding, baby shower, bridal shower, or birthday party. A photo card like this Full Photo Nuptials design is perfect to send wedding guests. Here's how to say thanks to those who joined you to celebrate:
Thank you for celebrating at my

birthday party

, [Name]! It wouldn't have been the same without you!

I was so happy to see you at my

baby shower

. Thanks for always being there for me!

So glad to see you this weekend, [Name]. You made my

bridal shower

amazing!

We were delighted to spend our wedding day with you, [Name]. Thank you for being part of our special day.

Thanks so much for coming to our housewarming party, [Name]!
Thank You for a Gift
We often thank our loved ones for gifts when we receive them, but sometimes we want to share a little extra love in the form of a thank you card — like this Kind Words card with a shimmery gold foil effect. Here's how to express your gratitude for a gift you've recently received:
Thank you for your generous gift of

monogram

towels. We can't wait to use them in our new home!

I can't believe you found the signed poster I wanted. Thank you so much!

Thank you for your generous contribution towards our honeymoon fund. We wouldn't have been able to enjoy such a trip without you!

Thank you for always being so generous with your gifts, [Name]. I can't wait to spend this gift card on new clothes!

Thank you for buying me an annual pass to my favorite museum. You truly are the best!
Thank You for Your Time
Gifts aren't the only things people give us. One of the biggest ways people can help us is by donating their time. Say thank you to someone with this fun Vintage Stickers thank you card and one of these notes:
Thank you for giving your time to help me paint my room this weekend. I couldn't have done it without you!

Thank you for being an incredible mentor, [Name]. You've made such a positive impact in my life.

I aced my interview and got the job! Thank you so much for taking the time to prepare me for it.

I've enjoyed my internship with you so much. Thank you for giving me the opportunity.

I'm so grateful for your time and energy in helping me get better at playing piano. It has made such a difference!
Thank You for Support Through a Hard Time
During times of need, we truly rely on the support of others. If someone has recently helped you through a challenging moment, say thank you with this beautiful Leaves of Gratitude card and a thank you message:
This month hasn't been easy, but you've made it bearable. Thank you, [Name].

You're with me through the good times and the bad, and for that I'm beyond grateful.

Thank you for always being there for me when I need you the most.

It's impossible to express how grateful I am to have you by my side through this, [Name]. But I'll start with thank you, thank you, thank you.

Thank you for everything, [Name]. Your presence means so much to me.
Express Your Gratitude with Custom Thank You Cards
What matters most is what you say, but the thank you card you choose can also make your recipient smile. Browse our collection of thank you cards, choose your favorite, and make it your own with our easy-to-use customization process. Add your heartfelt thank you note, and send the card on its way to your loved one. For even more options, consider these thank you card ideas for any occasion.