March 29, 2022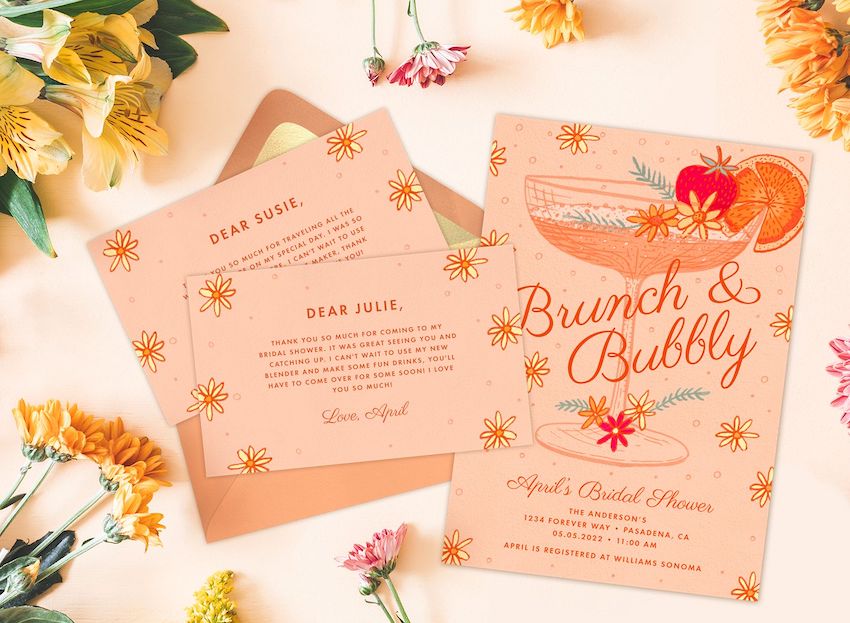 Your bridal shower was an incredible moment and you're thrilled that your loved ones could make it. Now it's time to share that joy and appreciation by sending bridal shower thank you cards to your guests. 
But before you do, this guide will show you how to craft the perfect cards, including helpful tips on etiquette, thoughtful messages to express your gratitude, and customizable designs you can use. 

Who Should Receive Bridal Shower Thank You Cards?
Etiquette suggests you should send a bridal shower thank you card to everyone who sent you a bridal shower gift or attended your celebration. It's also important to recognize and say thank you to your guests who attended your bridal shower but didn't present a gift. While gifts are always welcome, they're not mandatory. 
When to Send Your Bridal Shower Thank You Cards
It's best to send your bridal shower thank you cards out as soon as possible after your bridal or wedding shower. Schedule some time where you and your fiance can sit down together to plan and write your thank you cards soon after the event. 
Add a note on your bridal shower checklist to send out your cards no later than three months after the celebration. It can be tempting to wait and send a combined bridal shower gift and wedding gift thank you card later on. But sending a specific thank you note card after your bridal shower is a more thoughtful way to thank close friends, family members, and other guests who made the extra effort to celebrate with you before the actual wedding day. 
What to Include in Your Bridal Shower Thank You Cards
Compared to wedding invitations, filling out bridal shower thank you cards feels like a breeze. There's not a lot to remember beyond a few basics, but it never hurts to have a bit of refresher.
Gift Giver's Name
Start your bridal shower thank you cards with a greeting and the gift giver's name. You could opt for something formal with a "Dear [Title] [Last Name]," or go casual with a greeting like "Hey [Name]!" Choose the greeting that matches the formality of your event and your relationship with the gift giver. 
Note of Gratitude
The main part of your bridal shower thank you card message is sharing your gratitude and expressing appreciation for the gift you received. Even if the person didn't offer a gift, you can still thank them for their presence at your event. You can't go wrong with a simple "thank you" or "we're so grateful for" to show your appreciation. The specifics will change depending on the situation and your own personal writing style.
Your Name
Lastly, close out your thank you card note with your own name. Depending on who's writing the cards, and your preferences, you might sign off either alone or together with your partner. Match the formality of your opening line to keep things balanced. Try a phrase such as "With love, [Name]" or "With all our thanks, [Name]" — or simply "Love, [Name]."
Bridal Shower Thank You Card Tips
Saying thank you is great, but there might be much more you want to express. Before you get writing, here are a few tips to help you craft the best-ever thank you cards. 
Keep a List of Gifts Given
As you open your gifts, ask your shower host, bridesmaid, or other close friend or family member to keep a list of all the gifts given at the bridal wedding shower. This is the best way to keep track of every bridal shower gift, so your thank you notes never end up mismatched. 
Be Specific
The best thank you notes are those that feel truly personal. Rather than sending a generic thank you card, be specific and personalize your message with details about the gift giver, gift, and how you felt receiving it. It's a simple yet sweet way to match the effort your loved ones put into choosing the perfect gift for you. 
Talk About Your Plans
Before you end your bridal shower thank you note, include a short message about your plans for the gift. You could talk about how you're excited to toast with the wine glasses in your new home, or enter married life with a smile thanks to a personalized photo frame. Adding just a bit of detail to your notes helps to get your message of appreciation and love across.
Bridal Shower Thank You Card Wording Inspiration
Writing a bridal shower thank you card from scratch can feel daunting, even if you're sure of the joy and happiness you want to share. Here's some wording inspiration to help you turn that blank card into something special. 
For a Gift Given at the Bridal Shower
Dear [Name],
It was lovely to see you at my bridal shower. Thank you so much for joining us! 
Thank you for your generous gift of a personalized robe and slippers monogrammed with my soon-to-be initials. They're beautifully soft! I can't wait to wear them proudly for the first time as [New Married Name]. 
With love, [Name]
For a Gift Sent Before or After the Shower
Long time no see, [Name]! 
How is the weather in [Location] these days? I bet it's [warmer/cooler] than here! 
Thank you so much for your thoughtfulness in sending me a beautiful basket filled with skincare and spa gifts. I'm excited to spend some time pampering myself and relaxing. 
I hope our schedules allow us the chance to catch up in person again soon. Until then, let's book another virtual coffee date! 
All my love, [Name]
For a Gift of Money Given
Dearest [Name],
I had the best time celebrating with you at my bridal shower. Thank you for always being the life of the party. 
I wanted to express my gratitude for your very generous gift of money. [Partner's Name] and I have decided to put your thoughtful gift towards a special day trip on our honeymoon. We've always wanted to explore [Location] and thanks to you it'll be possible. 
Appreciate you today and always, [Name]Â 
For a Gift of Their Presence
Hey [Name]! 
Thank you so much for coming to my bridal shower last weekend. It was such a joy to have you there, cheering me on as I take the next steps towards married life. 
Your friendship means the world to me, and I'm glad that we were able to party the night away like we used to.
With love, [Name]Â 
For Hosting the Bridal Shower
Dear [Name],
Words can't express how grateful I am to you for hosting my unforgettable bridal shower last week. I had the time of my life, surrounded by the people I love the most. It was the perfect way to celebrate ahead of the big day. 
You've always been a great friend, and hosting my bridal shower was another wonderful example of your love and support. Thank you for always being there for me and lifting me up. 
With all my love and appreciation, [Name]
Stunning Bridal Shower Thank You Cards You'll Love
With the details sorted, it's time for the fun part — choosing your bridal shower thank you cards. At Greevenlope, there's something for all themes and preferences — from gentle watercolors to contemporary florals. Most designs are part of a stationery suite too, so you can match your thank you cards to your bridal shower invitations and wedding invitations. 
To help you find the perfect match, here's a handful of favorite bridal shower thank you cards. 
Delightful Champagne Coupe Thank You Card
This delightful thank you card hits just the right tone of cheery and sweet. The modern floral touches and upbeat color scheme are borrowed from the matching bridal shower invite, so you can continue the theme — or it works just as beautifully by itself. 
Ombre Laurels Thank You Note
This chic thank you note design is perfect for a minimalist or outdoor bridal shower. The texture effect background and hand-drawn illustration make it feel elegant and bespoke. Choose from several color options or work with a designer to add your own custom color scheme.
Iridescent Confetti Balloon Thank You Card
This elegant thank you card is ideal for a sophisticated, glam bridal shower. With a matching invite available, it's easy to coordinate a luxurious look for your shower guests. 
Once you've found a template you love, you can customize the design and turn it into a unique creation. Choose your color options, then change the layout and fonts until it feels right. Finally, add your own personal wording to bring your thank you cards to life. 
Send Bridal Shower Thank You Cards the Easy Way
The perfect bridal shower thank you cards are those that are written from the heart. Follow this guide to help you plan, design, and write thank you cards that have a personal touch and look incredible. 
Once you're happy with your wording and have your recipient list ready to go, find your favorite thank you card design with Greenvelope. Change the colors, add your wording, and send your digital thank you cards to express your gratitude.