April 28, 2020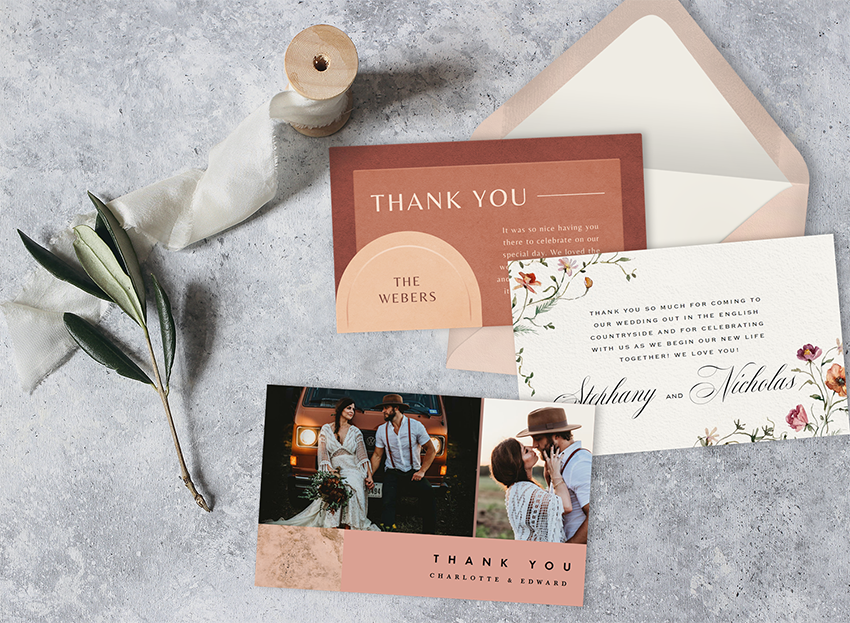 You've celebrated the magic of your wedding day and now you're settling into married life. While most of your wedding to-dos have been completed, there's one final task you'll want to check off your list — sending your wedding thank you cards.

Why Send Wedding Thank You Cards?
Friends, family, and loved ones have joined the two of you to celebrate your special day together. While you more than likely thanked them in person on the day, it's still customary to send wedding thank you cards after the event. These cards let your guests know that you received their gift or donation and are grateful for them being part of your big day.
It's traditional to send wedding thank you cards in the mail following the wedding, but like most aspects of your wedding day, it's fine to modernize to match your style. But while it's fine to leave some elements out of your celebration, following up with a thank you note is still seen as a must. If you don't want to invest in personalized wedding stationery, digital invitations or DIY notes are perfect.
When Should You Send Wedding Thank You Cards?
Now that you know how important wedding thank you cards are, it's a good idea to plan them into your wedding timeline. Most couples aim to send out thank you notes as soon as they can, but newlywed life is hectic, and it's normal for this to be put on hold for a little while.
If you can, aim to send your wedding thank you cards to guests within three months of your wedding. This allows you time to settle into your new life together, get photographs back from your wedding photographer to include in your thank yous, and get everything together to make writing and sending your cards easy.
Sometimes life gets busy. So, if three months pass and you haven't sent out your thank you notes, don't panic. It's always sweeter to receive a note late than not to receive one at all.
Who Should They Be Sent To?
If you had a grand ceremony with hundreds of guests, you might be wondering if you need to pen a personalized note to everyone you sent save the dates or wedding invitations to. The simple answer is no, you don't need to write a thank you note to every guest — although some couples choose to.
Building your thank you card list may come naturally to you, but if not, here are some suggestions on who to include.
Concentrate firstly on guests who really made your special day memorable. This includes you and your husband or wife's family and closest friends. It's easy to accidentally leave your wedding party off your list as you've spent so much time together in the lead up to the event, but make sure they make it on your thank you card list too. After all, it would be a very different day without their support in turning your ideas into reality.
Next you'll want to think about guests who made a special effort to attend your ceremony or reception. This might be a relative who travelled across the country or an old friend who saw this as the ideal opportunity for the two of you to reconnect.
Another group of people you might want to write to includes your vendors — your venue, wedding planner, florist, DJ, caterer, photographer, videographer, and anyone who brought joy to your celebrations. For these businesses, you can also show thanks by leaving a positive review for them online and recommending them to friends and family who might need their services.
Keep building your list until it feels right for the two of you. If you find it hard to narrow down which guests to send a note to, consider sending one to everyone. If you used online wedding invitations, it's easy to reach out to your entire guest list without spending days handwriting greeting cards.
What to Include in Your Wedding Thank You Cards
There are only a few basics you'll need to include as you write your cards. First, you'll want to acknowledge your guest or guests by name. If guests attended as a family group, it's fine to send one thank you card to everyone.
It's common to personalize each note card to the recipient, so reference their wedding gift or contribution in some way. They'll feel comforted that you received their gift and touched that you remembered. If they didn't bring a gift or you're not sure, focus on thanking them for their presence. Sign off with a sincere thank you from you and your newlywed partner.
After that, the rest is up to you. Most wedding thank you cards are relatively short, but you might want to update guests on your honeymoon or let them know where they can find photographs or videos from the event. If you don't have one already, a wedding website is a great place to collect memories from your special day. If you do, update it and let your guests know there are plenty of gorgeous photographs to browse through.
Wedding Thank You Card Wording Examples
A lot of couples freeze when it comes to the wording of their wedding thank you cards. Even for the most seasoned event host, there's something nerve-wracking about writing so many notes. Don't panic, though, because we've composed a few examples to help inspire your own notes. As you'll see from the examples below, you can keep it simple or dive deep into some shared experiences to personalize your wedding thank you cards.
Example One
Dear Sarah,
Thank you so much for joining us on our wedding day. It was lovely to see you and catch up about the old days. We're touched that you contributed to our honeymoon fund. We decided to put the collection towards a memorable day trip on the island.
With our warmest wishes,
Abigail and Simon
Example Two
Dear Arnold and Family,
It was our greatest pleasure to celebrate our wedding day with you all. Thank you for your generous gift of a fine dining experience at our favorite restaurant. We can't wait to make use of this and create some new memories together.
Thank you again for joining us. We're so blessed to call you friends.
Best wishes,
Peter and Mark
Example Three
To Our Beloved Bethany,
Thank you for celebrating our wonderful day with us. It was the best day of our lives so far, and we can't wait to share more happy moments with you in the future. Hopefully without the rain!
We're so grateful for your lovely gift of a weekend away at The Beach Hotel. From the way you described it at my bridal shower, it sounds truly amazing, and we can't wait to experience that for ourselves.
Here's to a lifetime of beautiful memories.
Lauren and Jan
Our Favorite Wedding Thank You Card Designs
If you're looking for the perfect backdrop to accompany your thank you notes, we've got you covered. Many of our wedding thank you card designs are part of a wedding stationery suite, so you can find something that matches your Greenvelope save the dates and wedding invitations perfectly.
And if you sourced your invitations elsewhere, there's plenty of choice to help you find a design that suits your style.These are all digital thank you cards, so it's simple to create and send them to as many guests as you'd like. Like with handwritten notes, it's possible to personalize every guest's card before you send it. This means you can deliver your heartfelt gratitude with the convenience of a digital invitation.
Here's a selection of our favorite wedding thank you card designs.
Elegant Overlay Thank You Note
For couples lucky enough to have photos back from their wedding photographer, this elegant overlay photo wedding card design is perfect. It's understated and simple, yet elegant. Let your smiles and the memories of your happy day shine through with one of your favorite pictures.
Crater Lake Thank You Note
Celebrate your newly shared surname or swap it out to show your first names together on this relaxed yet charming photo card design inspired by Crater Lake. It's ideal for weddings hosted in the national park or for anyone who simply loves the crater design featured on the reverse. What's more, $5 of your purchase from this design goes straight to the National Park Foundation.
Bauhaus Monogram Thank You Note
This gorgeous, modern wedding thank you note is the perfect way to combine your design aesthetic with a beautiful wedding photo. There's a collection of color schemes to choose from and plenty of space on the back to write your thanks.
Send Your Wedding Thank You Cards Your Way
Whether you decide to DIY your wedding cards or send them electronically, there's a lot of space to get creative and customize your cards to match your personal style, wedding theme, or photographs. Spend some time together to make the experience fun, as you send your thanks and words of gratitude to loved ones and relive memories from your special day.