April 15, 2020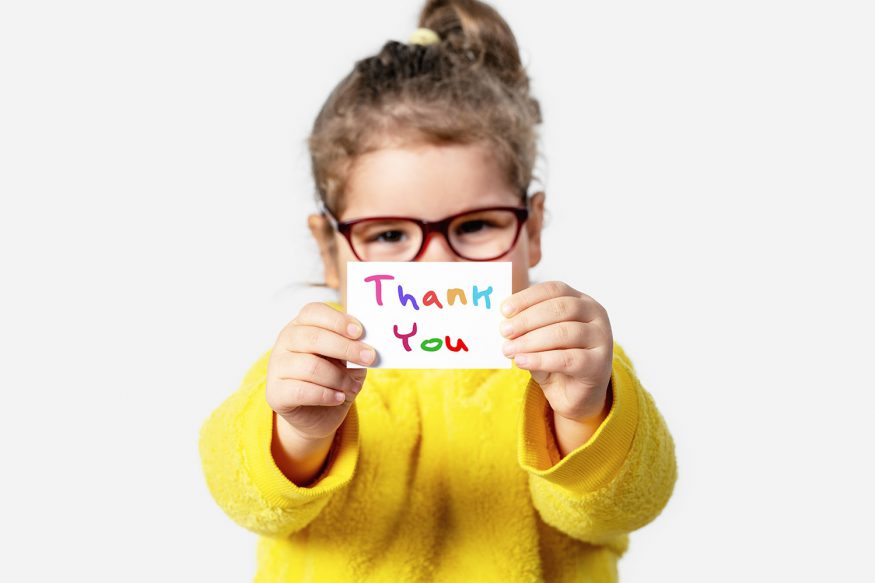 How often does gratitude go unsaid?
Think about it: We love and appreciate our family members, friends, coworkers, and other loved ones. We thank our lucky stars they're in our lives every night when we go to sleep. We don't know where we'd be without their support, advice, encouragement, and gifts (both of the tangible and priceless sort).
But how often do we stop and vocalize the words, "I am so thankful for you, our relationship, and all you've ever done for me"? Not so often.
Writing a thank you card is a wonderful way to express our gratitude to another person. And yes, drafting a thank you message might be triggered by another event (a gift, invitation, or visit), but nevertheless, it's an opportunity to write those kind words that might otherwise go unsaid.
Below, we're sharing several thank you card ideas to express your gratitude. We'll dive into what to write and which occasions call for a thank you note (although we're certainly practice-gratitude-daily kind of people).

Thank You Note Wording for a Generous Gift 
In some scenarios, sending a thank you note upon receiving a gift is customary (if not expected). For example, it's traditional to send a thank you note after receiving a wedding gift, bat mitzvah gift, graduation gift, or bridal shower gift.
These thoughtful notes are always warmly received. With that being said, some of the most cherished notes are also the most unexpected.
If a friend bought you a souvenir on their vacation just because it "reminded them of you," your grandma wrote you a check or wrapped a beautiful gift even though you're well into adulthood, or your friends surprised you with a housewarming gift for your new apartment — these are times when the gift giver might not expect a thank you note in return. So, why not make their day and surprise them with one?
Here are a few ways to express your sincere gratitude after you receive a thoughtful gift:
I can't believe you guys bought me that air fryer for my new apartment — I've already used it five times! I can't tell you how much I love it or how useful it is. I need to have you over for dinner some night to use it.
Thank you so much for the monogram towels you gave us at our rehearsal dinner. It was such a thoughtful gift — one that we'll cherish as we begin our new lives together. You always go the extra mile!
Nana, thank you so much for the check you sent me at Christmas. I've been meaning to buy a new yoga mat to bring to yoga class, so I plan to treat myself to that. I promise to email you a picture of my gym friends and I after class.
Charles and Anna, thank you so much for booking us a whale watching tour for our honeymoon. Neither of us have ever been, and it's definitely on our bucket list for Hawaii. You two are such wonderful friends — we're so happy you could share our special day with us.
Jules, I can't believe you thought to get me Orangetheory classes for my birthday party. I honestly didn't even remember telling you that I loved their workouts until I opened your birthday card set! You are one of the most thoughtful friends I know, and I'm so happy to have you in my life.
Tom and Janet, thank you so much for the "O'Brian" coasters you got me from Ireland. Who knew you would stumble into a pub with my last name on it!? I already have them sitting out on our coffee table, and every time I open a cold one I'll be thinking of you.
Thank You Card Ideas for a Business Thank You
When it comes down to it, business is no more than a group of people working toward a common goal. Even though we're more buttoned up amongst clients and coworkers than we are with friends and family, manners, thoughtfulness, and kind gestures go a long way.
If a vendor, client, or colleague goes above and beyond for you, helps you through a difficult time, or remembers when you experience a major life event, show your appreciation. Send them a handwritten note or ecard, letting them know their kindness didn't go unnoticed. Here are a few wording ideas to express your gratitude in a business thank you:
Angela, I can't believe you got the entire marketing department to chip in for that crib for my baby shower. And just like the humble person you are, you didn't even take credit for researching and shopping for such a beautiful gift for my new baby. You are truly the most humble, selfless person — I'm so happy we can be friends outside of work.
Kevin, I just wanted to send a big thank you for handling my workload while I was out with the flu. My clients won't stop gushing about all your hard work — it's as though I wasn't gone at all. I passed along your business card in case any new projects arise and they'd like to bring you on. I can't tell you how thankful I am.
Steph, thank you so much for the gift card to General Tso's! When I said it was my favorite restaurant in the city, I didn't think anyone would remember. A night of takeout and Netflix will be so, so appreciated once we turn in this project — you are an absolute pleasure to work with.
Kayla, I wanted to send a heartfelt thanks for sending me flowers when my mom passed. I know this thank you note is a long time coming, but that time was very difficult. I am so blessed to have thoughtful people like you in my personal and work life to get me through.
Thank You Card Wording for Someone Who Showed You Hospitality
There is no better fuel for the soul than an evening spent with friends — but for the host or hostess, throwing a party can cause their fuel tank to run dry.
Throwing a dinner party, cocktail hour, or summer BBQ takes a lot of planning and effort (hence why these gatherings can be so rare!). Whoever opened their doors to friends and neighbors probably spent days shopping, cooking, prepping, and cleaning their home to get that HGTV-worthy presentation. And while that pinot noir you brought was certainly a nice gesture, a thoughtful thank you note will last longer than four glasses of wine.
Here are several thank you card messages to thank your host for their hospitality. Whether they opened their home for an afternoon, evening, or long weekend, they'll appreciate a note once you've packed up your bags (or purse):
Thank you so much for the invitation to your holiday party! Your homemade wontons absolutely blew me away — you simply have to send me the recipe.
Thank you so much for the party invitation to your backyard BBQ. Even though we've only been neighbors for six months, it feels like we've been friends for years.
Your hospitality this weekend blew me away. I felt so welcome in your home. Thank you for taking me to the art museum, showing me your favorite taco spot, and overall being a great friend. Can't wait until we see each other again.
Thank you so much for hosting a "galentines" gathering for Valentine's Day. When I moved to this city I was so nervous about making new friends, and I'm so happy you were one of the first people I met. Thank you for the fun night of chips, guac, wine, and gossip.
Beth, thank you so much for allowing us to hold Jacob's Christening luncheon in your backyard. With a new arrival in our family, it's been so wonderful to have neighbors like you. It's true what they say — it really does take a village to raise a child!
A Thank You Note Card Is Just Another Act of Kindness 
With the hustle and bustle of life, sometimes we forget to slow down and show our appreciation. A thank you note is a delightful way to acknowledge how much a friendship, gesture, or gift meant to you.
Writing a sincere thank you note allows us to acknowledge how much our loved ones mean to us. Hopefully, the above list of thank you note ideas gave you a starting point for finding the right words to express your gratitude.
At Greenvelope, we love writing (and receiving!) thank you notes, which is why we include matching thank yous with many of our graduation announcements, wedding invitations, birth announcements, and baby shower invitations.
Plus, with Greenvelope's digital invitations, there's no address labels to print or stamps to stick. Invitations and thank you notes are sent directly to the recipient's inbox. Hopefully, this makes it even easier to extend your thanks to friends and family members — and hopefully, make their day.