March 12, 2023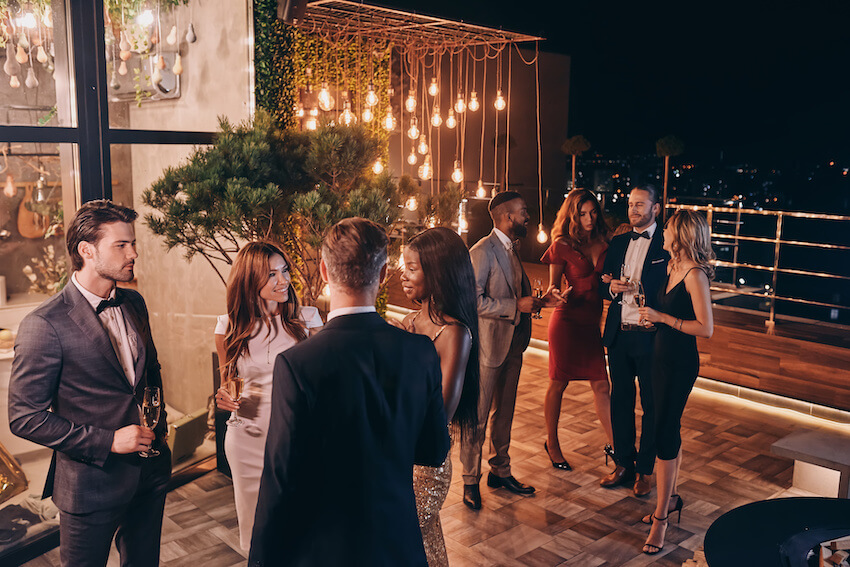 Getting dressed should be easy, but there's something about receiving a wedding invitation with a dress code that can strike panic — even for the most well-dressed among us. Especially when that invitation says cocktail dress code, a term that seems both fancy and informal.
You may be standing in front of your closet wondering what you own that's formal enough but not too fancy or casual. Not to worry, though. You'll nail the cocktail dress code every time with these tips and general rules.

What Is a Cocktail Dress Code?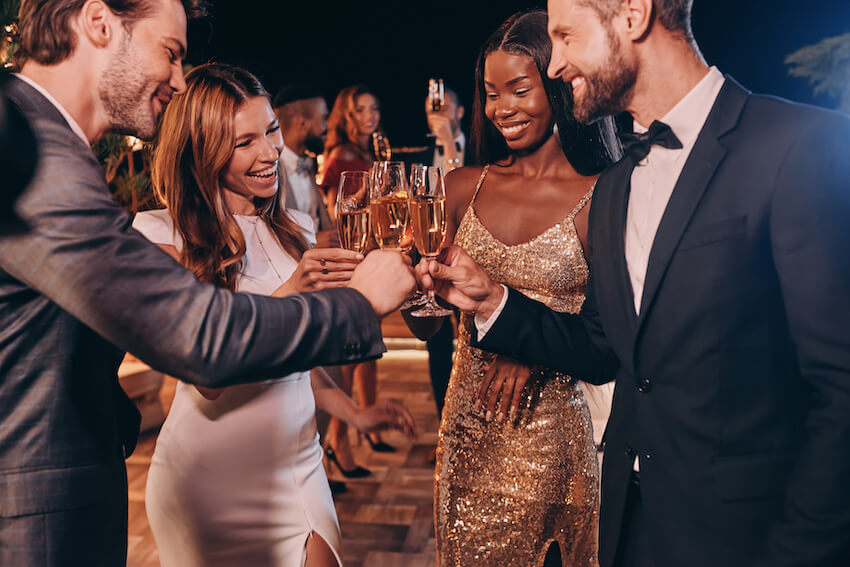 What is cocktail attire, you ask? A cocktail dress code is a blend between casual and formal. It's a gray area, along with semi-formal attire, where your look should be elegant yet comfortable. In general, cocktail dresses, suits, and ties are the stars of the moment. The best part about cocktail attire dress codes is that they're flexible. That means you can show off your personality and style — as long as you don't get too casual or formal.
Cocktail attire is the most common wedding dress code. It's also frequently used for business gatherings, cocktail parties, company events, and evening celebrations. As a rule of thumb, your cocktail attire should always look dressy and refined, no matter the event.
Cocktail dress codes can also mean different things depending on the event's time of day. For an evening affair, dark colors and more elegant designs are appropriate. For daytime events, cocktail attire can include lighter fabrics, shorter hemlines, and softer hues. The venue can also impact the cocktail attire dress code. Outdoor venues tend to allow more casual takes, while indoor venues trend a tad more formal. Read on to learn more about cocktail attire and discover ideas to get the right look.
Cocktail Attire for Women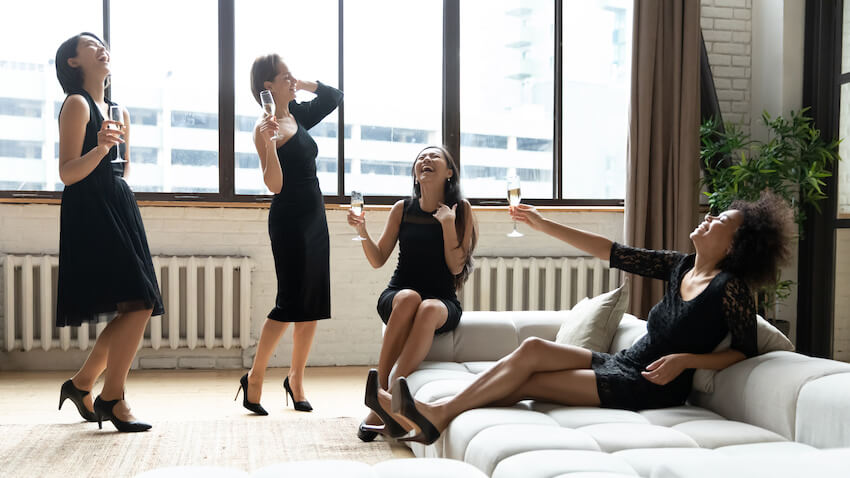 When it comes to cocktail wedding attire, dressy pantsuits or cocktail dresses are great options. The length of the cocktail dress should hit knee-length or longer. Floor-length gowns should be avoided since they're too formal and are better suited for black-tie weddings. The one exception here is semi-casual maxi dresses, which you can dress up with jewelry, accessories, and chic slingbacks to meet cocktail attire requirements.
To choose the right party dress, try to strike a balance between casual and formal. Skip the sundress as it's too laid-back for this dress code, and save the beaded mini-dress for the club. Instead, look for something formal and understated — like a little black dress. The neckline should be modest but not stuffy, and you're free to play with accessories to make the outfit your own. Choose shoes in contrasting colors or a vibrant sequin bag for a punch of style.
Consider the seasons when choosing your wedding outfit. A midi dress in pastel hues is a good choice for a spring wedding or outdoor event. For a winter cocktail outfit, consider a jumpsuit or dress pants and a romantic button-down shirt that will keep you warm while still looking elegant. For a fall wedding, gemstone hues and fabrics like suede hit the mark, while small embellishments elevate the design.
For shoes, choose sensible heels or dressy flats. Flip-flops and sneakers are too casual for a cocktail dress code. You may be able to get away with sequined or otherwise embellished flip-flops at summer weddings or beach weddings, but it's best to ask the bride or a member of the wedding party to be sure.
Cocktail Attire for Men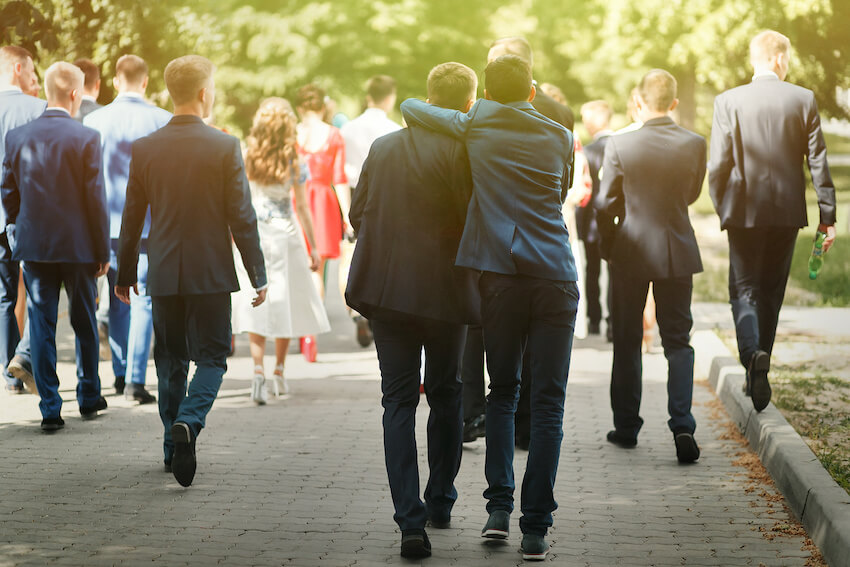 For men's cocktail attire, a suit and tie — not a tuxedo, which is suited for formal occasions — is the most popular choice. It's simple, elegant, and the perfect canvas for showcasing your personal style. Your suit should have proper tailoring for a nice fit to avoid looking sloppy. You can choose a colorful tie or patterned bowtie to dress things up or opt for statement socks for a punchier design. 
Accessories like cufflinks, pocket squares, suspenders, and watches are other great ways to add more style to a simple suit and tie. While a suit jacket is not required, a blazer can dress up an outfit for an indoor evening event where more elegance is desired. 
Since cocktail dress codes for men are similar to business casual and smart casual, you should skip the T-shirt and opt for a dress shirt instead. For an understated look, choose a white shirt or dark color like navy. If you want to be playful, consider a colorful shirt and a white tie — just be mindful not to upstage the groom.
For your shoes, stick to dress shoes like brogues and oxfords for indoor events. For outdoor celebrations, loafers are acceptable and pair well with chinos for a more casual look.
Nonbinary Cocktail Attire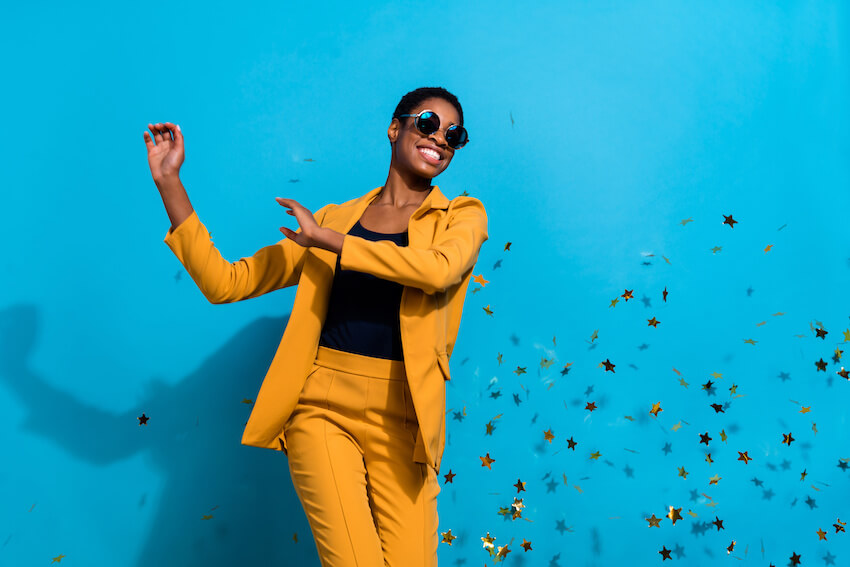 The flexible nature of cocktail attire makes it easy to be playful, creative, and you! That means you can switch things up, create outside-the-box looks, and have fun — just as long as you keep things semi-formal and not too casual. You should feel great in your outfit, so if that means choosing a sophisticated pantsuit, a floral dress, or a funky suit, go for it. 
The beauty of cocktail attire is that it's easy to let your personality shine. Love vintage pieces? Choose a stunning chiffon slip or flapper dress with 1920s style or a 1960s-inspired sequined off-the-shoulder top and dressy pants. Love modern designs? A contemporary pantsuit with geometric sleeves or a simple dressy suit with colorful textures is perfect for any cocktail event.
Don't forget about the accessories. Choose a stunning leather bag to carry your phone or maybe a sequined clutch for the essentials. Shoes are another way to create a unique look, so go big with color or keep things classic in neutral shades. Timepieces, jewelry, and monogrammed accents like pocket squares can increase the formality of your look while staying true to who you are and the styles you love.
Dress Your Best and Nail the Look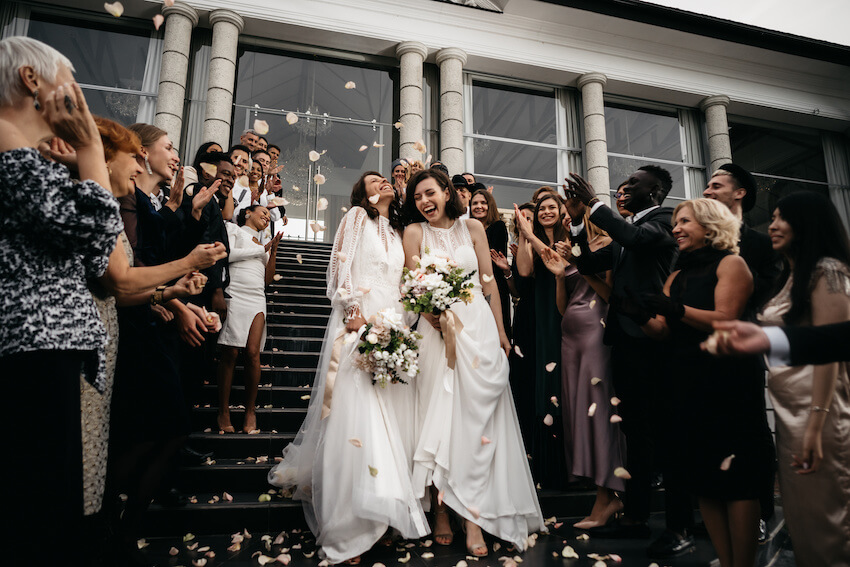 With cocktail dress codes, formal yet understated is the way to go. Avoid anything too revealing, too casual, or too fancy. Instead, think about some of your nicer clothes or what you'd wear to an evening performance or business party. These pieces are good options for cocktail attire at weddings and similar events. Don't be afraid to play with your style as long as you keep the focus on the happy couple. When in doubt, a little black dress or a suit and tie are always good choices for cocktail attire. 
Understanding dress codes and learning how to be a great wedding guest doesn't have to be complicated. Most wedding hosts will include tips for attire — either in the wedding invite or on the wedding website. If you have doubts, reach out for clarification to ensure you show up looking your best and in line with the couple's expectations.