September 3, 2019
Mazel tov! Your little girl is all grown up, and you're picking out Bat Mitzvah invitations. Chances are, you've spent the last six months to a year planning for this milestone.
After Shabbat morning services, you may be hosting a kiddush reception, or a light meal in the synagogue's hall or at another venue outside of the sanctuary. Or like many families, perhaps you'll host a separate reception after the service or later that evening. Like weddings, these receptions vary widely — from intimate dinners to bashes of My Super Sweet 16 proportions.
Because there are many elements to Bat Mitzvah tradition, it's important your Bat Mitzvah invite covers all the bases. This is especially important for your non-Jewish guests who may not be familiar with Bar and Bat Mitzvah customs. Read on for Bat Mitzvah etiquette, invitation wording, and of course, beautiful designs.

Bat Mitzvah Invitation Wording
Your Bat Mitzvah invitation is guests' key to what they should expect for your daughter's celebration. If your wording is very formal (for example, spelling out dates instead of using numerals), this is a good clue that guests are attending a fancy event.
The invitation also needs to include all essential information. This may seem self explanatory, but it can get complicated if there are multiple celebrations and venues. You'll want to include the date, time, and place of the ceremony, of course. If your reception directly follows the Torah reading, you'll only need a one-line description. For example: Kiddush lunch to follow in the hall.
If the reception involves a change of venue or is at a later time in the evening, include the specific time and address. Keep in mind that some families may only be able to attend part of the event, or perhaps you're only inviting close family to the reception. By utilizing our guest tagging feature and filtering locations and survey questions to only match guest's of a specific tag, you can be sure to get an accurate guest count for each specific part of the event.
Additionally, be sure to include a specific RSVP response date. It's a good idea to set this date at least three to four weeks before the celebration. This will give you enough time to notify the caterer or your place of worship if they require this information.
Sample Bat Mitzvah Invitation Wording
Just like other party invitations you've sent in the past, Bat Mitzvah invites can range in formality. It should contain the child's first name as well as the middle if you prefer. It will typically say that they are "called to the Torah" and then include relevant details. You'll also want to add your names as hosts.
Formal Invitation Wording
Please share in our great joy
as our daughter Ruth Rachel
(optional Hebrew name)
is called to the Torah as a Bat Mitzvah
Saturday, the twelfth of April
two thousand twenty
at nine o'clock in the morning
Congregation Rodeph Sholom
2385 Park Avenue
Bridgeport, Connecticut
Kiddush lunch reception to follow
Rebecca and Josh Aarons
Including your daughter's middle name and spelling out the date and time gives the invitation a more formal connotation. Etiquette rules have relaxed in recent years, but you'll always want to double check spelling and location details for accuracy.
Informal Invitation Wording
With pride and joy
our daughter Ruth
(optional Hebrew name)
is called to the Torah as a Bat Mitzvah
Saturday, April 12, 2020
at 9:00 a.m.
Congregation Rodeph Sholom
2385 Park Ave.
Bridgeport, Connecticut
Kiddush lunch reception to follow
Rebecca and Josh Aarons
A few tweaks like abbreviating the date and address can give the invitation a more relaxed feel. There are many phrases you can use at the top, but they usually focus on love and pride. "We invite you to share in celebration," "With love and joy in our hearts, you're invited,"and  "We would be delighted if you would join us" are just a few ways you can let guests know they were thoughtfully invited.
Themed Bat Mitzvah Invitation Wording
Also, keep in mind that you can opt for a party theme. In this case, your invitation wording can be less traditional and more in line with your celebration. Include all of the important details, but have a little fun with it. This Allison In Wonderland themed invitation says, "Don't be late or it's off with your heads!"
Let your daughter guide the theme and party style to ensure she's excited about her celebration.
What Bar & Bat Mitzvah Guests Need to Know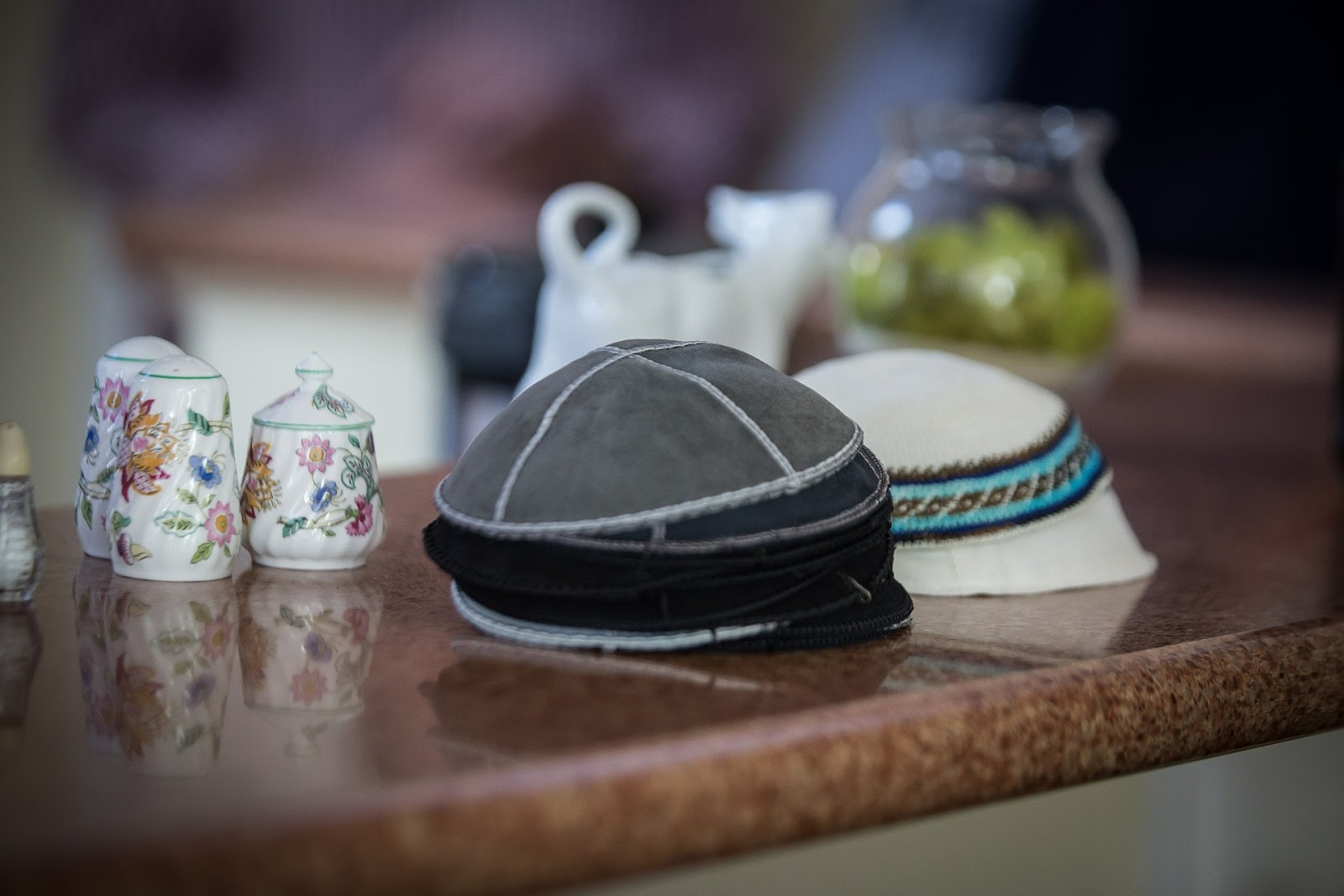 If you're inviting only Jewish guests, chances are they'll be familiar with Bar and Bat Mitzvah customs. But this momentous occasion should be shared with all the important people in your child's life. This can include those of any faith.
In the Jewish faith, a Bat Mitzvah is a coming of age ritual for girls at age 12. Bat Mitzvah means "daughter of the commandment" (similarly, Bar Mitzvah translates to "son of the commandment"). The occasion marks the age when girls have reached religious maturity, usually celebrated by the girl leading services and reading from the Torah.
For friends who may not be familiar with Bat Mitzvah etiquette, you might use your invitation to let them know that that's okay. Add a personal note that says you're happy to answer any questions. Or point them to a helpful article about guest etiquette.
Bat Mitzvah Invitation Design Ideas
Just like your invitation wording, Bat and Bar Mitzvah invitations should set the tone for your event. If it's formal, you may want to opt for a traditional design. If you're having a laid-back affair or a themed celebration, a more contemporary style is in order. Consider these popular design ideas for every type of celebration.
Star of David Designs
Any design with a Star of David is the perfect way to acknowledge this religious rite of passage. But that doesn't mean it has to be overly formal. This Rose Gold Star invitation, for example, features a shimmer rose gold foil star over a feminine watercolor background. The watercolor Bat Mitzvah invitation features a contemporary flourish that also points to the important religious aspect.
Formal Religious Invitation
On the other end, there are plenty of options that keep the focus on religion. This Torah Scroll design, for example, features a traditional Torah watermark background. There is also room for Hebrew lettering and plenty of text for celebration details.
Floral Bat Mitzvah Invitation
Since a Bat Mitzvah honors that special young lady in your life, why not opt for a feminine floral design? This floral party invitation suite features flourishing calligraphy and watercolor blooms. The versatile style can be used for bridal shower or birthday party invitations, but you can also customize the script at the top to say "Bat Mitzvah" to focus on the occasion. There are also matching save the dates and thank you notes. If you'd like more religious elements, perhaps opt for a floral Star of David design that is both feminine and on theme.
Photo Invitation Card
Another great modern Bat Mitzvah invitation idea is to put the focus on the guest of honor with a stylish photo card. This design features room for two great snapshots with stylized text to announce the occasion.
Creating A Bat Mitzvah She'll Remember
You've done all the legwork to create a Bat Mitzvah celebration your daughter will cherish. The last bit of planning involves your invitations. Remember non-Jewish guests may need some help with etiquette. Select a design and wording that is in tune with the formality of your celebration. All of your hard work will pay off when you see your daughter's smiling face as she completes this amazing milestone.