March 6, 2023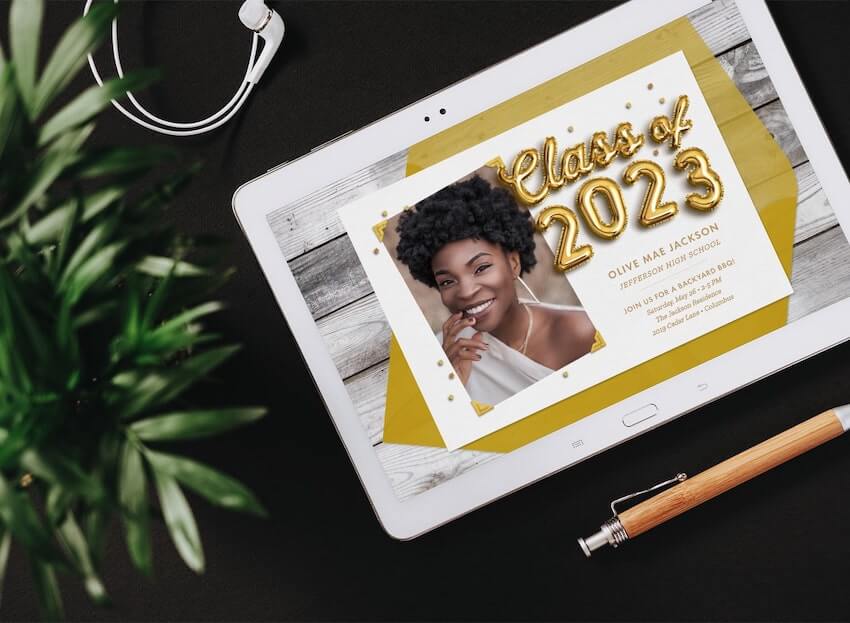 You've watched time fly by and now it's time to stop the clock and savor the special moment of a graduation celebration. With most grad parties happening in early summer, it's the perfect event to host outdoors. Not only is a backyard celebration affordable, but it also offers a fun opportunity for decorations, games, and moments you'll remember for a lifetime. Here, we've gathered some of our favorite backyard graduation party ideas to help you plan the big bash.

15 Epic Backyard Graduation Party Ideas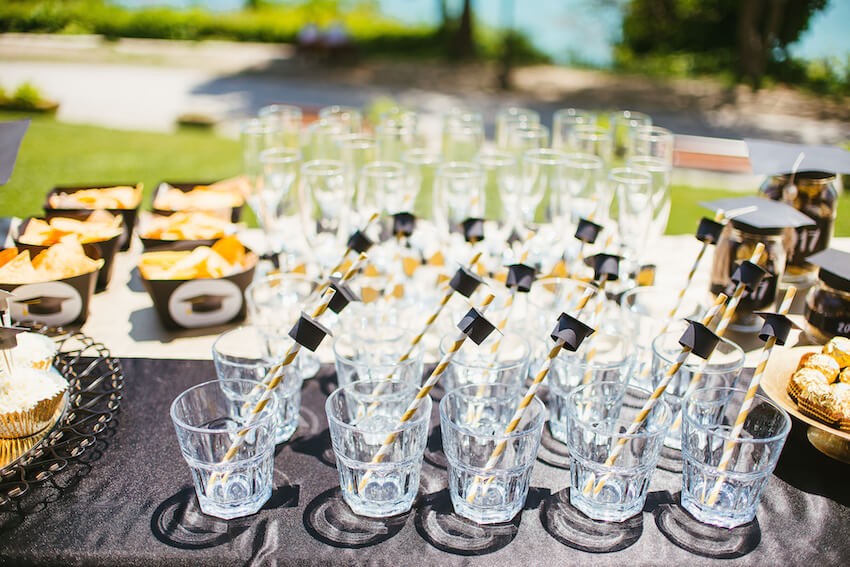 Whether you're throwing a solo graduation party or co-hosting the event with the parents of your child's best friend, a backyard graduation party is a casual and fun way to celebrate. From backyard cookouts to pool parties and glam dinner parties, there are backyard graduation party ideas for every personality. 
To kickstart your party planning, here are 15 creative options ranging from graduation decorations and graduation party food ideas to themes and invitations.
1. Celebrate With a Graduation Party Theme
Party themes aren't just for birthdays. Choose a fun theme like school sports, "Oh, the places you'll go", shoot for the stars, or smart cookie. You can also choose themes that work well for other events, such as a tropical party, Great Gatsby bash, or unicorn disco.
2. Host a Dinner Party
Invitation Inspiration: Toast Invitation
If you're looking for an elegant way to celebrate, consider hosting a graduation dinner party outdoors. You can rent tables and chairs from an event company, and decorate the space with lanterns for soft lighting, and candles to create a sophisticated ambiance. White tablecloths and floral centerpieces will dress up the tables and you can add faux fur throws to chairs for a glam look.
3. Plan for the Weather
As with any backyard party, it's a good idea to have a backup plan in case the weather changes. Graduation season typically brings good weather, but rain showers can pop up. Have a large tent available in case you need to cover the space or plan to bring things indoors if the weather changes drastically.
4. Make It a Cookout
Invitation Inspiration: Stylish Grad Invitation (photo courtesy of Julia Kinnunen Photography)
One of the best outdoor graduation party ideas is a backyard cookout. These are casual, laid-back affairs — perfect for unwinding after all those years of school and celebrating one of life's most significant accomplishments. Cozy up around a firepit and cook hot dogs, s'mores, and regale guests with tales of the graduate's funniest escapades. 
5. Decorate With Party Supplies
Easily elevate any outdoor space with classic party supplies like balloons, streamers, and confetti. Along with traditional party supplies, use graduation gear like tassels and graduation caps to dress up the space.
6. Make a Statement With Balloon Garland
Invitation inspiration: Class of Invitation
Greet guests with an entrance they won't soon forget by creating a DIY graduation balloon arch to set at the backyard gate or entryway. You can also use balloons to spell out the graduation year or as a photo backdrop.
7. Use School Colors as the Color Scheme
Use school colors when picking out party supplies like balloons and table decor. You can choose a tablecloth featuring one of the school's colors and select paper plates and tableware in the second school color for a vibrant look. If it's a high school graduation party, you can use the colors of the local high school they're graduating from or opt for the colors of the college they'll be attending.
8. Hang String Lights
Invitation inspiration: Lined Arch Invitation
One of our favorite graduation party ideas is decorating with string lights. These whimsical accents instantly add a magical note to this special celebration. Hang the string lights from trees in the backyard or drape them on tables for ambiance. Look for solar-powered lights you can use year-round in the backyard or opt for battery-powered options so you don't have to worry about guests tripping over extension cords.
9. Create a Backyard Drink Station
Craft a backyard drink station using galvanized tubs and wooden crates. If it's a college graduation and the honoree is of drinking age, you can add themed spirits to the drink table. For a high school graduation party, lemonade and punch dyed in school colors are sure to be a big hit.
10. Design Table Centerpieces
Invitation inspiration: Foil Palm Leaves Invitation
Instantly class up your backyard tables by designing centerpieces to reflect the mood of the moment. You can fill Mason jars with fairy lights for a magical feel or opt for silly and fun centerpieces with photo frames of the graduate at various ages. For an effortless centerpiece, grab some vases and fill them with flowers in school colors or opt for summer favorites like sunflowers and daisies. 
11. Create a Photo Backdrop or Photo Booth
Make memories of the big day that will last a lifetime by creating a photo booth or backdrop. You can order a weather-resistant vinyl banner or make your own design using butcher paper, streamers, and balloons. Set up a table nearby with photo props like graduation caps, diplomas, and mini chalkboards with phrases like "You did it" and I'm done!"
12. Play Lawn Games
Invitation Inspiration: Flourished Pen Grad Invitation
Playing outdoor games is a fun way to keep guests entertained and add a competitive component to the bash. Set up graduation party games like cornhole, giant Jenga, or Spikeball. If your graduate played a specific sport like volleyball, baseball, or soccer, you can also plan outdoor games around those interests.
13. Create a Photo Display
Make the day memorable with photo displays honoring the graduate's accomplishments. You can create a photo wall on a fence using clothespins and string or opt for a large easel(or multiple easels) and tape the pictures directly on the stand. Choose photos from sports tournaments, their first day of school, and cherished family vacations. If the party is for a high school graduation, the graduate can take some photos with them to decorate their dorm room.
14. Indulge in Treats at a Dessert Table
Invitation inspiration: Scalloped Waves Invitation
Complement your graduation party decorations with tasty treats that are as gorgeous as they are delicious. Set up a dessert table with cupcakes and add toppers like popsicle sticks with pictures of the graduate. You can also DIY or custom-order cupcakes featuring things like graduation caps, the graduation year, or school colors.
15. Serve Fun Foods
Famished after all the fun? Make sure to keep guests full with fun foods that fit right in with these outdoor graduation party ideas. From classic backyard foods like burgers, wings, and veggie trays to nacho average graduate taco bars, there's food for everyone. 
It's Time to Celebrate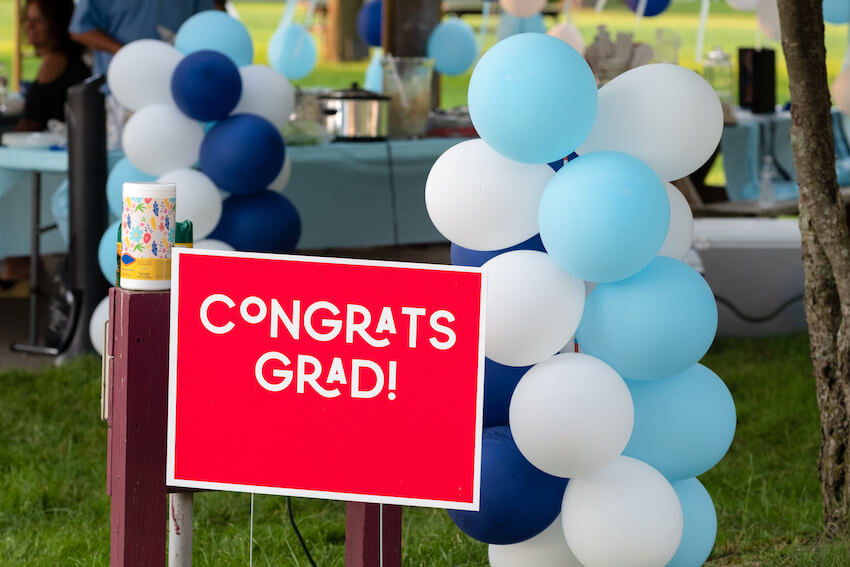 Whether you incorporate one, a few, or all of these backyard graduation party ideas, you'll no doubt have a fantastic time. But before you all gather for the event, you'll need to send out invitations. At Greenvelope, you'll find hundreds of graduation party invitations in styles ranging from formal and elegant to festive and fun. Customize the invites by uploading photos of the graduate, creating a custom color scheme, and adding elements like wax seals and music. You can also use these graduation invitation wording ideas to help you craft the perfect message for your special grad.