April 25, 2023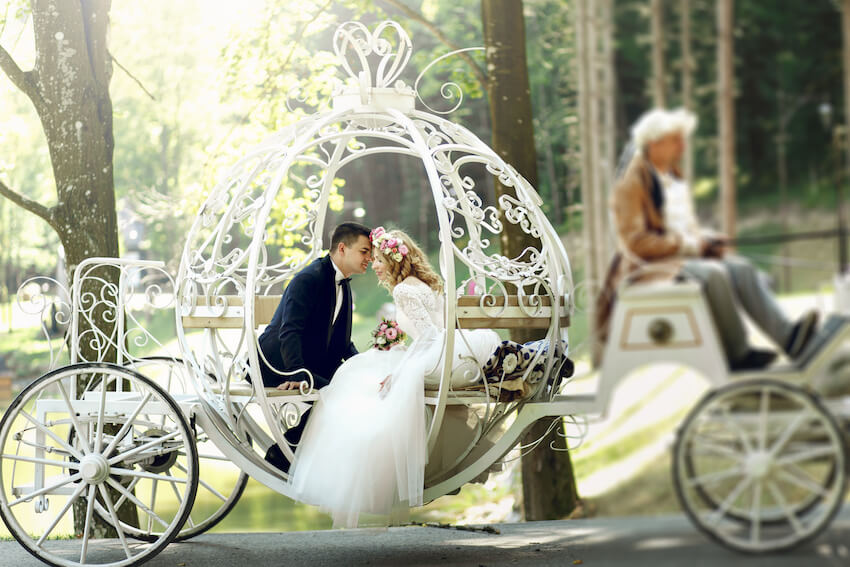 Love is magical and your happily ever after should be too. If you're dreaming of a fairytale wedding, you'll be thrilled to know that there are plenty of ways to make your special day even more enchanting. Here, you'll find some of our favorite fairytale wedding theme ideas from captivating venues and whimsical wedding flowers to charming invitations.

Fairytale Wedding Theme: 12 Ideas for a Magical Day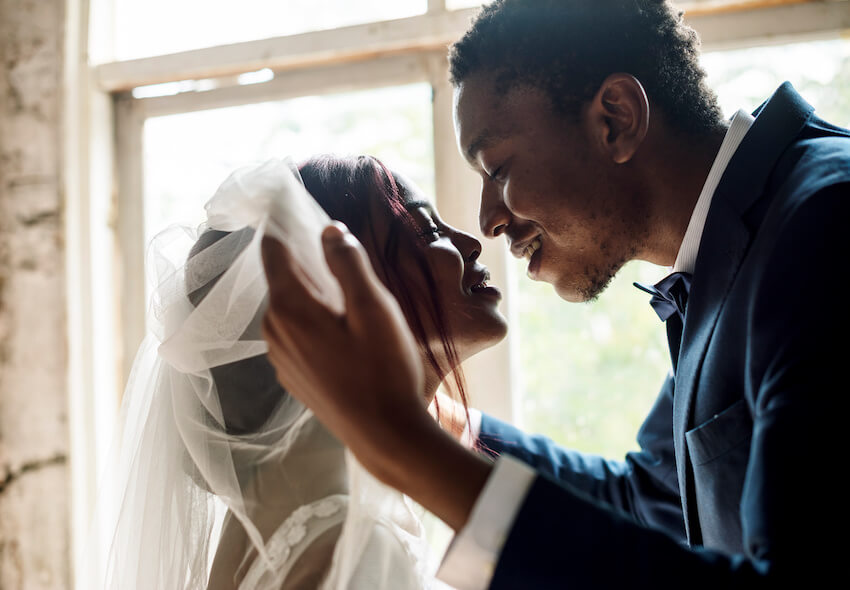 Planning a fairytale wedding theme is all about adding magical elements that transport you to a magical place both in mind and body. Here, we've gathered some of our favorite fairytale wedding ideas. From decor ideas that emphasize flowers and romantic lighting to dress inspiration and menu options, you'll find what you need to plan your dream wedding. 
1. Choose an Enchanted Location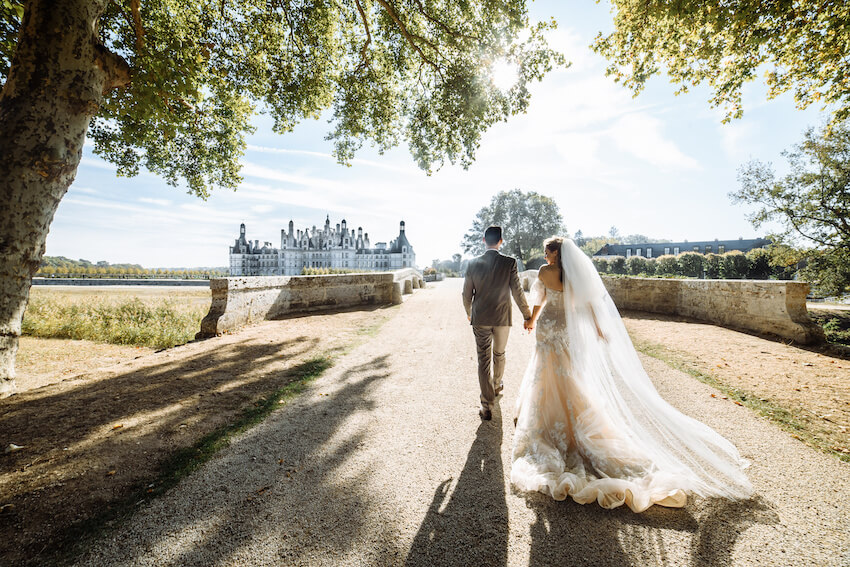 No fairytale wedding theme is complete without an enchanted venue. Go for old-world allure and say "I do" in an ancient castle. Not only is a castle a perfect choice for its history and fairytale symbolism, but it's also a practical option as the stone architecture and wrought iron accents will make for beautiful wedding photo backdrops. 
If you'd rather celebrate your big day surrounded by Mother Nature, consider having a National Park wedding or exchanging vows in an enchanted forest. You can also choose to get hitched on the shores of a crystal-clear lake or exotic sandy beach at a destination wedding that feels like a fairytale.
You might also consider booking a church wedding venue. Glorious options include the Notre Dame Basilica in Montreal (where Celine Dion got married), St. Bartholomew's Church in NYC, or Thatcher's Outdoor Chapel in Ojai Valley.
2. Go Big With Florals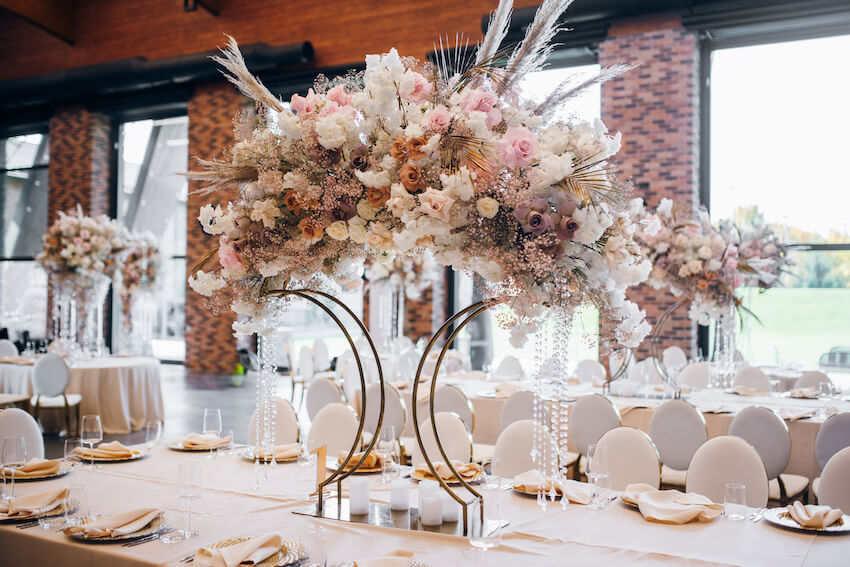 Take your fairytale wedding to new heights with over-the-top florals. Choose elevated arrangements in sky-high vases to create an imposing look. Opt for large bunches of dramatic florals including pampas grass, long-stemmed hydrangeas, and gladiolas. Use these flowers to decorate the wedding aisle as well as the centerpieces on tables.
If you don't have an unlimited flower budget, choose a natural tree arch or flower-lined walkway for the wedding ceremony. A park blooming with wildflowers or a park with leafy trees lining the path are also wonderful options. If you're having a forest wedding or boho outdoor wedding, have the flower girl and bridesmaids don flower crowns.
3. Arrange Memorable Tablescapes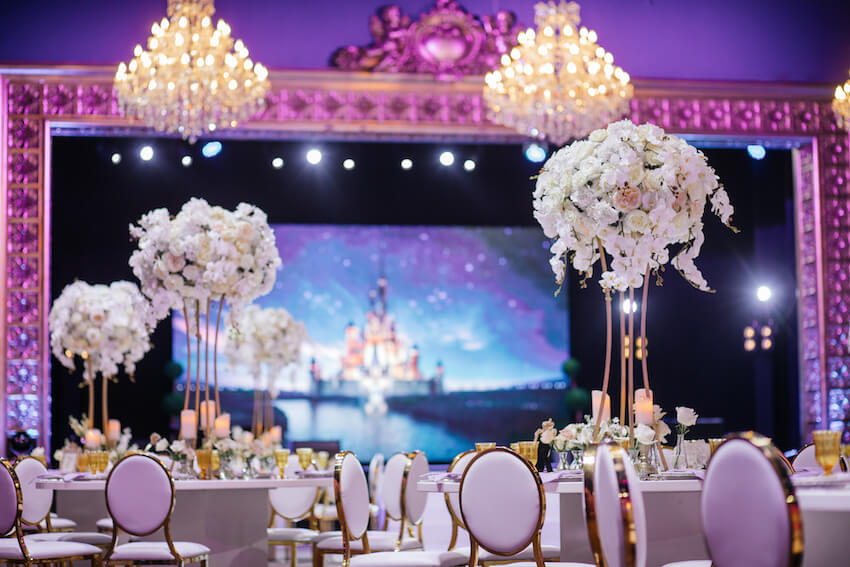 Make your special day even more memorable by incorporating your fairytale design into the wedding centerpieces and tablescape. Choose gold, black, or rose gold silverware for an elegant look. Serve a catered meal on fine dinnerware that matches your color palette. 
For your centerpieces, choose large, stunning elements. Oversized vases, tall candelabras, and crystal-studded canopies will add to the magical scene. Don't limit yourself to table decor. Choose romantic chandeliers as centerpieces or drape greenery above each table for a more natural take on the fairytale wedding theme.
4. Choose a Dramatic Dress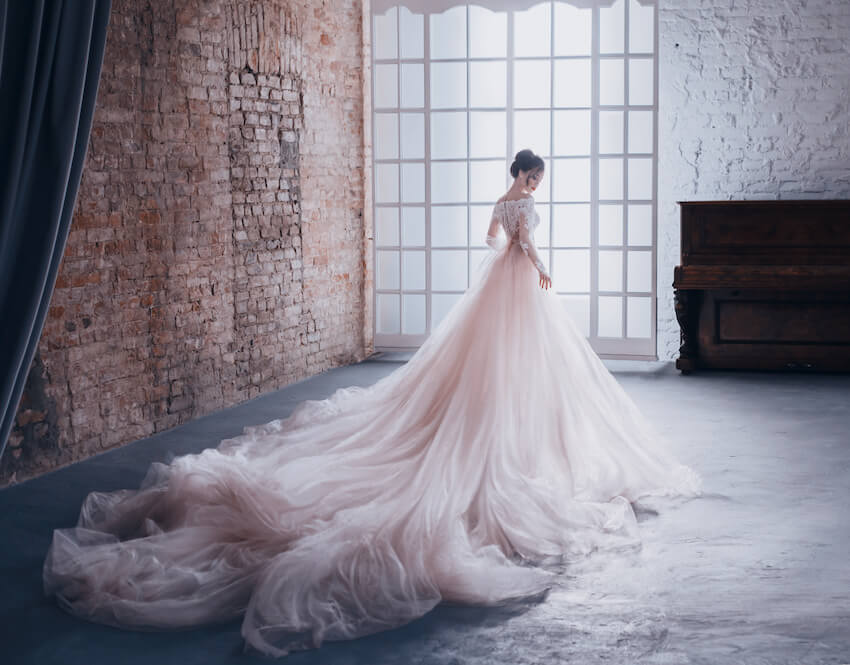 Play a starring role in your fairytale with a jaw-dropping wedding dress. Draw inspiration from fairytale princess stories like "Beauty and the Beast" and "Cinderella" and choose a beaded, floor-length ball gown. Tulle and lace offer an elegant touch to any dress.
Complete the look with gorgeous accessories. A tiara turns you into a princess and you can pay homage to the fairytale theme with glass slipper-inspired heels and jewelry fit for a queen. Hair accessories like a sequined headband or a jewel-studded veil are lovely alternatives to a tiara if that's more your style.
5. Add Your Monogram
Design a magical wedding with regal notes by adding your monogram or family crest to the wedding decor. You can include the crest on your place cards and add your monogram to the wedding altar. Monogrammed napkins elevate the look and you can even have the monogram stamped or embroidered into the aisle rug for a precious keepsake once the day's festivities are over.
6. Set the Mood With Romantic Lighting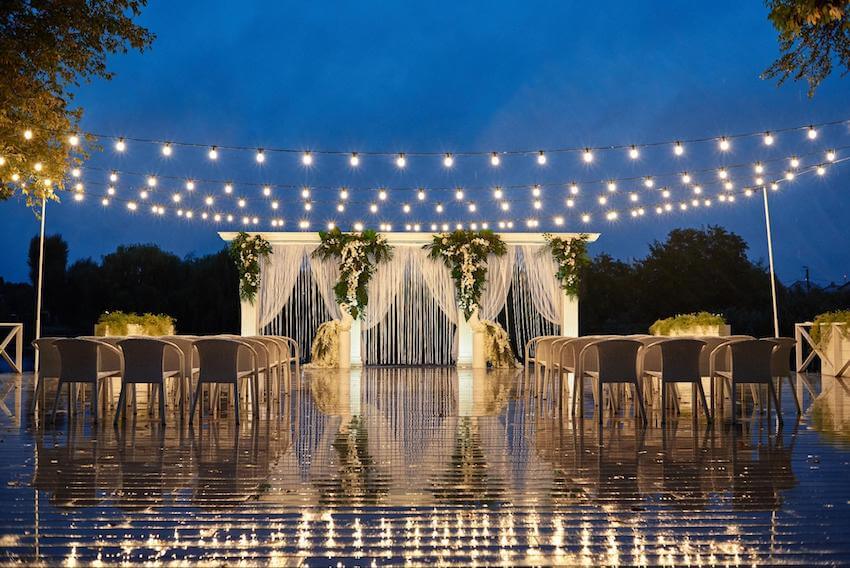 Set a romantic backdrop for your wedding day with whimsical lighting. Hang string lights above the wedding reception tables or use lanterns and candles to adorn the wedding aisle. Use fairy lights to add a soft glow to the dining tables and pair them with silk and satin drapery for a sophisticated look. 
7. Add Calligraphy to Your Invites
Nothing says fancy quite like calligraphy. Choose this font style for your invitations and wedding guests are sure to be counting down the days to the magical moment. 
8. Sail Off Into the Sunset on a Carriage Ride
Take the fairytale idea literally and incorporate a carriage ride into your big day. Instead of a normal getaway car, hire a company to pull you into your happily ever after on a horse-drawn carriage. You'll have to ensure this is part of your wedding budget, but if you can pull it off, it's sure to be memorable.
9. Order a Whimsical Wedding Cake
There isn't one specific fairytale wedding cake. You can choose a simple white cake with a sparkly cake topper featuring your wedding colors for understated glamor. Alternatively, you can order a custom-made cake with jewels and gemstones for an over-the-top fairytale feel. For nature weddings, look for rustic elements or opt for a cake that mimics the enchanted forest where you're exchanging your vows.
10. Get Inspiration from Fairytale Villains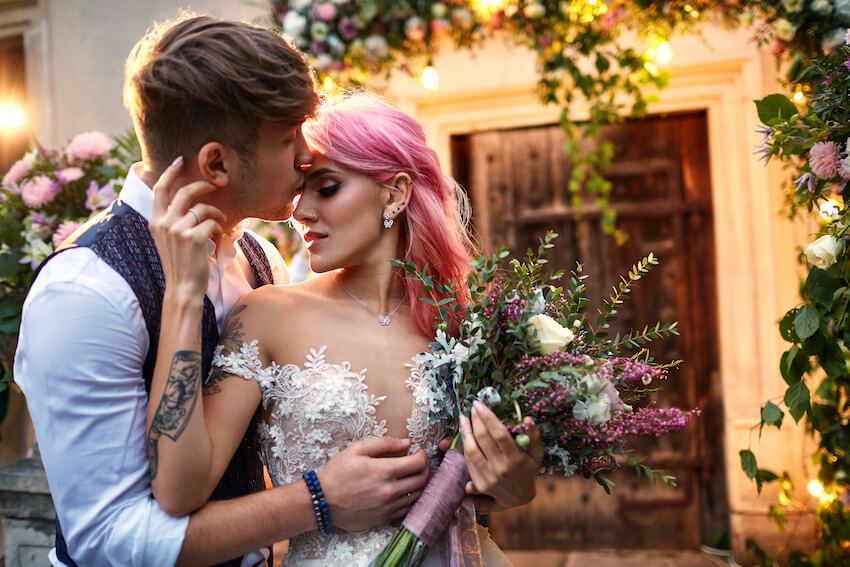 As you can see, the fairytale wedding theme is open to interpretation. If you're drawn to the dark side of this alluring theme, why not draw inspiration from some of your favorite Disney villains for a moody affair? 
Black accents and dark hues like maroon and amethyst create a dramatic backdrop that guests are sure to remember. You could even consider a fairytale-inspired all-black wedding. That said, if you want to lighten things up, consider a cream-colored aisle runner, ivory accents on your tablescapes and floral arrangements, or boho-inspired lanterns for subtle lighting.
11. Go for Seasonal Glamor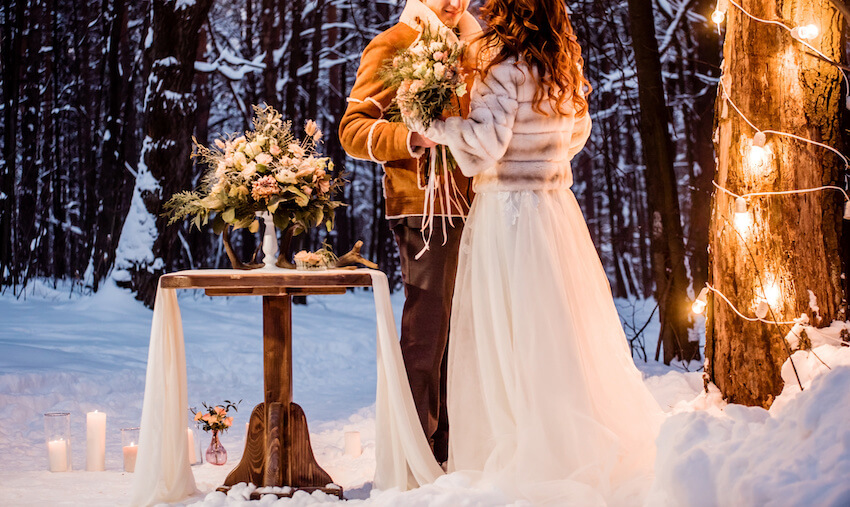 Say "I do" in a winter wonderland ceremony. The beauty of fluffy flakes falling from the sky and warm elements like fur throws and romantic lighting work together to create a mesmerizing scene. For the reception, you can create an apres ski vibe with comfy lounge areas, faux fur accents, and Nordic decor.
12. Choose a Fairytale Wedding Guest Book
Capture special moments and words from the wedding party and loved ones with a guest book. You'll find incredible hand-made designs on sites like Etsy or you can DIY if you like being crafty. Put the words "Once upon a time" on the front and ask guests to share their favorite stories and memories of you as a couple. 
6 Fairytale Wedding Theme Invitations
Now that you have some ideas for celebrating the big day with a fairytale wedding theme, it's time to pick out equally charming invitations. With Greenvelope, you can choose from a variety of digital wedding invitations to suit your moment. Each design is completely customizable so you can match your color scheme, change the font, and include elements like wax seals. Here are some of our favorite designs to inspire you.
1. Endless Love Invitation
This elegant invite features pastel hues, deckled edges, and soft script for a magical feel. It's ideal for fairytale-themed weddings, Disney weddings, and bridal showers.
2. Once Upon a Time Invitation
This whimsical invite features a hand-drawn castle and color palette inspired by the French Palace of Versailles. Use it to invite guests to a destination wedding in a castle or for a storybook evening.
3. Elegant Wildflowers Invitation
If your big day is packed with flowers, choose this colorful invitation. It boasts bouquets of poppies, lilacs, and sunflowers for a cheerful look that would work perfectly for an outdoor celebration.
4. Fairytale Landscape Invitation
Enchant your guests with this romantic wedding invitation. Featuring a forest scene, it offers a timeless style that's ideal for a magical wedding or bridal shower.
5. St. Louis Cathedral Invitation
Featuring a depiction of St. Louis Cathedral in New Orleans, this hand-drawn wedding invite is ideal for a church or castle wedding. It comes in a range of color palettes so you can easily match it with your decor design. 
6. Foiled Branches Invitation
If you're planning a storybook wedding in the winter, use this gold foil design to invite guests to the magical event. It features hand-drawn pine boughs and drifting snow for a whimsical feel.
Plan Your Happily Ever After
Happily ever after starts with a fairy tale wedding theme. From beautiful blooms and stunning locales to romantic lighting and custom fairytale wedding theme invitations, your big day is sure to be as memorable and magical as your love story. Here's to making all of your fairytale wedding dreams come true!