November 7, 2019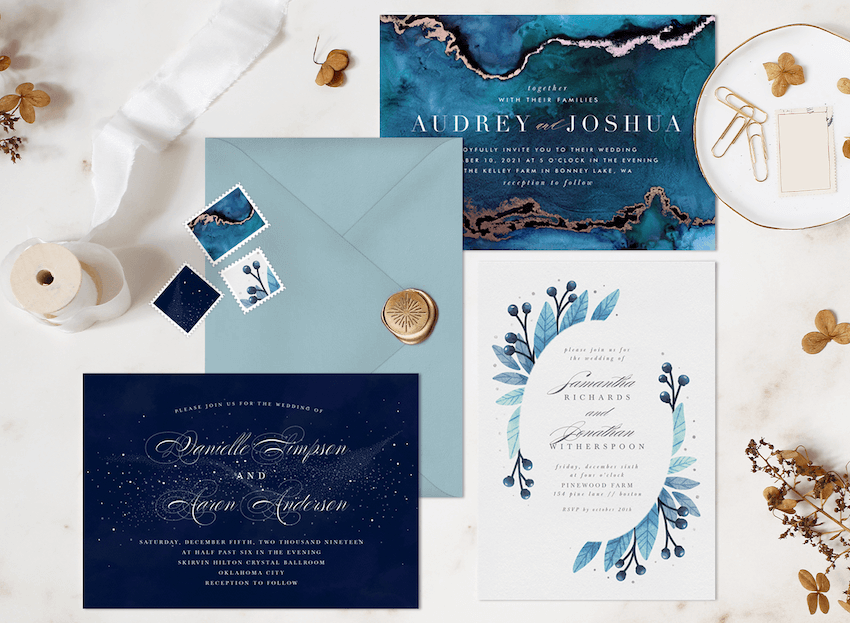 Let others have their wedding in June — you, my friend, want absolutely nothing of the sort. You've never wished for hot weather, short dresses, or guests fanning their faces. You want a whimsical evening, featuring a snowy backdrop, a classic color palette, and enough seasonal cheer to light up the evening. And to complete your winter wonderland dream, you need a winter wedding invitations.
Your invitation should represent this snowy season you love so much. You're picturing gold-plated fonts, maybe a little greenery, and florals you might see around the holidays. And of course, it should match the decor you plan to use at your reception, including scenic, mountain backdrops, pinecone and evergreen centerpieces, and twinkling holiday lights in every corner.
Below, you'll find a dozen invitations that complete your winter wedding vision. With corresponding save the dates and thank you notes, these 12 invites seem to love this season as much as you do.

12 Winter Wedding Invitations to Pull off Your Dream Day
When it comes to winter weddings, seasonal invitations are always the most appropriate. Each of these 12 invitation designs feature elements that give a preview of your winter wonderland theme.
1. Radial Blooms Invitation
If you're looking for a whimsical winter wedding reception, you might enjoy this floral wedding invitation. It features a gold foiled wreath of leaves and white flowers, surrounding white text. Select from a navy blue, pale pink, or gray color palette. Pair it with a matching save the date, complete with a photo card of the happy couple and a thank you note.
2. Gold Chevron Invitation
If you envision a sophisticated black tie only affair for your winter wedding, you might enjoy this gold chevron wedding stationery. The couple's names are written in elegant calligraphy in the center, surrounded by geometric, laser cut stripes. With a matching gold-lined, charcoal envelope, it will be the finishing touch to your formal reception.
3. King Portea Invitation
For every bride who dreams of overflowing bouquets of lilies, rose petals down the aisle, or tall centerpieces filled with white roses and greenery, this winter wedding invite is for you. Featuring illustrated king protea flowers, leaves, and other botanicals in gold foil, it's a beautiful way to bring florals into your winter wedding. Choose from a pale nude, black, green, or white color palette, or customize it to make it your own.
4. Winter Nuptials Invitation
Does your wedding date land upon the first snowfall? You and your better half might enjoy this simple, yet classic design featuring one of your engagement photos. Three small, hand-drawn snowflakes rest at the top, leaving space to personalize your invite. The details of your big day lay below. You can choose different photos for your thank you and save the date cards, or simply feature the same for all three.
5. Art Deco Diamond Invitation
Will your special day be nothing short of a snowy fairytale? This all-white invitation is fit for a blustery winter wedding. Pull out your white shawls and bubble umbrellas to protect you from the light snow that's sure to fall. This gold-lined invitation is elegant enough for your winter wonderland wedding.
5. Winter Roses Invitation
Do you want your winter wedding to be a simple, family-only event? This winter roses watercolor wedding invitation might match your minimalist tastes. Featuring a light, lavender background and illustrated roses as a header, it has the simple touch you're looking for. The save the date and thank you note are equally effortless, featuring a small wreath of roses and greenery in the corners.
6. Metallic Woodgrain Invitation
Have you always imagined throwing a rustic winter wedding? Will there be mason jars, holiday lights, and more candles than you can count? To offer a small preview of your rustic decor, send out this woodgrain invitation suite to your family and friends. The background speaks to the chic flare you're going for but is so subdued it won't give your rustic wedding theme away.
7. Dreamy Lanterns Invitation
Looking to light up your special day? This whimsical, one-of-a-kind design is inspired by Moroccan and Spanish lanterns, adding a bit of unexpected flare to your evening. The dark green background offsets the gold lanterns nicely, and makes a dreamy preview for your special event. At your wedding reception, include lanterns or candles at the head table, or string up gold holiday lights around the bar area.
8. Subtle Romance Invitation
Is February your favorite month of the year, and thus the chosen month for your wedding day? Are you offering everyone on your guest list a plus one? If you are head over heels in love with love, you might enjoy this romantic design. Featuring luscious florals in the background and a bold print, it matches your vision beautifully.
9. Foil Pine Branches Invitation
Whether your reception is held at a lodge, ski resort, or a mountain cabin, this makes a grand invitation for your winter wedding. With hand drawn pine branches in the corners, it feels like the cozy welcome your guests have been waiting for. And while it will certainly be chilly outside, dinner and dancing will keep everyone warm through the evening.
10. Snow-Capped Trees Invitation
For those of you who deem the holidays your favorite time of year, a winter landscape provides all the wedding decor you need on your special day. If you love a white, snowy holiday season and therefore chose it for your wedding date, you might enjoy this simple holiday card invitation. It features a monogram of your and your loved one's names over a scene of a snowy pine forest.
11. Golden Rose Invitation
If you picture your wedding day as a grand, winter affair, you might want to consider this invitation. Featuring a gold and navy blue color palette with your wedding invitation wording set in white, it's the classic, sophisticated look you've been seeking. With an all-gold envelope, it offers a subtle hint of a regal wedding.
12. Shimmering Confetti Invitation
If you are celebrating your wedding on New Year's Eve, with bottles popping and champagne flowing, you need an invitation to match the celebration. This shimmering confetti party invitation speaks of celebration, perfect for a wedding held on December 31st. Tell your guests to wear their best black ties and sparkly gowns. There's a party to be had.
Greenvelope Is Here for Your Winter Wedding
Winter is a special time — the temperatures might be dropping, but the outdoors look completely magical. There are lights and lanterns everywhere, and everyone is in a giving spirit. Honestly, we couldn't imagine a better time to exchange your wedding vows.
That being said, it's a busy time of year. Your special day is competing with office holiday parties, Christmas gatherings, and New Year's parties. And chances are, you're not just sending out save the dates for your special day — you're also sending out bridal shower invitations, notes about your bachelorette party, and invitations to your rehearsal dinner. Out of respect for your guests and to ensure you're surrounded by those you love on your special day, it's important to get your invites out as soon as possible.
Luckily, with Greenvelope you don't have to worry about address labels, licking envelopes, or losing an invitation in the mail. You can customize a gorgeous wedding invitation in a matter of minutes so it can arrive in your loved ones' inboxes before the holiday mail rush. In fact, the most challenging part of this postal experience is simply deciding which winter wedding invitation to send out.