March 15, 2022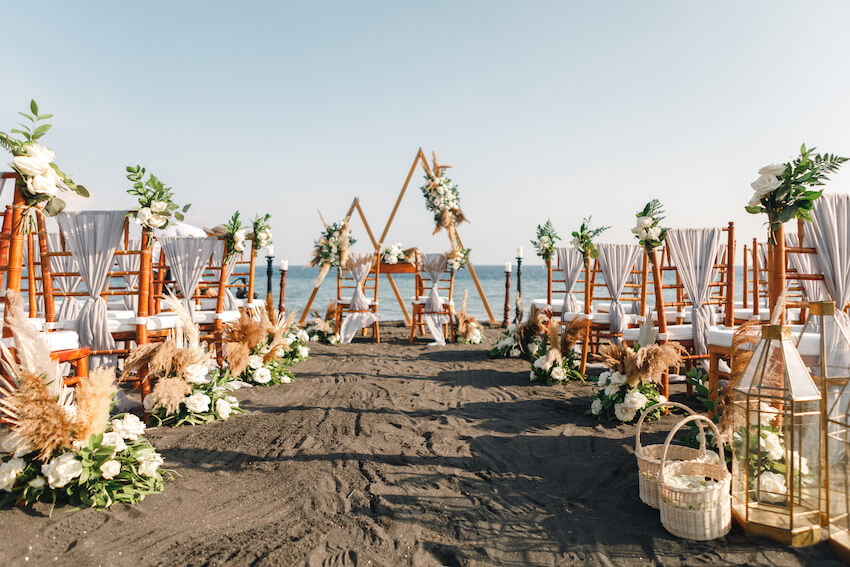 If you want a stunning backdrop and a dreamy feel, a beach wedding is a wonderful way to say your vows and celebrate with loved ones. Whether you head away to a tropical destination or celebrate locally, all you need is the right beach wedding ideas to make your day feel special. 
Plan your way to your big day with these beautiful ideas. We'll explore themes, decor, dress code, and even the practical things you might forget — plus some of our favorite invites to help you share the exciting news. 

Creative Beach Wedding Themes
Having a theme for your beach wedding means that you can create a stunning, cohesive look throughout the big day — from your wedding attire and menu to your guest book and place cards. Take inspiration from these creative beach wedding ideas to help you find a unique theme for your wedding day. 
Surfer's Paradise
Say "I do" surrounded by surfboards and vintage-inspired decor with a surfer's paradise-themed wedding. Invite your loved ones to a beachy adventure where bright colors, funky music, and a laid-back feel are all part of the vibe.
This theme is perfect for a summer wedding by the beach. Go really casual and encourage people to hit the surf with you after the big event, or simply use the surf scene for decor inspiration — think surfboards and a beautiful wave-inspired backdrop instead of a traditional wedding arch. 
Under the Sea
Take inspiration directly from the ocean and host an under the sea-themed wedding. Choose a color palette of gentle blues and greens with tropical pinks, yellows, and oranges as accents inspired by ocean fish and coral reefs. 
There are so many ways to bring the mystery and beauty of nature into this wedding theme. Create stunning tablescapes with oversized sea creatures and natural elements like shells, driftwood, and rope. Opt for boutonnieres in a beautiful sea blue, or swap them for a quirky starfish or whale pin instead. 
Glamorous Oceanside Party
Hosting your big day by the beach doesn't mean you have to go super-casual or literal with your theme. This could be the perfect moment for you to go ultra-glam with a luxe beach wedding ceremony or elopement. 
Ask your friends and family members to watch you exchange vows at a stunning beachside venue with contemporary yet luxurious decor. Opt for a black, white, and gold color scheme, and continue the theme with a sophisticated dining menu and entertainment schedule. Set a cocktail attire dress code, encourage people to wear something glitzy, and spend the reception dancing away as the sun sets.
Fun Beach Wedding Decor Ideas
Whether you want to go for a lavish look or something simple for your big day, there are lots of lovely beach wedding ideas you can borrow while wedding planning — especially when it comes to your ceremony and reception decor. Here are some of our favorites. 
Beachy Wedding Arch
Wedding arches and beach weddings are a great match. Stick with a traditional floral wedding arch with the same flowers as your wedding bouquets, or branch out with palm leaves and tropical blooms. You could even make your wedding arch out of driftwood and greenery for a minimal look, or steal the show with an arch inspired by coral, seashells, starfish, and your favorite marine animals. 
Shells as Decor
Most of us have taken a beautiful shell or two home as a vacation memento, but they're also perfect to include throughout your wedding decor — especially for a boho or rustic wedding. Ask for your napkins to be shaped like shells, create a stunning DIY shell centerpiece, or hand out a jar of shells as a themed wedding favor. 
Tropical Tablescapes
If you've gone bold with your wedding color scheme, a tropical tablescape is a gorgeous way to honor your surroundings and continue the quirky theme. Use gold-toned cutlery instead of silver, ask for brightly colored tableware, and decorate your tables with turtles, dolphins, tropical fish, and tiny starfish items.
Beach Wedding Party and Guest Attire Inspiration
While the sand and wind might affect your shortlist, you can generally opt for any dress code or theme that you want. If you're not sure what to pick, here are three of our favorite wedding party and guest attire themes for an oceanfront celebration. 
Relaxed and Casual
One option is to keep things casual. This is ideal for a relaxed celebration — especially one where you might be playing games on the beach or heading out on a boat afterward. Let your wedding guests come in a casual summer dress or shirt and shorts with sandals. For you and your fiance, stick with the relaxed theme — your suit(s) don't have to be formal, and your dress(es) don't have to be long, white, and flowing. 
Bright and Tropical
A tropical-themed beach wedding is ideal if you want to wear a more quirky beach wedding dress or suit, or if you want to really make an impact with your wedding photos. Add some color to your bridesmaid hairstyles with bright flowers or a shell headband, and go wild with your groomsmen's suits in a bright color or a patterned shirt. Encourage your guests to show up in something equally as colorful, and enjoy a celebration that feels vibrant and fun.
Sophisticated and Luxe
One look that always stands out against the tide is a luxurious black tie or cocktail attire dress code. Go ultra-formal with your wedding party attire, or simply take inspiration from a sophisticated black and white color scheme and luxe fabrics. Set a formal dress code for your guests so they know what to expect, and ask them to wear something they feel incredible in. 
Practical Beach Wedding Ideas
Beach wedding ceremonies are wonderful, but they do come with a few practical concerns. Here are a few things you'll want to check on with your wedding venue or consider providing for your guests to create the ultimate experience. 
Umbrellas and Fans
Any outdoor wedding can feature unpredictable weather, but a beachside wedding is especially prone to it. The hot sun, blowing wind, and sea spray are all things to be aware of. Prepare your guests with umbrellas and fans to borrow, so they can shelter from the elements in comfort while you say your vows. 
Shoe Storage
One of our best beach wedding ideas is to provide somewhere for your guests to store and change shoes — especially if your reception takes place away from the sand itself. Create a shoe storage area where people can swap their heels or formal shoes for flip flops or sandals. This way, they'll feel comfortable without compromising on their afterparty style. 
Sound System
It can get pretty noisy on the oceanfront, even if you've booked a private beach for your ceremony. To help all your guests feel like part of the ceremony, you might need a sound system. Work with your venue to figure out what the best option is — they'll be able to find the best places to put mics and speakers so that it feels seamless. 
Tasty Beach Wedding Menu Ideas
With the ocean as your backdrop, it's easy to feel inspired by your surroundings when creating your wedding menu. Here are some of our favorite beach wedding ideas for your food, drink, and all-important wedding cake. 
Delicious Local Dishes
Host a luxe BBQ, add some seafood to your menu, or feature classic dishes from your destination wedding location — like Hawaii or the Caribbean. Think fresh, flavorsome, and easy to enjoy by the beach. 
Refreshing Drinks 
Keep the flavors fresh for your drinks menu, with a variety of wines, cocktails, sodas, and fresh fruit juices. Opt for chilled cans and bottles for a celebration on the sand, or set up a quirky beach bar where guests can order your signature wedding cocktail. 
Beach Wedding Cake
Order a tasty cake for your wedding reception that matches your theme beautifully. Opt for a delicate ocean-inspired ombré on your icing, or have a whimsical cake topper designed that features dolphins or tropical fish.
More of Our Favorite Beach Themed Wedding Invitation Designs
Planning your dream beach wedding theme is so much fun. Share that excitement with your loved ones by choosing themed wedding invites. Here are just a few beach wedding invitations to explore and add to your shortlist. 
Deep Blue Sea Wedding Invitation
We adore the depth and layers on this deep blue sea wedding invitation. Those mysterious, powerful waves and elegant typography create an invite with impact and intrigue. 
Nautical Infinity Knot Wedding Invitation
Celebrate your everlasting bond with this nautical infinity knot wedding invitation. The beautiful, classic typography and traditional colors make this invite ideal for an elegant beachside wedding. 
Underwater Romance Wedding Invitation
For a more whimsical take on an invitation, we love this underwater romance wedding invitation. The fun wording draws attention to your names and wedding date, while the adorable illustrations suggest that your wedding day will be a little more magical than other beach ceremonies.
With Greenvelope, it's easy to transform these online invitations into something that feels totally unique to your big day. Choose your favorite color option, or work with our designers to customize it so it matches your color scheme perfectly. Add your wedding details, then use any extra space to share a sweet greeting or message of thanks. 
Plan and Host the Ultimate Beach Wedding
Use this guide as your go-to for wedding inspiration and ideas on how to turn your dream beach wedding into a reality. Think about your theme, menu, decor, and how you can create a wonderful experience for guests and newlyweds alike. 
When you're happy with your wedding day details, let your guests know where and when they can celebrate alongside you with themed wedding invitations. Browse beach wedding invitations, find a design that suits you, then start customizing and send it on its way to your guest list.