November 3, 2022

Whether you're planning a winter wedding or simply love the look and feel of the season, a winter bridal shower is a wonderful way to celebrate this special moment with your bridal party and other loved ones. 
To help you dream up an incredible winter bridal shower, we're sharing top tips and planning ideas to create an unforgettable event. You'll also find some of our favorite winter bridal shower invites to keep your celebration on-theme from beginning to end.

15 Stunning Winter Bridal Shower Ideas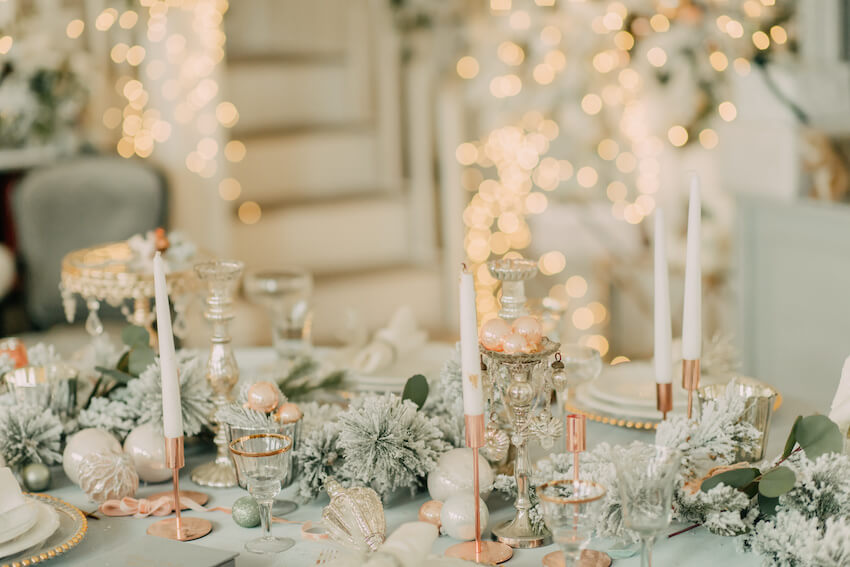 A winter bridal shower theme is a chance to embrace all things wintry, cozy, and whimsical. Use these bridal shower ideas to help you create a magical bridal shower, co-ed wedding shower, or even a winter-themed bachelorette party. 
1. Snow-Tipped Foliage
Set the scene for your very own winter wonderland with snow-tipped foliage as bridal shower decor. Wreaths, garlands, and individual leaves all look incredible with a touch of faux snow. Mix in natural foliage, soft fabrics like chiffon or lace, and wooden elements to create a welcoming look. 
2. Winter Color Palette
A winter bridal shower can work with a variety of color schemes —match it with your wedding color palette or opt for something entirely different. Choose soft, delicate pastel hues for an ethereal look or consider shades of red, green, and gold for a holiday feel. Dark purples, deep blues, and other rich jewel tones contrast well with white for a striking effect. 
3. Pretty Wintertime Table Settings
Table settings are a fast and easy way to spruce up your winter bridal shower decor. Use motifs like snowflakes, pine trees, and snowy cabins across your place cards, menu cards, and table decor. Use your color palette to guide your choices and create a cohesive bridal shower theme. 
4. Hot Cocoa Bar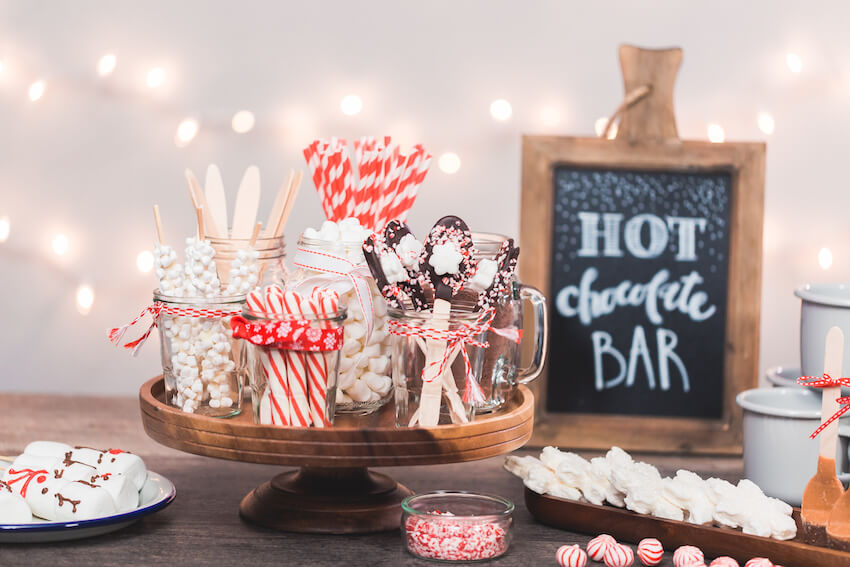 Give your bridal shower guests a wonderful treat by setting up a DIY hot cocoa bar. Serve up hot chocolate and coffee with plenty of syrups and toppings for your guests to choose from. Fill different jars with cinnamon sticks, chocolate sprinkles, mini marshmallows, crushed peppermint, candy canes, toffee bits, and any other sweet treats you like. Plus, you can keep your supplies and reuse them for a fun holiday party. 
5. Wreath Making Experience
Enjoy a seasonal-inspired activity at your winter bridal shower with some merry wreath making. Hire someone to lead a wreath making workshop, where you and your guests make your own winter holiday wreaths with all the supplies provided or set up DIY crafting stations at home. It's a fun way to get into the spirit of the holidays while celebrating your big day.
6. Warm Apple Cider
Warm apple cider is always a welcoming drink during the cold winter months. Whether you buy it from your local cider mill, supermarket, or make your own apple cider, this seasonal sipper is sure to keep your guests feeling warm and toasty. You can offer this alongside a hot cocoa bar or offer it on its own — perhaps with some apple cider cocktails as well. 
7. Rustic Decor
While your winter bridal shower doesn't have to be all-out rustic, it's a good place to start when looking for bridal shower decorations. Take inspiration from natural hessian fabrics, mini wood circles, fresh flowers, and antiques to help you put together a display or tablescape that exudes plenty of wintertime vibes. 
8. Cozy Blankets
Blankets are great if you're celebrating outside, hosting a pajama party, or simply want to add a dash of cozy-chic decor for your cold weather soiree. If you have the budget, consider offering cozy blankets as bridal shower favors for your guests. 
9. Waffle Bar
Bridal shower brunches are always popular, but there's one way to make them next level — by adding a waffle bar. Pair freshly cooked waffles with a delicious array of toppings and invite your guests to have fun customizing their dish. Fresh fruit like peaches and bananas are always tasty, and make sure you have plenty of whip cream and maple syrup too. 
10. Wintry Centerpieces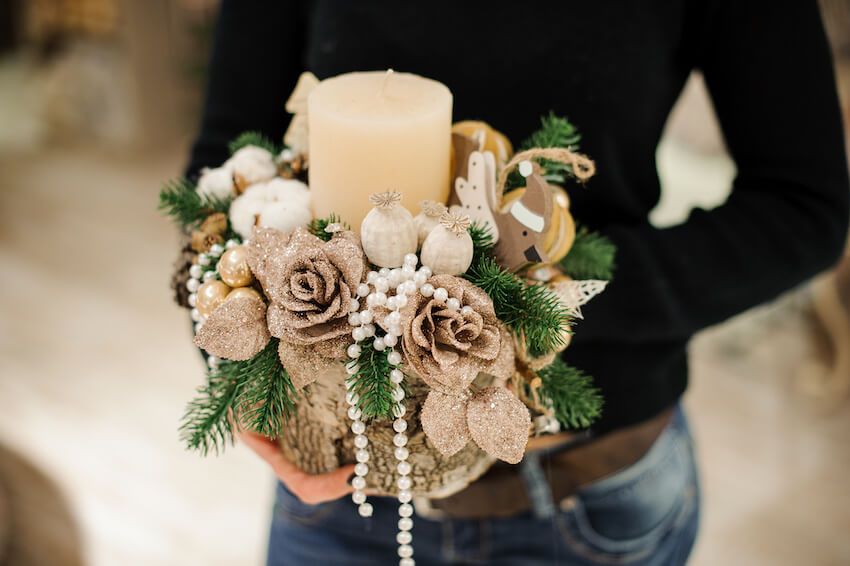 Explore your creativity with a DIY winter-themed centerpiece for your tables. Start with seasonal greenery like real (or faux) leaf garland, then add vases of fresh flowers for beautiful pops of color. Gather materials like pinecones and pieces of wood to add interest, and even feature some mini woodland animals for an adorable surprise. 
11. DIY Ornament Painting
If the holidays are just around the corner or you're having a Christmas wedding, invite your loved ones to join you to make or paint ornaments to hang on their Christmas trees. Put together a DIY experience with plain ornaments that guests can decorate with a selection of ribbons, glitter glue, puffy paint, and stickers, or host your party at a local ceramic shop where you can paint your own clay ornaments. 
12. Winter-Themed Bridal Shower Games
Classic party games like bride-to-be trivia, scavenger hunts, and bridal bingo are fun. But you can give these bridal shower games a themed twist by investing in some printable winter bridal shower games from Etsy or by handwriting your own. 
13. Glowy Lighting
Set a sophisticated scene with plenty of barely-there, glowing lighting. Choose lanterns with tea lights for your dining table, or string lights with a warm hue for your party space. If you have color-changing LED lights, try switching them to a soft orange or warm pink to make it feel extra cozy. 
14. Mini Donut Bites
Mini desserts are always adorable for a bridal shower, and mini donut bites work perfectly with a cup of hot cocoa or a delicious seasonal hot drink. If donuts aren't your thing, mini cupcakes are a great alternative — especially if you add seasonal icing flavors such as cinnamon, peppermint, or maple syrup. 
15. Wintertime Bridal Shower Favors
Say thank you to your bridesmaids and shower guests with thoughtful bridal shower favors that suit the season. A luxury scented candle or mini pampering kit is a lovely idea, or you could offer a sweet finish with a hot chocolate kit or cookies in the shape of a snowflake, mitten, wreath, or star. 
Invite Your Guests with These Gorgeous Winter Bridal Shower Invitations
Now that you have a few party planning ideas, it's time to select your winter wedding shower invitations. Whether you're hosting a traditional bridal shower or a co-ed couples shower, these cards help set the tone for your celebration. 
Greenvelope's online invitations can be customized to suit your style and needs. Choose your favorite template, customize the layout and colors, then add your own wording to create a unique invite. Take a look at a few of our favorite winter bridal shower invites to get you started. 
Winter Greenhouse Bridal Shower Invitation
This illustrated winter greenhouse invitation is simply stunning. The delicate details, the cozy-looking plants inside the warm greenhouse, and the winter colors make this perfect for a winter bridal shower. 
Wintergreens Bridal Shower Invitation
The winter flowers on this contemporary wintergreens invitation create the perfect backdrop for your winter bridal shower invite. Choose from three gorgeous pastel shades and make this beautifully illustrated invite your own.
Handlettered Snowflake Bridal Shower Invitation
This handlettered snowflake invitation sets the scene for a winter wonderland party filled with snowflakes. Choose from a handful of winter color palettes or work with one of our designers to add your chosen color scheme to the design instead. 
Plan Your Dream Winter Bridal Shower
A bridal shower that you'll remember forever is only a few details away. Use these party ideas to help you plan a wonderful winter bridal shower brimming with warmth, delicious treats, and fun party games. 
With your plans underway, let your guests know about your celebration with the help of our winter bridal shower invitations. Choose a design you love, customize it, then send it so your guests can celebrate this special occasion alongside you.