February 22, 2022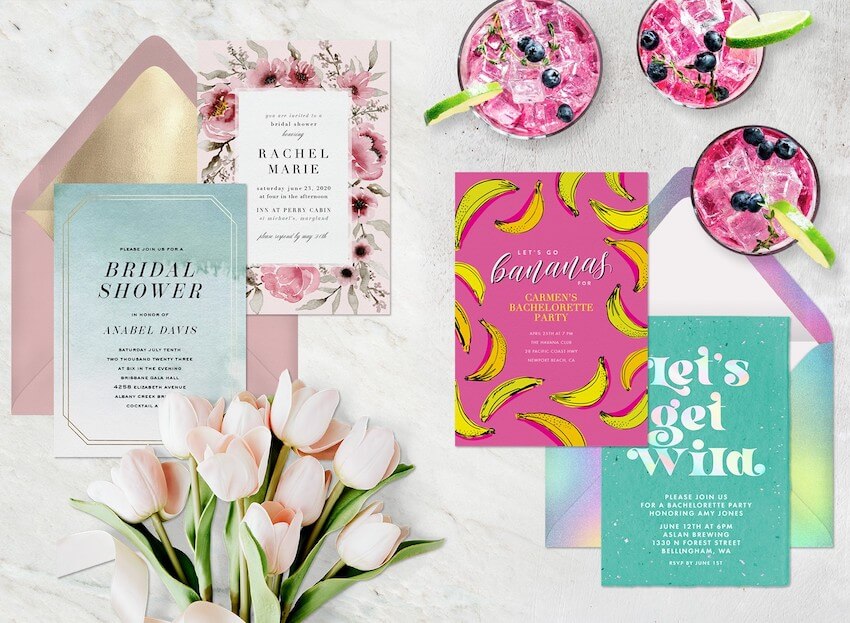 A bridal shower and a bachelorette party are on most brides' events calendar leading up to the wedding day. While both are popular parties, they can be very different — with their own unique themes, venues, and activities. 
So, when it comes to a bridal shower vs. bachelorette party, which should you host? Let's explore the main differences between these fun pre-wedding parties so you can decide whether you want one or both!

1. Reason to Celebrate
One of the first differences to consider between a bridal shower vs. bachelorette party is the reason for hosting the event. Like an engagement party, a bridal shower is very much about celebrating the bride-to-be and showering them with love, positive vibes, and best wishes for a new life of wedded bliss. 
On the other hand, a bachelorette party is more about giving the bride-to-be an excuse to party the night away before moving on to married life. While both events are celebrations of what's to come, there's a subtle difference in the reasons for hosting them. 
If you (or the bride) have been living with your fiance for a while and are already established as life partners, you might skip the bachelorette party. If there's a twinge of nostalgia for your single days and you want one last night out before you switch your focus, a bachelorette party is the way to go. 
Remember that these are just traditional themes — a bridal shower is often held during the day while a bachelorette party often means a night out. However, your bachelorette party or bridal shower should suit whatever you prefer. 
2. Event Host
Traditionally, your maid of honor and bridal party are your go-to party planners for a bachelorette party. They typically take care of all the details like finding a venue, securing entertainment, putting together a drink and food menu, and choosing a theme. 
For a bridal shower or wedding shower, it's much more common for the mother of the bride or the future mother-in-law to handle the arrangements. That's because it's often a more relaxed affair than a bachelorette party — plus it's a fun way to contribute to the wedding planning process. A bridal shower usually takes place at the host's home, and they'll sort out things like the food, decor, bridal shower games, and guest list. 
These days, anyone can host a bridal shower or bachelorette party, so don't feel locked into making a decision based on tradition. The bride's closest friend might host the bridal shower, and their mom might plan the whole bachelorette party. Ultimately, you decide who's best to work with on planning an epic party. 
3. Party Guest List
When it comes to bridal shower vs. bachelorette party, each event can have its own guest list. While they're both pre-wedding events, one often feels much more focused on close female friends of the bride while the other is more open to friends and relatives. 
A bachelorette party typically has a smaller guest list than a bridal shower, which includes the maid of honor, bridesmaids, and close friends. You might invite your mom and mother-in-law too — especially if you're hosting a relaxing retreat or daytime activity for your bachelorette party. 
With a bridal shower, you often invite close family members as well as your wider friend group. While bridal showers are traditionally for female relatives and friends, there's no reason why you need to keep your guest list exclusive to one gender. You might decide to invite the whole wedding party, or host a wedding shower with friends and loved ones that both you and your fiance want to attend. 
Whether you opt for a small or large guest list, ask your host to consider sending online invitations. Not only does this save time, but it also means there's more room in the budget to spend on incredible experiences, decor, and food. Plus, there are hundreds of bridal shower invitations and bachelorette party invitations that you can customize to your heart's content. 
4. Timing
You don't have to make a choice between a bridal shower vs. bachelorette party, but if you're hosting both it's a great idea to keep some space between them. This makes both events feel more special, even if they have a similar theme or involve the same people.
Typically, your bachelorette party would take place a few months before your wedding day. If you're being whisked away for a weekend or weeklong getaway, you might decide to host it even further ahead of your big day. 
Bridal showers happen much closer to the big day — often only a few weeks beforehand. This is because a bridal shower is usually more focused on the joy and anticipation of the wedding day, so it makes sense for the two to take place closer in time. 
5. Venue
Another key difference between a bridal shower vs. bachelorette party is where the party itself takes place. While you can host either event in almost any location, a bachelorette party is often held at a venue and a bridal shower usually takes place at the host's home. 
External venues like bars, restaurants, and even luxury rental houses are popular places to host a bachelorette party. You might even jet off to another country to stay in a stunning villa, or spend the night in a contemporary hotel in the city. Bridal showers are often hosted at home, or at a beautiful local restaurant, cafe, or hotel. 
A lot of this is for practical reasons. With a bridal shower, there's often an exchange of gifts. This means you need somewhere to receive, open, and store them. Bachelorette parties often feature activities and games, which might need space and hosts that you can only find at a venue like an activity center, spa, or club.
6. Atmosphere
When you think of a bridal shower vs. bachelorette party, one of the top things that stands out is the party atmosphere. One has a reputation for being a little rowdy, while the other definitely has a more casual, relaxed vibe. 
A traditional bachelorette party is usually vibrant, loud, and full of laughter. There might be a bar crawl, karaoke, and party games that last well into the night. A bridal shower is more likely to be a chic brunch celebration or daytime get-together with a more informal party theme and atmosphere. 
These aren't absolutes, though. You could have the most peaceful bachelorette party with a luxury spa day, or a lively bridal shower where you dance the night away to your favorite hits. There's no rule that says either party must be a certain way — it's totally up to you! 
7. Dress Code
Each party has a distinct look and feel, which will naturally reflect in the event's dress code. While we think it's always a good idea to match your dress code to your unique theme rather than the party type, the event category can help you figure things out.
If you're having a loud and flashy bachelorette party, you might suggest everyone wear their boldest, brightest outfits. For a sophisticated bachelorette dinner party, encourage people to come in cocktail attire. The same applies to a bridal shower — for a cozy gathering at home, keep the dress code casual. If you're enjoying a more formal brunch, dress the part. 
8. Activities and Games
If there's one thing that really sets a bridal shower and bachelorette party apart it's how you spend your time. Both events feature activities or games, but they can be very different depending on your plans. 
With bachelorette parties, you might want to have a wild night out, attend a concert, or try an adventure experience. These events usually center around one big activity while bridal showers are more casual. 
With a bridal shower, party games are always a winner. It's fun to gather around and make predictions, play bridal shower bingo, and see who knows the bride-to-be best. These inexpensive, simple games are an ideal way to celebrate in between the conversation, smiles, and snacks. 
9. Gifts
There's no reason you can't bring gifts along to a bachelorette party, but gift giving is much more common at a bridal shower. Think of it like a baby shower — only you're welcoming an exciting new life as a bride instead of a new baby. 
Popular bridal shower gifts include luxury homewares, skincare and beauty products, chocolates and baked goods, and beautiful sleepwear. Bachelorette party gifts are often amusing token gifts that match the party theme, or can include things you wouldn't put on your wedding registry — like lingerie or makeup. 
One thing to consider is the gifts you or your host might want to present to your guests at each event. A small, sweet thank you gift is a lovely idea for your bridal shower, while the host might provide a pamper package or personalized gift as a memento for your bachelorette party guests. 
Bridal Shower vs. Bachelorette Party: Your Events Sorted
There's so much to think about when planning a wedding — including the pre-event celebrations. Take inspiration from our activity suggestions, theme ideas, and venue recommendations to help you put together the ultimate wedding event. In the battle of bridal shower vs. bachelorette party, you decide which one comes out on top — or whether you want to celebrate both in style.