December 5, 2019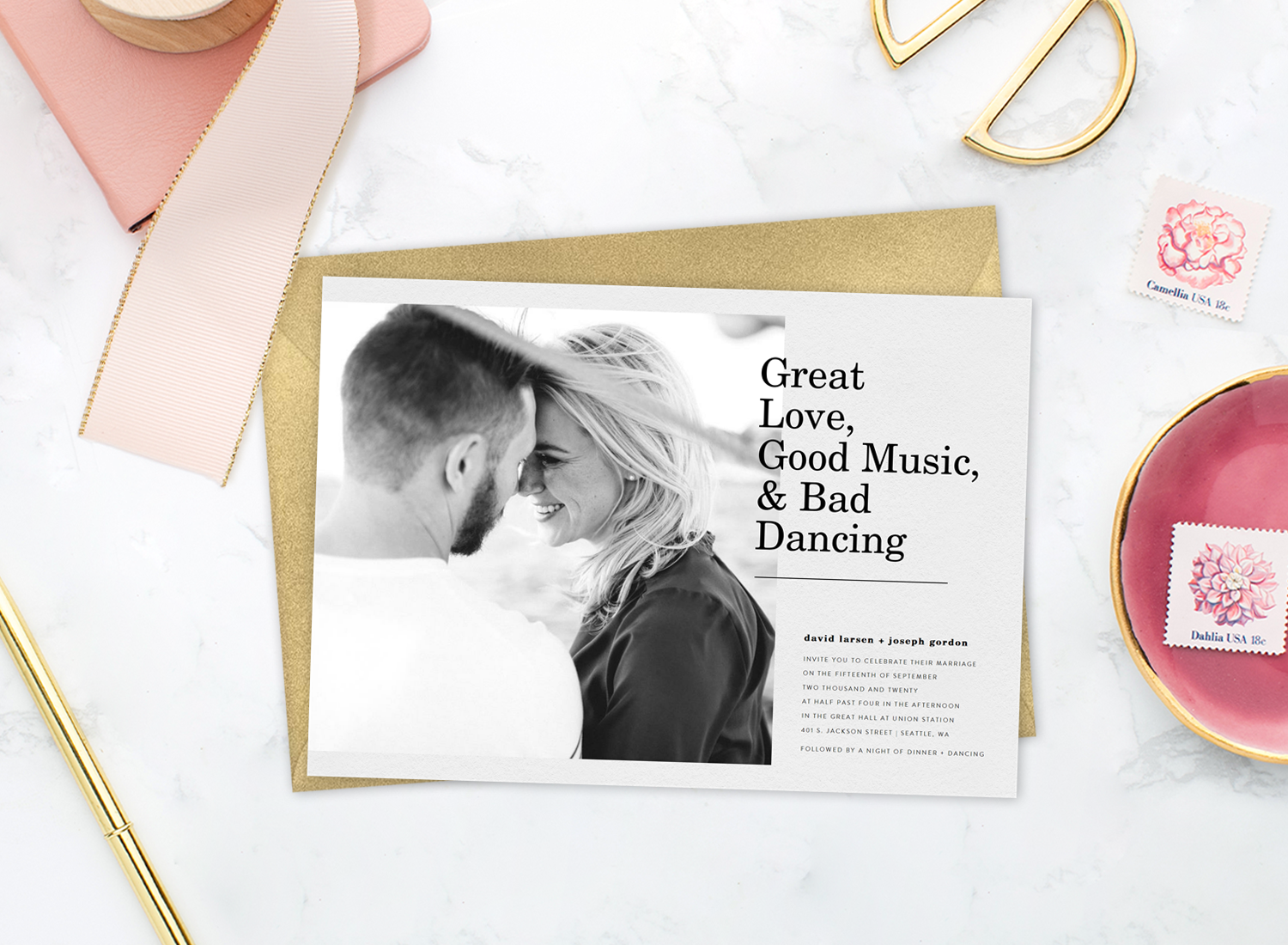 From your first conversation, you knew it was meant to be. The number one thing that attracted you to your soon-to-be partner for life was their sense of humor. And now that your big day is just a few months away, you're thinking that funny wedding invitations would be extremely fitting for your love story.
As you both get older together, the humor and light-hearted conversations you have together isn't going to fade. You'll be able to smile your way through the most stressful situations. You'll laugh at your mistakes rather than criticize one another for your shortcomings. And when life gets tough, you'll be able to follow the motto, "If you don't laugh, you'll cry," to get through it. Together.
So it's only appropriate, as you're surrounded by your family, friends, and other loved ones on your wedding day, that you keep the humor rolling. Below you'll find several examples of how to create your own funny wedding invitations.

What to Write on a Funny Wedding Invitation
Your wedding day should represent both of your personalities. If having a good laugh is important to you, there's no reason not to include a funny one-liner or clever pun on your wedding invite. Here are a few examples:
We're getting hitched! Be there for the start of our lives together on October 20th.
Never again will our parents ask us why we're still single. Want to join us in the celebration?
There's an open bar 'ÄĒ what else do you need to know?
It's time to sip a little bubbly and toast to the start of our happy ever after.
Sh** just got real. Join us on our big day on September 31st.
It's time to party and make a scene on the dance floor.
We're vowing to put up with each other for life. Will you put up with us (and our photographers) for one evening?
Say cheers and drink beers with us on our wedding day.
Love free drinks? Us too! Join us to cheers to our happily ever after.
Funny Ways to Get a Serious Point Across for a Carefree Wedding
Your friends, family, and bridal party love to have a good time 'ÄĒ just like you do. That being said, on your wedding day,¬†there will be a few serious moments. You'll want to get a few once-in-a-lifetime photo opps, you'll want eyes on you as you walk down the aisle, and you'll want everyone to hear the toasts.
Sometimes, it can feel a bit stiff to ask your fellow guests to put their phones away, quiet down, or respond promptly with their RSVP. However, there are some fun, offbeat ways to get your point across in your funny invitation. In fact, by writing your wedding invitation wording with a sense of humor, you can cherish those solomon moments, without bringing the party to a halt.
To keep your guests laughing and enjoying their evening, use these remarks on your unique wedding invitation:
To encourage people to RSVP by the due date: Please respond by May 6th. If you respond on or after May 7th, please bring a sandwich and a chair.
To remind your friends that an open bar still has limits: Please enjoy our open bar, but remember that we paid professional photographers thousands of dollars to capture your drunken moments. For all time.
To inform your guests that an open bar does not mean a full bar:¬†Drinks are on us! Unless you do shots 'ÄĒ that's on you.
To direct people where to sit at your ceremony: Grab a seat, either side, you're loved by both the groom and bride.
To remind guests to be respectful of magical moments: My fiancé waited 10,367 days for this. Eyes up, phones down.
To get guests to plan ahead for a destination wedding: The best wedding gift you can give us is getting your passport in time.
To ensure you get to see every last photo: We can't get enough of ourselves. So please tag any photos on social media with #WillBeWed.
Funny Questions to Ask on Your Wedding RSVPs
It seems as though one of the most stressful components of wedding planning is tracking RSVPs. Or better put: tracking down your guests to get their RSVPs.
With Greenvelope, we take the stress of tracking RSVPs off your plate. With our advanced guest tracking system, you know when your guests receive, open, and respond to your invitations.
Plus, unlike with a printable wedding invitation card, there's no need to hassle Aunt Carole for not mailing her RSVP card on time. Guests can simply click "yes" or "no" upon receiving their wedding invitation suite. For those who respond "yes," your big day can be automatically added to their calendar.
And part of the ease of online invitations is that you can include funny survey questions (and hilarious responses) with your RSVPs. Here are a few creative wedding invitation questions to do just that:
To ask guests to submit a song to the DJ: What's it going to take to get you to bust a dance move? Write your favorite jams below.
To ask their meal preference: Dinner's on us. Now can we take your order?
To get the best marriage advice before your big day:¬†What's the best piece of advice you have for us on our big day? Just please don't talk us out of it 'ÄĒ we already paid the caterer.
To get date night ideas for life: We said "Until death do us part," so we want to keep our marriage alive. Now what's a fun date idea we can use as man and wife?
To get suggestions for future kids' names: We aren't ready to graduate from being paw parents, but if our puppy had a human brother or sister, what should the name be?
How to Customize a Funny Wedding Invite
With Greenvelope, virtually any wedding invitation design can be made humorous. Simply select the design you want, customize it with your color scheme, then change the text to include a pun or funny one-liner. Choose from a wedding invitation template or go the DIY route, uploading your own design. Trending designs range from retro and spunky to classic and elegant, so you're sure to find a design to fit your needs.
Once you have your invitation design finalized, you can even personalize with funny survey questions and responses. It's as easy as that.
Cheers to Years of Laughter
From all of us at Greenvelope, we hope you have a wonderful wedding day. And we know that your wedding will be a complete representation of who you are as a couple.
While there are plenty of suggestions about what to write¬†on save the date cards¬†or what to print on the official wedding card, in the end it's up to you. If you want humor to play a central role in your wedding 'ÄĒ go for it. Find creative ways to weave fun language into your bachelorette party invitation¬†and¬†bridal shower invitation, or look for funny cards¬†to send as thank you notes.
Have a wonderful wedding day. And cheers to rolling with the punches for the rest of your lives.