April 20, 2022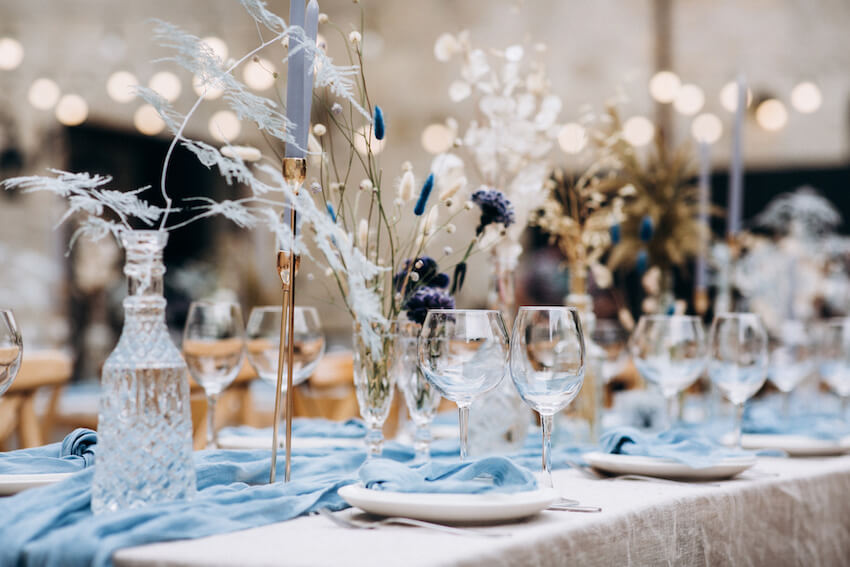 Hosting a bridal shower is an exciting way to show your loved one how happy you are about their upcoming nuptials. Whether you've gathered a few friends to plan a DIY event or are working with a professional planner, the decor you choose will set the tone. Whether you prefer something fun and irreverent or a more formal and sophisticated affair, it's up to you and the bride to decide how to honor this moment.
Fortunately, bridal shower decorations don't have to break the bank. Party supplies and decor items like balloons, confetti, greenery, and streamers offer a big impact even if you're on a small budget. To help you plan a memorable event, we're sharing some of our favorite ideas for bridal shower decorations. Plus, you'll discover bridal shower invites and designs to match your theme and decor.

Bridal Shower Decorations: 13 Inspiring Ideas
With bridal shower decoration ideas, there's something for everyone. Talk to the bride and see what type of bridal shower she'd like to have. There are hundreds of bridal shower themes ranging from tropical jungles and beach paradises to roller discos, masquerades, and backyard movie nights. Maybe she wants a formal brunch or perhaps she wants a casual backyard BBQ. The key is to get her input before planning the event (unless, of course, it's a surprise party).
Once you know what type of event the bride wants, select a theme and decide when to have the bridal shower. Below, you'll find more bridal shower themes as well as bridal shower decoration ideas to create the perfect party.
1. Choose a Bridal Shower Theme 
Invitation inspiration: Dainty Teapot Invitation
If the bride-to-be loves "Bridgerton," host a tea party and have guests dress up as Queen Charlotte. If she prefers a more rustic ambiance, throw a backyard BBQ or pool party. The theme could also be a color scheme — like pretty in pink, rose gold, or animal print.
Choosing a theme really comes down to knowing the bride's tastes and preferences. If you need help, ask her. Together, you can come up with a theme, and then you can take over and plan the perfect bridal shower decorations to match.
2. Greet Guests With a Welcome Sign
Invitation inspiration: Quaint Entry Invitation
A welcome sign is a great way to greet guests and display place cards or seating arrangements, if applicable. For a rustic bridal shower, you can choose a reclaimed wood sign or a chalkboard. For a swanky brunch or formal event, opt for an acrylic board or etched glass sign.
3. Use Garland
Invitation inspiration: Balloon Arch Invitation
Garland is a classic party decoration that's affordable yet provides that "wow" factor. Choose from balloon garland, flower garland, or something natural like a garland made from dried oranges. Bridal shower balloon garland is particularly popular because it's large and makes a great backdrop for photos. You can order balloon garlands from your local party supplies store or make your own using balloons and garland tape. 
Floral garland can get pricey, but it's a lovely option for rustic weddings and fancier bridal shower parties. Choose fresh flowers for a truly sophisticated look or go for silk florals to save some cash.
4. Streamers and Tassels
Invitation inspiration: Iridescent Confetti Balloon Invitation
Streamers and tassels make for dazzling decor without spending a lot of money. Hang streamers from the ceiling to create a fun atmosphere or add tassels to the tables for a touch of pizzazz. Choose vibrant colors if you're going for a fun, festive vibe, or opt for a neutral color palette for more refined events.
5. Let the Confetti Fly
Invitation inspiration: Confetti Umbrella Invitation
No party is complete without confetti! Add metallic confetti to the tables to create a hint of glamor. You can also sprinkle confetti around the bridal shower gift table and on the welcome sign for a touch of shimmer. Confetti doesn't have to be metallic though. You can make your own confetti out of burlap using a large hole punch or from sheets of cardstock and construction paper in various hues.
6. Don't Forget About Tableware
Invitation inspiration: Paris Cafe Invitation
It's easy to think that tableware and dishes aren't part of the decor. However, your choice of napkins, glasses, and cutlery can elevate your decor when done properly. If you're hosting an elegant soiree, consider rose gold metal straws and utensils. For an avant-garde look, go for black cutlery. For a rustic affair, bamboo plates and wooden accents are the ticket.
7. Focus on Table Decorations 
Invitation inspiration: Brunch Blooms Invitation
If your bridal shower is a meal-focused event like a brunch or BBQ, pay attention to your table decorations. The wedding party and guests will be seated at these tables for the majority of the event, so table decor plays a key role. One way to make a big impact is to create centerpieces. These can be floral arrangements, vases filled with greenery or party favors, and edible centerpieces.
For example, you can wrap a glass vase in tulle and tie a ribbon about an inch below the top, creating the look of a bridal gown. You can choose vintage teapots and fill them with seasonal flowers or use mason jars with photos or string lights. Feathers also make great additions to centerpieces.
8. Go Natural With Greenery
Invitation inspiration: Lush Greenery Invitation
Greenery and florals are among the most common bridal shower decorations, but they can also be a tad more expensive than other decor elements. To keep costs down, work with a floral wholesaler or use flowers and greenery from your garden or a nearby meadow. For floral arrangements, add ribbon, burlap, pearls, and other elements to create a boho or regal look. 
For elegant bridal shower parties, choose greenery and florals in neutral palettes or stick to one additional color for an eye-catching look. For festive events, mix and match bright hues for contrast.
9. Have a Photo Booth
Invitation inspiration: Simple Gradient Invitation (photo courtesy of Julia Kinnunen Photography)
When it comes to bridal shower and wedding decor, you want it to be memorable. One of the best ways to make memories is to have a photo booth. Include photo props that match your party theme. Popular ideas are hats, sunglasses, and mustaches, but the elements can be customized to match the bridal shower theme. Guests will love the photo booth since they can make fun memories they'll treasure for years to come.
10. Dress Up the Cupcakes
Invitation inspiration: Cupcakes Galore Invitation
When it comes to decorations, you might not immediately think of food. However, playing with food in this regard is absolutely recommended! Have fun with the food you serve at your bridal shower. Order cupcakes with large diamond rings as the topper or go for fun cake toppers with sayings like "getting hitched," "she said yes," and "I do."
You can even get guests in on the fun by having a cupcake decorating contest as one of the bridal shower games. Give guests a decorating kit and pre-made cupcakes and see what fun creations they come up with.
11. Be Bubbly With a Mimosa Bar
Invitation inspiration: Manis & Mimosas Invitation
Toast the bride-to-be with an at-home mimosa bar and brunch. Set out bottles of champagne and juices alongside DIY garnishes such as fresh fruit slices (or skewers) and herbs. You can even create a mimosa competition. To participate, each guest snaps a photo of their drink. Everyone can vote on the prettiest mimosa and the winner gets to take home a prize — like a special bottle of bubbly. 
To step things up a notch, consider a mimosa race where guests either run an obstacle course without spilling their cocktail or carry a tray of mimosas while running a quick sprint. It's best to use plastic mimosa glasses for competitions just in case!
12. Shower the Bride-to-Be with a Banner
Invitation inspiration: Papel Picado Banner Invitation
A bridal shower banner works just like a welcome sign, but it's also an excellent backdrop for photos. You can find pre-made banners at party supplies stores or you can make a banner yourself using paper or materials like burlap.
13. Party Favors
Invitation inspiration: Boho Beach Party Invitation
Bridal shower favors are a fun way for guests to remember the special day. Give guests a piece of the wedding decor — like a bouquet of flowers from the centerpieces — or artisanal items like soap, macarons, or organic tea. If you're hosting a beach bridal shower, a jar of sand with seashells is another fitting option.
Plan the Perfect Party for the Bride
From boho-chic and rustic supplies to elegant decor and sophisticated elements, these bridal shower decorations will help you create a memorable celebration. Plus, you can customize the perfect bridal shower invitations to match your theme. 
If you're involved in more than planning the wedding shower, Greenvelope has you covered. We offer a full selection of invites including bachelorette party invitations, wedding reception invitations, and engagement party invitations. 
Continue browsing our Stationers blog for more party planning ideas and tips from etiquette and planning checklists to wording ideas for crafting the perfect invitation message.