September 15, 2020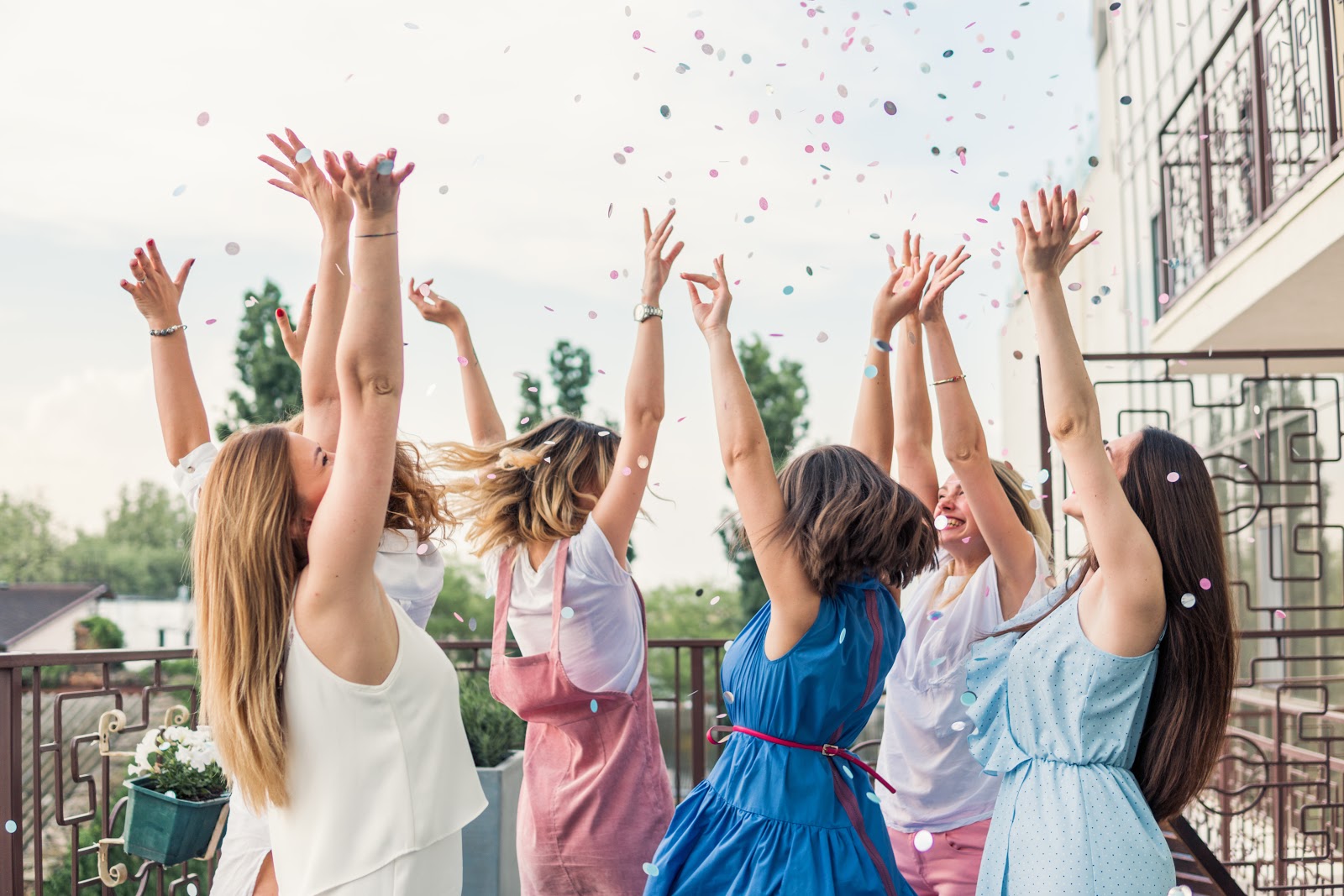 Planning a bridal shower is a special time. You're in charge of an event that celebrates the bride-to-be, brings her loved ones together, and creates a sense of excitement ahead of the big day. Keep your party guests entertained and raving about your celebration with these 17 fun and memorable bridal shower games.

1. Bridal Shower Bingo
Let's start with one of those classic bridal shower games that puts everyone in a celebratory mood. For bridal bingo, simply swap out numbers for wedding-themed words or symbols. Think wedding rings, wedding dresses, Champagne glasses, wedding cake, and floral bouquets. Create your own DIY bingo cards or try one of these printable versions.
2. Purse Scavenger Hunt
Gather your wedding shower party guests for a scavenger hunt with a twist. Instead of sending your partygoers on an adventure around the block, set up a cozy space with plenty of drinks and snacks.
Hand out a checklist of items you'd normally find in a purse, and ask your guests to dive in and find them inside their own handbag. When they do, they must hold up the item and check it off their list. The winner is the person who checks off the most items. (It's an especially fun game for those secret purse hoarders!)
3. Guess Who It Is
Ready to get guessing? Create game cards that feature fact-based questions about the happy couple and hand them out to guests. Partygoers will then guess who the fact relates to.
Mix in love-themed questions like "Who paid for the first date?" with fun ones such as "Who makes the best brownies?" Tailor the cards to your guest list, and don't be afraid to include some more risque options if everyone's OK with the idea!
4. The Ring Game
Put a new spin on the classic clothespin game by giving it a modern upgrade. In this wedding shower game, each guest starts the party with a ring. Every time one of your guests says one of the designated words, another guest gets the chance to take their ring. The winner is the person with the most rings collected by the end of the party.
It's best to keep the list of words small, or even stick with just one. Go for something wedding-related that'll get said a lot, such as "wedding," "bride," or "wedding ring."
5. Guess the Dress
Encourage guests to get creative with this drawing game. Hand out printed cards that feature a silhouette of the bride and ask attendees to guess what her dress will look like. Have them draw the shape and add details.
The guest who most accurately depicts the bride's dress wins. You can end the game with a first glimpse of the wedding dress. Or, you can swap out the wedding dress and ask players to draw the wedding bouquet or bridesmaids dresses.
6. Wedding Vow Mad Libs
Get your shower guests breaking out in laughter with a wedding-themed version of this traditional word game. Create game cards with a set of vows, with plenty of spaces where words should be. Have your guests fill in the blanks — the most entertaining set of vows wins.
Keep it simple or make this even more challenging by requiring the words to start with the same letter, have a certain length, or rhyme.
7. Ring Hunt
If your guests love a good treasure hunt, this is sure to be one of the best bridal shower games. Buy some plastic wedding rings and hide them around your party. Pop them under chairs, hide them in a pair of shoes, and disguise them within your party decor. At the end of the celebration, the guest with the biggest ring collection is the winner.
8. Wedding Predictions
It's fun to make predictions before a big sports game, so why not bring some of that excitement to a bridal shower? Hand out prediction cards to your guests and ask them to guess some of the wedding details.
Get players to predict the bridal bouquet flowers, first dance song, or cake flavor. Check with your bride to make sure she's OK to reveal these details ahead of the big day. If not, you can collect the cards and reveal the winner after the wedding day.
9. Bride-to-Be Trivia
You all love the bride, but how well do you really know her? Challenge your guests to see who the expert is with a fun, lighthearted bride-to-be trivia game. Mix in easy and challenging questions, plus some wild-card options that will stump your guests. Fun ideas include the bride's shoe size, guilty pleasure song, favorite dessert, celebrity crush, and dream honeymoon destination.
10. Find the Guest
"Find the Guest" is a great icebreaker — especially if you're bringing people together who don't know each other all that well. Hand out a game card with a list of people for your guests to find. It's not a list of names though — instead, you'll give them a fact about each person that they'll only discover by talking to them.
This game is a lovely way to start conversations and create new bonds between people. Think it'll be hard to gather a unique fact from everyone? Include a hint on your online invitations. Then, use a tool like Greenvelope's survey creator to send a quick request to guests and sit back as they appear in your dashboard.
11. Guess the Bride's Age
Dig out the photo albums for this challenging yet adorable bridal shower game. Print out a copy of the bride-to-be's childhood photos. Be sure to capture moments from the time she was a baby into her adolescence and college years. Spread out the photos on a table and ask guests to guess how old the bride is in each photo, then put them in a timeline.
Create a beautiful display board and make this a collaborative effort. You could also split your guests into teams and hand each team a copy of the photos for a more competitive game.
12. Musical Bouquet
Swap musical chairs for a game of musical bouquet with one of the most fun (and fragrant) bridal shower games ever. Arrange your guests in a circle. Hand someone a bouquet, and ask them to pass it along as the music plays. When it stops, the person holding the bouquet is out. Keep going until there's one lucky guest left.
Create the perfect playlist of love songs and romantic movie favorites, or use a collection of the bride's favorite tunes.
13. Pin the Veil on the Bride
Give pin the tail on the donkey a matrimonial upgrade with this classic party game. Print out a photo of the bride and hang it on the wall at your party venue. Watch and laugh as your blindfolded guests try to pin the veil to the right place on the bride. This entertaining DIY game is harder than it looks!
14. Wedding Pictionary
Everyone loves a game of Pictionary, right? Transform it into a bridal shower party game by keeping the theme to love, weddings, and the bride-to-be. Grab a whiteboard and pen, or use a chalkboard with chalk.
Split your guests into teams and ask them to guess what's being drawn on the board. Not sure which words to use? Here's a printable wedding Pictionary card you can download for free.
15. Guess the Love Song
This is the perfect game for any music buffs in your friendship group. Gather everyone with a glass of Champagne and challenge them to a game of music trivia — with a romantic twist.
Create a playlist of love songs and wedding favorites and ask your guests to guess the song title and artist as you play a snippet. This game works great for teams and is easy to customize to suit the ages and interests of your guests.
16. The Nearlywed Game
Give your partygoers a break from guessing and put the focus on your bride with this crowd-pleaser. In the "nearlywed game" — a take on the TV hit "The Newlywed Game" — you'll ask the bride a series of questions about her relationship.
After she answers, reveal her partner's answer by reading it aloud or playing a video clip. When their guesses match, it's heartwarming. When their answers are polar opposites, it's hilarious. Collect question ideas from your guests by adding a note in your bridal shower invitations.
17. Wedding Charades
Discover which guests have the best acting talent with a few rounds of wedding charades. Like Pictionary, keep the word clues tied to the wedding theme. Ask participants to act out wedding moments, or even a hit scene from a romantic movie. After a few mimosas (or even without the booze), this bridal shower classic is sure to produce some entertaining results.
Create the Right Atmosphere With These Bridal Shower Games
Bring your bride-to-be's closest friends and family together for a magical moment ahead of the big day. Your event will celebrate the guest of honor with plenty of personalized bridal shower ideas that will bring the party to life. Add in some of these entertaining bridal shower games, and you'll have a celebration that your guests will love and the bride will cherish for a lifetime.