February 1, 2021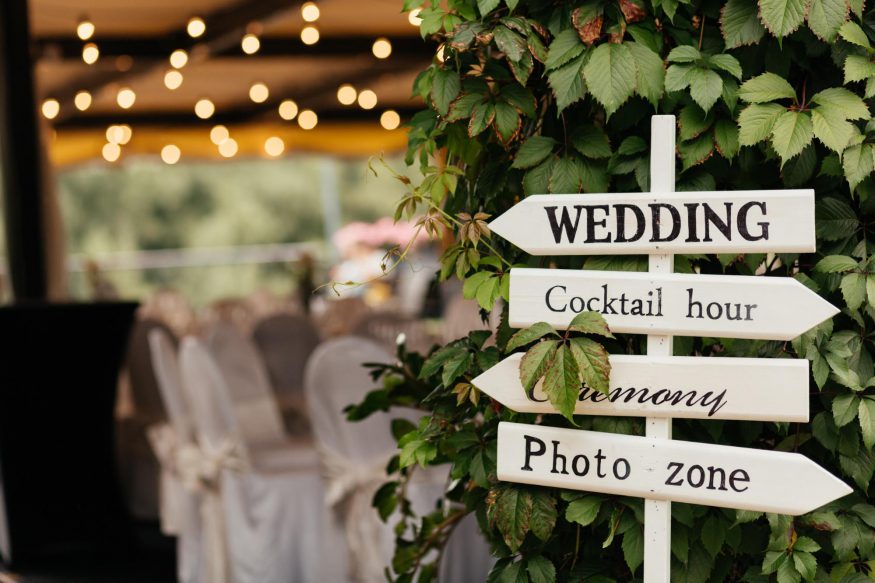 When you attend a wedding as a guest, everything seems to run smoothly. On the wedding planning side, a lot of that comes down to having a well-prepared wedding day timeline. If you're ready to plan your wedding day timeline, this guide will help you with top tips, plus a sample timeline you can borrow and customize.

How to Create Your Ideal Wedding Day Timeline
It's tempting to jump straight into mapping out your big day. Before you do, take a look at these tips on how to put together your wedding day timeline. 
Know What Your Day Needs to Include
Before you start planning your wedding day timeline, you first need a good idea of what the key moments in your day will look like.
Work with your officiant to understand how long your ceremony will take. Think about the type of meal you're serving and how that'll impact the timing of your cocktail hour, toasts, and dancing. Consider whether you want to have party games for guests and how these affect the wedding reception timeline. 
Don't forget to ask your reception venue if there's a curfew, as this will also impact your schedule. You'll also need to make sure you can fit everything in to the amount of time you've booked with the venue — or adjust your package if you can't. 
Plan Your Photography in Advance
You'll want your wedding photographer there to capture key moments, so first establish what those are and plan around them. 
From getting ready for the ceremony to having your last dance, your wedding ceremony can last almost a full day. If you want your photographer there for everything, factor that into your wedding budget and make sure they're available.
To keep costs lower or streamline your day, you could opt to have family and friends snap candid photos of you getting ready and have professional family photos taken after the ceremony.
Consider Transport Between Venues
If everything isn't happening in one place, you'll need to account for transport time between your different locations. 
Don't stop there, though — make sure you add in extra time to account for traffic, emergencies, and other delays. The goal is to keep you feeling calm and excited, and not worrying about being late. Make sure you plan for transport time for members of your wedding party and close family if they're playing a role in your ceremony.
Plan In Buffer Times
Transport isn't the only part of your wedding day timeline where you'll appreciate having a few minutes to spare. Plan in buffer times for key moments of your day to reduce the opportunity for things to fall behind schedule. 
Great examples of moments where a buffer can be useful include your couples and family wedding photography, cocktail hour, and seating guests for the ceremony and dinner. If there are moments where guests need to leave one space for another, add in a little wiggle room so people don't feel rushed. 
Share Your Wedding Day Timeline With Vendors
Don't forget to keep your wedding vendors in the loop about your schedule. Sharing your wedding day timeline with your vendors, venue coordinator, and other key people can help keep everyone on track. 
Once you have a draft wedding timeline, run it past some of your important vendors like your venue coordinator and wedding photographer. They might spot something you've missed or be able to suggest a better alternative for timing or logistical reasons. 
A Sample Wedding Day Timeline With Tips
Want to see what a wedding day timeline looks like? Here's our sample wedding day timeline packed with ideas to help you plan a smooth, carefree schedule. Feel free to use this as a guide or template as you plan your own. 
11:00 a.m. Hair and Makeup Begins
Give yourself and your wedding party plenty of time to get ready in comfort. It can take longer than you think — especially if you're chatting away, enjoying a glass of bubbly, or catching a light bite to eat before the ceremony. You'll also want to consider how many bridesmaids are in your bridal party (if you have one), and adjust your times accordingly. 
11:30 a.m. Vendors Set Up at Venue
Ask your vendors to arrive early to set up the venue for later on. This is where having a wedding planner or event manager comes in handy — you can send them to your ceremony and reception site to check in on the progress and solve any day-of challenges before they become a problem. 
1:30 p.m. Photographer Arrives for "Getting Ready" Photos
Ask your photographer to join you for the last 30 minutes to an hour that you're getting ready. This is a great time to capture detail shots of your dress or suit, shoes, jewelry, and accessories. They can also snap some fun, candid photos of you and your wedding party getting excited about the big day. 
2:30 p.m. The Couple Gets Dressed (Usually in Separate Areas)
Putting on your dress, suit, or other wedding attire can be a big moment. Give yourself enough time to enjoy that moment without rushing through. Plus, having this dedicated time means if there's an issue with a zipper or button, a bridesmaid or groomsman can help you out without you needing to worry about the time. 
3:00 p.m. "First Look" Photos
This is the perfect opportunity for your wedding photographer to capture the moment you and your partner first set eyes on each other all dressed up. These lovely photos make great images for your wedding thank you notes. 
If you don't want to spoil the surprise ahead of the ceremony, skip the "first look" photos and capture your couple and family photos while guests are enjoying a cocktail hour later on. 
3:30 p.m. Wedding Party and Family Portraits
Gather your wedding party and family together for some lovely, keepsake photos. If you're traveling to the venue for your pre-ceremony photos, leave enough travel time for you, your wedding party, and your family to make it there for the photos. 
4:15 p.m. Break to Relax With Family Members
Adding in this time is a lovely way to take a moment to share your excitement of the day without worrying about rushing through family photos or delaying the start of your ceremony. Don't need a break? Let your photographer have this extra time to capture candid shots as you prepare for the ceremony. 
4:45 p.m. Guests Begin to Arrive
List this time as the ceremony start time on your wedding invitations. That way, guests stuck in traffic won't arrive late and won't feel embarrassed about walking in after the ceremony has begun. 
5:00 p.m. Ceremony Begins
Invite your guests to be seated for your wedding ceremony. With the buffer you've created above, everyone should already be here and ready to celebrate the moment with you. 
6:00 p.m. Ceremony Ends
The exact length of your ceremony depends on the type of ceremony you're having and your own personal tastes. Adjust the timing here to account for the length of your ceremony. 
If there's a break to allow for travel between venues, make sure you cover this on your digital invitations, along with some directions to the second venue. That way, guests will know to arrange transport to your reception site. 
6:15 p.m. Cocktail Hour Begins
Cocktail hour is a lot of fun for your guests. They can enjoy a signature drink and canapés to kick off the wedding reception. 
If you didn't capture photos earlier, now's the time to do it. If you've already ticked off your couple and family photos, enjoy the time to relax and mingle with guests.
7:15 p.m. Guests Are Invited to Join You for the Reception
Have someone call your guests into the main room for your wedding reception. Invite them to gather around the dance floor for the next big moment. 
7:30 p.m. Newlyweds' Grand Entrance and First Dance
Walk into your wedding reception together as you're announced with your newlywed titles. Here's where you can enjoy your first dance together. Go for a traditional slow dance or enter in style with a hilarious choreographed number — the choice is yours! 
7:40 p.m. Guests Are Seated for Dinner
Ask your guests to be seated and get ready for dinner to be served. Begin here with your first course, followed by your main course after the welcome toasts. If you're serving a buffet or a non-traditional meal, check in with your caterers and wedding planner to adjust the timing to suit your style. 
7:50 p.m. Welcome Toasts
Invite your guests to listen to your welcome toasts, celebrating your love story so far and encouraging them all to celebrate alongside you. Traditionally, these toasts come from family members but you make the rules on your big day. 
8:30 p.m. Further Toasts From Wedding Party
As dinner is winding down, ask your best man and maid of honor to share their toasts. This is a great way to transition from dinner to the dancing part of the evening — especially if you've hosted a more formal sit-down dinner. 
8:50 p.m. Parent Dances
This is the perfect moment for you and your newlywed partner to enjoy a dance with your mom, dad, or another relative. It's a heartwarming way to kick off the evening. 
9:00 p.m. Guests Are Invited to Join You on the Dance Floor
Ask your DJ to switch to an upbeat track after your parent dances and call guests to join you on the dance floor. Make sure the music keeps playing right through your reception with a mix of songs that'll have people up and dancing. 
9:45 p.m. Cake Cutting
Take a break from dancing to enjoy one of those iconic wedding moments — cutting the cake. This is also a great time for a bouquet toss or garter toss if you want to include one. With guests hungry for something sweet, it's the perfect moment to serve up mini desserts, a cheeseboard, or candy. 
10:50 p.m. Last Dance
The evening is coming to a close, but before it does make sure your DJ announces that the last dance is coming up. This is everyone's last opportunity to gather on the dance floor before they send off for the happy couple. 
10:50 p.m.-11:00 p.m. Grand Exit and Reception Ends
The party can't last forever, and it's time for the two of you to make your exit. If you're leaving under a shower of sprinklers, rice, or rose petals, give yourself enough time to make this happen before the final end time. Once you've left, guests are encouraged to leave so that vendors can begin the breakdown process. 
11:45 p.m. Vendor Breakdown Ends
It's finally time for your venue staff and vendors to head home after a busy day. Since they've had a long day, don't forget to set aside plenty of snacks for them — including some cake or dessert they can enjoy while they pack down. 
Plan Your Perfect Wedding Day Timeline
The last thing you want to be thinking about on your wedding day is whether you have time to snap your "first look" photos before you rush off to the ceremony or whether you're running behind for dinner. 
A clear wedding day timeline helps you solve those struggles and more. Create a schedule for your big day, share it with your wedding coordinator and vendors, and let the magic unfold around you.